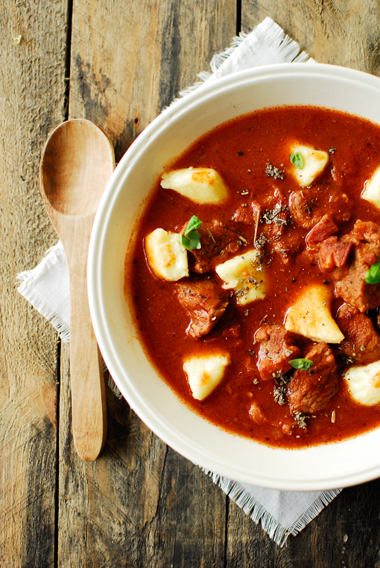 Dense, aromatic ragout with soft beef and bacon, cooked in a tomato sauce with sage and topped with parmesan gnocchi. A delicious Italian-style dish, perfect for autumn days.
Ingredients
Ragout
1 kg beef chuck steak, cut in 2 cm pieces
300 g bacon, in cubes
1 red onion, chopped
1 stalk celery, cut into rings
500 ml tomato puree
1/2 cup white wine
1 teaspoon rosemary
1 tablespoon dried sage leaves
1 tablespoon sweet paprika
1 bay leaf
2 tablespoons olive oil
freshly ground black pepper and salt
Gnocchi
1 kg potatoes
1 egg
300 g flour
100 g freshly grated Parmesan cheese
2 tablespoons olive oil
freshly ground pepper and salt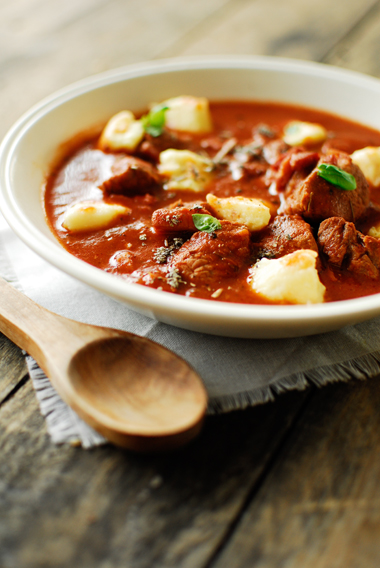 Instructions
Ragout
Heat the olive oil in a frying pan and fry the beef with bacon until golden brown. Add the onion and celery and simmer for 10 minutes. Season with salt, pepper and sweet paprika, pour the wine and cook over high heat for 5 minutes. Add the tomato puree, rosemary, sage and bay leaf. Simmer for at least for 2 hours, covered, over low heat.
Gnocchi
Boil the potatoes unpeeled in salted water for 20 minutes. Peel and mash until there are no lumps. Add 3/4 of the flour, the egg, parmesan, salt and pepper. Knead until the dough is soft and elastic, if necessary, add the remaining flour.
Cut into 4 smaller pieces and roll them into long strips on a floured surface. Cut the strips into 2 cm gnocchi.

When the ragout is ready, bring 2L salted water to a boil, add the gnocchi and cook for 2 minutes. Drain and place straight into the ragout. Enjoy!

//= __('Print recipe (no photos)', 'servingdumplings' );?> //= __('Print recipe (with photos)', 'servingdumplings' );?>