Shrimp Scampi Pasta! Looking for a quick and easy seafood dish that will impress your guests? Look no further than shrimp scampi! This classic dish is made with plump, juicy shrimp coated in a flavorful butter garlic sauce enriched with white wine and lemon juice. It's so good, you'll want to lick the plate! And best of all, it can be made in just 25 minutes.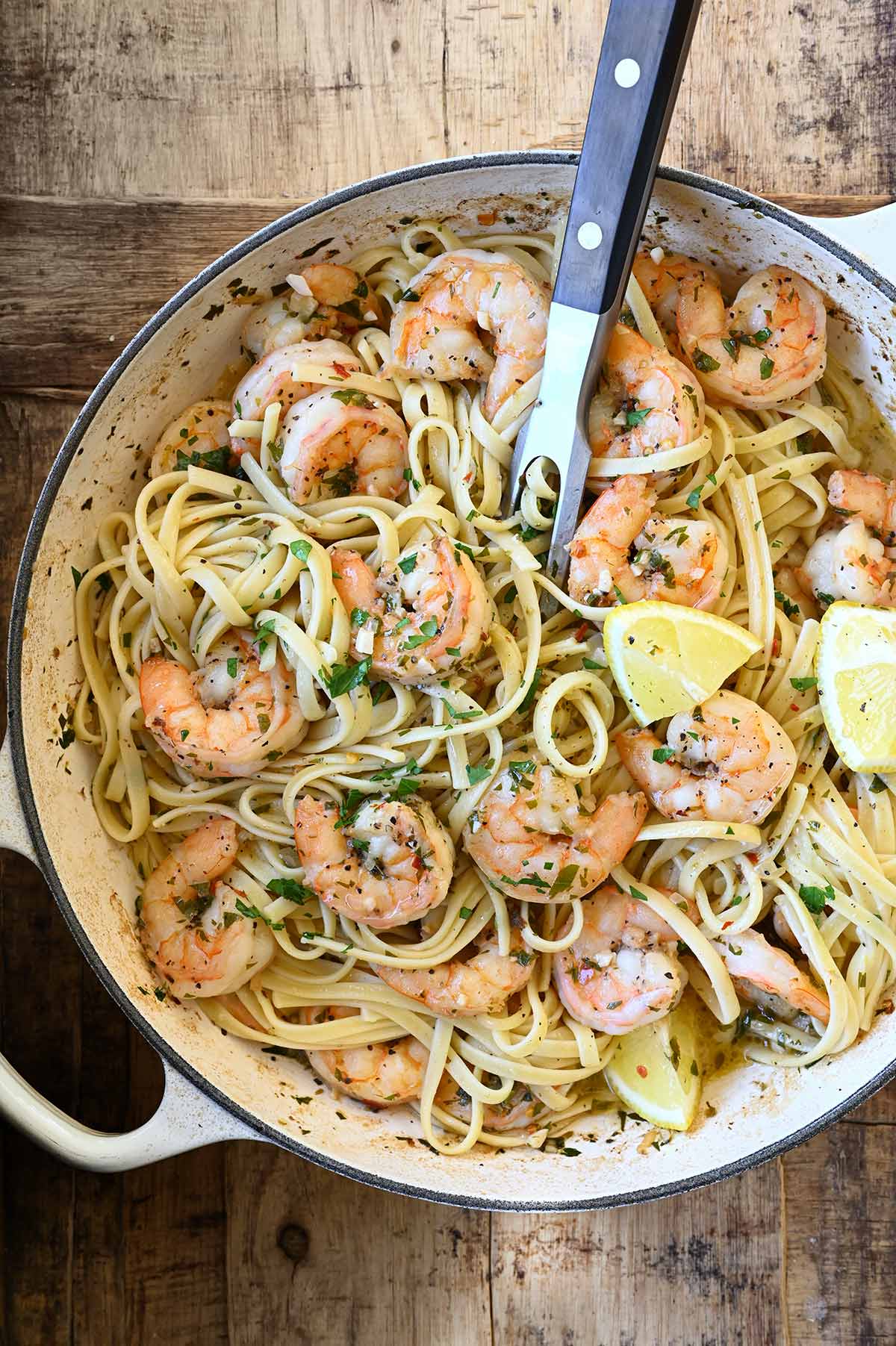 Shrimp Scampi is made with simple pantry staples, this scampi recipe effortlessly coats shrimp with a flavorful sauce. It's a versatile choice, equally fitting for casual dinners and special occasions. Just pair with a Caesar salad, and voila! You've fashioned a feast right in your own kitchen.
This is a recipe for easy, fancy shrimp at its very best. There's something undeniably comforting about a generous serving of pasta, and this shrimp dish hits all the right notes. Jumbo shrimp which are simmered in a sauce infused with the richness of butter, garlic, dry white wine, and lemon juice take the spotlight. A sprinkle of red pepper and parsley balances everything. As the shrimp blush to a tender pink, the sauce becomes rich and flavorful.
This Shrimp Scampi recipe is so easy to make, even a beginner can do it. But the results are anything but basic. This dish is the epitome of easy-fancy dining.
Let me guide you through the recipe with this step-by-step VIDEO.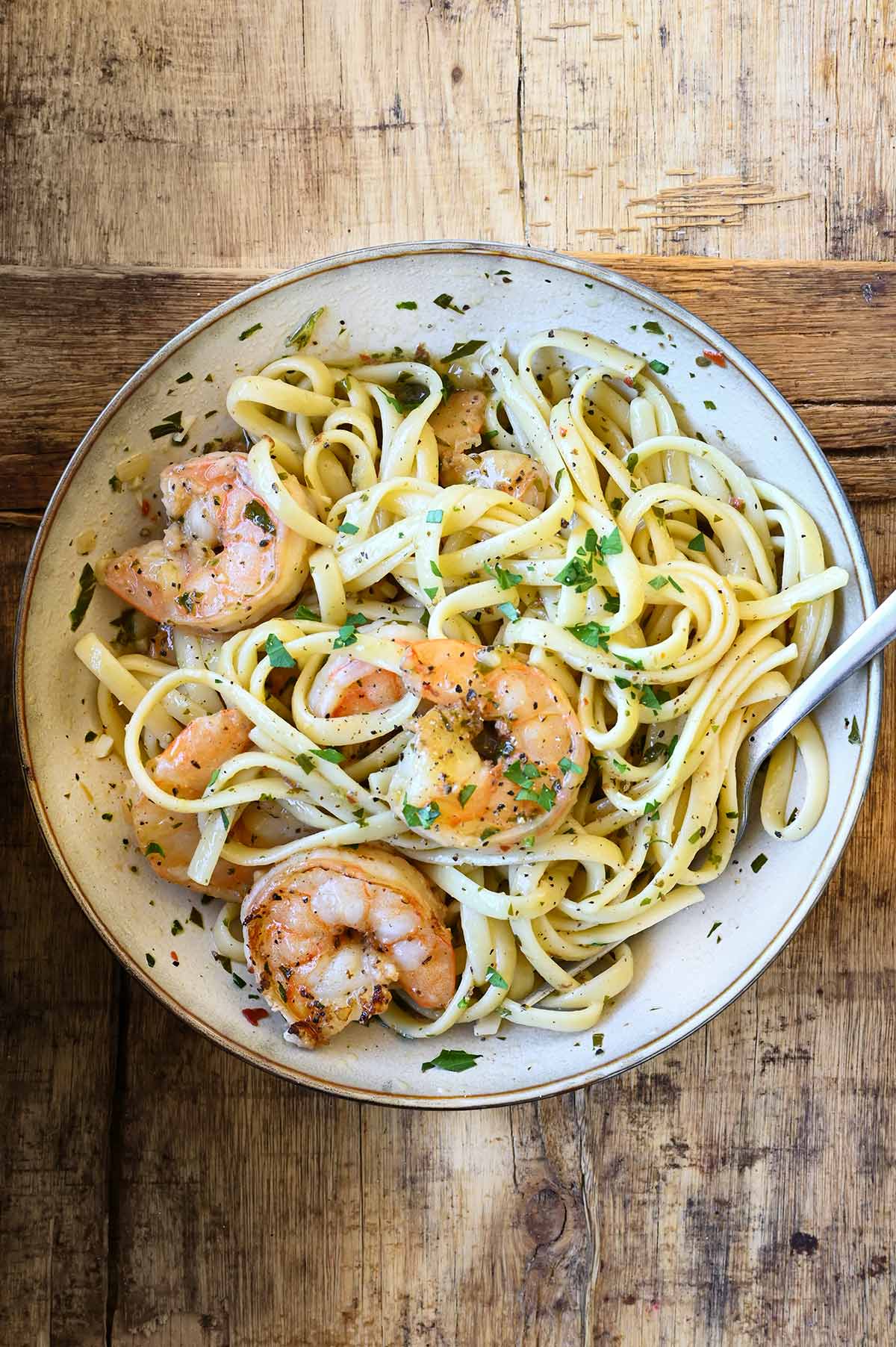 What Is Shrimp Scampi?
Shrimp scampi is a tasty seafood dish made with big shrimp. They're sautéed, which means quickly cooked, with garlic, butter, lemon juice and white wine. You can serve shrimp scampi on its own as an appetizer with crusty bread, but for a really satisfying dinner, serving it over linguine is a top-notch choice.
Which Pasta For Shrimp Scampi?
When it comes to picking the pasta for your shrimp scampi, you can choose between linguine, spaghetti, or other long pasta types you prefer. But for the tastiest results, it's a good idea to lean towards linguine.
Linguine's flat, ribbon-like shape is perfect for this dish because it can carry the weight of the shrimp and soak up the flavorful sauce. Its shape also helps trap the sauce better compared to spaghetti, which is round.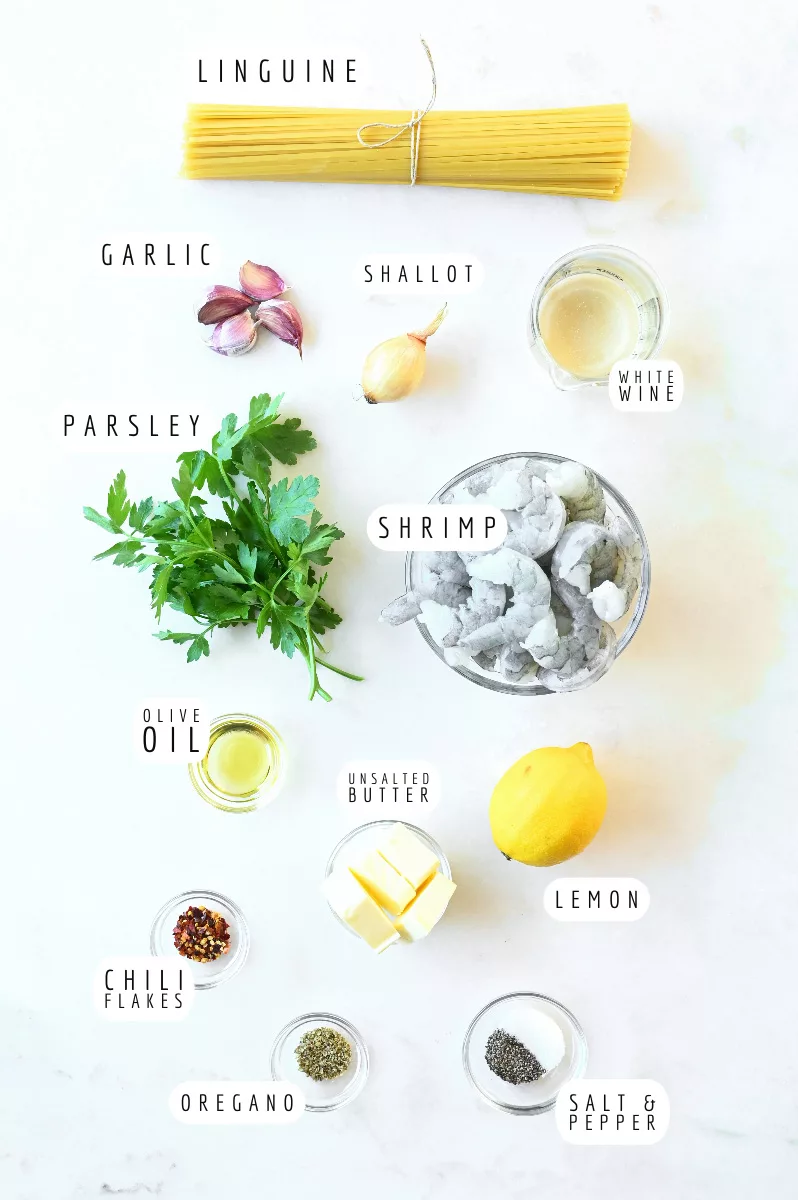 Ingredients, Tips and Substitutions
Shrimp: For the best result, Opt for large shrimp, usually categorized as 16 to 20 shrimp per pound. It's perfectly okay to use frozen shrimp, they can be thawed super fast by placing them under cold running water, then peel and devein them.
Pasta: Linguine is the classic choice for this recipe, as it complements the shrimp without overpowering their flavor. However, you can also substitute with fettuccine or spaghetti for a similar experience. For a twist, consider using zucchini noodles, polenta or rice.
Butter: The quality of butter matters in this recipe, as its rich flavor shines through. Go for high-quality unsalted butter, and you can always add more salt later.
Extra-virgin olive oil: Use extra-virgin olive oil to increase the smoking point of the butter.
Garlic: Garlic is essential for boosting the flavor of any recipe. Feel free to use more if you're a garlic enthusiast.
Onion: If you don't have onion on hand, you can substitute it with shallot for a similar depth of flavor and fragrance.
White wine: Choose a dry, crisp white wine to make the scampi sauce. Pinot Grigio or Sauvignon Blanc are excellent options.
Lemon Juice and Lemon Zest: Bring a zesty and acidic element to balance out the richness of the shrimp and butter. Freshly squeezed juice is recommended for the best flavor.
Seasonings: Elevate the flavors with salt, black pepper, and dried oregano. A pinch of chili flakes can add a subtle kick, but feel free to use more if you prefer a spicier kick.
Parsley: Fresh parsley not only adds a vibrant color to your dish but also imparts a refreshing and bright flavor to the shrimp scampi.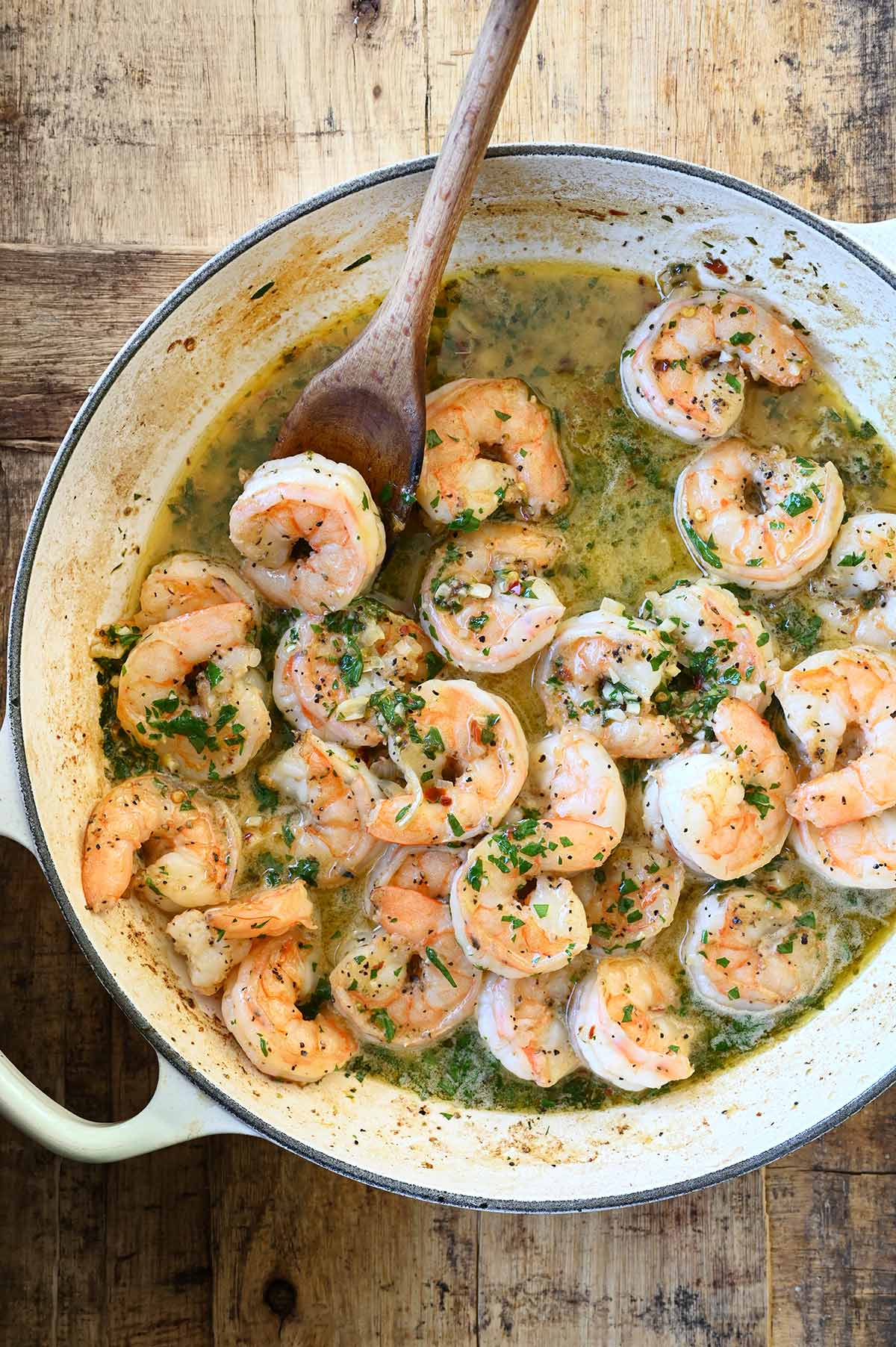 Recipe Notes
Don't forget a crusty loaf of bread on the side, it's perfect for savoring every drop of that delectable sauce.
Butter Your Way: Adjust the amount of butter to your taste. More butter equals a richer, more decadent flavor, while less allows you to tailor the dish to your preference.
Green Accompaniments: Complement your shrimp scampi with a fresh leafy salad drizzled with Caesar dressing for an extra treat.
Shrimp scampi can be enjoyed as an appetizer with crusty bread, or as a hearty and satisfying dinner served with linguine or your preferred pasta.
Ingredient prep: Before you heat up your skillet, gather all of your ingredients and have them prepped and ready to go. This will help you avoid any interruptions in the middle of this fast-paced recipe. If you're using frozen shrimp, thaw them earlier in the day and store them chilled until you're ready to cook.
Storage: Leftover shrimp scampi can be stored in an airtight container in the refrigerator for up to 2 days. To reheat, simply add it to a skillet over medium heat and cook until heated through.
Try These Next
Cooking Video
Yield: serves 4
Shrimp Scampi Pasta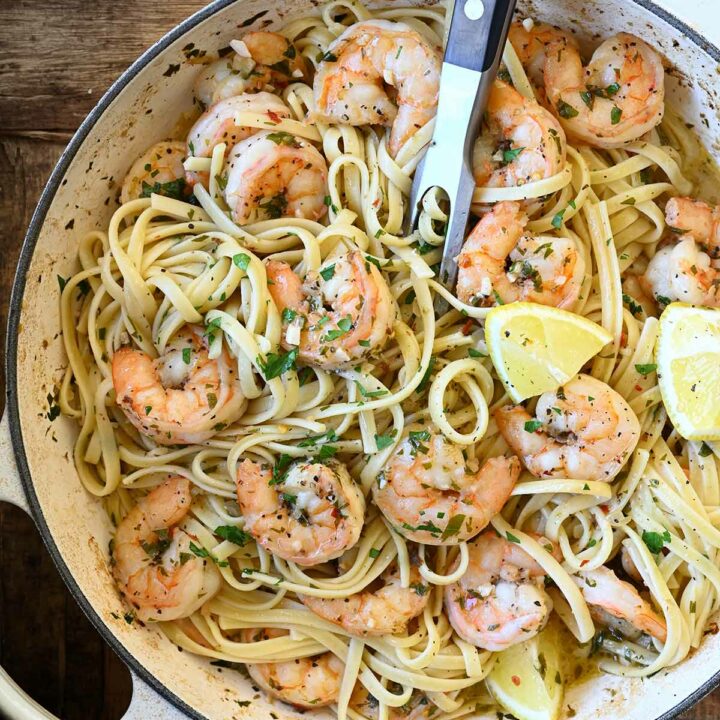 Ingredients
12 ounces/350 g dry linguine
4 tbsp unsalted butter, divided
1 tbsp olive oil
1 pound/450 g shrimp, peeled and deveined
1 tsp each: salt, black pepper, divided + ½ tbsp salt for pasta
4 garlic cloves, minced
1 small yellow onion, finely chopped
zest from ½ lemon
½ tsp dried oregano
¼ tsp chili flakes, more to taste
½ cup/120 ml dry white wine
2 tbsp chopped parsley
Instructions
Fill a large pot with water and season with about ½ tablespoon salt. Bring to a boil over medium-high heat. This will take about 10 minutes, enough time to prepare the ingredients.
Get all your prep done before you start cooking: finely chop the onion, mince the garlic cloves, and chop the parsley.
Thaw, peel and devein the shrimp. Pat them dry with a paper towel. Season with ½ teaspoon salt and ½ teaspoon pepper.
Add the linguine to the boiling water and reduce the heat to maintain a simmer. Cook until al dente. Then drain, reserving 1 cup cooking water.
In the meantime, heat oil and butter over medium high in a large skillet. Add shrimp and place in a single layer. Sear for 1 minute per side, then remove from skillet into a clean bowl.
To the skillet, add garlic and onion. Cook for 1 minute over medium low, until soft and fragrant. Stir in lemon zest, followed by chili flakes, oregano and the remaining salt and pepper.
Deglaze the skillet with white wine, simmer for 2 minutes while you scrape up the brown bits on the bottom of your skillet with a wooden spoon.
Add the remaining butter, whisk until melted and the sauce lightens in color and starts to thicken, about 1 minute. Add lemon juice and parsley. Next add shrimp and linguine, followed by ¼ cup cooking water. Toss to coat the pasta with the sauce. Serve immediately!
Notes
Calories Per Serving: 505 kcal
Nutritional information is only an estimate. The accuracy of the nutritional information for any recipe on this site is not guaranteed.

//= __('Print recipe (no photos)', 'servingdumplings' );?> //= __('Print recipe (with photos)', 'servingdumplings' );?>