Shrimp in sage garlic butter. An easy and impressive 20 minute dish that you can serve with just about anything. It's garlicky, buttery, scented with dried sage and utterly delicious. It's a knock-out!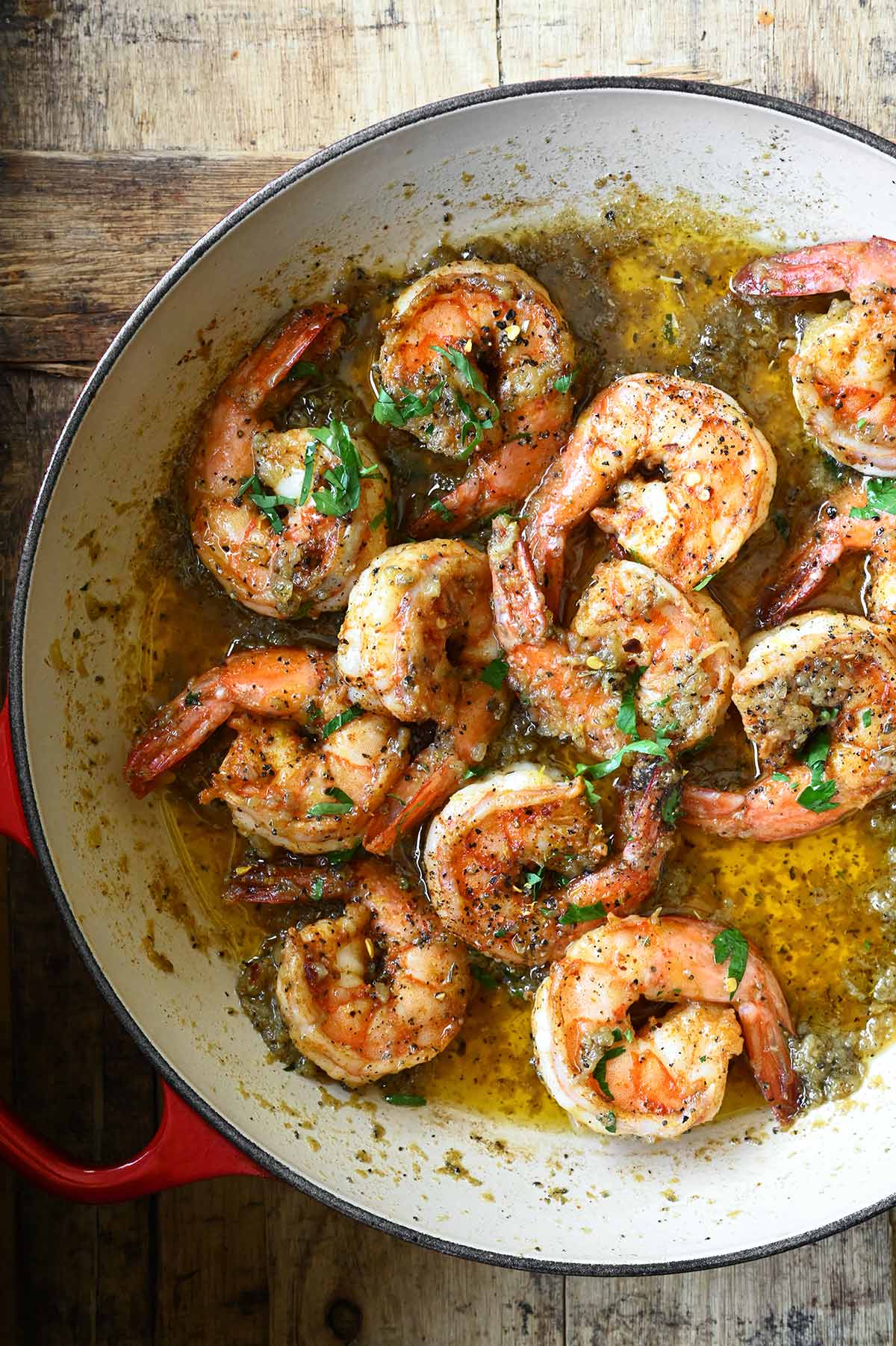 Pan-seared shrimp are pretty irresistible all on their own, but add some garlic and sage, and your meal turns into something far fancier. This quick-cooking sauce, made with butter, lots of garlic and just the right amount of dried sage, is a luxe combo that takes a basic pan sauce to the next level. The sage adds a crazy layer of flavor that really kicks this dinner up a notch. A fabulous and tasty treat.
This succulent shrimp recipe is perfect as an appetizer or as a full meal. It's also extremely easy to make and ready in no time. Impressive enough to serve at a dinner party, yet quick and easy to pull together any night of the week.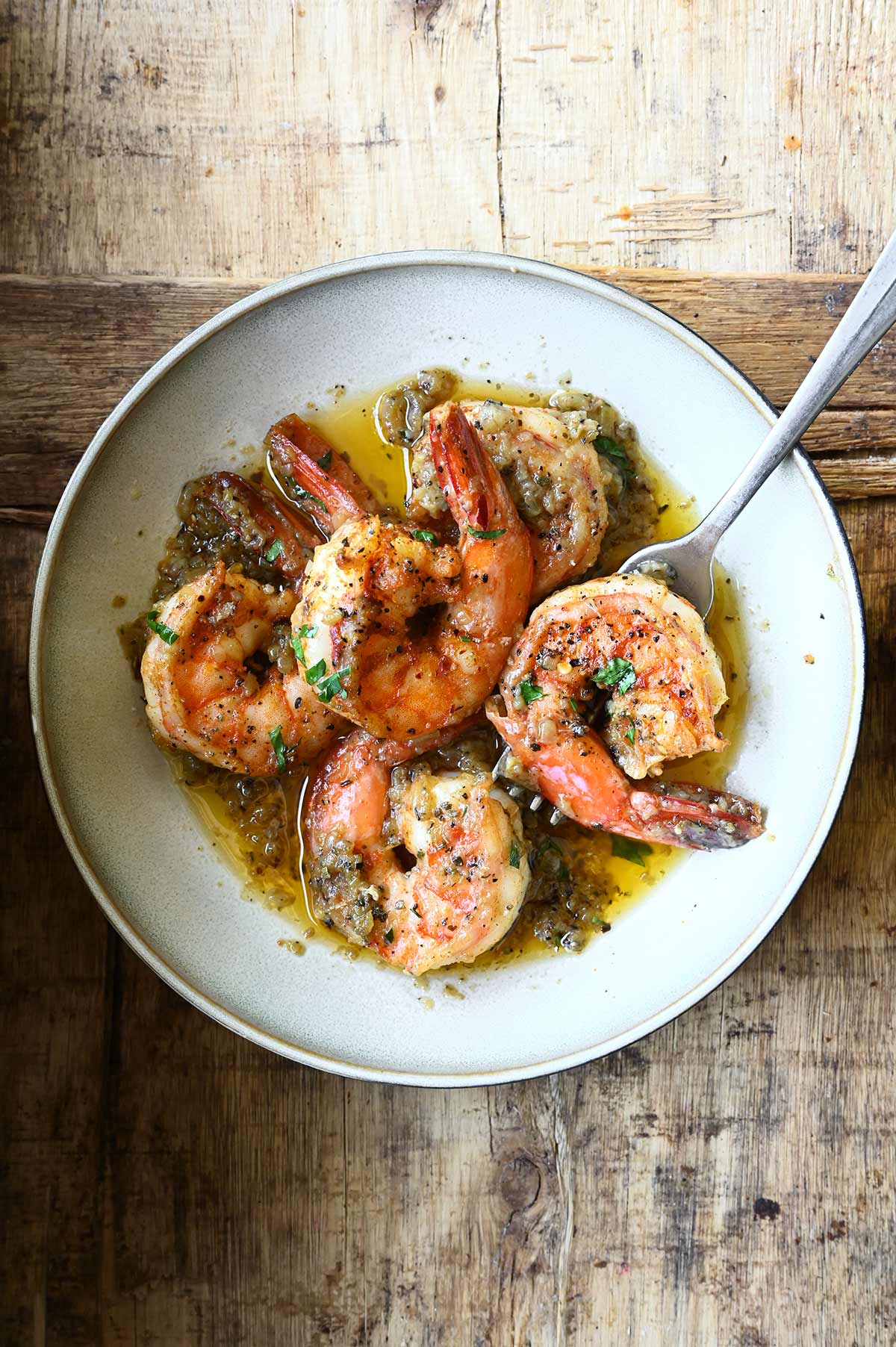 With only a handful of ingredients, any seafood lover will be drooling over this rich garlic butter shrimp. All you need is some crusty bread and a big leafy salad to make it a complete meal. This sage garlic butter shrimp is what we call "restaurant quality." Truly, it tastes like something you would order in a fancy restaurant.
If you keep frozen shrimp in your freezer, and with the other ingredients being basic pantry staples, this fast recipe will be ready in a blitz. This one-pan wonder also ensures there's barely any clean-up! To change things up, you may want to try serving the shrimp over rice, orzo or polenta. Try this fast-and-fancy dinner and your meal plan will never be the same again.
Let me guide you through the recipe with this step-by-step VIDEO.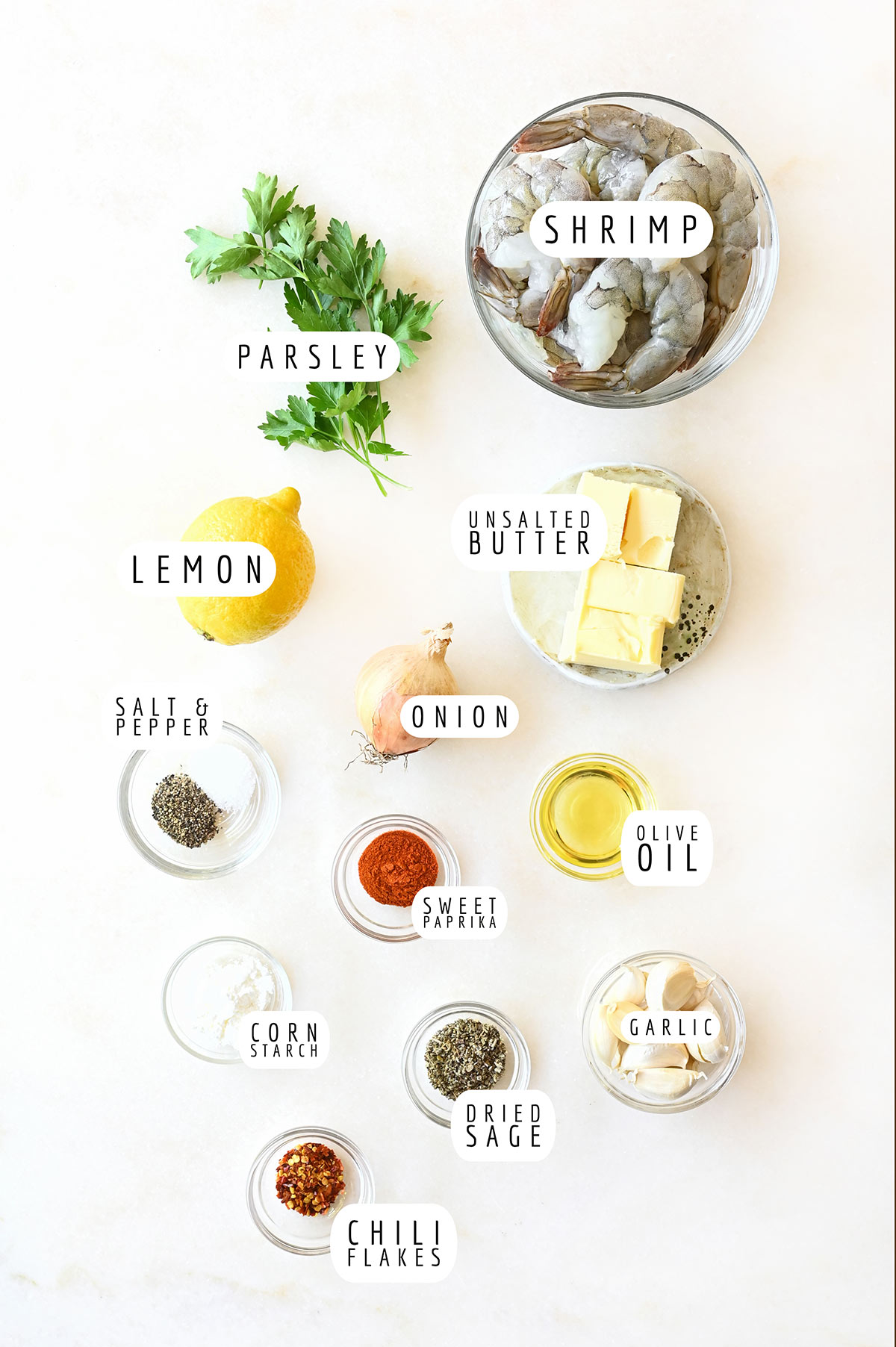 Ingredients, Tips & Substitutions
Shrimp: I typically use frozen (just be sure to thaw first), and prefer the larger size, 16-20 per pound.
Olive Oil and Unsalted Butter: To sear the shrimp and create a delicious pan sauce.
Garlic: A large amount of freshly grated garlic. This is the base to create flavor, so don't use store-bought chopped garlic, the taste would never be the same.
Onion: Extra flavor to add to the sauce.
Seasoning: Salt, black pepper and sweet paprika.
Sage: Dried sage is the go-to in this recipe, but you can swap it for 1 teaspoon freshly chopped sage.
Lemon Juice And Lemon Zest: To cut through the rich butter sauce.
Cornstarch: For a silky sauce.
Parsley: A fresh finishing touch.
Chili Flakes: Some chili flakes will give this dish a nice kick. Use as much or as little as you like.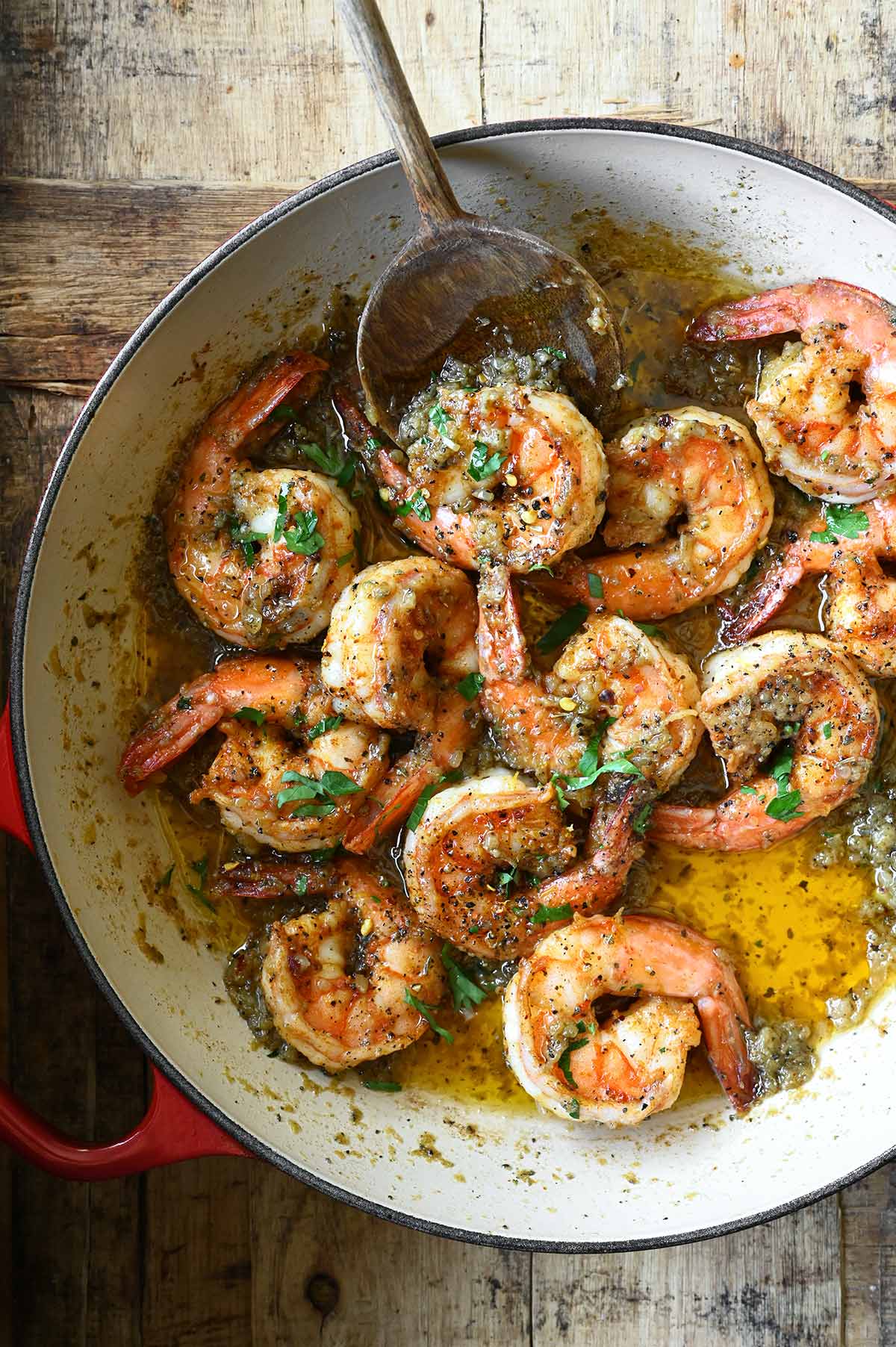 Recipe Notes
For a complete meal: serve with crispy garlic butter potatoes, crispy baked potato wedges, fries, rice, polenta or pasta.
For a light dinner: Serve with toasted bread and a big leafy side salad drizzled with yogurt dressing.
You can serve for dinner, as a starter or appetizer.
Frozen or fresh shrimp? I generally prefer to use frozen shrimp. Buying frozen shrimp means that you can use them whenever you're ready to cook.
Storage: Store leftovers refrigerated in an airtight container for up to 1 day.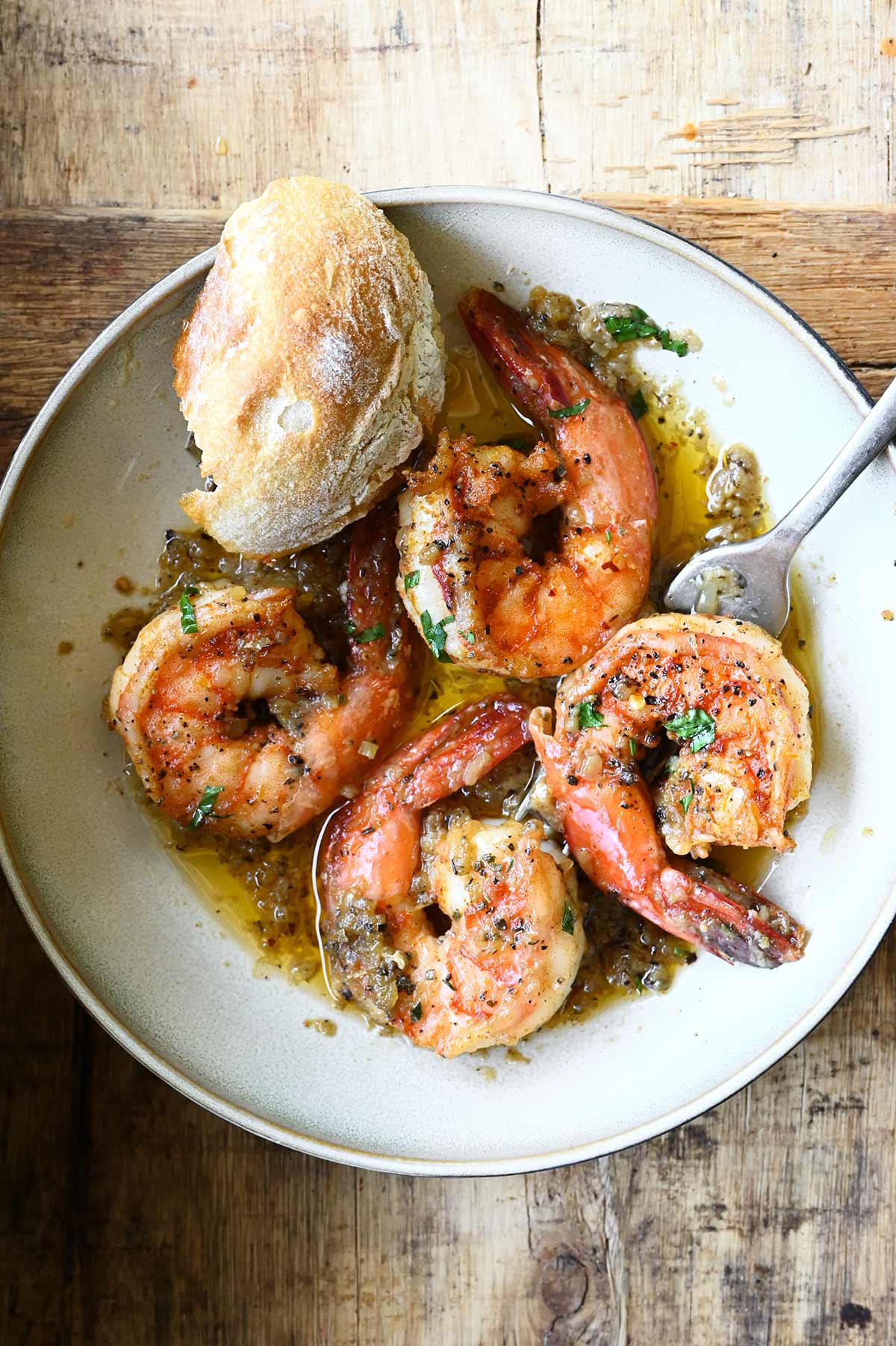 Try These Next
Cooking Video
Yield: serves 4
Shrimp in Sage Garlic Butter
Ingredients
1 pound/450 g shrimp, peeled and deveined
1 tsp each: salt, black pepper, divided
1 tsp sweet paprika
1 tbsp olive oil
4 tbsp unsalted butter, divided
12 garlic cloves, grated or finely minced
1 small yellow onion,, finely chopped
1 tsp dried sage
1 tsp cornstarch
2 tbsp lemon juice
2 tbsp chopped parsley
½ tsp chili flakes
zest from ½ lemon
Instructions
Get your prep done before you start cooking. Thaw, peel and devein the shrimp. Pat them dry with a paper towel. Season with paprika, 1 teaspoon salt and pepper. Toss until coated and set aside.
Finely chop the onion, grate the garlic cloves and chop the parsley.
In a skillet, heat oil and 2 tbsp butter over high. Place shrimp in a single layer and sear, 1 minute per side. Remove from skillet.
Reduce heat to low, add garlic and onion. Cook for 3 minutes until soft and fragrant. Stir frequently. Stir in the remaining salt and pepper, sage and cornstarch. Add the rest of the butter and stir until melted. Sprinkle with lemon juice.
Return the shrimp to the skillet and simmer for 1 minute or until heated through. Top with parsley, chili flakes, freshly ground black pepper and lemon zest. Enjoy!
Notes
Calories Per Serving: 271 kcal
Nutritional information is only an estimate. The accuracy of the nutritional information for any recipe on this site is not guaranteed.

//= __('Print recipe (no photos)', 'servingdumplings' );?> //= __('Print recipe (with photos)', 'servingdumplings' );?>