This Salmon Puttanesca is an easy one skillet dish made with just a handful ingredients. Puttanesca is a classic Italian sauce that's known for its bold and robust flavors. It includes tomatoes, buttery olives, briny capers and lots of garlic. When combined with salmon, this dish takes on a whole new level of flavor. So delicious, you'd never guess that it only takes about 30 minutes to prepare. Serve with a big green salad and some garlic bread, and you'll be having yourself quite a feast.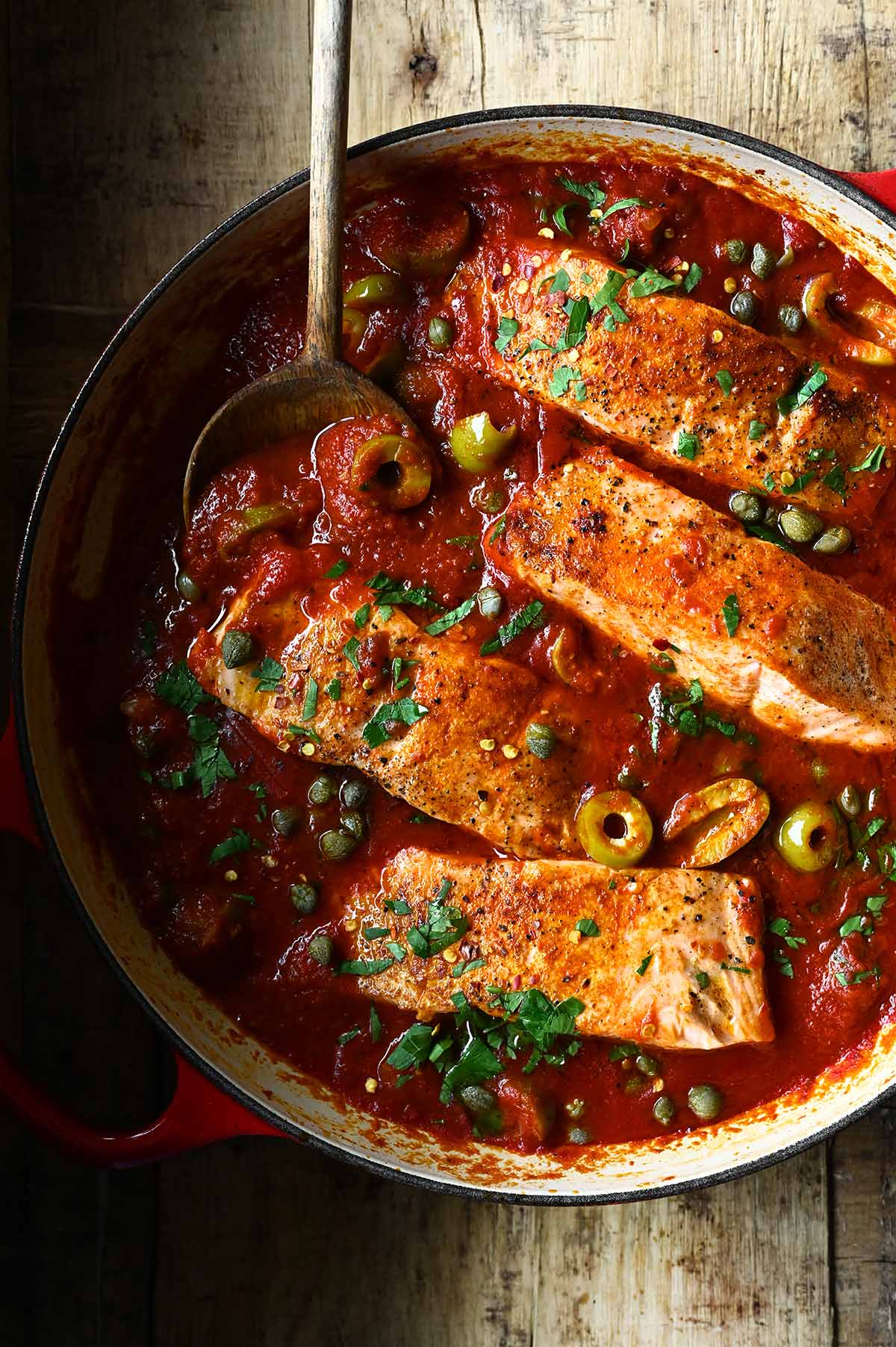 Puttanesca sauce is not only for pasta. When combined with seared salmon results in a savory and satisfying meal that's sure to impress everyone at your dinner table. Every bite is absolutely crave worthy. It's saucy, herby and deeply satisfying.
This certainly isn't a classic puttanesca, but an easy and delicious version you'll definitely want to try, you won't be disappointed. I skipped the traditional anchovies and used fish sauce, but feel free to sauté a few fillets together with garlic and shallot.
It's a great weeknight dinner recipe, but it's also delicious enough to wow your guests on your next dinner party.
Let me guide you through the recipe with this step-by-step VIDEO.
This dish pairs well with a variety of sides, such as pasta, rice, bread or roasted vegetables. Overall, this salmon puttanesca is a delicious and easy-to-make dish that's sure to become a family favorite.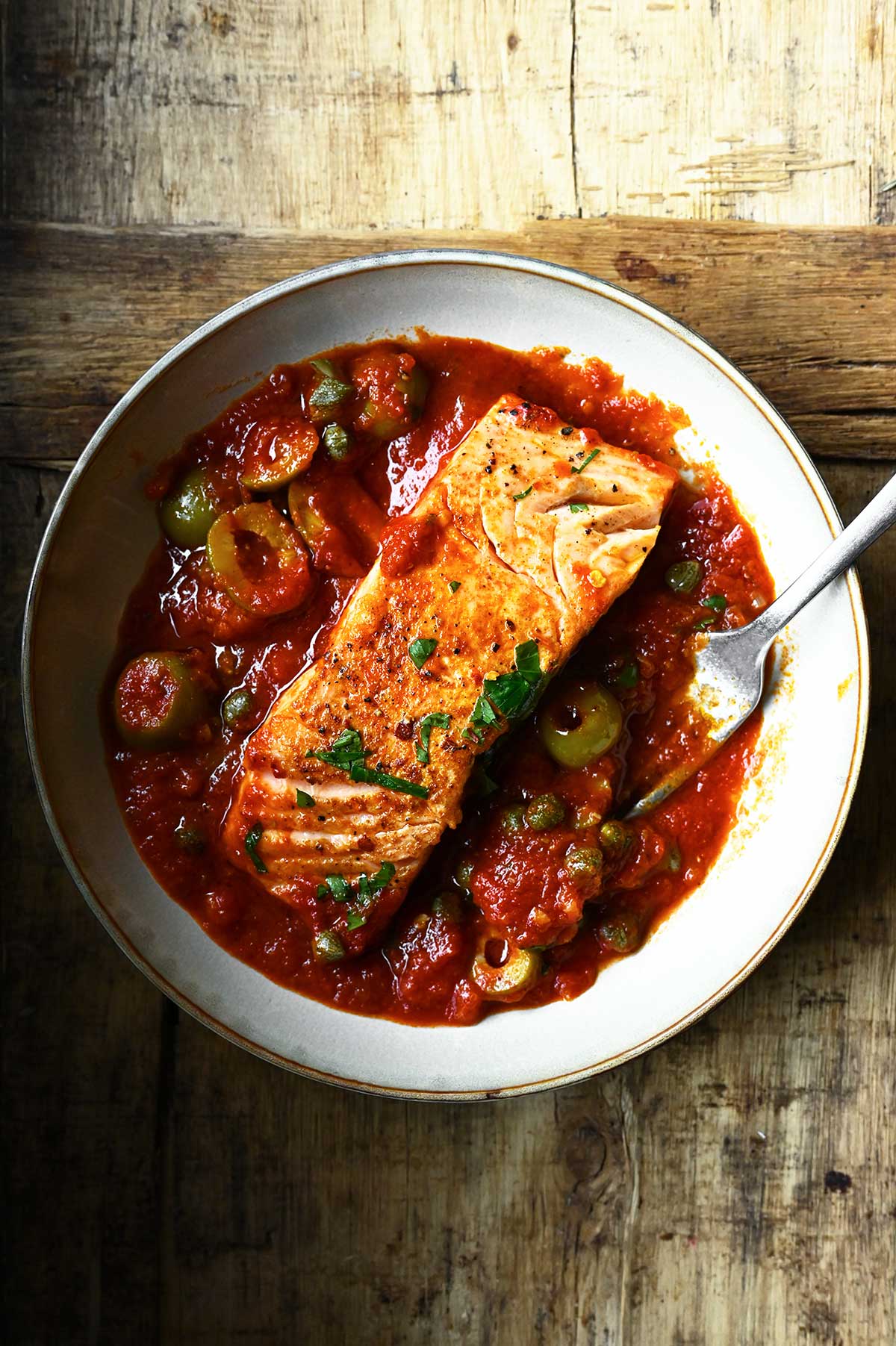 How To Make Salmon Puttanesca
One of the best things about this recipe is how easy it is to prepare. The one-pot method works beautifully here: We simply sear the salmon in a skillet and set it aside. Then, sauté the capers, garlic and shallot until fragrant. Deglaze the skillet with white wine, then add spices, olives and tomato paste. Pour in crushed tomatoes and let it simmer for a few minutes to create the sauce. Finally, we return the salmon fillets to the skillet and let them simmer for a few more minutes until just cooked through. Done!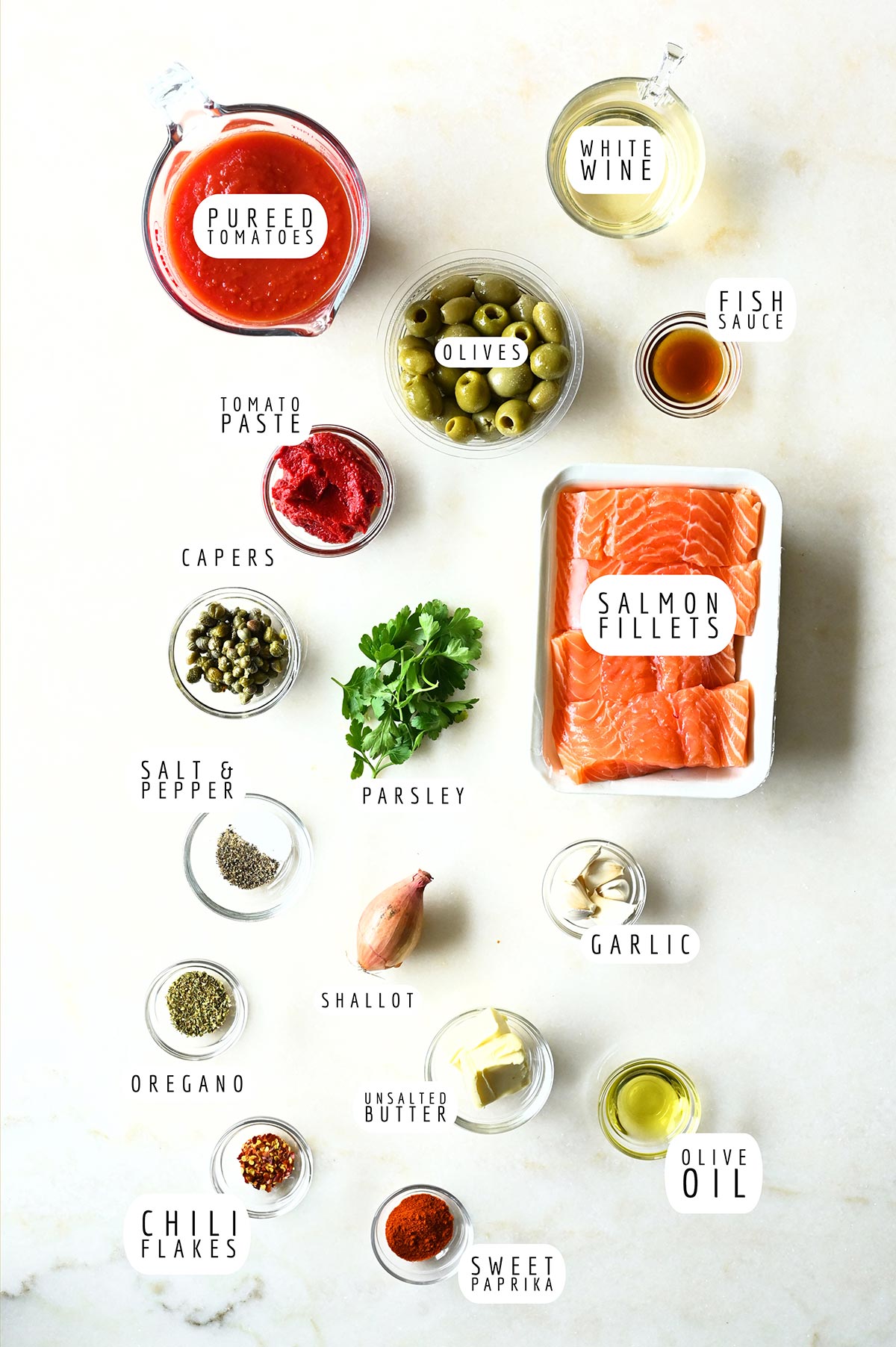 INGREDIENTS, TIPS & SUBSTITUTIONS
Oil and Butter: For searing the salmon and creating a glossy sauce.
Salmon: Skinless salmon is the go-to in this recipe, but if you want to use skin-on, go for it! You can also try this recipe with cod or tuna fillets.
Seasoning: We're adding freshly ground black pepper, salt, sweet paprika, dried oregano and chili flakes.
Garlic and Shallot: Our flavor base. Don't skip.
Tomatoes: Crushed tomatoes and tomato paste. Use crushed tomatoes, canned whole San Marzano tomatoes or jarred puréed tomatoes.
Capers: Add little briny flavor pops to the sauce.
Olives: Use your favorite, green or black olives. The most important thing is that they are good quality, large and have plenty of pulp. Don't like olives? Simply leave them out.
White wine: To deglaze the pan, which means that it helps to dissolve the flavorful bits that stuck to the bottom of the skillet during the cooking process. Use dry white wine or swap it for chicken broth.
Fish Sauce: Adds a savory flavor and saltiness to the sauce, if you want to add anchovies instead, go for it!
Herbs: Fresh parsley, swap for fresh oregano.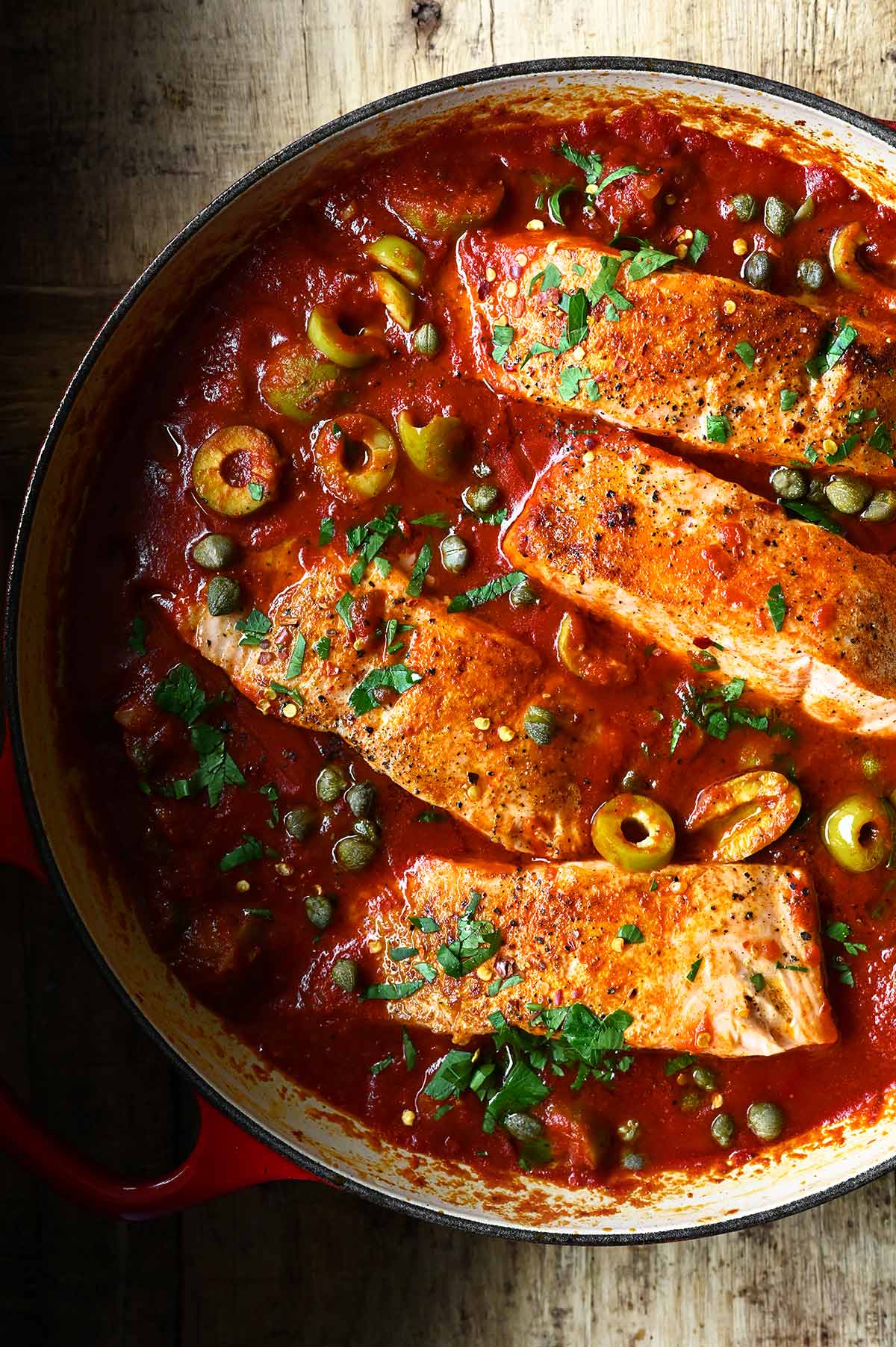 RECIPE NOTES
Serve with pasta, rice, crusty bread, garlic bread or roasted vegetables.
Pair with a big leafy side salad drizzled with a balsamic dressing, panzanella salad or arugula salad.
Storage: Leftovers can be refrigerated in an airtight container for up to 2 days.
TRY THESE NEXT
COOKING VIDEO
Yield: serves 4
Salmon Puttanesca
Ingredients
1 tbsp olive oil
2 tbsp unsalted butter
4 salmon fillets, deskinned
1 tsp each: salt, black pepper, divided
1 tsp sweet paprika
6 garlic cloves, minced
1 shallot, finely chopped
2 tbsp capers
¼ cup/50 ml dry white wine
2 tbsp fish sauce
1 tsp dried oregano
2 tbsp double concentrated tomato paste
½ cup green olives, pitted
1 can (14 oz/400 g) crushed tomatoes
2 tbsp chopped parsley
½ tsp chili flakes, for serving
Instructions
Get your prep done before you start cooking. Pat the salmon fillets dry, season both sides with paprika, ½ teaspoon salt and ½ teaspoon pepper.
Mince the garlic, finely chop the shallot, chop the parsley and roughly chop the olives.
In a large nonstick skillet, heat oil and butter over medium high. Add salmon fillets and sear, about 3-4 minutes on each side. Remove from skillet and set aside.
To the same skillet, add garlic, shallot and capers. Cook for 2 minutes over medium. Deglaze with white wine, simmer for 2 minutes while stirring and scraping up the brown bits from the bottom of the skillet with a wooden spoon.
Add fish sauce, oregano and the remaining salt and pepper. Stir in tomato paste and add olives. Pour in crushed tomatoes and bring the sauce to a boil.
Return salmon fillets to the skillet and allow to simmer for 3 minutes or until the salmon is just cooked through.
Serve topped with red pepper flakes, freshly ground black pepper and chopped parsley. Enjoy!

Notes
Calories Per Serving: 538 kcal
Nutritional information is only an estimate. The accuracy of the nutritional information for any recipe on this site is not guaranteed.

//= __('Print recipe (no photos)', 'servingdumplings' );?> //= __('Print recipe (with photos)', 'servingdumplings' );?>