This pan-seared salmon in sweet chili sauce is what weeknight dinner dreams are made of. Imagine a delicious combination of sweet, spicy, and garlicky flavors made in only one skillet. Super easy to prepare and ready in only 20 minutes. With just a handful of ingredients, you'll create a dish bursting with incredible flavors. To ensure you don't miss a drop of the scrumptious sauce, we're serving the salmon alongside basmati rice. Trust me, it's a match made in heaven!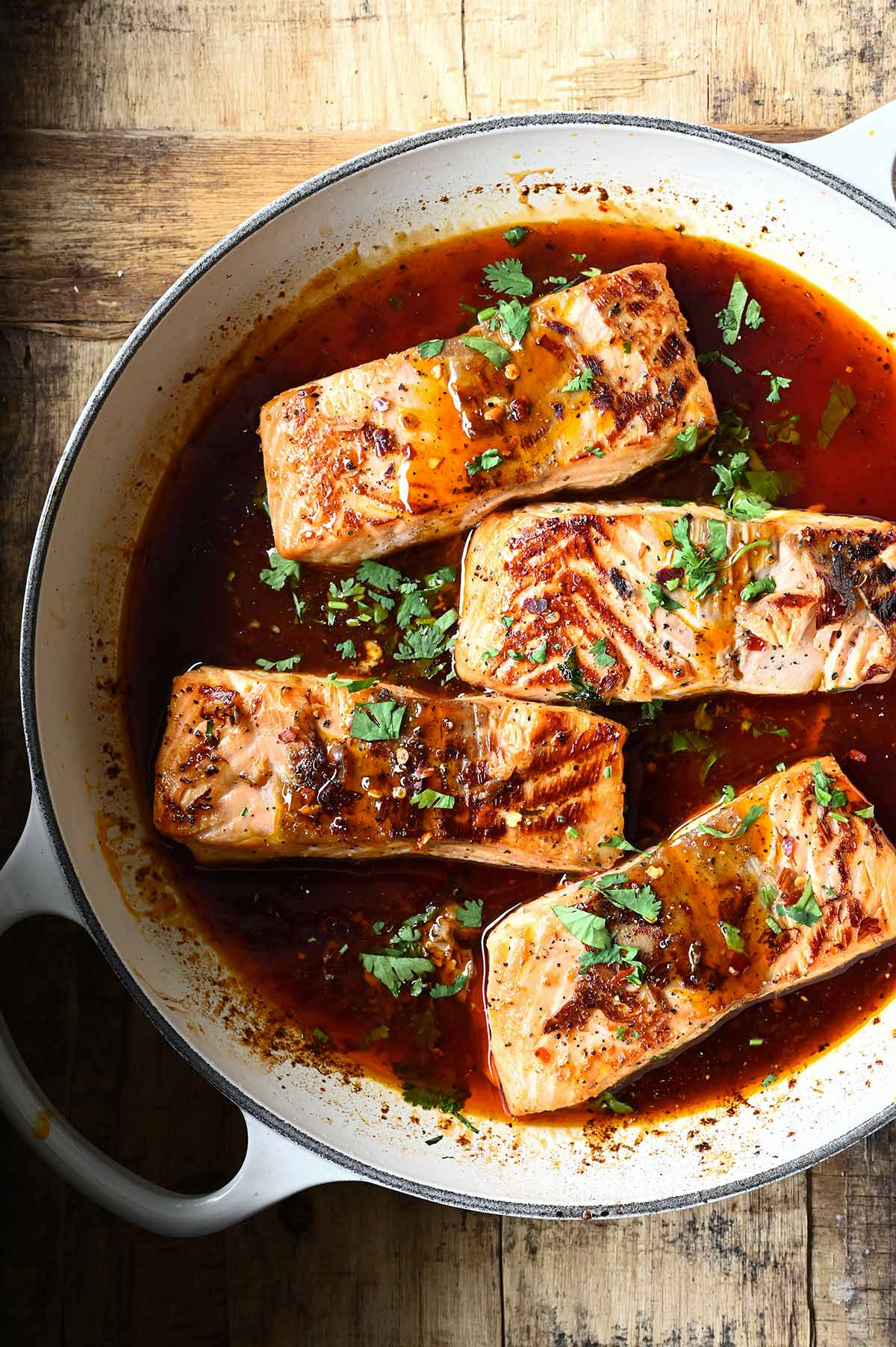 Get ready to add a little extra joy to your weeknight routine with this amazing blend of sweet, spicy, and carefully chosen spices. The best part? It's a pantry recipe, meaning you can easily keep the ingredients on hand. Just stash some salmon fillets in the freezer and sweet chili sauce in the fridge, and you'll be able to whip it up whenever you want. It's one of those fantastic, go-to recipes that can save the day when you need a quick and delicious meal.
But here's the real kicker: the presentation is both, funky and fancy. You could even serve this as the star of your next dinner party, and no one would complain. That's how good it is. The sauce thickens beautifully and perfectly complements the seared salmon, while the addition of cilantro and lime juice adds a burst of freshness to the delightful mix of sweet and spicy flavors. Get ready to impress your taste buds!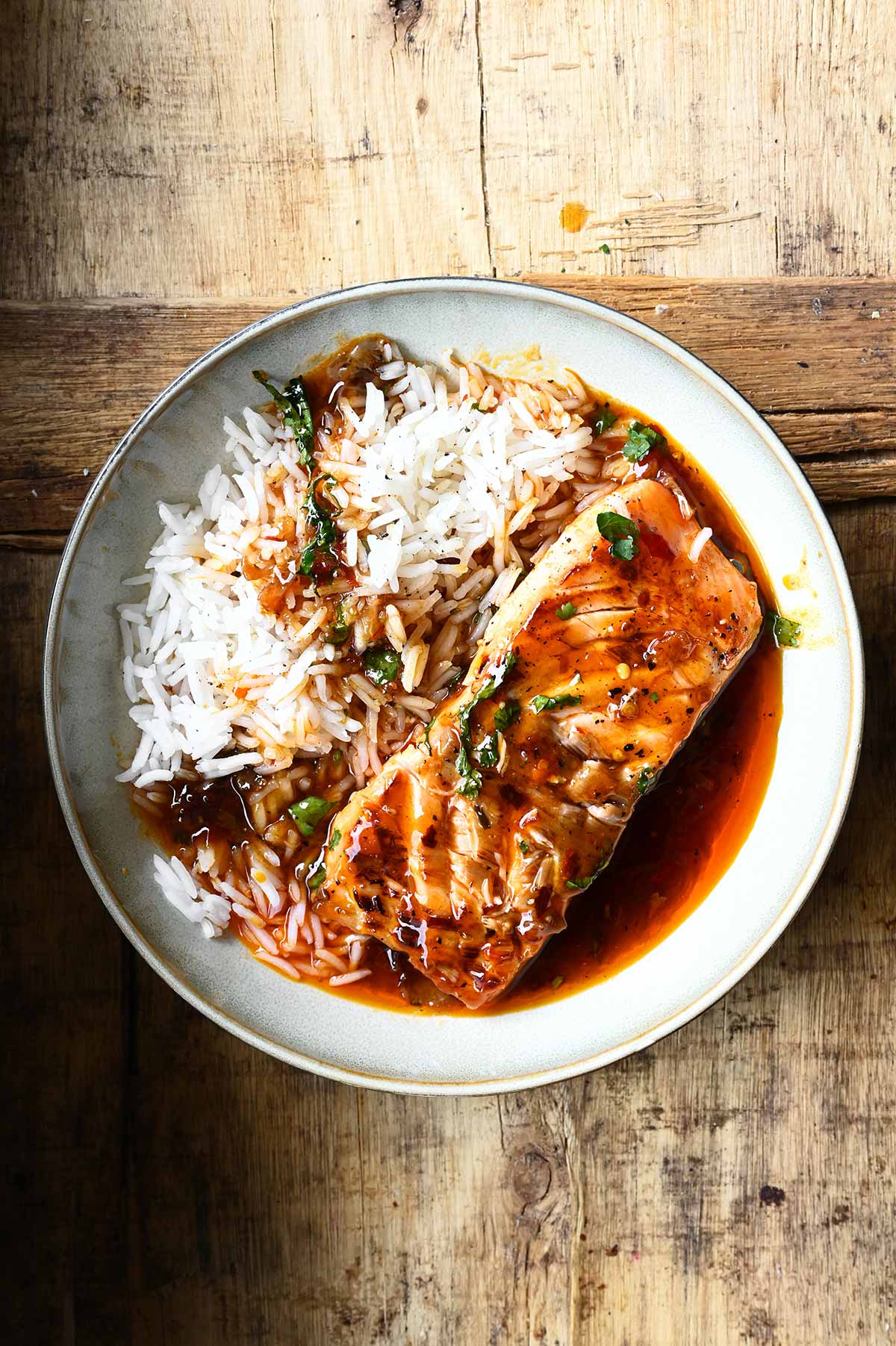 The Sweet Chili Sauce
The sweet chili sauce is the star of the show in this recipe, bringing a delicious blend of sweet and spicy flavors. It's like a flavor superhero that takes the taste to new heights. This sauce adds a tangy, sticky touch to the salmon, creating a delightful glaze. It's not a secret ingredient, but it sure does make a big impact on the overall taste. It takes this recipe from ordinary to extraordinary, adding a burst of flavor that will leave you craving more.
You can easily find Thai sweet chili sauce in a regular supermarket in the Asian food aisle.
Here's How Truly Easy It Is to Make
This recipe is a breeze to prepare! Here's what you need to do: First, we sear the salmon to perfection. Then, in the same skillet, we cook up some garlic for that irresistible aroma. Now, it's time to add a flavor-packed combination of soy sauce, fish sauce, and sesame oil. And the final touch? Just pour in the sweet chili sauce, give it a good stir, et voila! You're done. It couldn't be any easier!
Let me guide you through the recipe with this step-by-step VIDEO.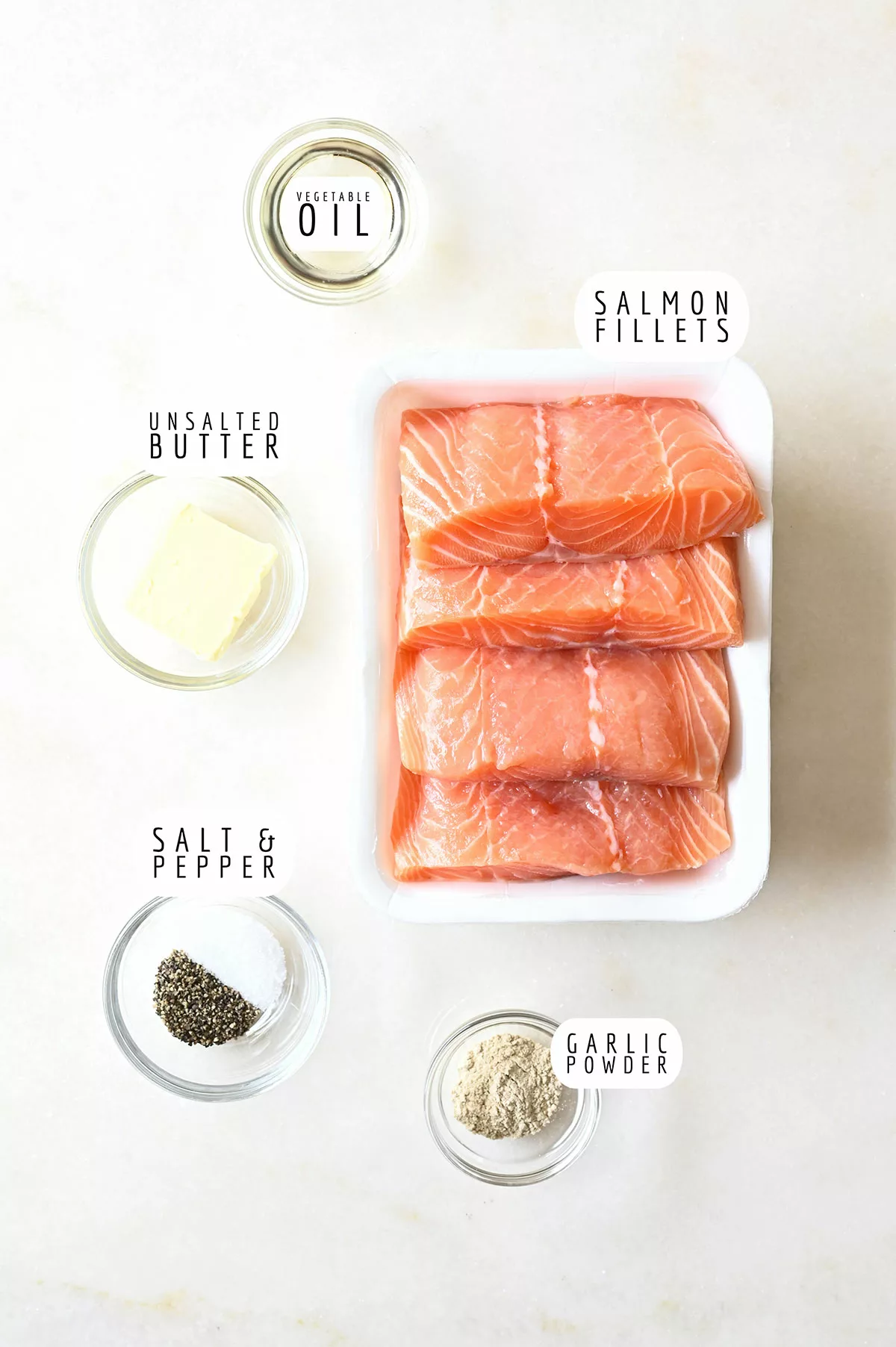 Ingredients, Tips & Substitutions
Salmon
Salmon Fillets: Use salmon fillets of the same size and thickness so they can cook evenly. Skinless salmon is the go-to in this recipe, but if you want to use skin-on salmon, no problem!
Seasoning: For an extra burst of flavor, we'll use a combination of salt, black pepper, and garlic powder.
Oil and Butter: We're using vegetable oil and unsalted butter to sear the salmon.
Sweet Chili Sauce
Garlic: An essential flavor base.
Soy and Fish Sauce: For a huge salty flavor boost.
Toasted Sesame Oil: Adds a rich and slightly nutty undertone that takes the sweet chili salmon to the next level.
Sweet Chili Sauce: It enhances this recipe with its irresistible blend of sweet and spicy flavors. It adds a mouthwatering glaze to the salmon, making it incredibly tasty.
Lime Juice: For a citrusy boost.
Chili Flakes: To finish off the dish.
Herbs: Fresh cilantro, if you don't like the taste of cilantro, simply swap it for scallions.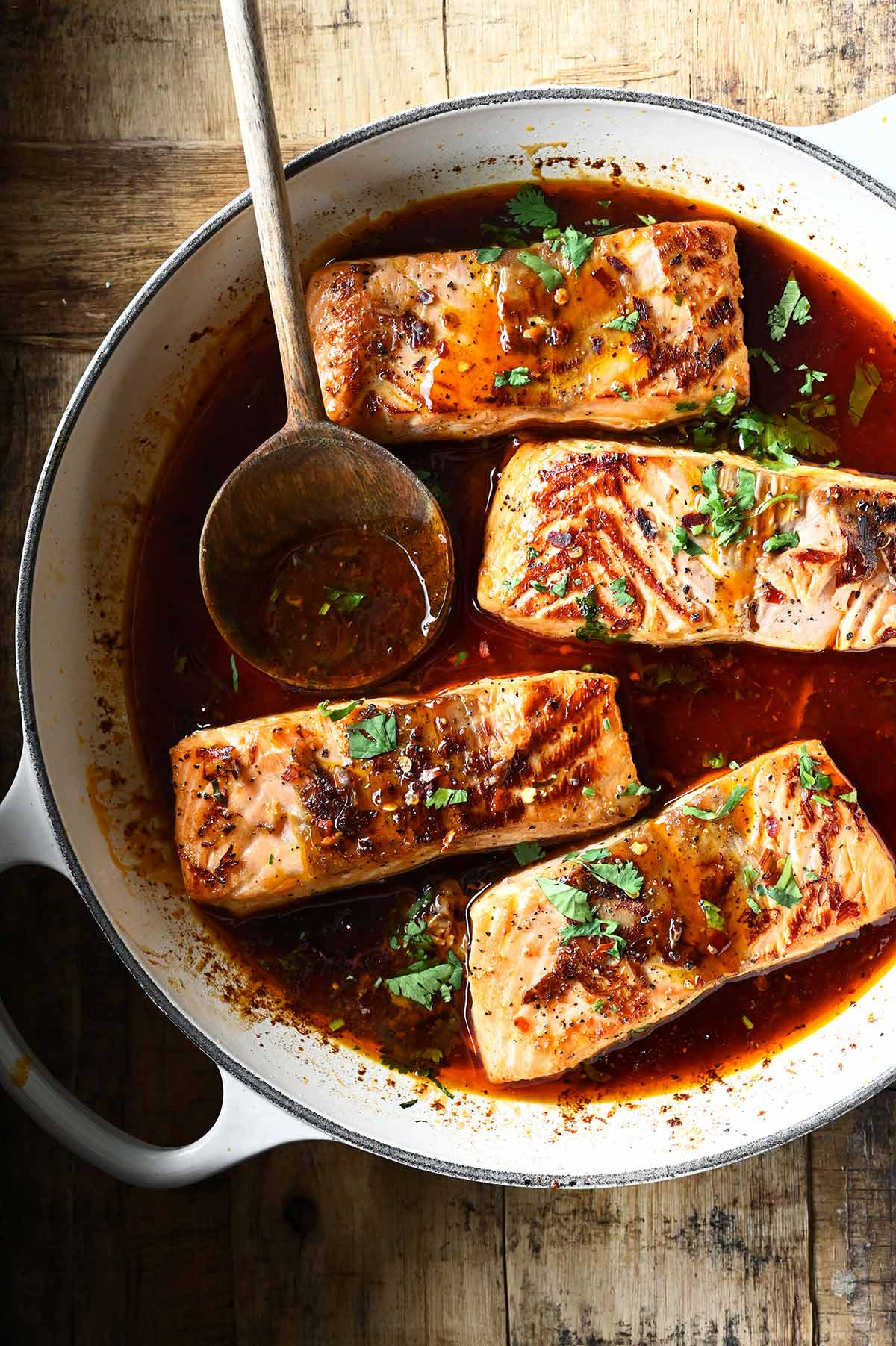 Recipe Notes
Serve over steamed basmati or jasmine rice, they both work well with this recipe. Basmati rice has a slightly nutty flavor and a fluffy texture, which can complement the sweet chili salmon nicely. Jasmine rice, on the other hand, has a delicate floral aroma that pairs well with Thai-inspired dishes. Ultimately, the choice depends on your personal preference. Either one will make a great accompaniment to the flavorful sweet chili salmon.
When it comes to pairing vegetables with the sweet chili salmon, you have plenty of options. Here are a few suggestions:
– Raw: You can go for a refreshing salad by combining crisp lettuce, sliced cucumbers, shredded carrots, and cherry tomatoes. Toss them together with a light dressing or a drizzle of lime juice and vegetable oil.
– Steamed: Consider steaming broccoli florets, green beans, or snap peas.
– Stir-Fried: Another great option is stir-frying vegetables. Sauté bell peppers, zucchini, and snow peas in a hot pan with a little oil. Season with salt and pepper for a quick and flavorful side dish.
If you are eating low-carb, instead of rice, you can try this salmon with roasted zucchini, cauliflower rice or broccoli.
Storage: Store leftovers refrigerated in an airtight container for up to 1 day.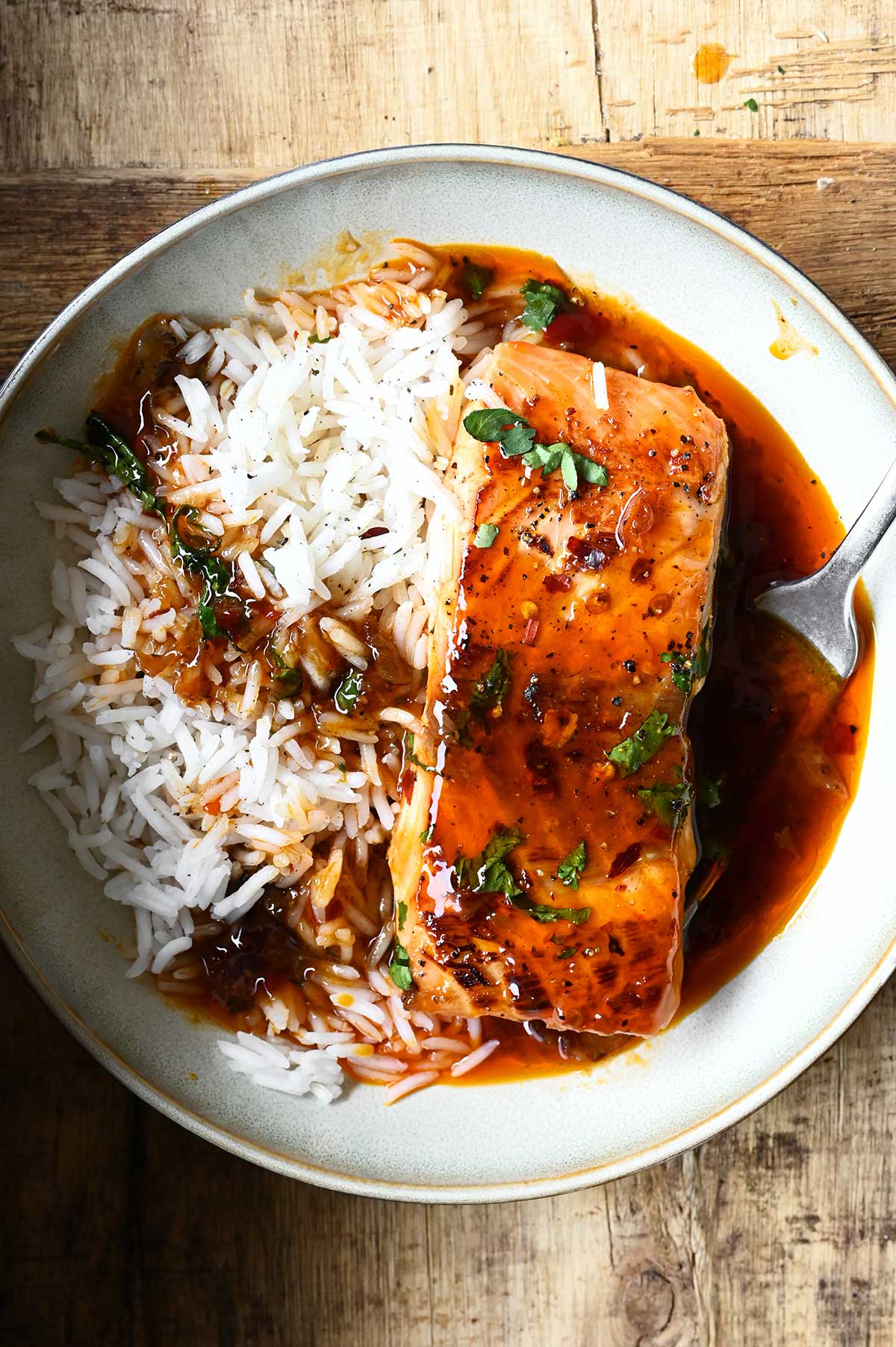 Try These Next
Cooking Video
Yield: serves 4
Salmon in Sweet Chili Sauce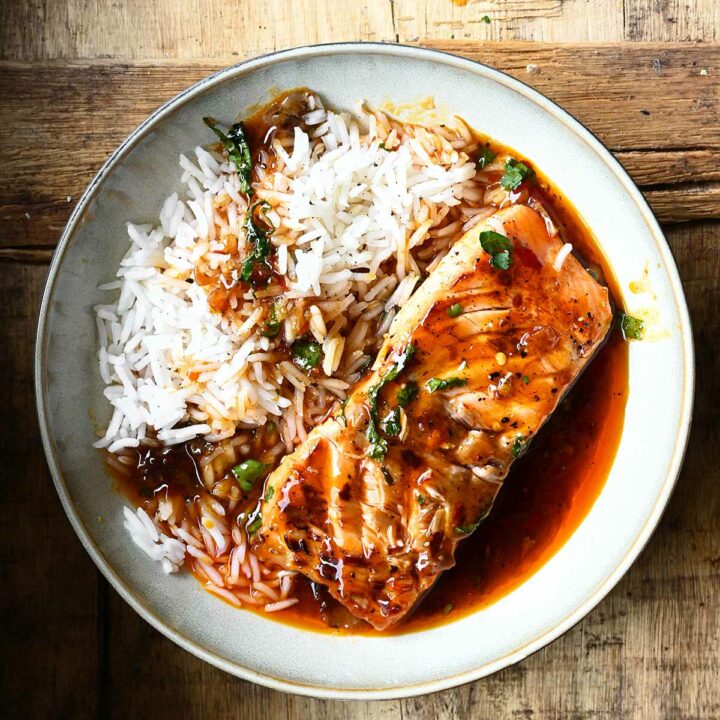 Ingredients
1 tbsp vegetable oil
1 tbsp unsalted butter
4 salmon fillets
½ tsp each: salt, black pepper
1 tsp garlic powder
4 garlic cloves, grated
1 tbsp low sodium soy sauce
1 tbsp fish sauce
1 tbsp toasted sesame oil
¾ cup/200 ml Thai sweet chili sauce
juice from ½ lime
red chili flakes, for serving
chopped cilantro, for serving
Instructions
Get your prep done before you start cookling. Pat the salmon fillets dry, season bot sides with salt, pepper and garlic powder.
Grate the garlic cloves and chop the cilantro leaves.
Heat oil and butter over medium high in a nonstick skillet. Add salmon fillets and sear 3 minutes per side. Remove from skillet and place on a clean plate.
Reduce heat to medium low and add garlic. Cook for 30 seconds, while stirring constantly. Stir in soy sauce, fish sauce and sesame oil. Cook for an additional 30 seconds. Add sweet chili sauce and bring to a simmer.
Stir in lime juice and return the salmon fillets to the skillet. Simmer for 3 minutes or until the salmon is heated through and the sauce is sticky.
Finish off with red chili flakes and cilantro. Serve with steamed rice and your prefered vegetables. Enjoy!

Notes
Calories Per Serving: 606 kcal
Nutritional information is only an estimate. The accuracy of the nutritional information for any recipe on this site is not guaranteed.

//= __('Print recipe (no photos)', 'servingdumplings' );?> //= __('Print recipe (with photos)', 'servingdumplings' );?>