Salisbury steak meatballs with mushroom gravy. A family-friendly dish that's actually one of the coziest dinners you can make on a weeknight. Seasoned ground beef shaped into mouthwatering meatballs, browned and simmered in a hearty onion and mushroom gravy. It's ridiculously delicious and takes about 30 minutes to prepare. Serve over buttery mashed potatoes for the most luxurious one-pan dish.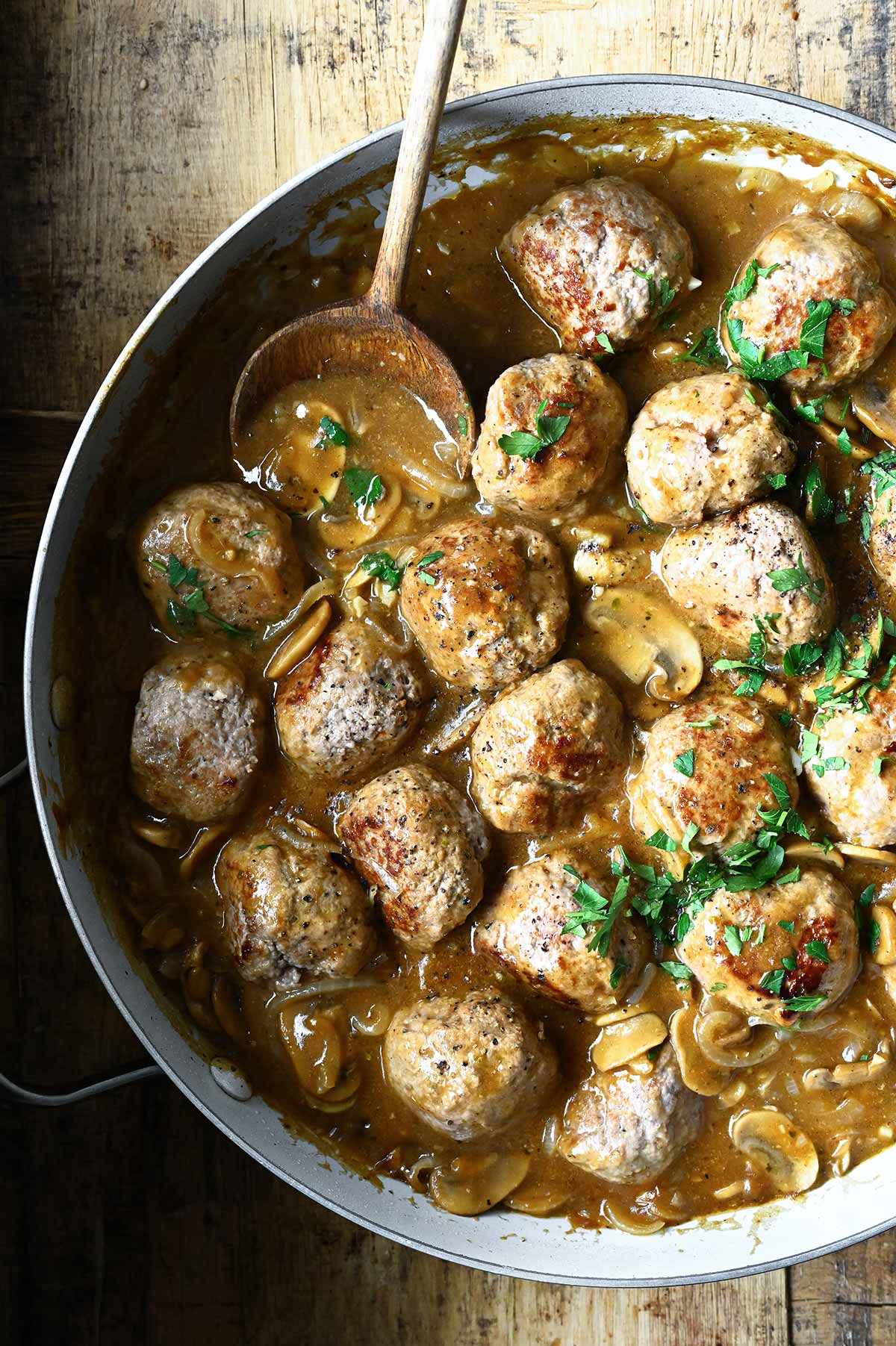 Instead of making patties the traditional way, we roll the ground beef into meatballs, and simmer them in a rich mushroom and onion gravy. The result are super delicious tender juicy meatballs in a deeply savory, oh-so-comforting mushroom sauce.
There are plenty of meatball recipes on my website. So these Salisbury steak meatballs are a great addition to the collection. If you haven't yet tried making salisbury steak meatballs, this step-by-step recipe is for you. It's a staple I like to make at home, and I hope it'll become one at yours too.
Let me guide you through the recipe with this step-by-step VIDEO.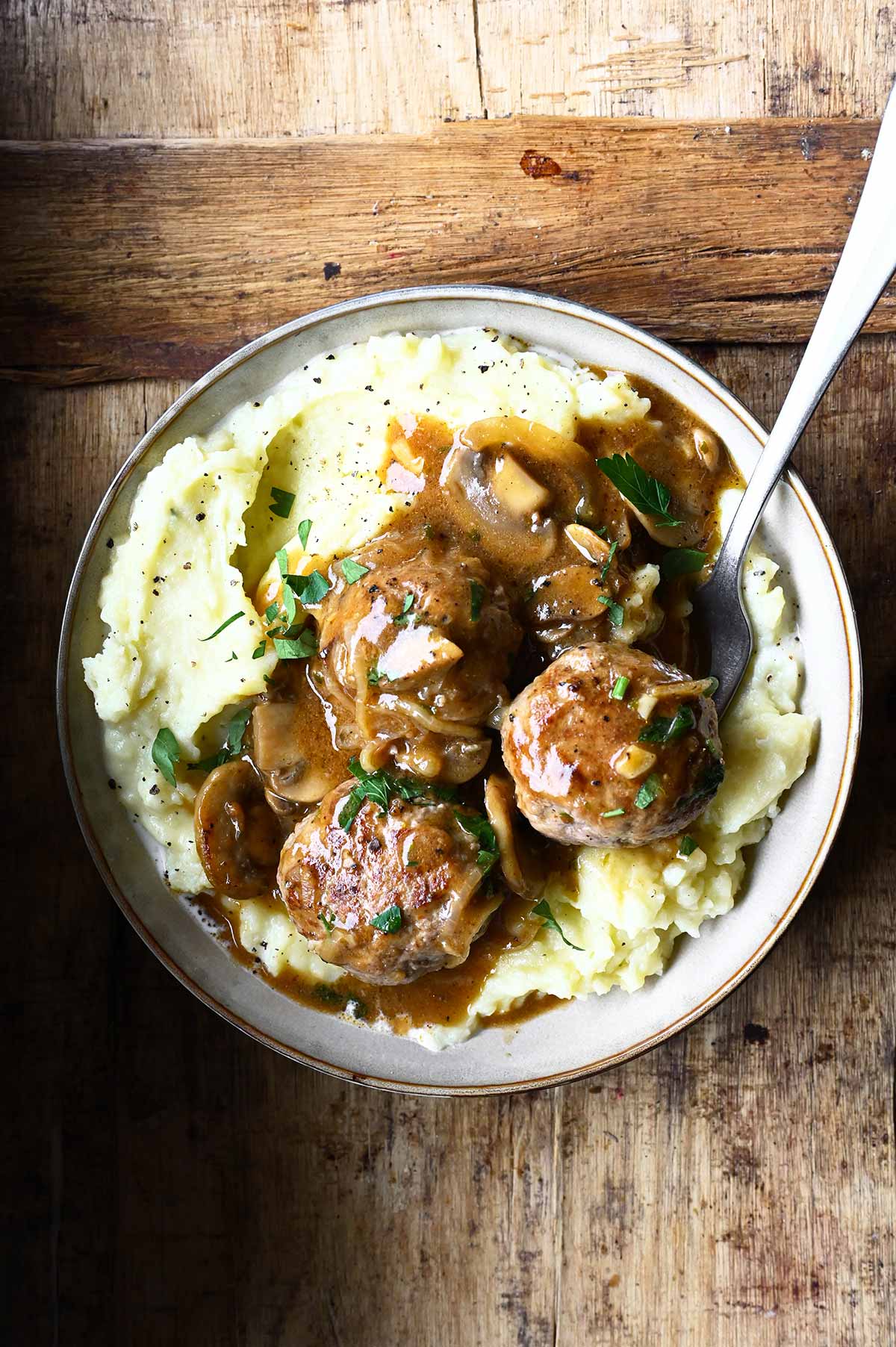 INGREDIENTS YOU'LL NEED FOR THE MEATBALLS
Ground Beef: I used lean ground beef. It has plenty of flavor but is not overly greasy. You can also use ground turkey or chicken.
Breadcrumbs: They prevent the meatballs from becoming dry. The breadcrumbs absorb the juices from the meat as it cooks, trapping them within the meatball.
Egg: To bind the meat with breadcrumbs and spices. The eggs will cook and make the meatballs light and airy.
Seasoning: For huge flavor we're using garlic powder, dried onion, salt, black pepper, a splash of Worcestershire sauce and ketchup.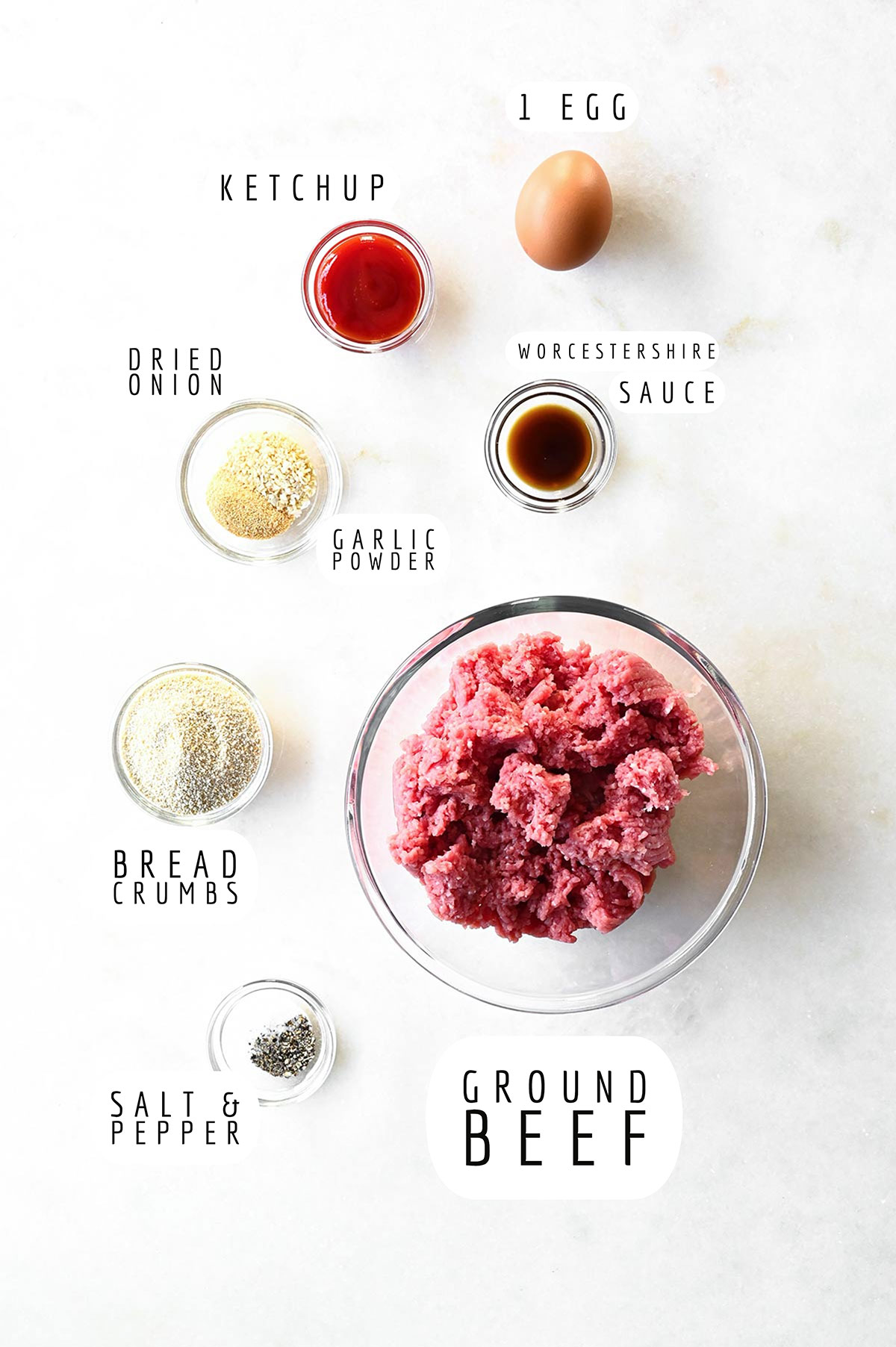 INGREDIENTS YOU'LL NEED FOR THE MUSHROOM GRAVY
Oil and Butter: For frying the meatballs and mushrooms.
Mushrooms: I used white button mushrooms, but you can use portobello or cremini.
Onions: They caramelize and add a most delicious flavor.
Garlic: Can't imagine a recipe without garlic:)
Seasoning: black pepper, dried oregano, mustard, Worcestershire sauce, soy sauce and ketchup.
Flour: To thicken the sauce.
Beef Broth: Adds a strong rich taste. You can swap it for chicken broth.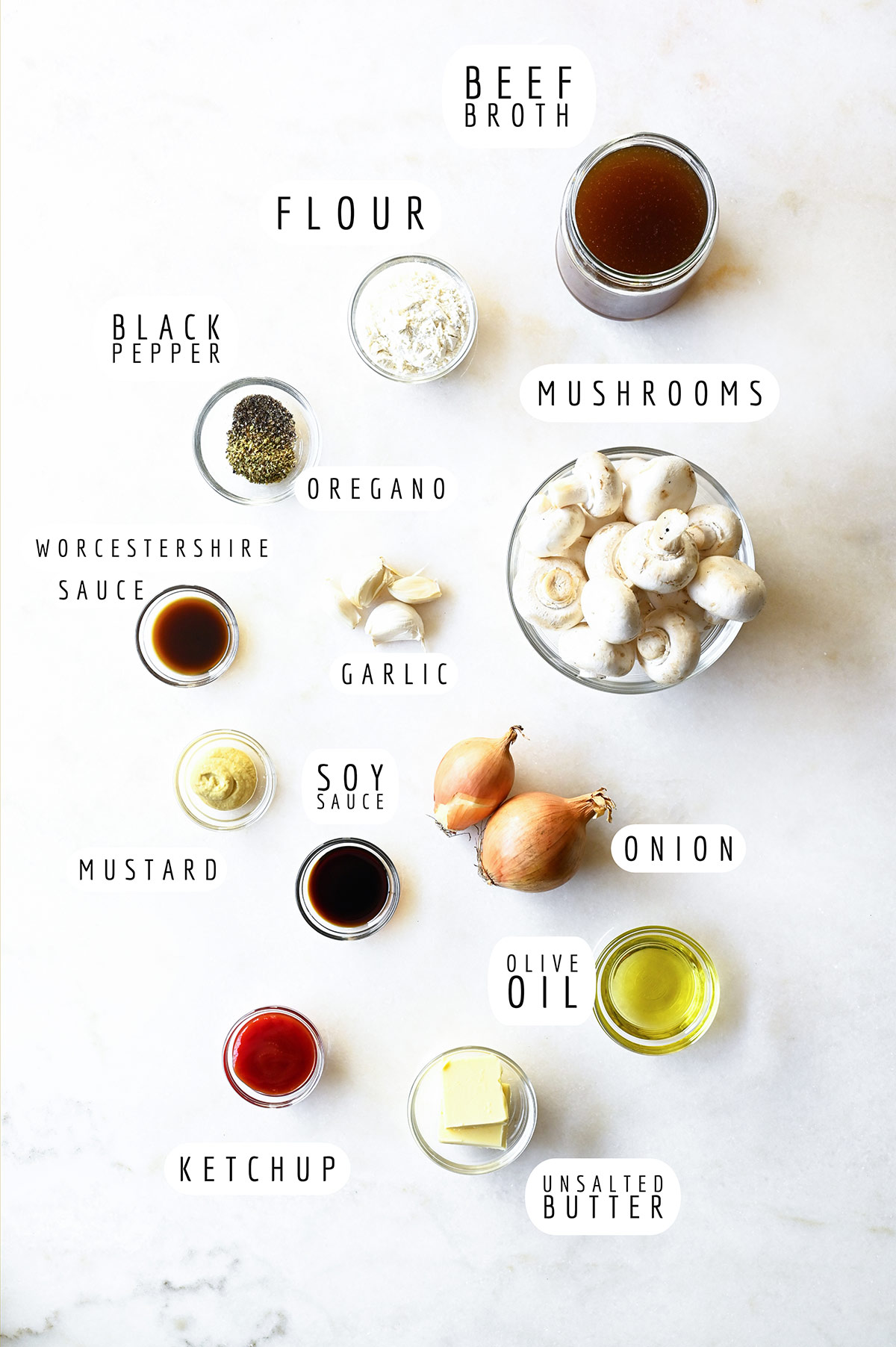 RECIPE NOTES
The key for tender meatballs: We mix the ground beef with our hands, but make sure you don't over mix. The shorter you mix and form the balls, the more airy they will be. If you overwork the meatballs, they'll get tough.
Serve over mashed potatoes, rice or buttered egg noddles. Mashed cauliflower is another option, as is garlic toast or some crusty bread.
Delicious with a big leafy side salad, cucumber salad, steamed broccoli or green beans.
Store any leftover meatballs in their gravy to keep them moist, tender, and easy to reheat. Leftovers can be refrigerated in an airtight container for up to 3 days.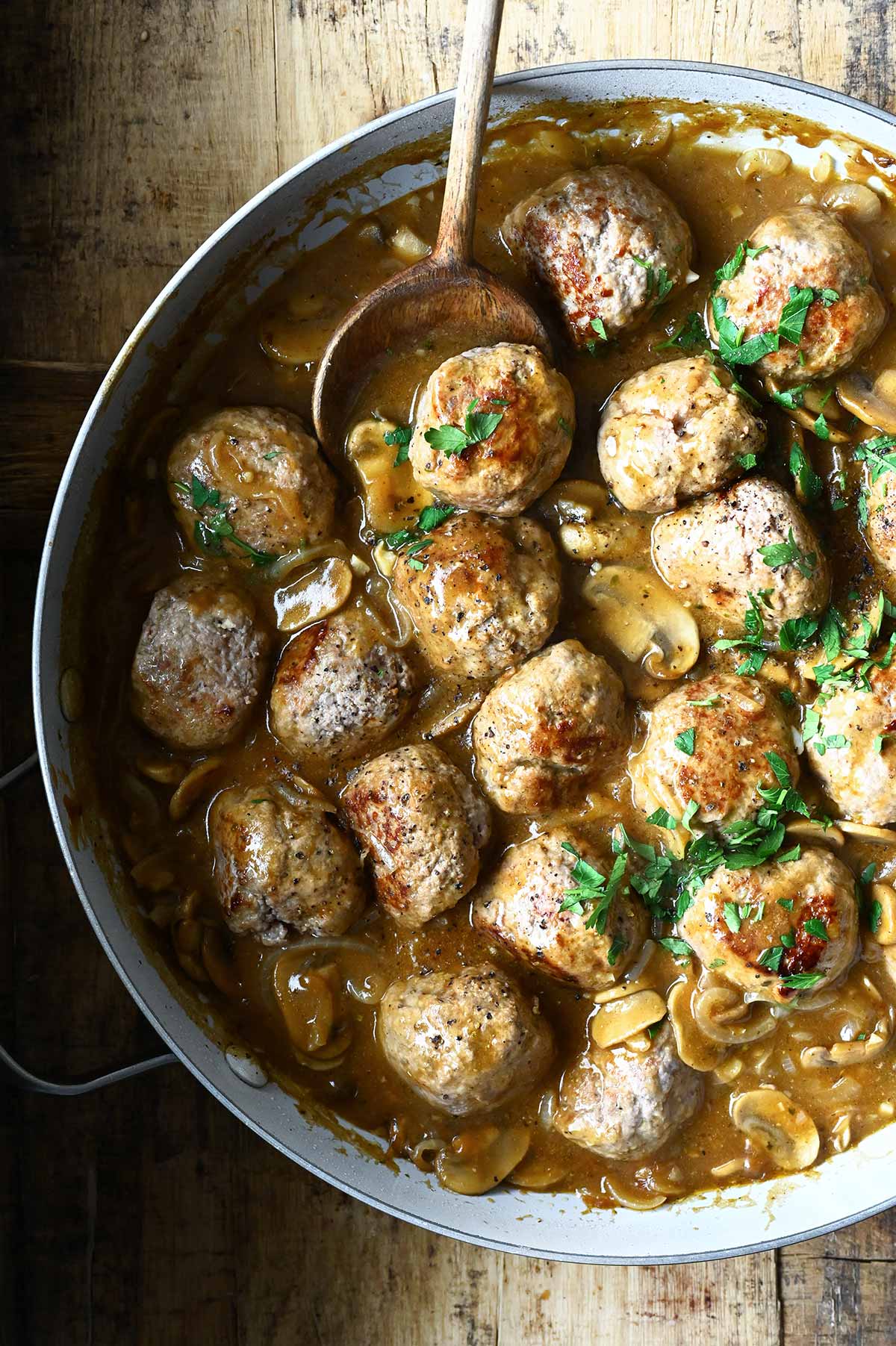 TRY THESE NEXT
COOKING VIDEO
Yield: serves 4
Salisbury Steak Meatballs with Mushroom Gravy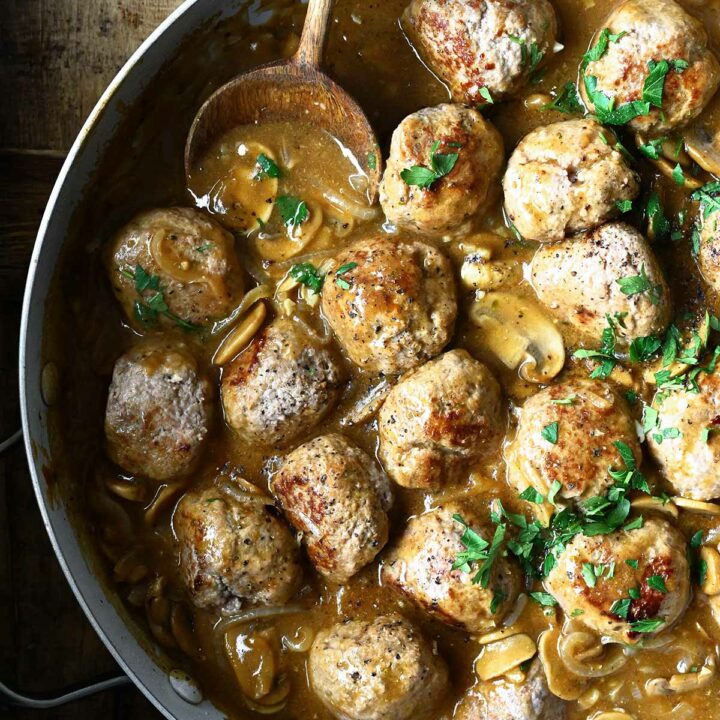 Ingredients
Meatballs
1.3 pounds/600 g ground beef
4 tbsp breadcrumbs
½ tsp each: garlic powder, dried onion
1 tsp each: salt, black pepper
1 egg
2 tsp Worcestershire sauce
1 tbsp ketchup
Mushroom Gravy
2 tbsp olive oil, divided
2 tbsp unsalted butter
9 ounces/250 g mushrooms, thinly sliced
2 medium brown onions, thinly sliced
4 garlic sloves, minced
1 tsp each: black pepper, dried oregano
3 tbsp flour
2 cups/500 g beef broth
2 tsp mustard
1 tbsp each: Worcestershire sauce, low sodium soy sauce
2 tbsp ketchup
chopped parsley, for serving
Instructions
To a bowl, add ground beef and the ingredients for the meatballs. Mix with your hands, just until combined. Roll into 3-tablespoon sized balls. Will make about 20. Set aside.
Get your prep done before you start cooking. Thinly slice the mushrooms, slice the onions and mince the garlic.
In a skillet, heat 1 tablespoon oil and butter over medium. Add meatballs and brown on all sides, about 8 minutes, turning them frequently. Remove from skillet.
Add mushrooms, cook until they release their moisture and start to brown. Remove from skillet.
Add the remaining oil and the onions, cook until soft for about 3 minutes. Add garlic, cook for 1 minute. Stir in oregano and pepper. Then add flour and stir until incorporated. Pour in beef broth and bring to a boil. Add soy sauce, Worcestershire sauce, ketchup and mustard.
Return mushrooms and meatballs to the skillet. Simmer for 5 minutes or until the meatballs are cooked through. Taste and adjust salt.
Finish off with chopped parsley and freshly ground black pepper. Serve over mashed potatoes. Enjoy!
Notes
Calories Per Serving: 536 kcal
Nutritional information is only an estimate. The accuracy of the nutritional information for any recipe on this site is not guaranteed.