Shredded rotisserie chicken in a creamy mushroom sauce. This easy chicken and mushroom dish simmered in a white gravy is pure comfort. Using rotisserie chicken makes this a simple, 20 minute weeknight dinner. Extra bonus? The whole meal comes together in a single pan. Dinner, my friends, is served.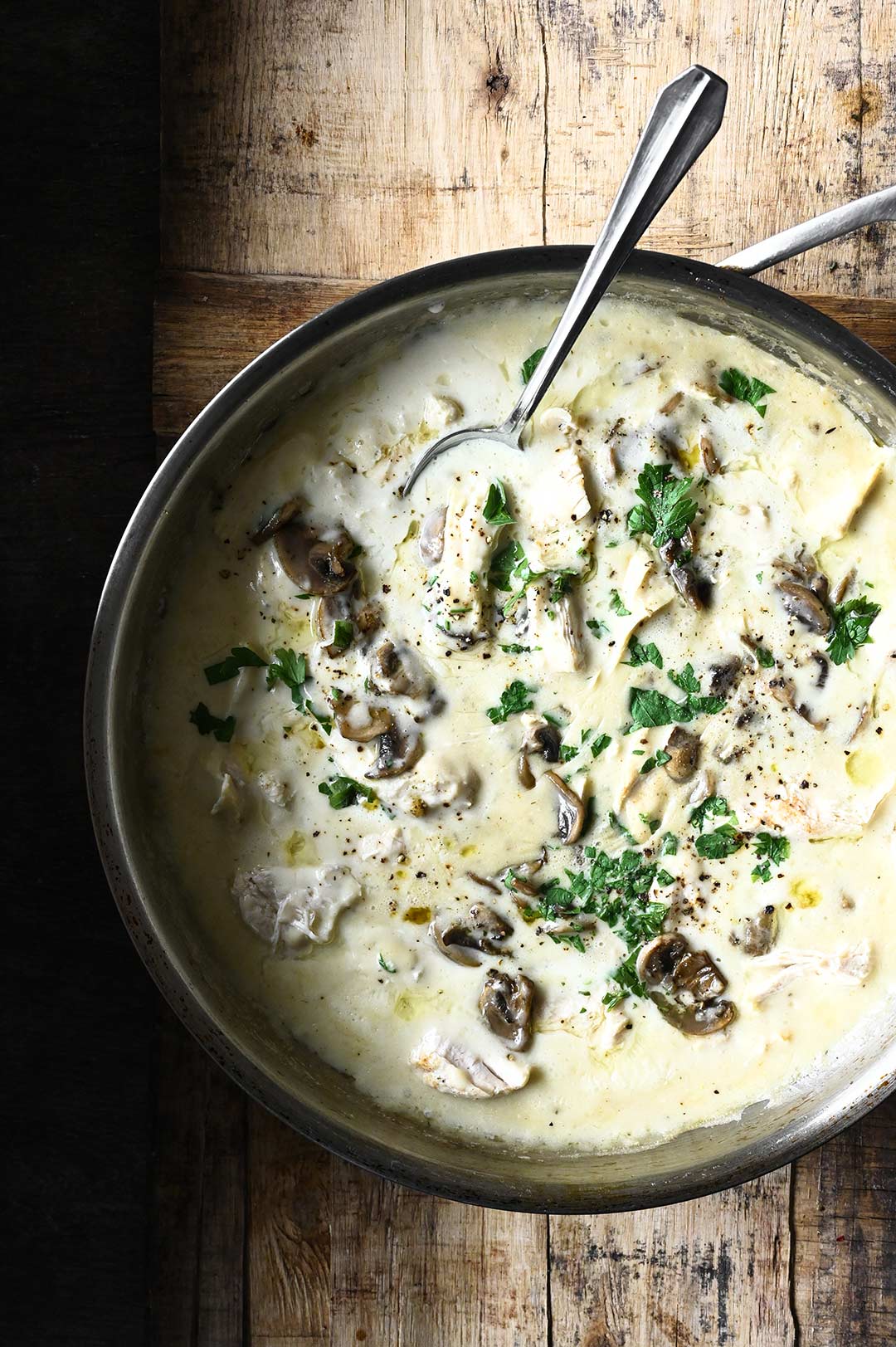 This is one of those dinners that takes about 20 minutes to make from start to finish. We use shredded rotisserie chicken rather than cook the chicken from scratch. So this is the best way to use up your leftover chicken or turkey. It cuts way down on the prep with no noticeable taste difference.
This one-pan chicken and mushroom dinner is simple enough to wow everyone on a weeknight, but it's also special enough to impress at a dinner party.
Let me guide you through the recipe with this step-by-step VIDEO.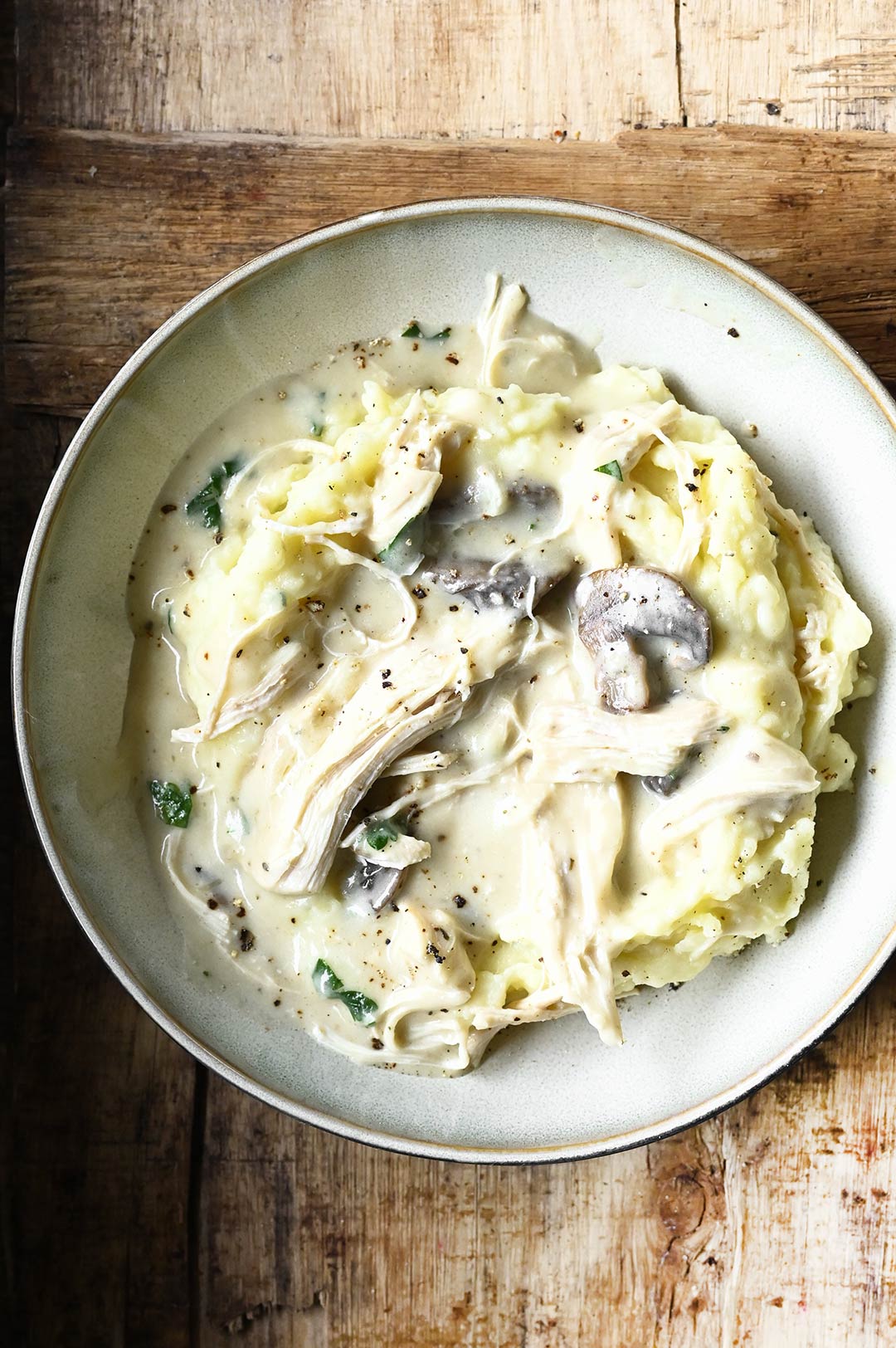 What to serve with shredded chicken in creamy mushroom sauce?
Here are a few things you can add to make it a meal:
mashed potatoes, polenta, toast, crusty bread
green salad drizzled with a light mustard vinaigrette
fresh cucumber salad with a Greek yogurt dressing
arugula salad drizzled with lemon juice and olive oil
RECIPE NOTES
this is a nice way to use up any leftover rotisserie chicken or turkey
if you want to sneak in some veggies, add spinach, carrots or broccoli florets
as for the cream, you can use heavy cream, half-and-half or soy cream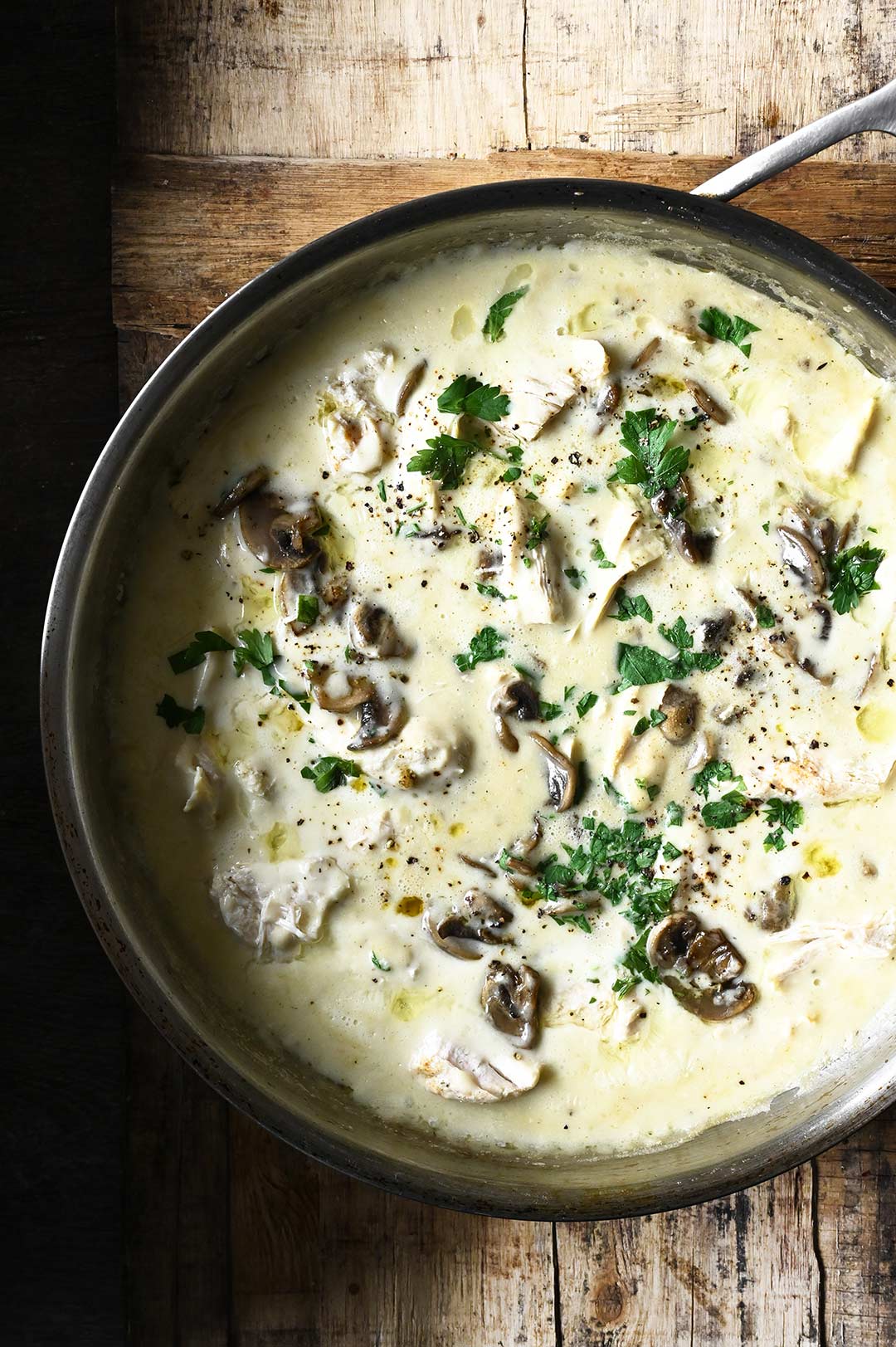 More easy weeknight dishes
Recipe Video
Yield: serves 4
Rotisserie Chicken in Creamy Mushroom Sauce
Ingredients
300 g/11 oz shredded rotisserie chicken 
200 g/7 oz cremini mushrooms
1 large garlic clove
3 tbsp unsalted butter
2 tbsp flour
1 cup heavy cream, or half-and-half
1 + 1/4 cup/300 ml chicken broth, at room temperature
1 tsp lemon juice
1 tbsp chopped parsley
spices
1/2 tsp each: salt + black pepper
1/4 tsp each: cayenne pepper, grated nutmeg, thyme, curry powder
Instructions
Get all the prep done before you start cooking: mince the garlic and thinly slice the mushrooms.
Heat a large skillet over medium-high and add mushrooms. Cook until they start to brown and begin to release some moisture, about 3 minutes. Stir in 1 tbsp butter and cook until golden brown and tender, about 2 minutes. Lower the heat to medium, add garlic and spices. Cook for 1 minute or until fragrant. Remove from skillet.
Reduce heat to low and melt the remaining butter. Add flour and stir continuously until a paste forms, this is called a roux. Cook for 2 minutes. Add broth to the roux, stirring while you pour, until you get a smooth sauce. Cook for 3 minutes, stirring continuously.
Add cream and bring to a boil. Add shredded chicken and mushrooms, stir to combine. Simmer over medium, for 3 minutes, or until the chicken is heated through. Add lemon juice and adjust salt.
Garnish with chopped parsley and some extra black pepper. Enjoy!
Notes
Calories Per Serving: 465 kcal
Nutritional information is only an estimate. The accuracy of the nutritional information for any recipe on this site is not guaranteed.