Delicious asparagus, tender sweet potato with crispy edges and a silky eggplant served up bowl style over the most creamy hummus. Who can resist this?! A smokey drizzle of za'atar oil and crunchy chickpeas. It's a beautiful bright dish and it just begs to be attacked with a fork in one hand and a warm pita bread in the other. It's is one of the dishes I love most.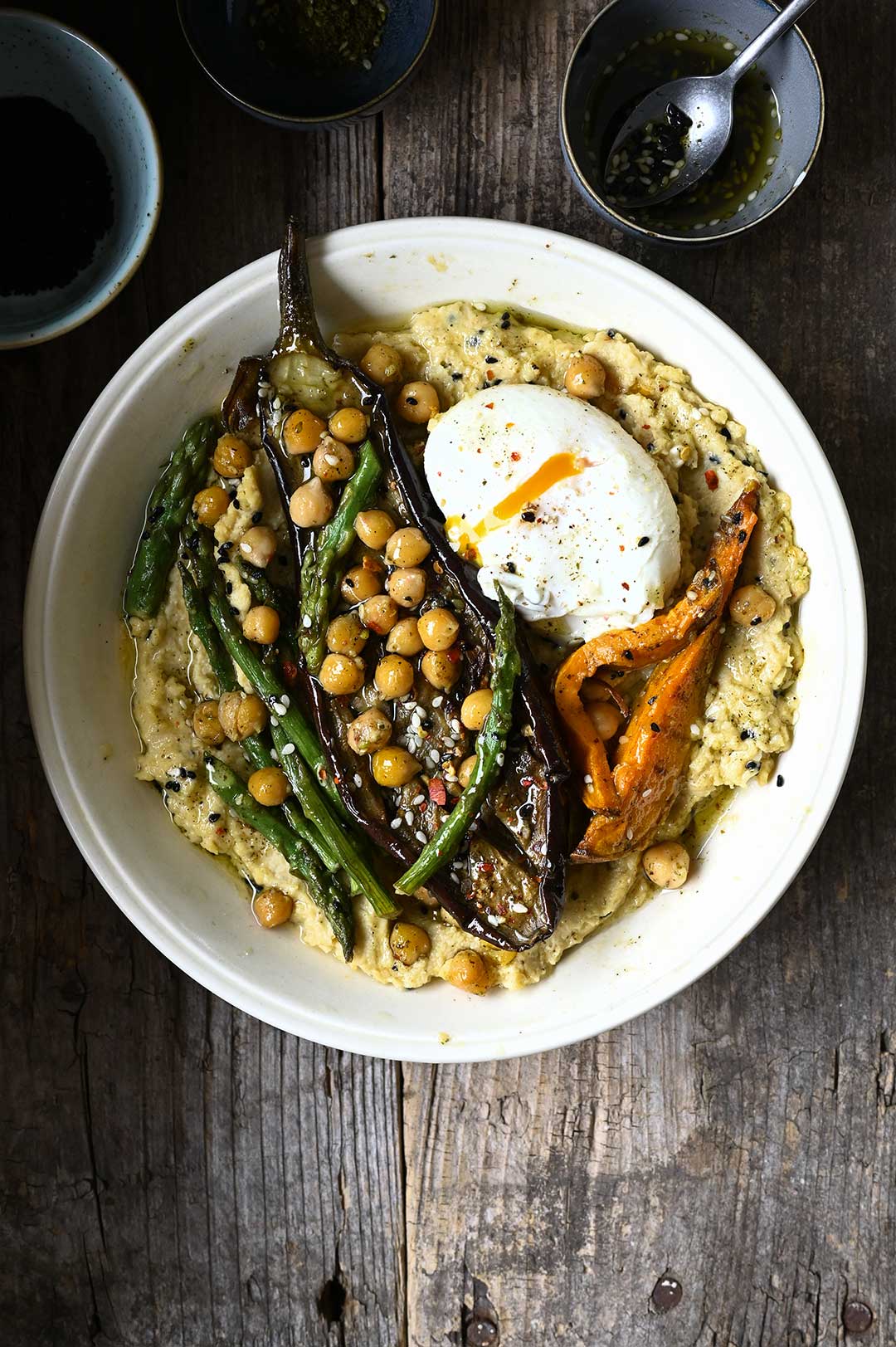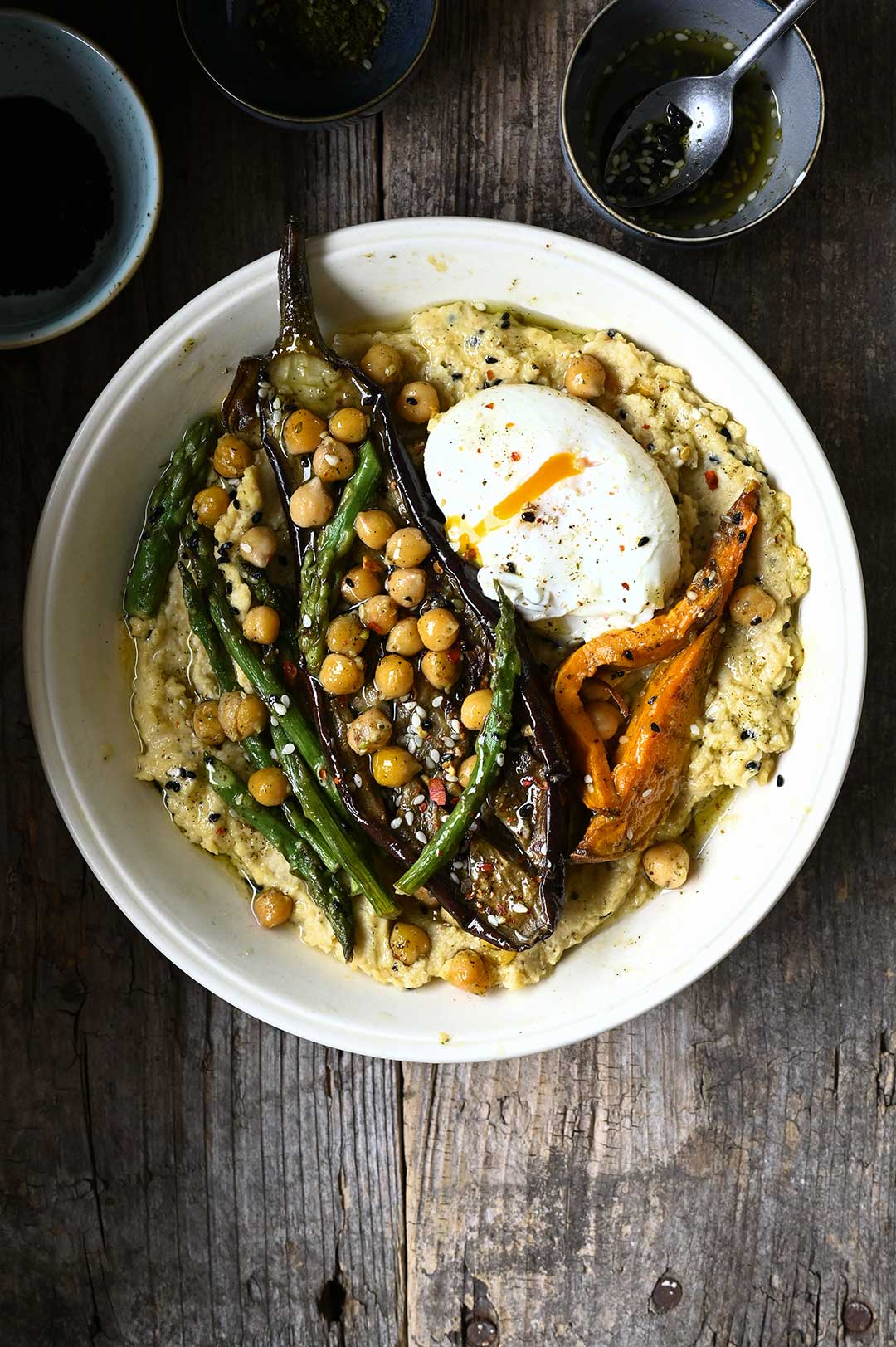 Hummus bowls, basically a pile of juicy roasted veggies over creamy hummus, are so tasty that they now regularly appear on our meal planning list. This hummus bowl is addictive, and just topped with tender roasted veggies and flavorful za'atar oil. Blooming the spices, actually warming them in oil, brings out a toasty flavor. This is a dish that you'll want to make more than you need. The leftovers are perfect for a packed lunch!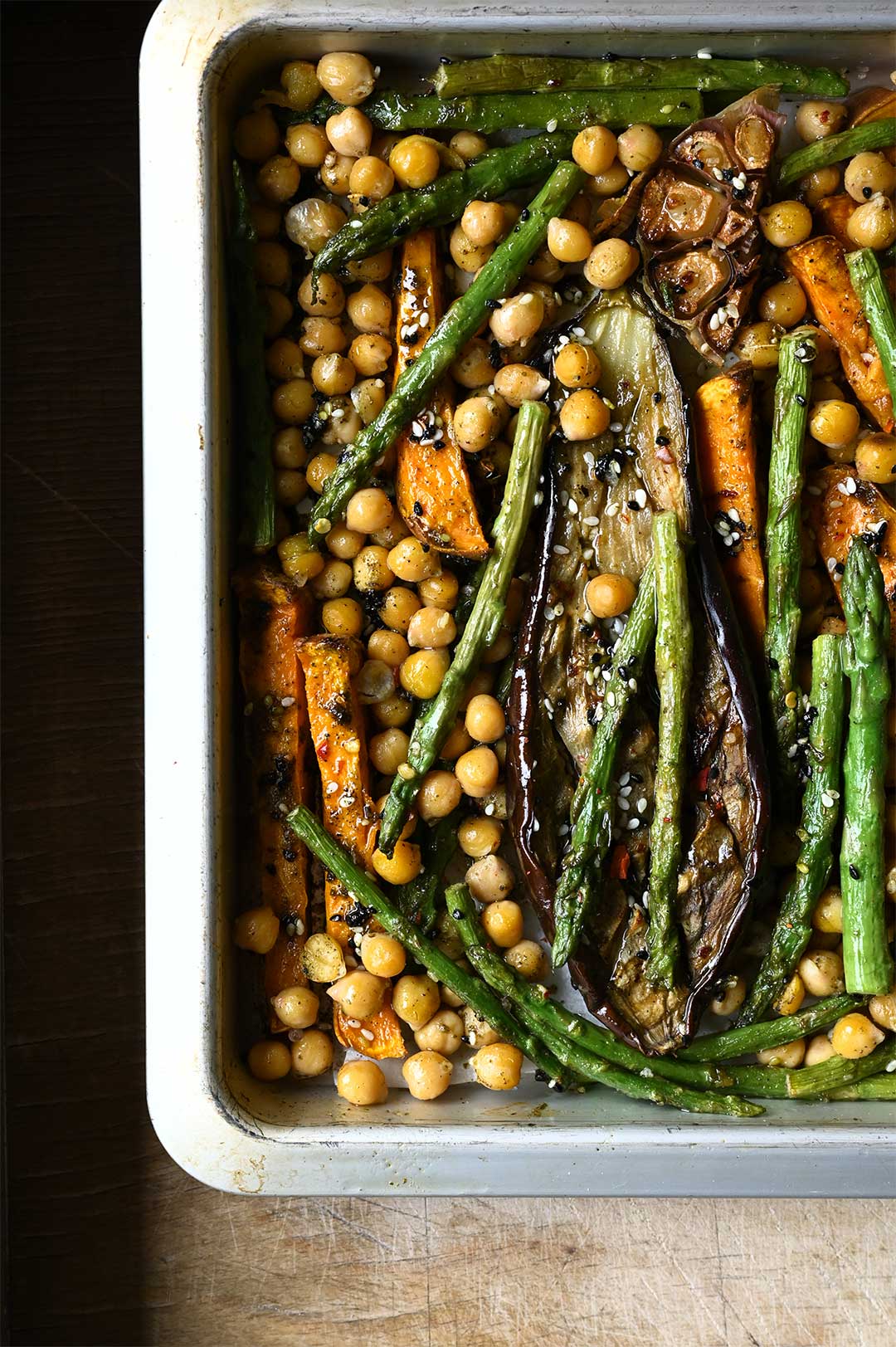 I love these kind of dishes from a construction point of view. There are so many layers! The first bite delivers the big bold flavors of roasted vegetables dripping in herb oil, and then as you start to dig deeper, everything kind of melts together, creating perfect bliss with a little bit of this and a bit of that. It hits all the texture notes, the flavor notes, and you're left feeling really satisfied.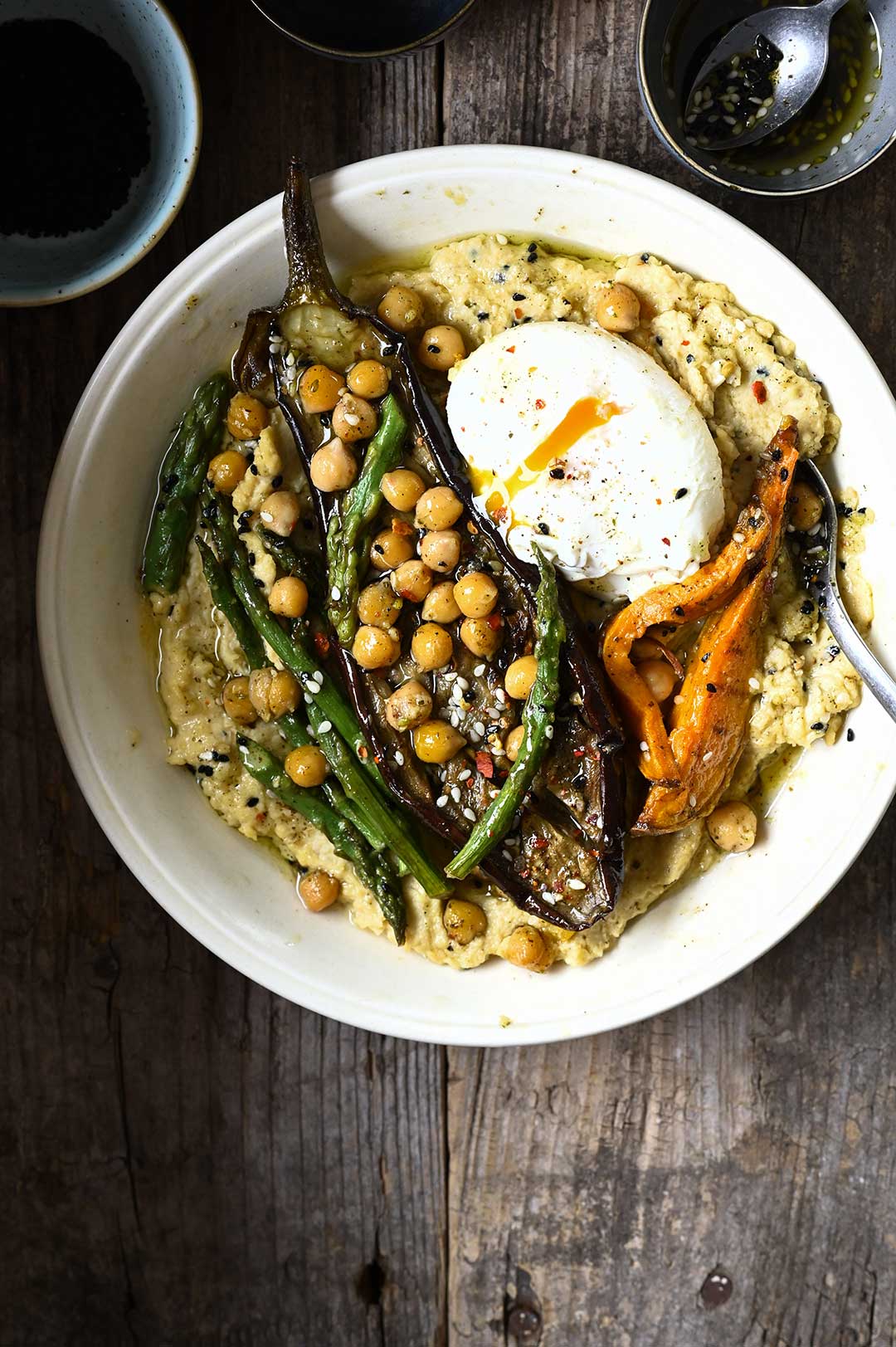 You need
roasted vegetables
2 small eggplants
1 large sweet potato, cut in wedges
1 can (400 g/14 oz) chickpeas, drained
150 g (5.3 oz) green asparagus
1 garlic head, cut in half
za'atar oil
3 tbsp za'atar
5 tbsp olive oil
1 tsp chili flakes
1 tbsp lemon juice
1 tsp smoked paprika
sea salt + black pepper
hummus
1 can (400 g/14 oz) chickpeas, drained
1 tbsp Greek yogurt
1 tbsp liquid from the canned chickpeas
1/2 tsp each: sumac, cumin
1 tbsp tahini
50 ml olive oil
1 tbsp sesame oil
2 roasted garlic cloves (from the roasted vegetables)
1 tbsp lemon juice
sea salt + black pepper
+
poached egg, sesame seeds
How to
Preheat the oven to 200°C/400F.
Combine the ingredients for za'atar oil in a bowl.
Cut the eggplant in half lengthwise. With a sharp knife, score the flesh deeply in a diamond cross-hatch pattern, without cutting into the skin. Brush the surface of each half with za'atar oil and don't forget to go into the cuts. Place on a baking sheet.

In a bowl, combine sweet potato and chickpeas with 3 tbsp za'atar oil. Add in an even layer to the baking sheet, bake for 15 minutes or until the eggplant is starting to get soft. Nestle the garlic between the vegetables.
Combine asparagus with 1 tbsp za'atar oil and add to the baking sheet. Bake for 10 minutes more or until the asparagus are tender but still a bit firm to the bite.

Make the hummus. Drain the chickpeas, reserving 1 tablespoon of liquid. Combine the chickpeas, reserved liquid and all other ingredients in a food processor, and blend to a creamy purée. Taste and season with salt and pepper.

Serve the roasted vegetables with hummus and top with a poached egg, or two if you want. Sprinkle with chili flakes and black sesame, drizzle with extra za'atar oil and lemon juice. Sprinkle with salt and pepper. Enjoy!

PRINT RECIPE

//= __('Print recipe (no photos)', 'servingdumplings' );?> //= __('Print recipe (with photos)', 'servingdumplings' );?>