Roasted pepper feta dip. It's creamy, yet simultaneously light and velvety. Roasted peppers together with whipped feta and roasted garlic form an irresistible combination. So delicious, especially when topped with honey and some chili flakes. No time to roast the peppers? Use the jarred ones! Then scoop up with anything from fresh veggies to toasted pita chips. The extra bonus? It's the ultimate make ahead party dip.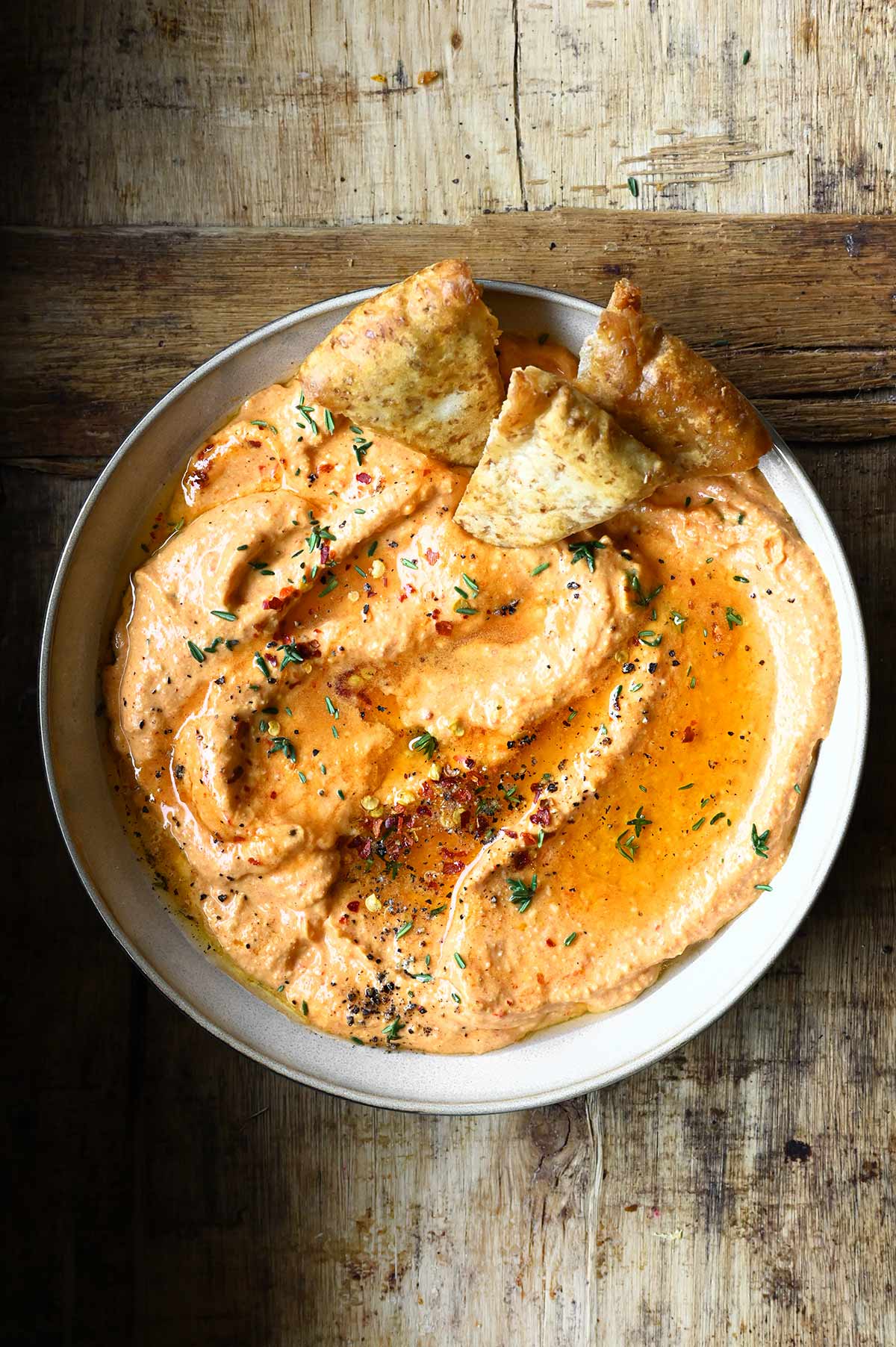 This vibrant red pepper and feta dip is a perfect way to start a party. It's not too heavy, yet it manages to pack a major flavor punch. The base of this dip consists of feta, cream cheese, roasted red peppers and roasted garlic. Serve with toasted pita chips or crackers, and prepare yourself for a real treat..
So easy to make, pairs perfectly with any type of crispy crackers or veggies and it's super versatile too! Use Greek yogurt instead of cream cheese, jarred roasted peppers for a dip that's ready in just 5 minutes, add garlic powder or throw in some sun-dried tomatoes for a bright and creamy dunk. Simple and tasty.
Made with just a few simple ingredients and basic equipment. Ready?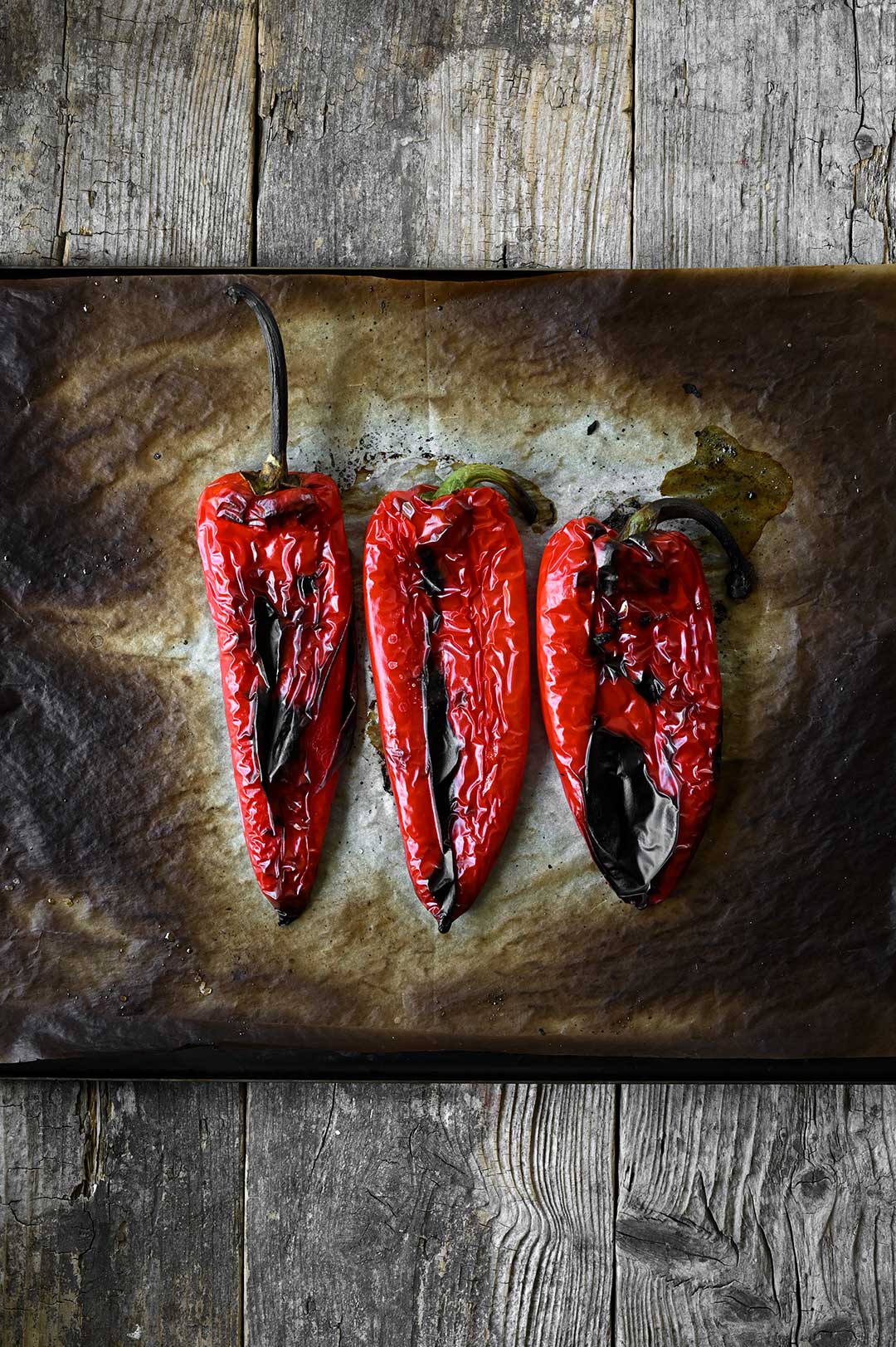 This creamy dip is knock-your-socks-off good, feels fancy and packs a surprising amount of flavor. You can double or triple the recipe, make it just before the party starts or a few days in advance. It's also a simple, delicious way to shake up your snacking routine, especially when paired with some vegetables, but actually it works with almost anything.
Let me guide you through the recipe with this step-by-step VIDEO.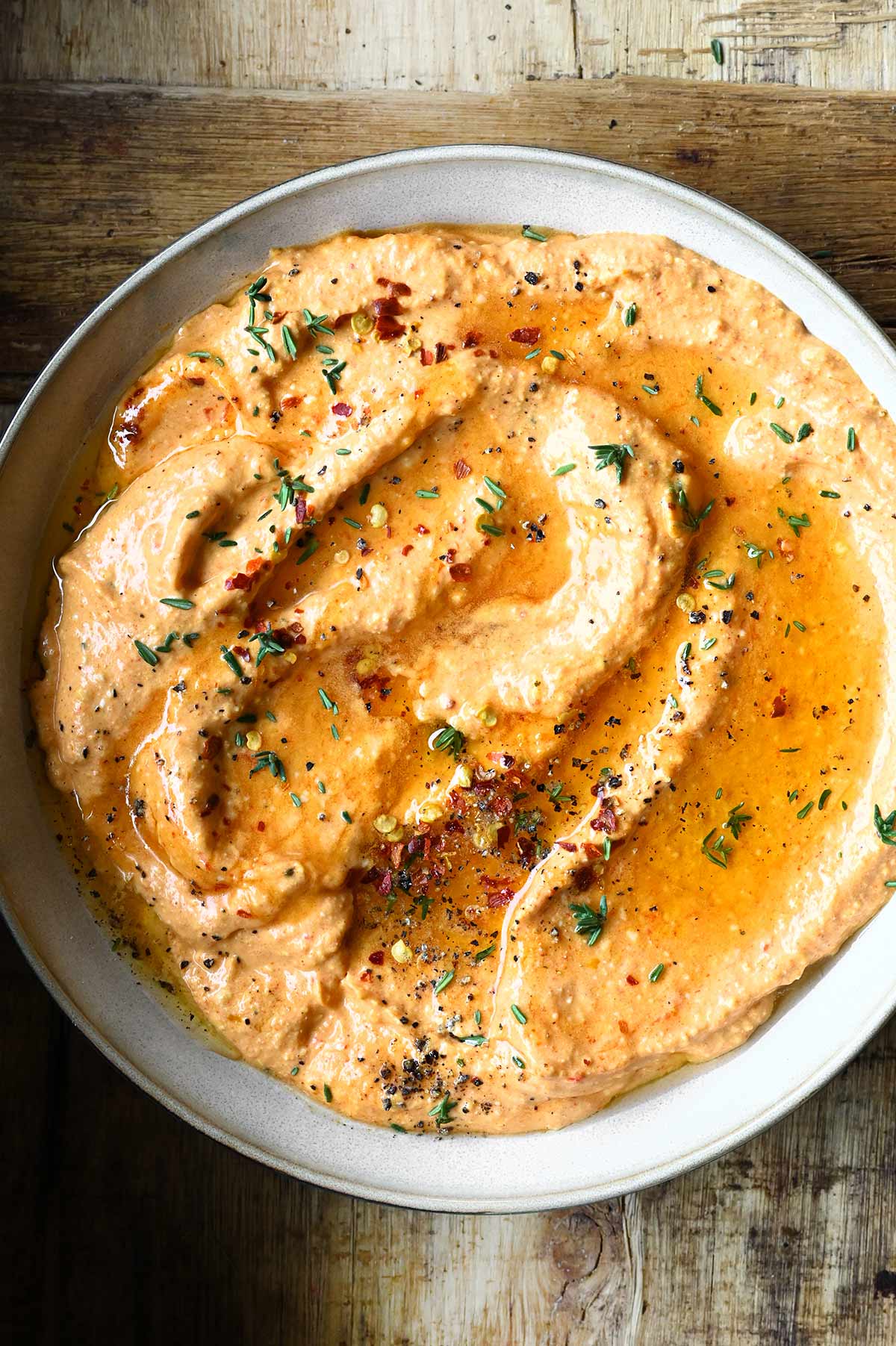 What You'll Need to Make this Pepper Feta Dip
Feta: Be sure to buy a block of it rather than pre-crumbled or marinated feta in oil.
Cream Cheese: For that creamy texture, can be swapped with full fat Greek yogurt.
Roasted Peppers: I used Romano peppers, if you can't find them, simply use regular red bell peppers or jarred roasted peppers.
Seasoning: Salt, black pepper, sweet paprika and cayenne pepper.
Lemon juice: For a light, fresh flavor.
Garlic: We're using a whole garlic head, which we roast together with the peppers. Roasted garlic turns the sharp garlic flavor into one that is milder and sweeter.
Olive oil: For roasting and drizzling.
Honey: Our finishing touch. The sweet savory result is absolutely irresistible.
Chili flakes: For that spicy kick.
Herbs: I used thyme, but you can also use oregano or simply leave it out.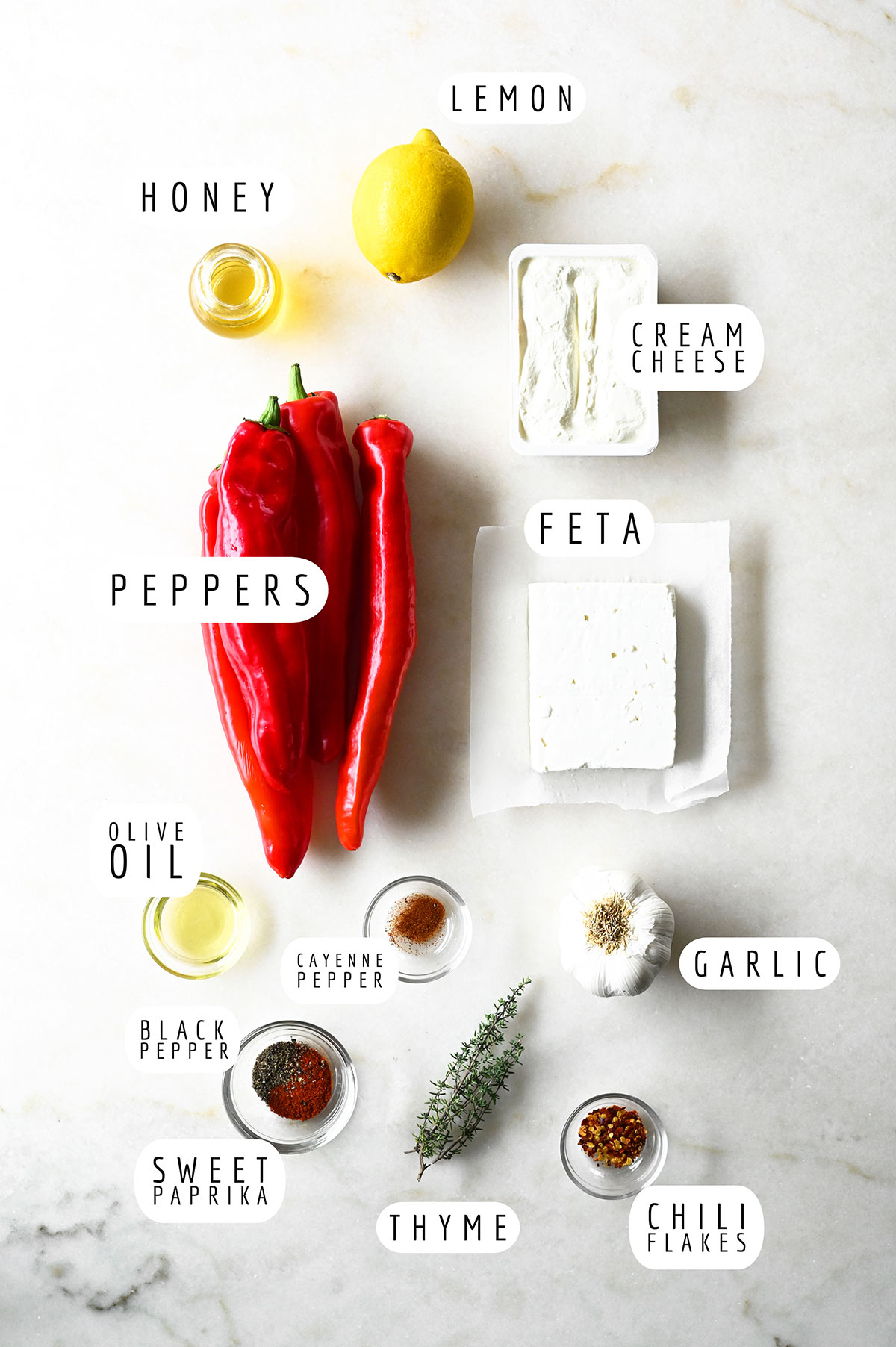 What to serve with this Cream Cheese Garlic Dip?
It looks great with a crudité platter, and it pairs well with anything!
Toasted pita bread.
Crackers, toasted baguette.
Tortilla chips.
A colorful selection of vegetables like radishes, celery stalks, cauliflower or carrots.
Spoon it over homemade flatbread or naan.
Dunk roasted potatoes into it.
RECIPE NOTES
To switch things up, you can top it with pine nuts, pistachios or chopped hazelnuts
For the spiciest punch of flavor, add more cayenne pepper, chili flakes or Aleppo pepper, and don't forget to crack fresh black pepper on top at the last minute.
If you're in a pinch you can use jarred roasted peppers and 1 tsp garlic powder for a fast yet flavorful dip.
You can also add in some sun-dried tomatoes or swap the cream cheese for 1/3 cup full fat Greek yogurt.
Any leftovers? Use it as a spread on sandwiches or on toast with some sun-dried tomatoes on top. The sky is the limit!
This dip recipe goes beyond vegetables and can also be paired with meatballs, chicken or grilled fish or meat.
You can whip this dip up to 2 days ahead, just drizzle the honey moments before serving.
This dip will keep, refrigerated, for up to 1 week.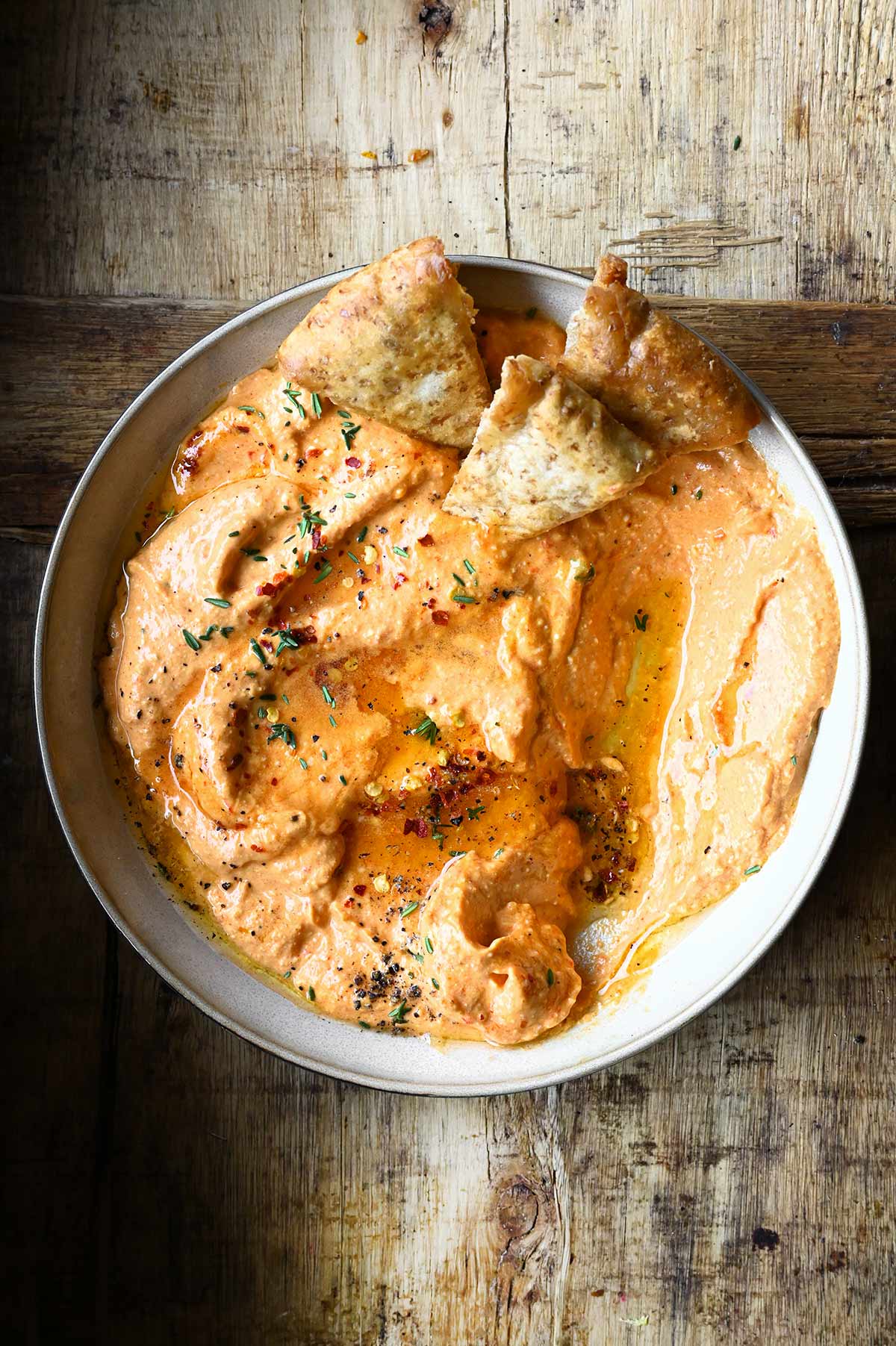 TRY THESE NEXT
COOKING VIDEO
Yield: serves 4-6
Roasted Pepper Feta Dip
Ingredients
4 Romano peppers, or 2 large red bell peppers
1 garlic head
1 tbsp olive oil
7 ounces/200 g feta
7 ounces/200 g cream cheese
1 tsp each: salt, black pepper, sweet paprika
½ tsp cayenne pepper
1 tbsp lemon juice
For Serving
5 tbsp honey
chili flakes
thyme
1 tbsp olive oil
toasted pita chips, or vegetables
Instructions
Preheat the oven to 400°F/200°C.
Cut ½ inch from the top of the garlic head, cutting away the papery ends to expose the cloves, but leaving the garlic head whole.
Drizzle a baking sheet with olive oil. Place the peppers in a single layer, and add garlic head cut-side-down. Transfer to the oven and roast for 30 minutes.
When ready, peel the peppers and remove the seeds.
To your food processor, add feta, cream cheese, salt, pepper, paprika, cayenne pepper, lemon juice and peppers. Squeeze out the cloves from the garlic head.
Blend until smooth. Add salt, pepper or cayenne pepper to taste. Transfer to a shallow bowl, smooth out and refrigerate until serving.
Top with oil, honey, chili flakes, black pepper and thyme. Enjoy with pita chips, crackers or a veggie platter.
Notes
Calories Per Serving: 194 kcal
Nutritional information is only an estimate. The accuracy of the nutritional information for any recipe on this site is not guaranteed.

//= __('Print recipe (no photos)', 'servingdumplings' );?> //= __('Print recipe (with photos)', 'servingdumplings' );?>