Roasted garlic feta pasta. This easy baked feta pasta is full of flavor and made with just a handful of ingredients. So creamy, savory, extra garlicky and bursting with sun-dried tomatoes. Just keep some bread ready to mop up that leftover feta sauce and you'll be sold! Best part? It hits the table in about 25 minutes.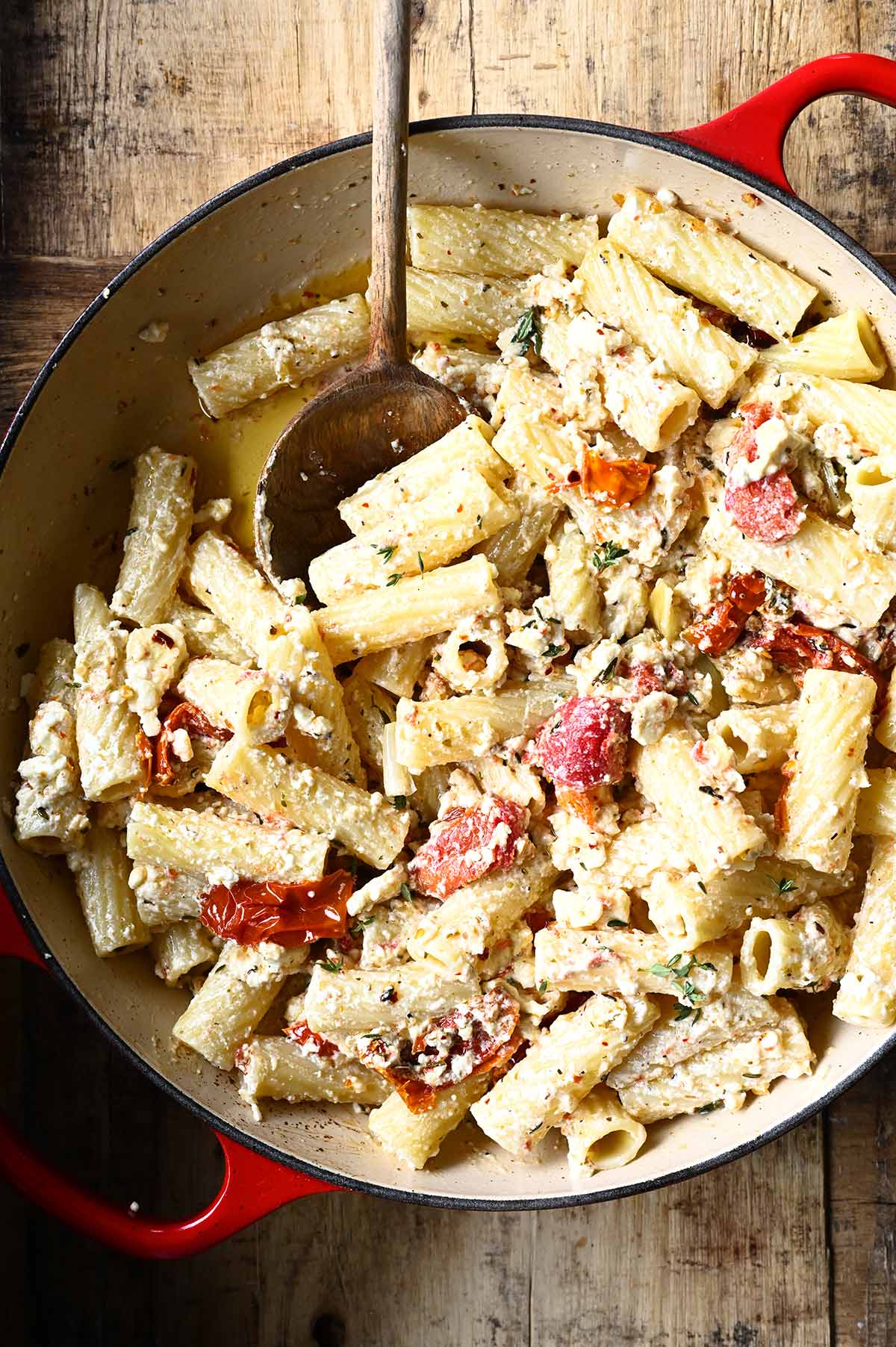 Baked feta pasta is a super easy recipe made by simply roasting a block of feta with a huge amount of garlic and bright sun-dried tomatoes. The result is an unexpectedly delicious sauce. It's fuss free to make and pretty much hands-off, because most of the magic happens in the oven.
It is also a quick and budget-friendly meal, just feta, some sun-dried tomatoes, your favorite pasta, and pantry staples like garlic and spices. Sprinkled with lemon juice for a fantastically tangy and aromatic pasta dish. It's so good!… and the leftovers are delicious as well.
Best part? We're using the oil from the sun-dried tomatoes to make our sauce next level delicious!
Let me guide you through the recipe with this step-by-step VIDEO.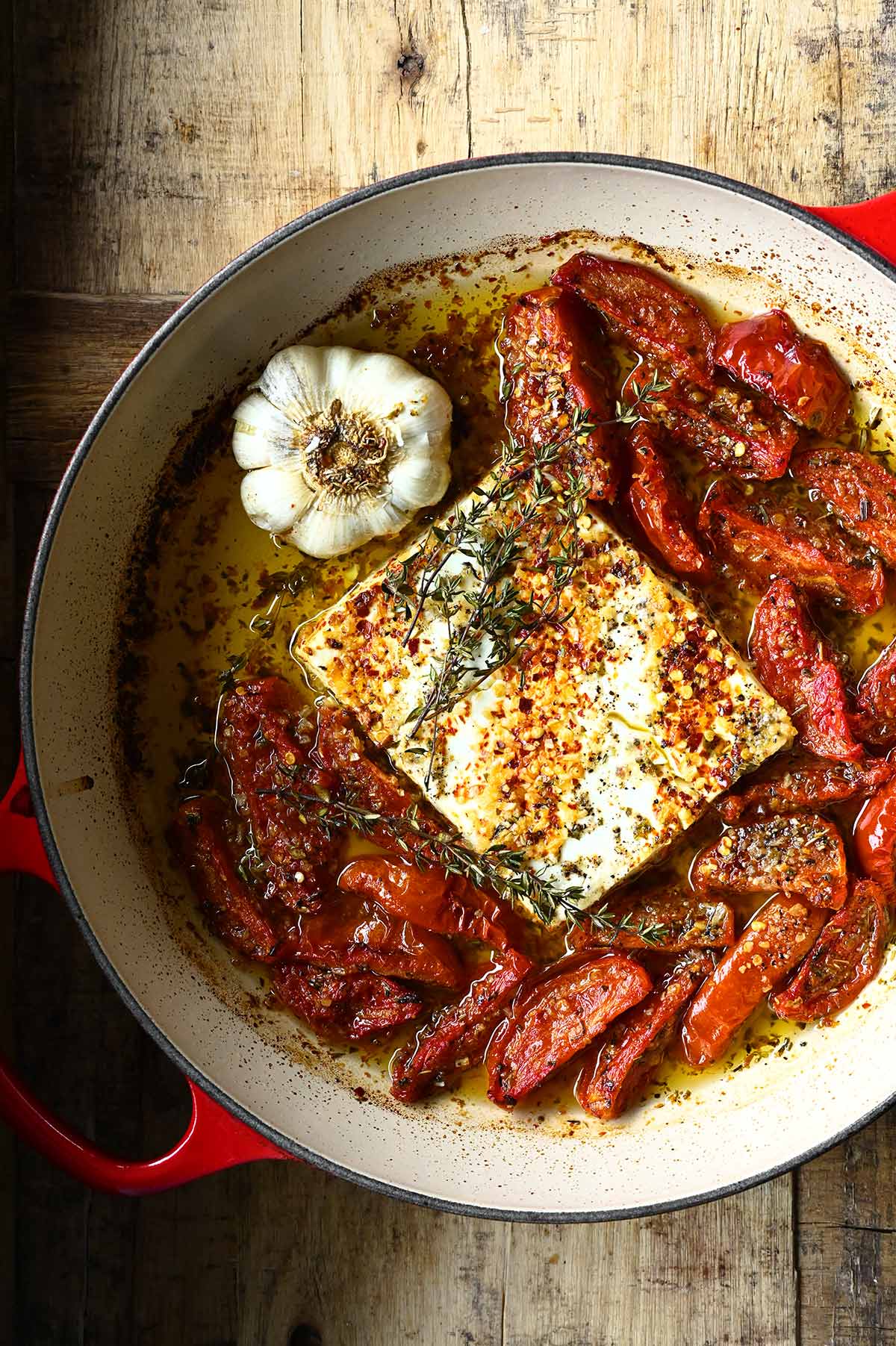 Feta cheese perfectly melts creating a creamy sauce that coats every single bite. It's loaded with just the right balance of salty flavors and a mildly spicy kick. It is simplicity at its finest: just pasta and a deeply flavored sauce. This proves that feta is good for more than just crumbling on top of salads.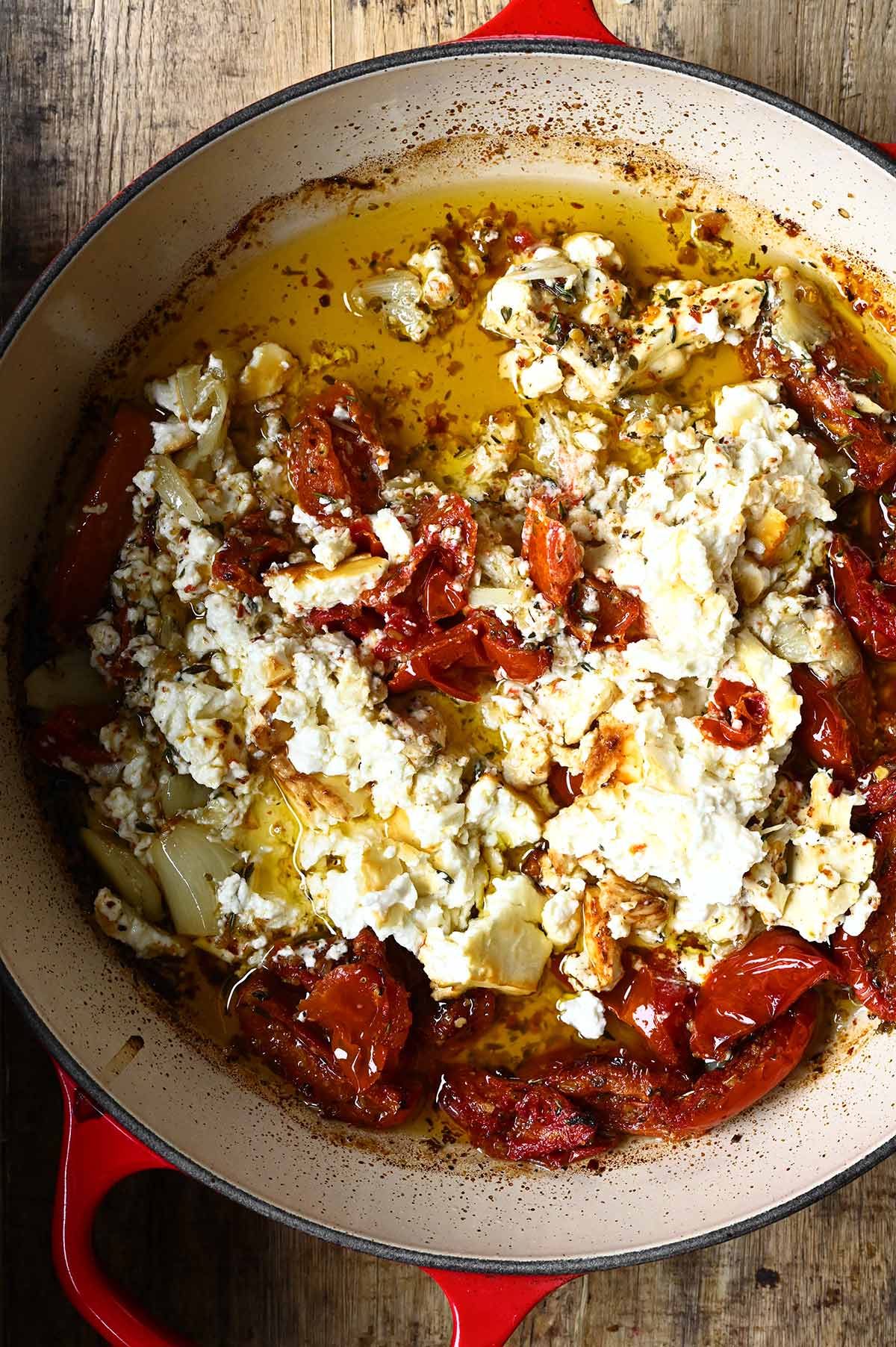 How To Make Baked Feta Pasta
We start by adding the feta block, sun-dried tomatoes together with their oil and a whole garlic head to a baking dish. Sprinkle some lemon juice on top and add fresh thyme sprigs.
Roast everything until the feta is melted and the garlic is soft.
While this is happening, we boil the pasta al dente in salted water.
As soon as the feta comes out of the oven, we squeeze out the garlic cloves. Add a splash of cooking water and cooked pasta. The cooking water, melted feta and oil from the tomatoes will create a creamy sauce for the pasta.
Toss and serve! Dinner is ready!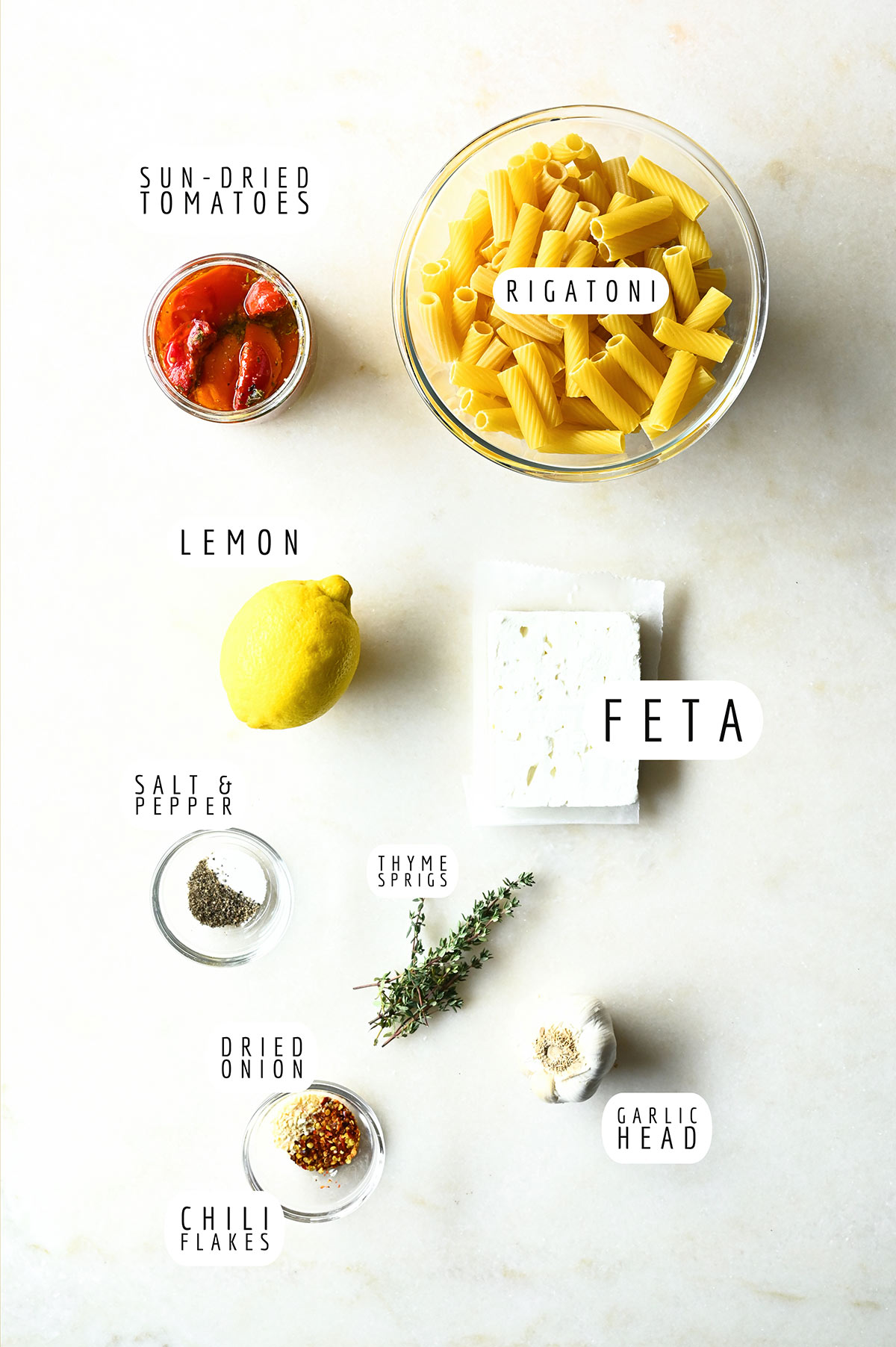 INGREDIENTS, TIPS & SUBSTITUTIONS
Feta: Use a block of full-fat feta cheese for best results. A whole block of cheese is less processed and melts better when baked, while the fat adds creaminess and flavor.
Sun-dried Tomatoes: Try to buy sun-dried tomatoes packed in olive oil. Don't drain the tomatoes or don't throw away the oil, we're using it to create the flavorful sauce. What if you can't find sun-dried tomatoes packed in oil? Just add

1/2

cup of good quality olive oil to the baking dish. Also, you want to hydrate the tomatoes, to prevent them from being tough and chewy. Just put them in a bowl, add some hot water and let stand for about 20 minutes, drain and you're ready to go.
Garlic: For maximum flavor, we're using a whole garlic head. You won't regret it!
Seasoning: Salt, black pepper, chili flakes and dried onion. This is not a spicy pasta dish, the chili flakes add a nice kick, but you can use less or more to your own taste.
Herbs: Fresh thyme, you can swap it for basil, parsley or oregano.
Lemon juice: Its bright flavor cuts the richness.
Pasta: Short pasta, such as rigatoni, bow tie, shells, orecchiette or penne, are perfect for creamy pasta recipes like this one. They will catch and hold the sauce.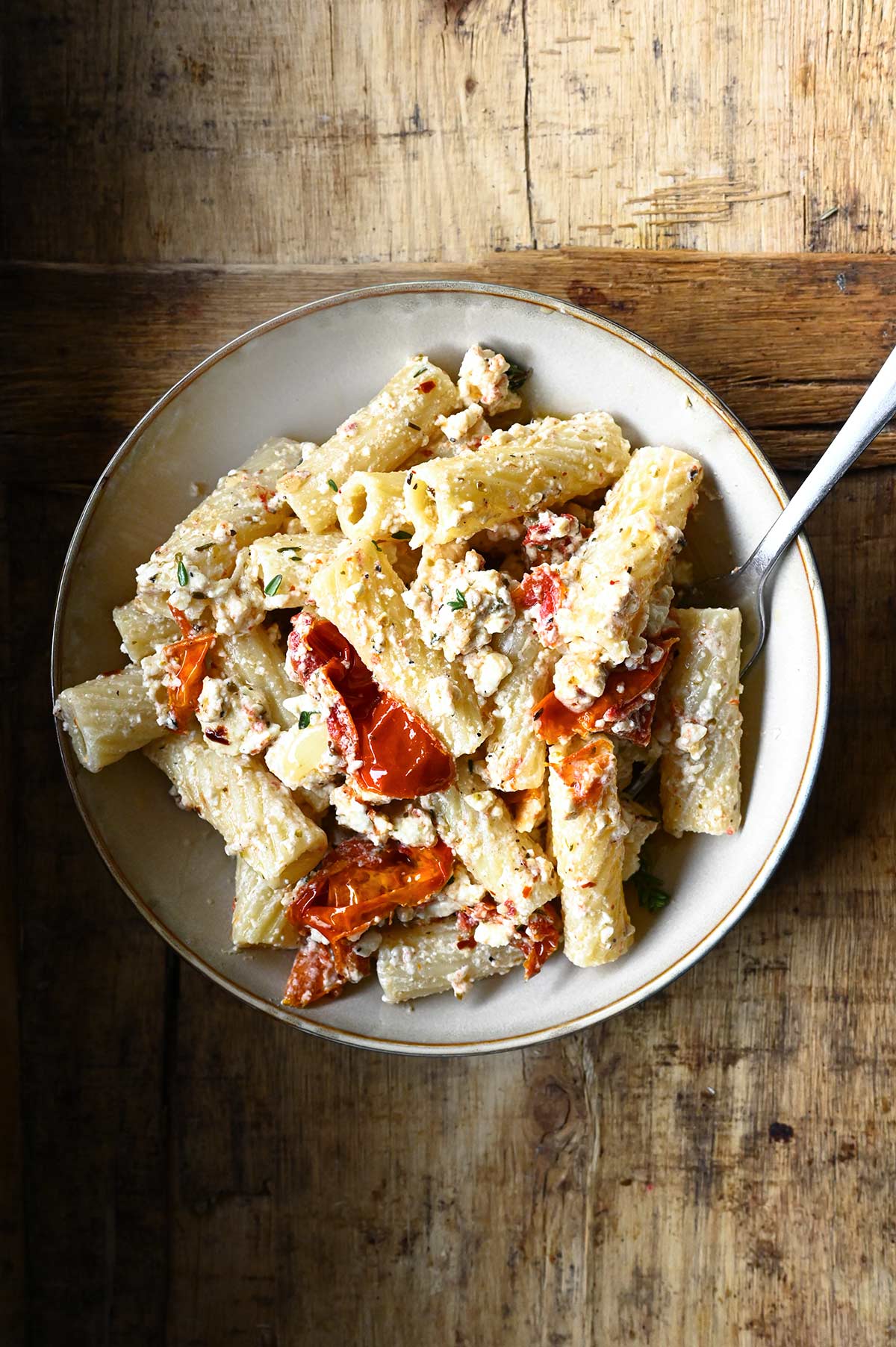 RECIPE NOTES
This dish can totally stand on its own as a meal. But if you're looking for something to round this out into a more multi-dimensional meal or impress friends with a full blown dinner party, you could add a leafy side salad, grilled chicken or cooked prosciutto.
And don't forget to add a piece of good country bread to mop up the melted feta on the bottom of the baking dish! So good!
Storage: Leftovers can be stored in an airtight container and refrigerated for up to 4 days.
TRY THESE NEXT
COOKING VIDEO
Yield: serves 4
Roasted Garlic Feta Pasta
Ingredients
1 block (8 oz/200 g) full-fat feta
1 jar (9 oz/280 g) sun-dried tomatoes, packed in olive oil
½ cup oil from the sun-dried tomatoes, or olive oil
1 tsp each: salt, black pepper, chili flakes, dried onion
1 whole garlic head
1 tbsp lemon juice
4 thyme sprigs, or 1 tsp dried thyme
12 ounces/350 g pasta, like rigatoni
Instructions
Preheat the oven to 400°F/200°C.
To a large baking dish, add the feta block and the sun-dried tomatoes together with their oil. If using sun-dried tomatoes without oil, add 1/2 cup olive oil to the baking dish, see recipe notes.
Cut off the top of the garlic head, and place cut-side down. Season with salt, pepper, dried onion and chili flakes (add less or more chili flakes to your own taste). Sprinkle with lemon juice and place the thyme sprigs on top.
Transfer to the oven and bake for 20 minutes until the feta is melted and the garlic is soft.
In the meantime, bring a large pot with generously salted water to a boil. Add pasta and cook until al dente. Scoop up ½ cup cooking water, then drain the pasta.
As soon as the feta comes out of the oven, squeeze out the garlic cloves. Crush the cloves with a fork, then toss everything to combine. Add pasta and ¼ cup of cooking water. Toss to combine, add more cooking water if needed. Serve immediately while still warm. Enjoy!
Notes
Calories Per Serving: 240 kcal
Nutritional information is only an estimate. The accuracy of the nutritional information for any recipe on this site is not guaranteed.

//= __('Print recipe (no photos)', 'servingdumplings' );?> //= __('Print recipe (with photos)', 'servingdumplings' );?>