Rigatoni with zucchini and bacon. This pasta dish really shines with its tender zucchini, smoked bacon and a vibrant super-simple tomato sauce enhanced with a touch of garlic and Parmesan.
Sautéed zucchini is beyond doubt the star of the show in this weeknight dinner. It's practically silky with a tender-crisp bite. And I guarantee, it's just that kind of light dish you'll want to eat throughout the summer. Extra bonus? It's ready in about 30 minutes.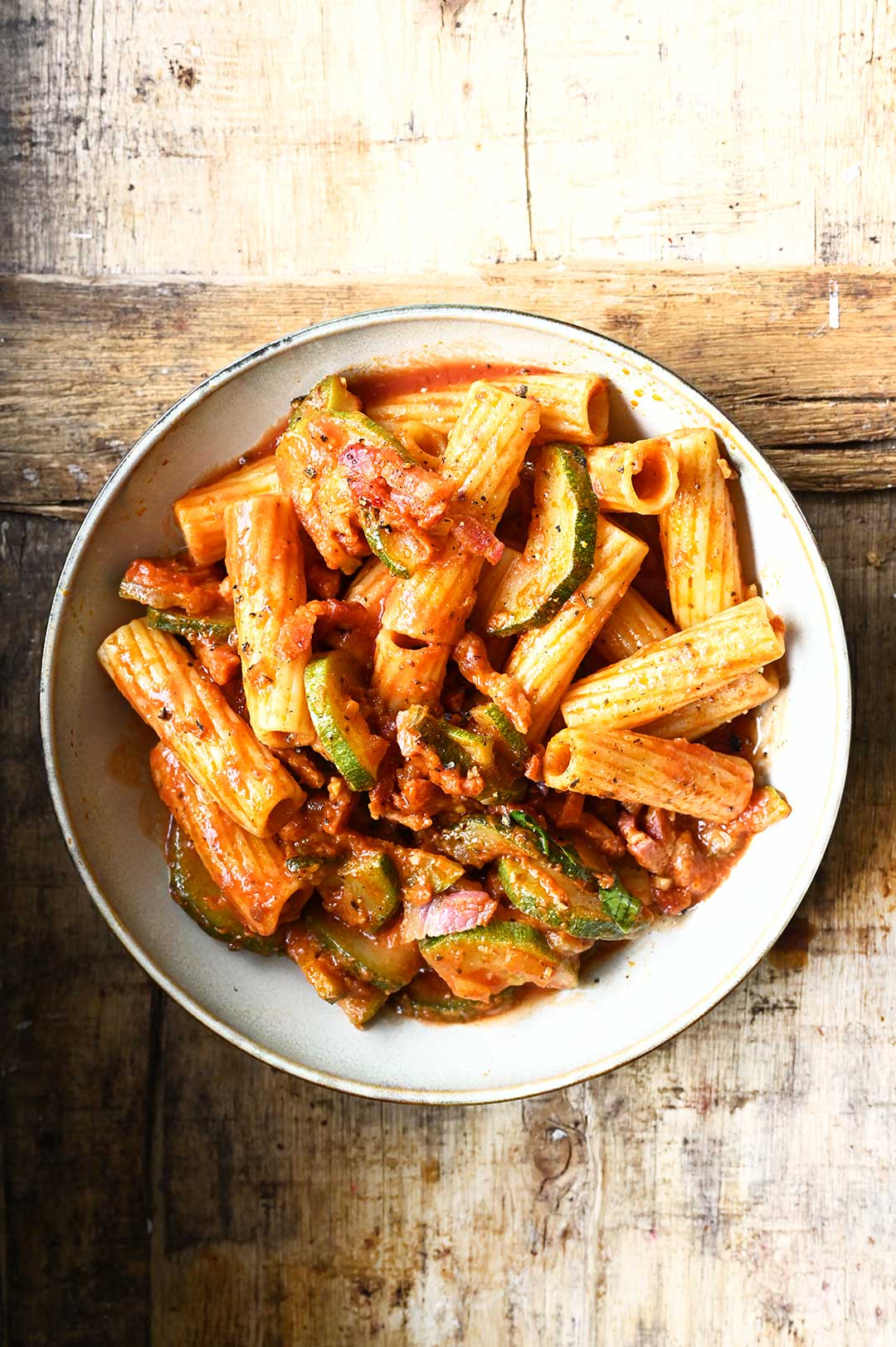 This dish is great for weeknight cooking. The most effort we have to put in is chopping up the zucchini. We use the fats from the smoked bacon to sauté the zucchini, which means there's heaps of flavor. The addition of tomato paste creates a vibrant, rich flavor.
This soft zucchini with tomato sauce is ideal to eat on its own as a light meal with some crusty bread.
Let me guide you through the recipe with this step-by-step VIDEO.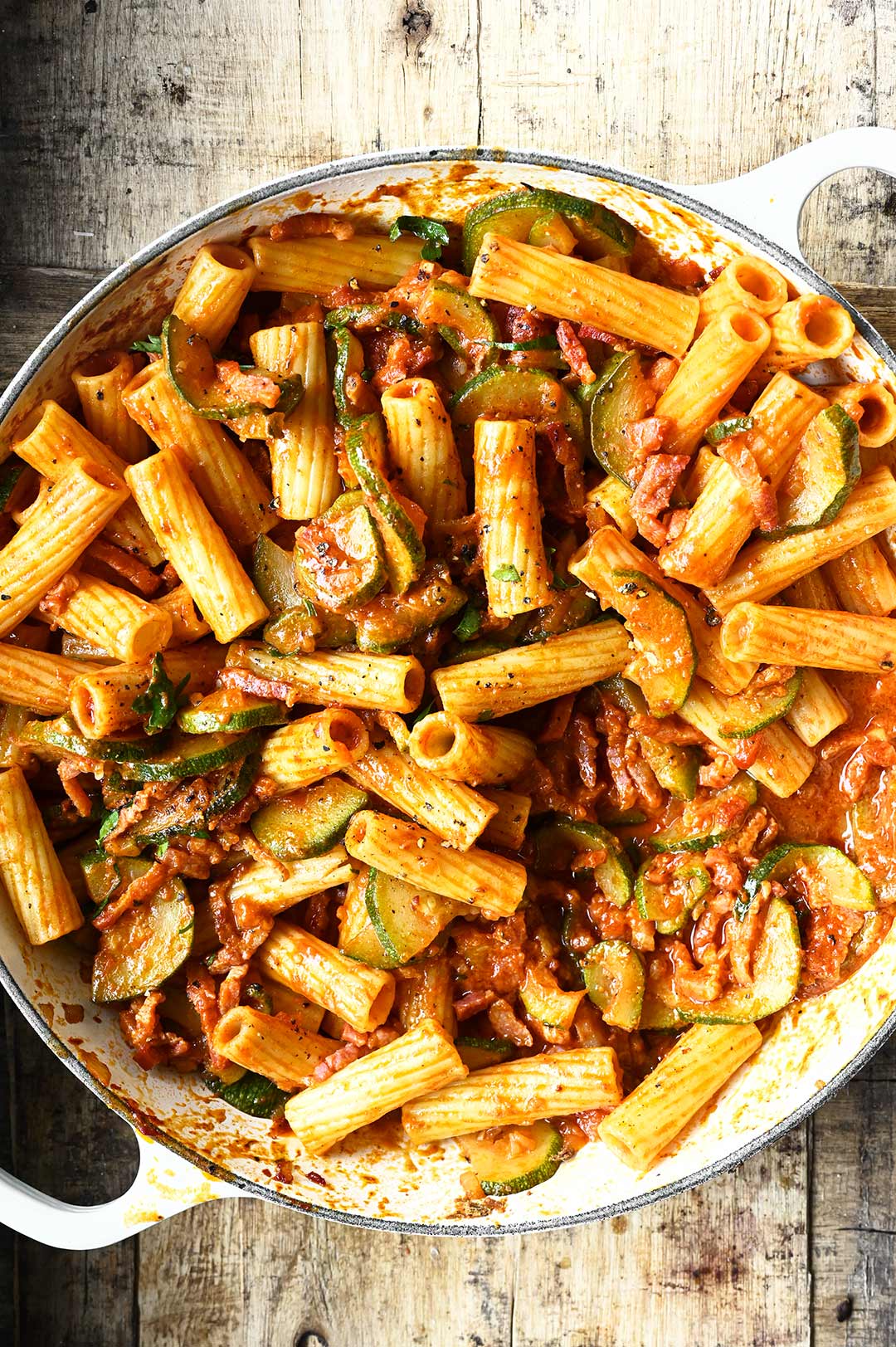 RECIPE NOTES
you can serve the zucchini without pasta, with just some crusty bread
use the zucchini to top pizza or serve with quesadillas or on toast, add to scrambled eggs or omelets for breakfast
smoked bacon gives off the best flavor to this easy dinner, but you can go with some pork mince or meatballs
if you want a vegetarian version, just add some smoked paprika to give it a rich flavor
for a super rich flavor, add 2 finely chopped anchovy fillets or some black olives
serve with parsley or basil
add some toasted pine nuts for a crunchy finishing touch
use your favorite pasta shape
swap bacon for grilled shrimp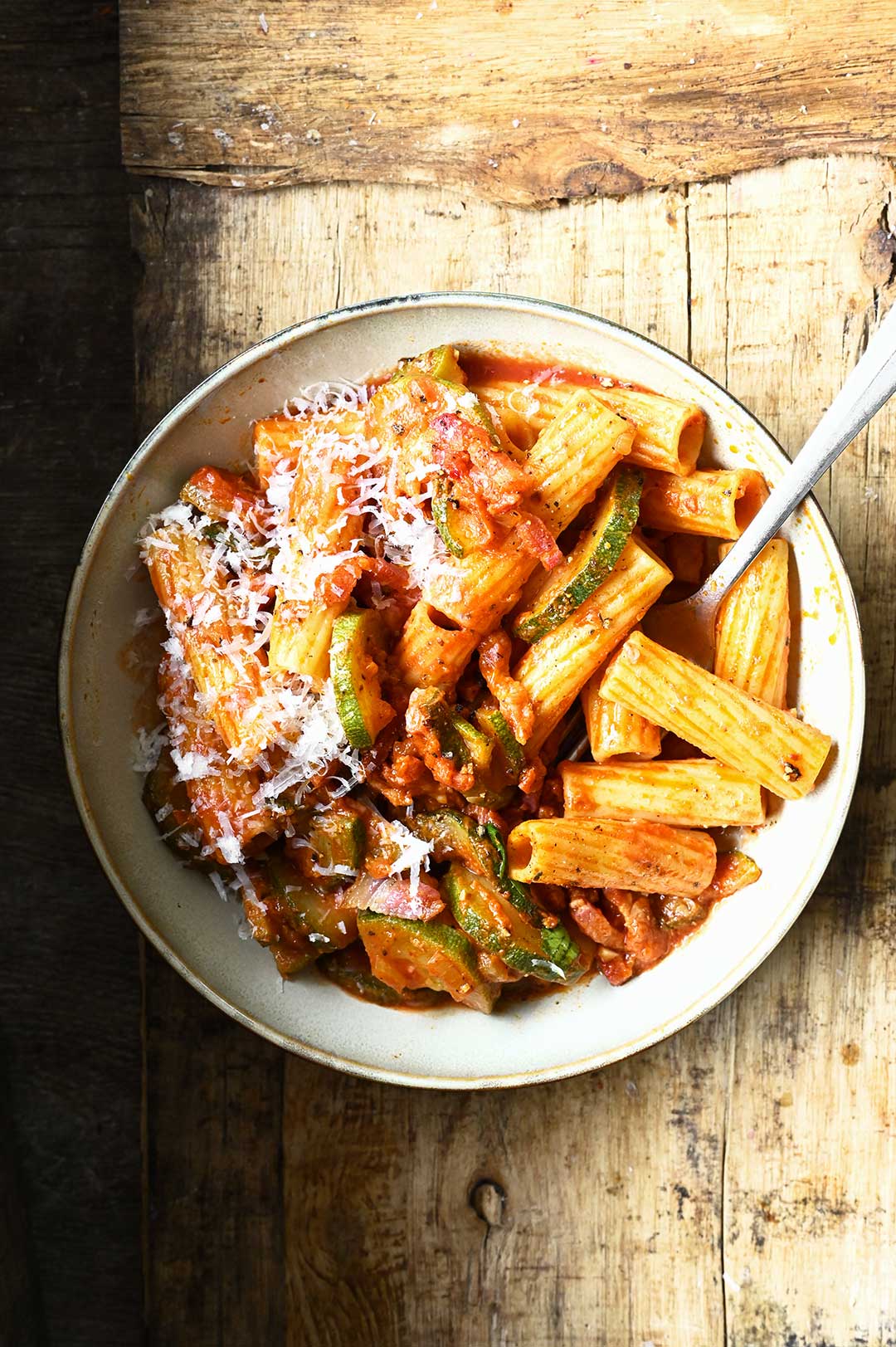 More zucchini, please!
Cooking Video
Yield: serves 2
Rigatoni with Zucchini and Bacon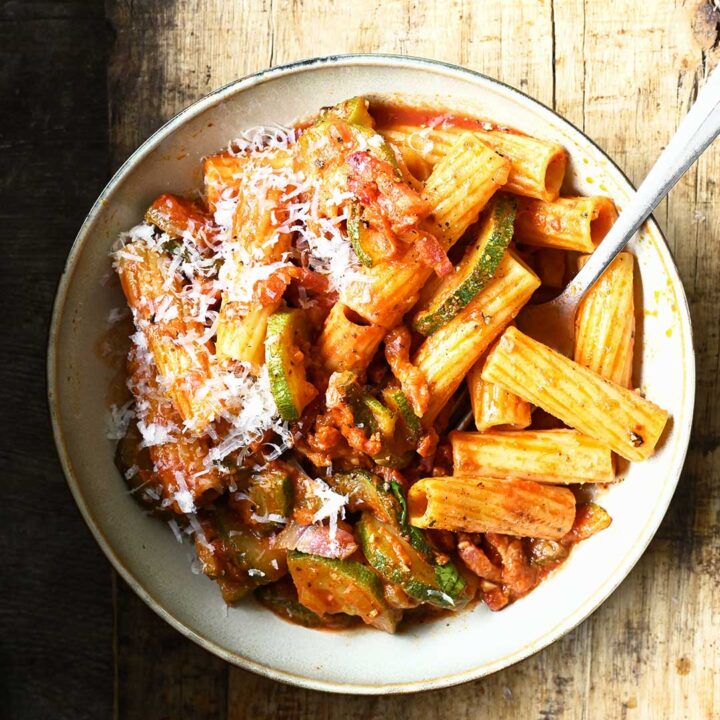 Prep Time 10 minutes

Cook Time 20 minutes

Total Time 30 minutes
Ingredients
5.5 ounces/150 g rigatoni
5.5 ounces/150 g smoked bacon bits
2 tbsp olive oil
½ tbsp unsalted butter
1 zucchini, cut into thin slices
2 garlic cloves, minced
1 small onion, finely chopped
3/5 ounces/100 g tomato paste
¼ cup/20 g grated Parmesan, more for serving
½ tsp each: salt, black pepper, red pepper flakes, dried thyme
chopped parsley, optional
Instructions
Heat olive oil and butter in a skillet over medium high heat. Add bacon, cook until crispy, about 5 minutes. Remove from skillet, leaving as much grease as possible in the skillet.
Add onion and garlic to the skillet, sauté over low heat until soft and fragrant, about 1 minute. Deglaze with ¼ cup water and stir with a wooden spoon to dissolve the browned bits from the bottom of the skillet. Simmer for 1 minute.
Season with salt, black pepper, red pepper flakes and dried thyme.Add zucchini and stir to combine with onion and garlic. Sauté over medium high heat for 1 minute, then cover and cook over low heat for 8-10 minutes, or until crisp-tender.
In the meantime, cook rigatoni in a large pot of boiling, generously salted water. Cook until al dente. Drain, reserving 1 cup cooking water.
When ready, add tomato paste to zucchini. Pour in ½ cup cooking water and stir to combine. Add rigatoni, then gradually stir in the Parmesan until it melts into the sauce. Slide bacon back into the skillet and toss to combine.
Taste and adjust salt. Finish off with some extra black pepper, red pepper flakes and parsley.
Serve with Prated Parmesan. Enjoy!
Notes
Calories Per Serving: 730 kcal
Nutritional information is only an estimate. The accuracy of the nutritional information for any recipe on this site is not guaranteed.


PRINT RECIPE

//= __('Print recipe (no photos)', 'servingdumplings' );?> //= __('Print recipe (with photos)', 'servingdumplings' );?>