Ricotta Polenta with Drunken Meatballs. Mouthwatering tender meatballs simmered in a hearty brown beer gravy with caramelized onions and served over creamy ricotta polenta. This 30-minute meal will knock your socks off.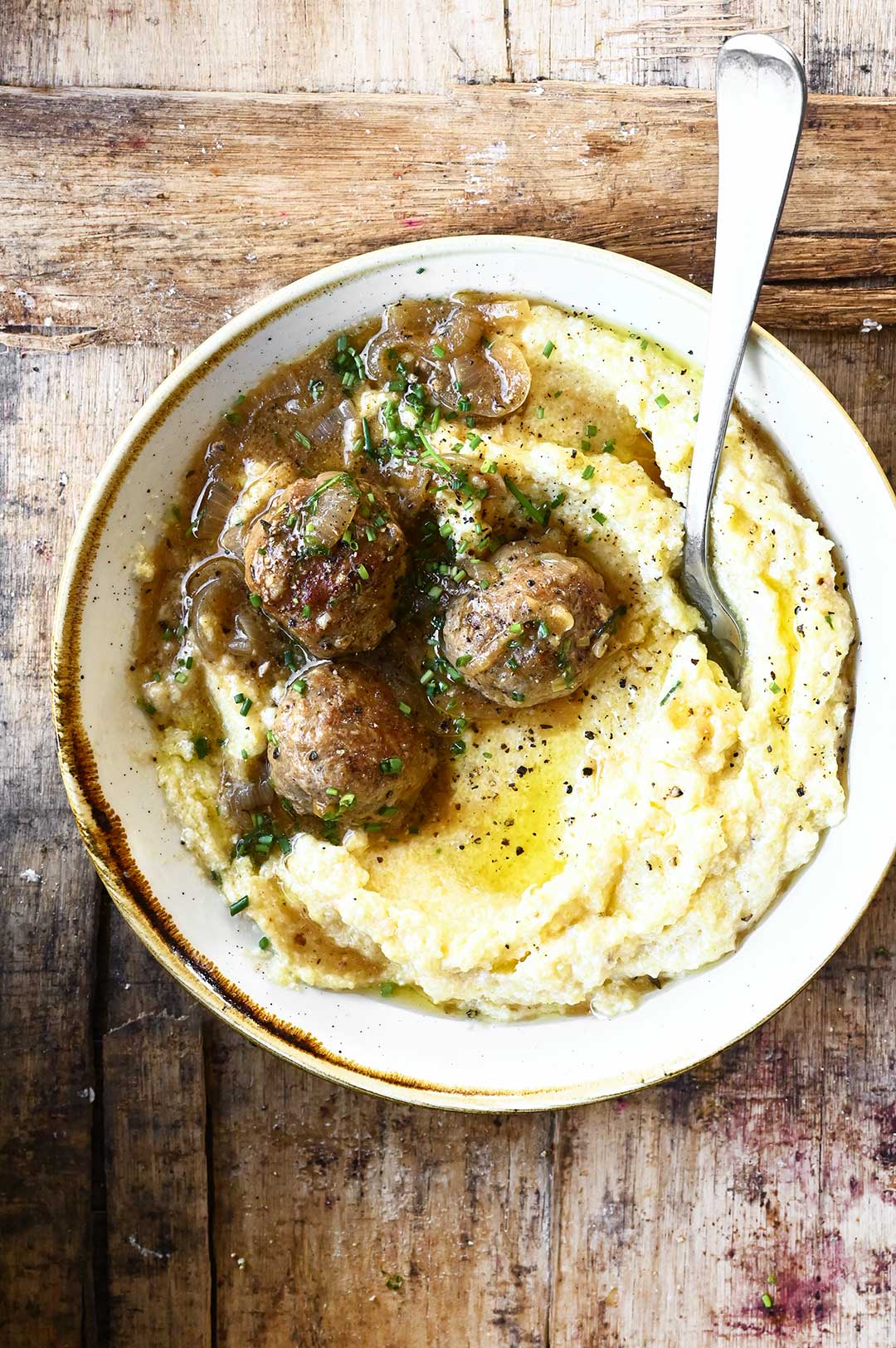 I hope you love to indulge a few meatballs and some rich flavors to go with it. Here we add caramelized onions and simmer them with a dark beer until the pan sauce thickens.We serve it over a delicious polenta swirled with ricotta. The ricotta cheese adds a creamy touch without a lot of fat, while the parmesan gives it depth and character. The ingredients are simple, the taste is huge. The whole dish comes together in about 30 minutes and will be a meal to remember.
Let me guide you through the recipe with this
step-by-step VIDEO
or follow along
on YouTube
.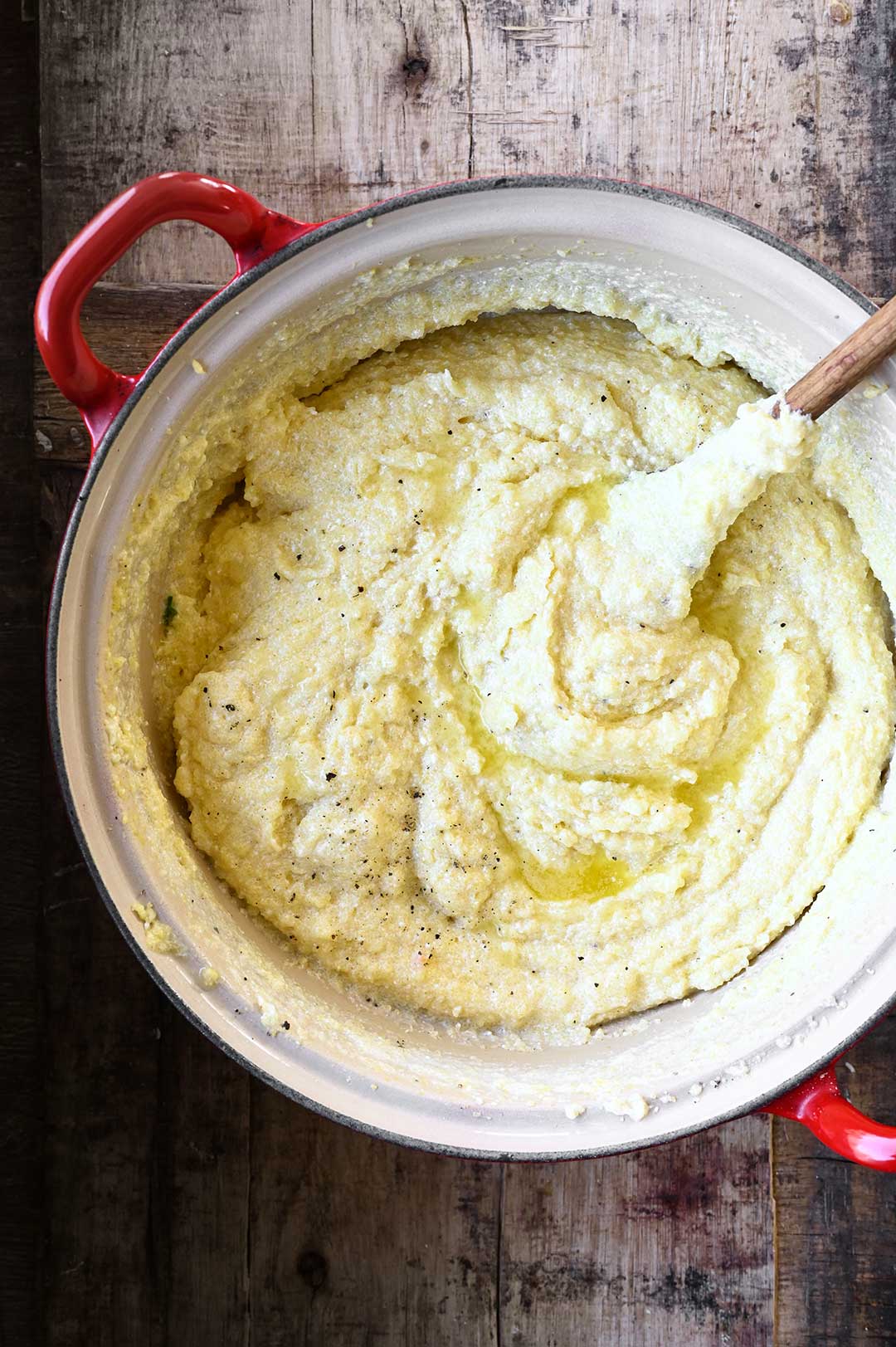 Helpful Tips
Make this recipe your own!
For the meatballs, you can use ground chicken, beef or pork.
Add mushrooms to the gravy.
Swap brown beer for beef broth.
Use a dark beer with dominant malty sweet flavors.
Serve with a simple salad, roasted broccoli or green beans.
No polenta? Serve with mashed potatoes.
Storage: Leftovers can be safely stored in an airtight container in the fridge for up to 3 days. If the polenta becomes too dry, add a splash of milk.
More polenta, please!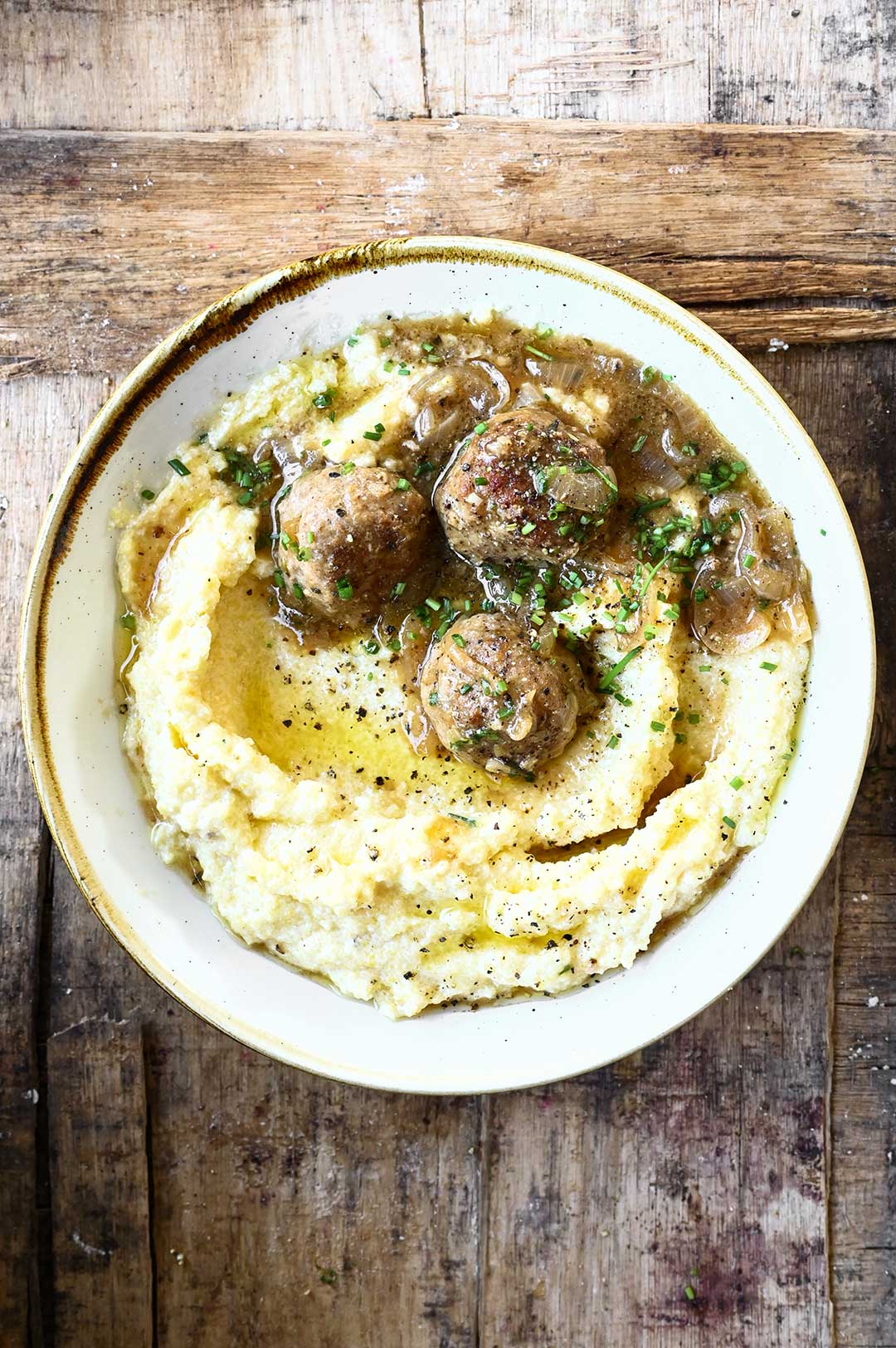 Cooking Video
Yield: serves 4
Ricotta Polenta with Drunken Meatballs
Ingredients
Ricotta Polenta
200 g/7 oz instant polenta
500 ml/2 cups chicken broth
500 ml/2 cups whole milk
200 g/7 oz whole milk ricotta
80 g/3 oz grated Parmesan
2 tbsp unsalted butter
salt and black pepper, to taste
Meatballs
500 g/1.1 pounds ground meat, I used 70% pork with 30% beef
1/2 tsp each: salt, black pepper, sweet paprika, cayenne pepper, garlic powder, onion powder
1/4 tsp nutmeg
1 egg
2 tbsp breadcrumbs
Beer Gravy
2 medium onions, thinly sliced
3 garlic cloves, minced
250 ml/1 cup brown beer (use a dark beer with dominant malty sweet flavors)
250 ml/1 cup chicken broth
3 tbsp olive oil
3 tbsp unsalted butter
1 tsp mild mustard
1 tsp each: black pepper, dried oregano, dried thyme
2 tbsp flour
chopped chives, for serving
salad, roasted broccoli or green beans, for serving
Instructions
Combine all the ingredients for the meatballs in a large bowl. Mix until just combined, using your hands. Roll the meat into 2 tablespoon-sized balls.
In a large non-stick skillet, heat 1 tbsp butter and 2 tbsp olive oil over medium heat. Add the meatballs and brown on all sides, about 10 minutes or until they're cooked through, turning them 2-3 times. Transfer to a plate.
In the same skillet, add 1 tbsp oil and 2 tbsp butter. Cook onions for 5 minutes over low heat. Add garlic, cook for 2 minutes. Stir in black pepper, oregano, thyme and flour. Allow the flour to cook for 1 minute, stirring constantly. Pour in the brown beer and chicken broth, then stir in the mustard. Bring the sauce to a boil.
Slide the meatballs and all of the released juices back into the skillet. Add salt and pepper to your own taste. Simmer over low heat while you make the polenta.
In a saucepan, bring chicken broth and milk to a boil. Slowly whisk in the polenta, stirring continuously over low, about 2-3 minutes. Turn off the heat. Stir in ricotta, parmesan, salt and black pepper. Add butter and stir to combine. Cover and let stand for 1 minute. If the polenta thickens too much, thin with some additional milk or chicken broth. Add more salt and pepper, if needed.
Divide polenta over bowls, top with meatballs and gravy. Serve with chopped chives, a salad or roasted broccoli. Enjoy!
Notes
Calories Per Serving: 644 kcal
Nutritional information is only an estimate. The accuracy of the nutritional information for any recipe on this site is not guaranteed.

//= __('Print recipe (no photos)', 'servingdumplings' );?> //= __('Print recipe (with photos)', 'servingdumplings' );?>