Red pesto pasta with mushrooms and sun-dried tomatoes, finished off with sage breadcrumbs. This pasta tastes like a mash-up of a spicy arrabbiata sauce and a vibrant sun-dried tomato sauce. This version is definitely stealing the show. The hearty red pesto tossed with mushrooms is pure heaven. The crunchy bread crumbs are like the icing on a cake, and the sage just seals the deal. It's the ultimate weeknight meal, but certainly special enough to serve on a date night.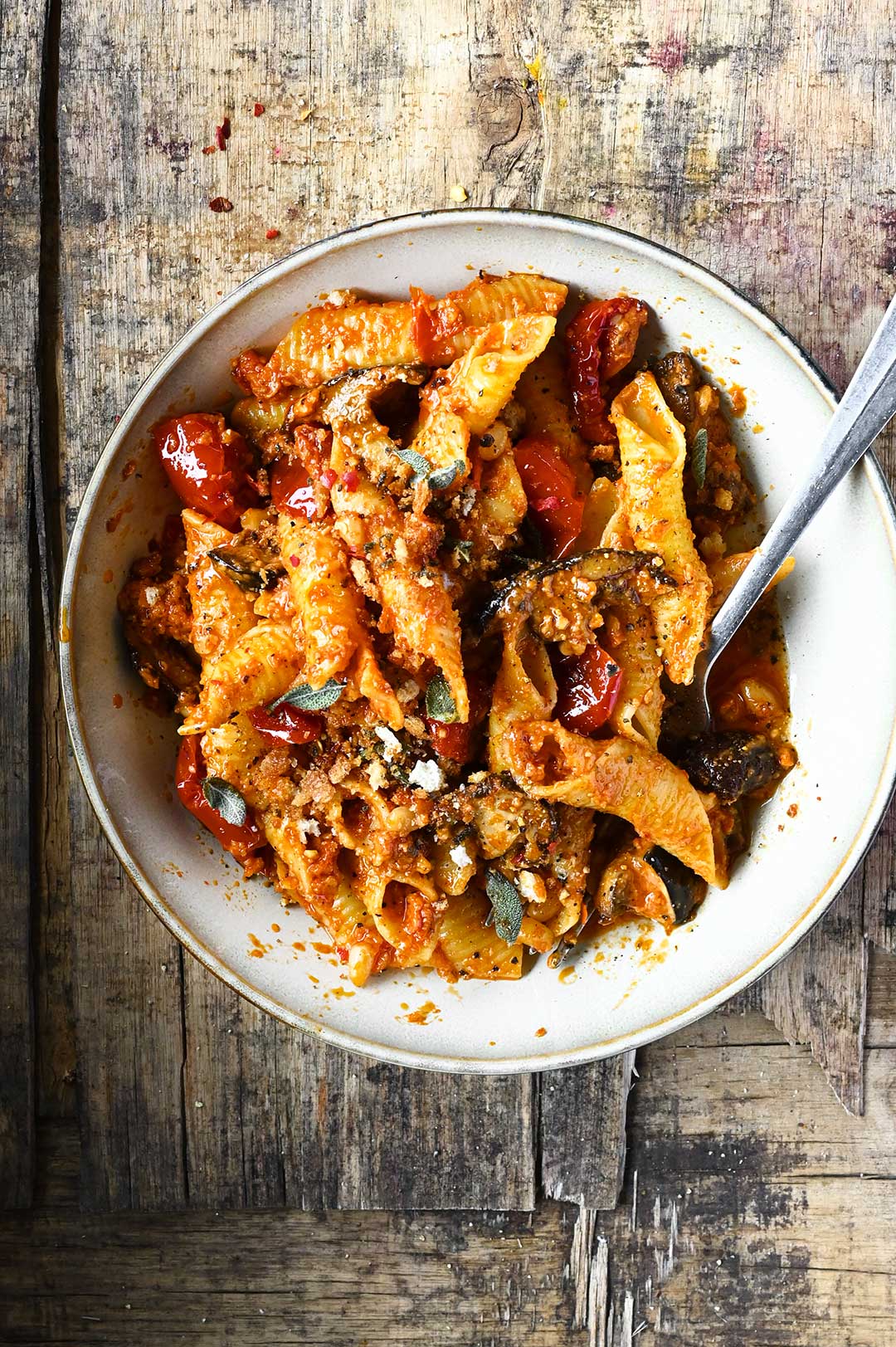 Both mushrooms and sun-dried tomatoes deliver an enormous dose of umami-packed flavor. Sun-dried tomatoes elevate this dish into a killer pasta recipe with basically no additional effort at all.
We start by sautéing the pine nuts in the oil from the sun-dried tomatoes together with garlic. Lots of garlic! Most pasta recipes call for one or two cloves of garlic, which never seems enough. Then we add some tomato paste and parmesan, and blend everything into a chunky paste.
Once the pesto is ready, we sauté the mushrooms and add the sun-dried tomatoes, stir in cooked pasta with some cooking water to help the pasta absorb the flavors of the sauce, top with sage bread crumbs and you're ready to go.
And that red pesto? I'm telling you, it's magic. It will guaranteed kick your pasta night up a delicious notch.
Let me guide you through the recipe sure step-by-step VIDEO.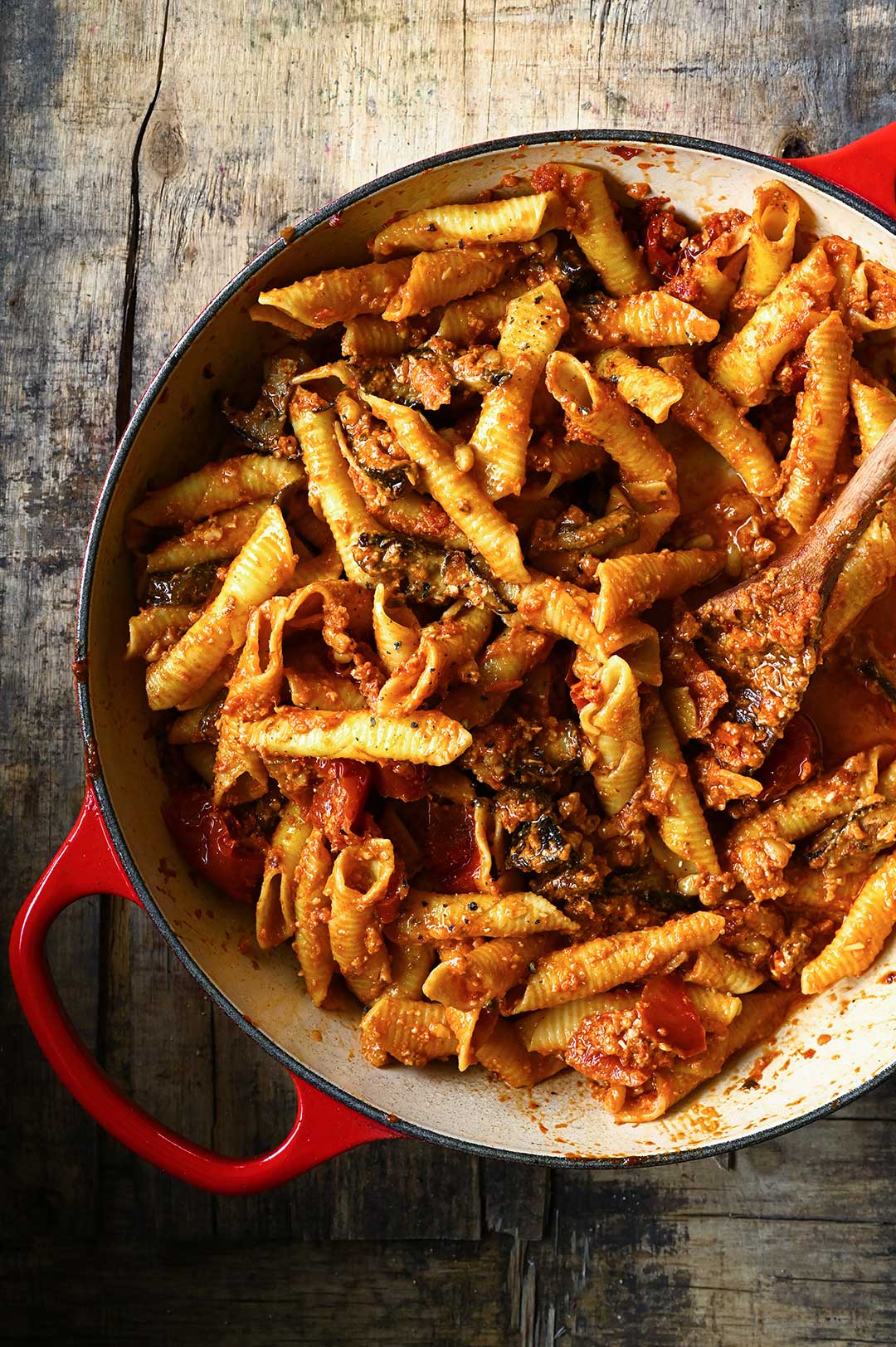 RECIPE NOTES
in this recipe, I used wild mushrooms, but feel free to use common (brown) mushrooms or shiitakes
also, you can use any kind of your favorite short shaped pasta noodles
You may also love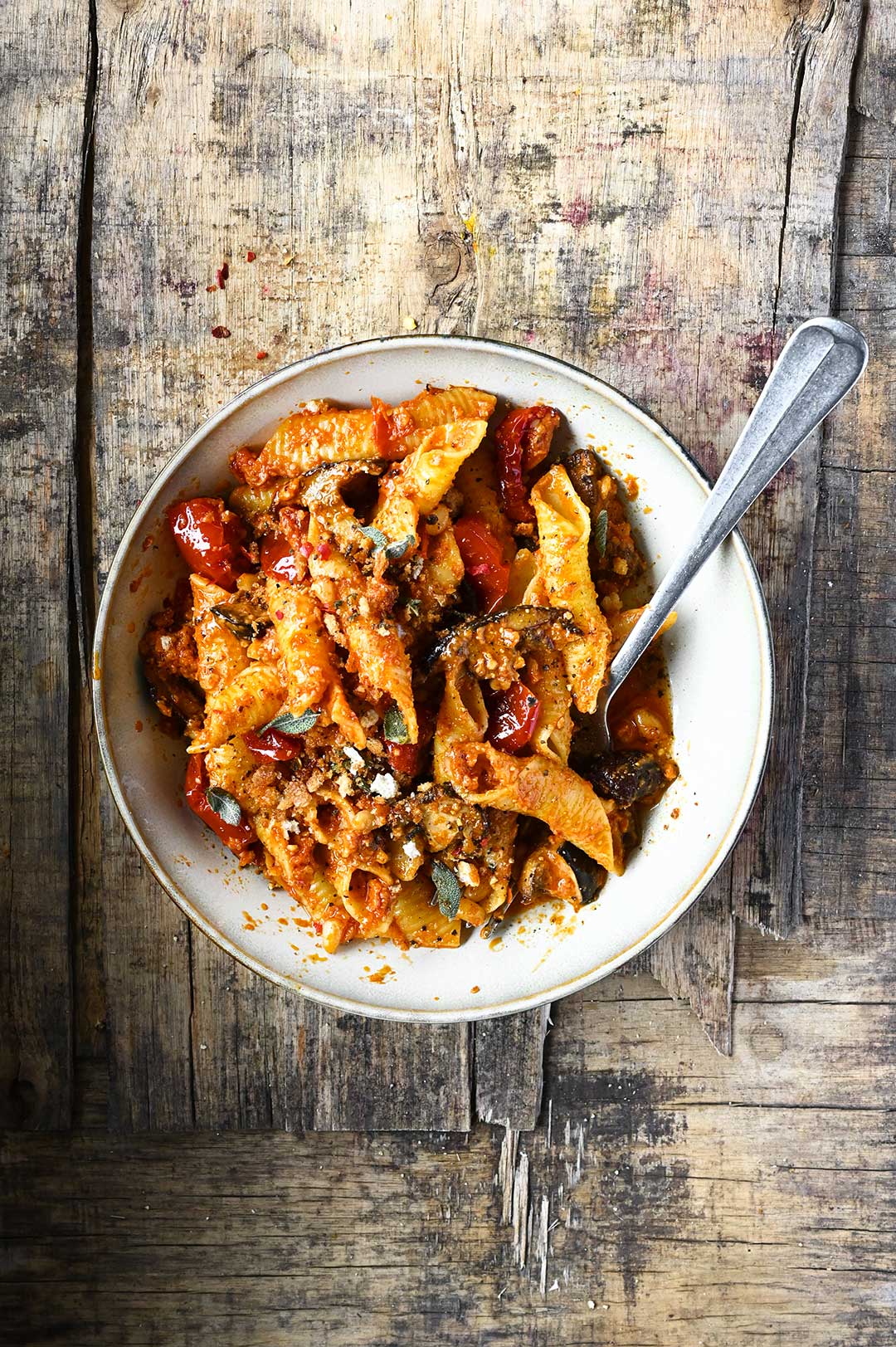 Recipe Video
Yield: serves 2
Red Pesto Pasta with Mushrooms and Sun-dried Tomatoes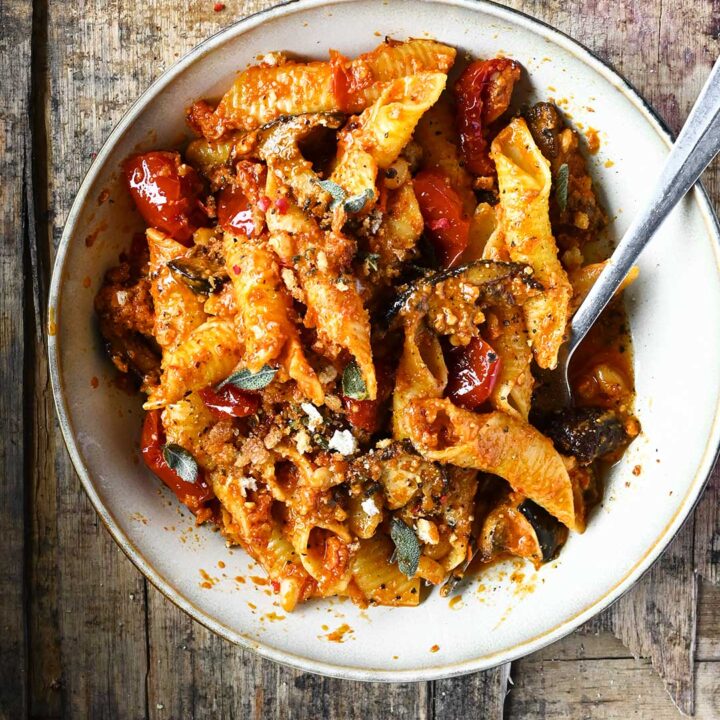 Prep Time 5 minutes

Cook Time 20 minutes

Total Time 25 minutes
Ingredients
250 g/9 oz short pasta
250 g/9 oz mushrooms, torn into large pieces (cremini or shiitake mushrooms)
100 g/3.5 oz sun-dried tomatoes, drained, cut into smaller pieces
1 tbsp unsalted butter
1 tbsp lemon juice
1 tbsp olive oil
salt + black pepper
red pesto
1/2 cup/100 ml oil from the sun-dried tomatoes
4 garlic cloves, minced
1/4 cup/50 g pine nuts
3 tbsp tomato paste
1 tsp chili flakes
1 tbsp balsamic vinegar
4 sun-dried tomatoes, finely chopped
60 g/2 oz grated Parmesan
salt + black pepper
sage breadcrumbs
1 cup bread crumbs (finely cut bread like sourdough or ciabatta)
2 tbsp olive oil
2 tbsp fresh chopped sage leaves
1/2 tsp chili flakes, or more to taste
salt + black pepper
Instructions
First, we start by making the pesto. In a saucepan, add oil from the sun-dried tomatoes, pine nuts and garlic. Sauté for 3-4 minutes until fragrant on low heat. Add tomato paste and sun-dried tomatoes. Cook for 1 minute more, then turn off the heat. Stir in balsamic vinegar, chili flakes, salt and pepper. Add parmesan and mix with an immersion blender, leaving some chunks. Set aside.
Cook the pasta in generously salted water until al dente. Drain, reserving 1/2 cup of the cooking water.
Heat a large skillet over medium heat and add olive oil. Once hot, add the bread crumbs. Cook, stirring for 4 minutes until toasted and golden brown. Add sage and cook for 1-2 minutes more. Season with salt, pepper and chili flakes. Remove the bread crumbs from the skillet to a plate.
Heat the same skillet over high heat, add olive oil and mushrooms. Cook until golden brown, then add butter and stir in the sun-dried tomatoes. Season with salt and pepper, add lemon juice.
Toss with pasta, red pesto and a big splash of reserved cooking water. Taste and season with salt and pepper.
Serve immediately topped with sage bread crumbs. Enjoy!
Notes
Calories Per Serving: 538 kcal
Nutritional information is only an estimate. The accuracy of the nutritional information for any recipe on this site is not guaranteed.


DOWNLOAD PRINTABLE RECIPE PDF

//= __('Print recipe (no photos)', 'servingdumplings' );?> //= __('Print recipe (with photos)', 'servingdumplings' );?>