Pasta salad with red pesto and crispy bacon. This quick fix salad is super easy to make and comes together in about 20 minutes. Tossed with an insanely delicious pesto dressing packed with sun-dried tomatoes and finished off with toasted caper breadcrumbs for a delicious crunch. Enjoy this salad any night of the week or serve as a side at your next backyard grill party with friends.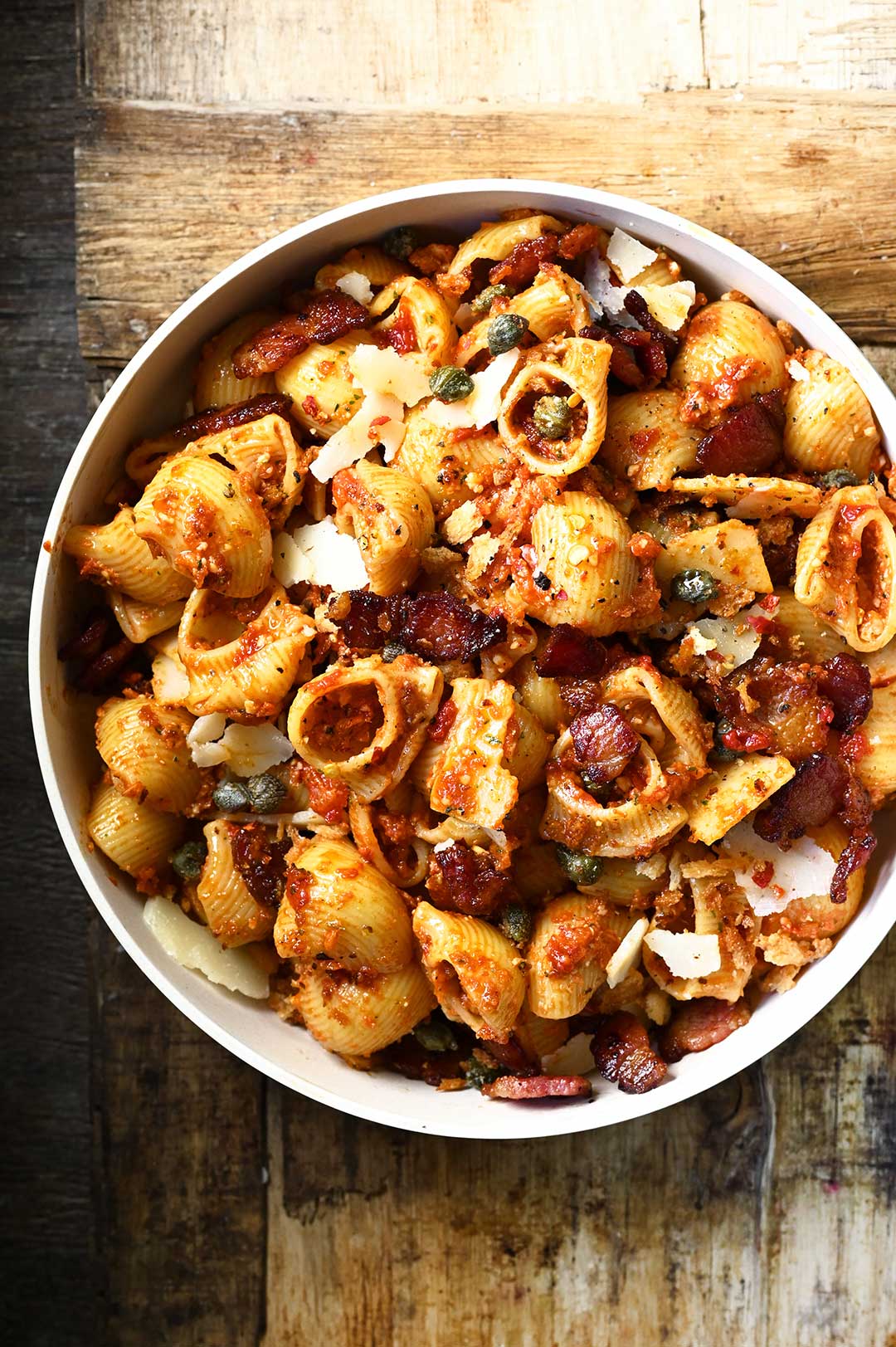 I kept it easy, yet you'll find big flavors here by simply tossing the pasta with red pesto. Using pesto is a simple go-to way to add heaps of delicious flavors.
This recipe is super flexible, too. You can add tons of extra veggies, serve for dinner, save the leftovers for lunch, add some grilled meat,… whatever you do, don't leave out the caper breadcrumbs. They're easy to make and let every salad or pasta shine.
Let me guide you through the recipe with this step-by-step VIDEO.
RECIPE NOTES
this red pesto recipe contains pine nuts, you can replace them with sunflower seeds
if you don't have time to make homemade pesto, use store-bought
store the red pesto in the refrigerator for up to 5 days
use leftover pesto to dress up sandwich or bruschetta, stir into hummus for a delicious dip, drizzle over chicken or shrimp skewers and throw it on the grill
use your favorite small-shaped pasta that holds the sauce, like shells, orecchiette, penne or fusilli
add other flavors to the salad like black olives, roasted red peppers or corn kernels
serve this pasta salad with grilled meat or fish
leave out bacon for a vegetarian version
add mayonnaise for a creamy touch
if you can't find panko, just tear some ciabatta or sourdough bread into small pieces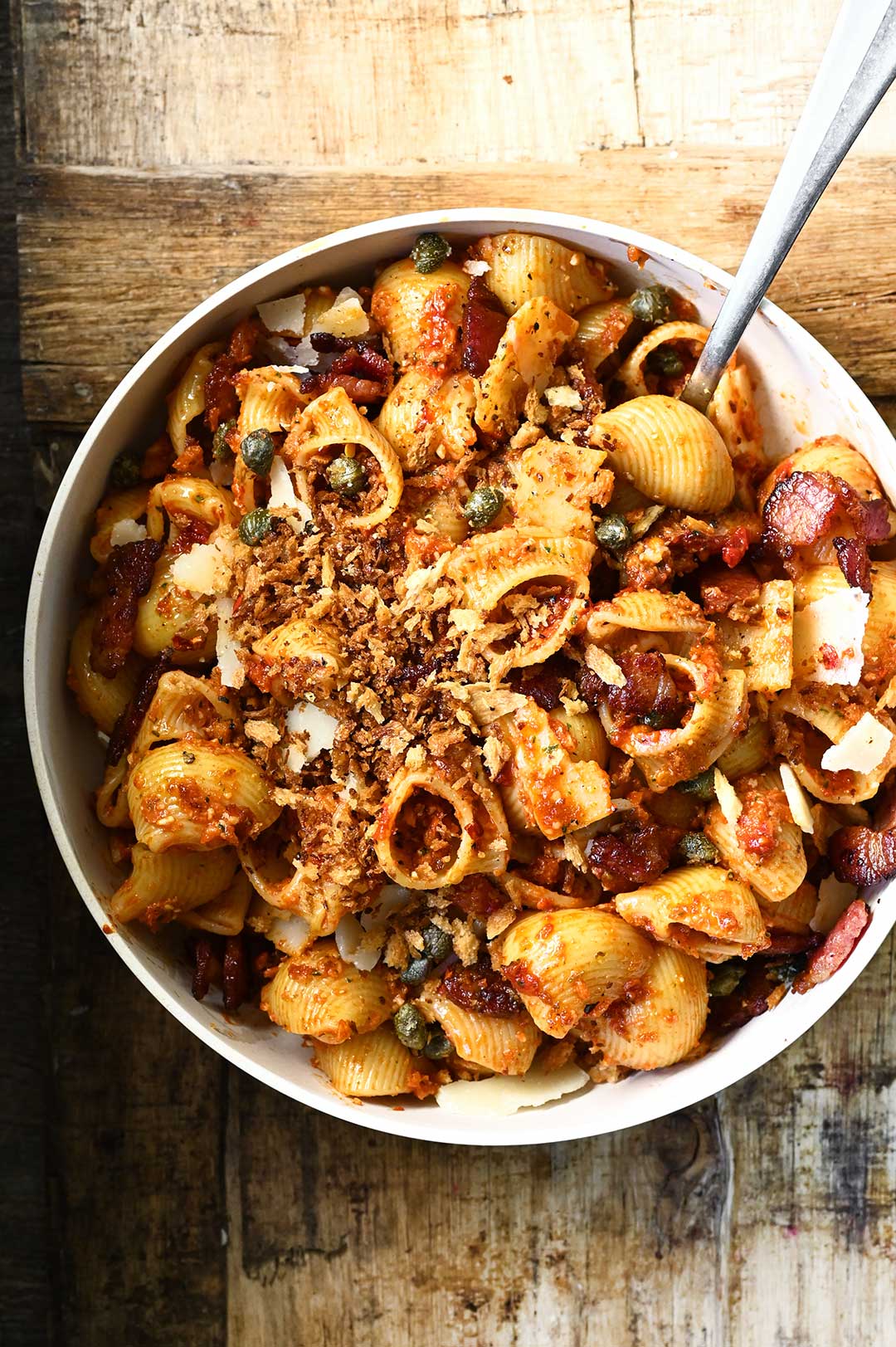 More super fast pasta, please!
Cooking Video
Yield: serves 4
Red Pesto Pasta Salad with Bacon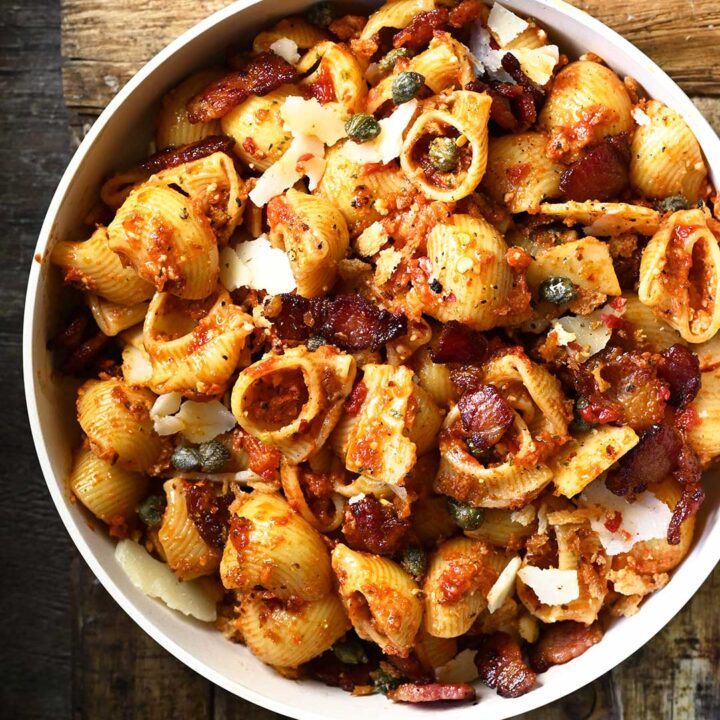 Prep Time 10 minutes

Cook Time 10 minutes

Total Time 20 minutes
Ingredients
250 g (9 oz) pasta
50 g (2 oz) shaved Parmesan
1 tsp red pepper flakes, more for serving
200 g (7 oz) salted bacon bits
oil from the sun-dried tomatoes
½ cup panko breadcrumbs
2 tbsp capers
salt + black pepper
Red Pesto
150 g (5.5 oz) sun-dried tomatoes, drained, oil reserved
3 garlic cloves, finely chopped
2 tbsp tomato paste
10 g (½ cup) basil leaves
20 g (0.7 oz) toasted pine nuts
20 g (0.7 oz) grated Parmesan
¼ cup oil from the sun-dried tomatoes
1 tbsp lemon juice
1 tbsp balsamic vinegar
¼ tsp salt
½ tsp black pepper
Instructions
Add the pasta to a large pot of boiling, generously salted water. Cook until al dente. Drain.
In the meantime, make the red pesto. Combine the ingredients in a food processor or blender. Blend, until everything is thoroughly combined, but still has some texture. If too dry or too thick, add a few tablespoons water.
Make the caper breadcrumbs. Heat a large skillet over medium high heat, add 2 tbsp oil. Then the panko together with capers. Cook, stirring occasionally until the breadcrumbs are toasted, about 3 minutes. Add red pepper flakes, season with 1/4 tsp salt and 1/2 tsp black pepper. Cook for 1 minute. Transfer the breadcrumbs onto a plate.
In the same skillet, heat 2 tbsp oil over medium high heat. Add bacon, cook until crispy and golden brown, stirring occasionally, for about 5 minutes.
Add pasta and 3-4 heaped tablespoons red pesto to a mixing bowl, toss to combine. Add bacon, shaved Parmesan and breadcrumbs, toss to combine. Garnish with red pepper flakes and extra black pepper.
Enjoy immediately, at room temperature for best flavor/texture.
Notes
Calories Per Serving: 535 kcal
Nutritional information is only an estimate. The accuracy of the nutritional information for any recipe on this site is not guaranteed.

PRINT RECIPE