This ravioli with pistachio pesto makes for a fuss-free and quick meal. It's ready in less than 15 minutes, and will definitely become a weeknight favorite. Ravioli bathed in a nutty sauce, brightened with lemon juice and jazzed up with garlic is a winning combo. Serve with a big side salad for a mid-week treat.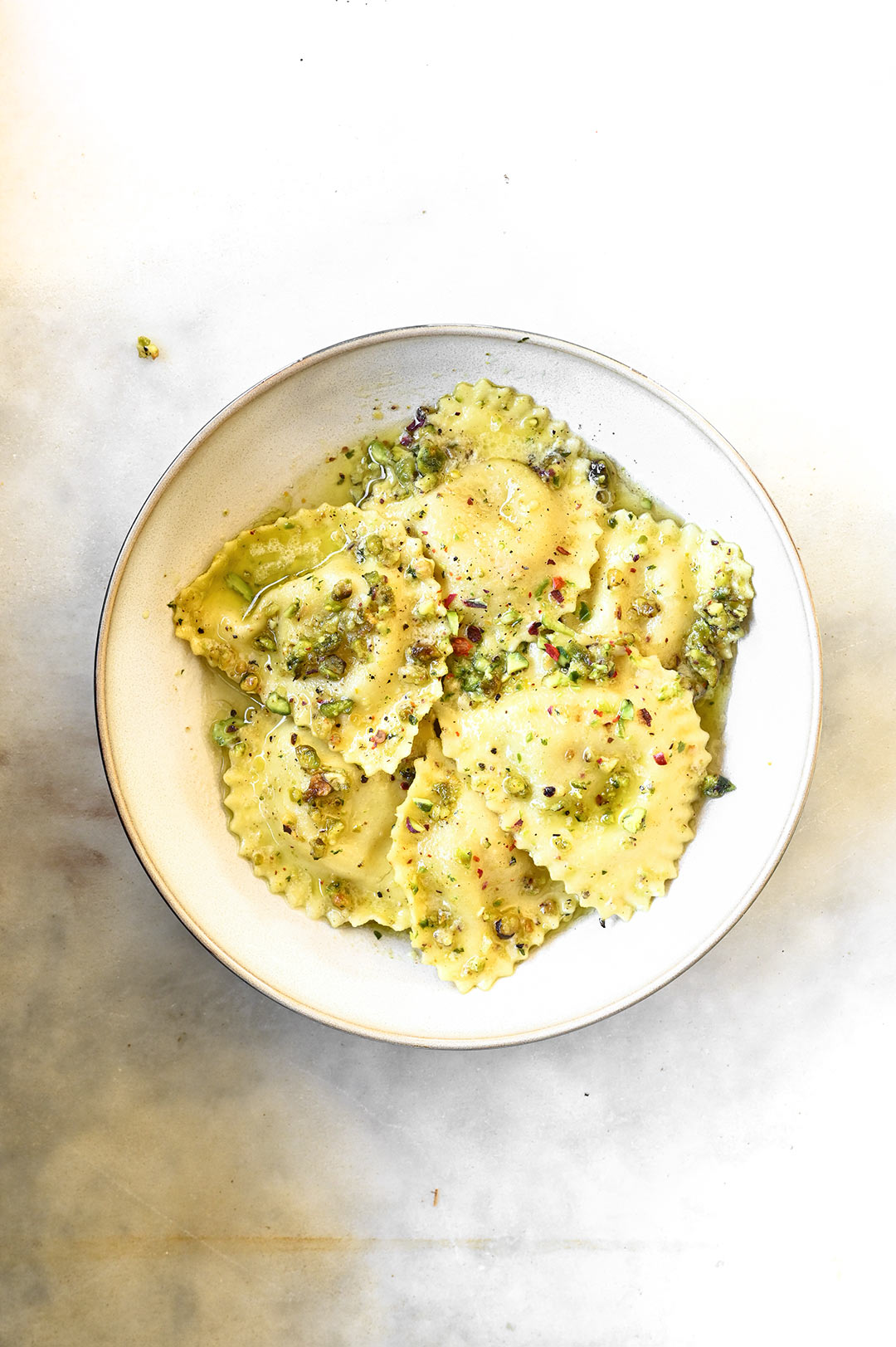 This dish is fast, fancy and an absolute fit for when you're having friends over or a weeknight meal that deserves a little something special.
Pistachio pesto is truly a delicious sauce that makes pretty much anything more satisfying. We make it by blending the pistachios together with pecorino, fresh basil leaves and a good squeeze of lemon juice. While the food processor is running we add just a little olive oil, the rest of the oil goes straight into the pan to cook the garlic. Next, we add in the pistachio pesto, a generous splash of pasta cooking water and toss it with ravioli. Ready!
The result is a complex, balanced sauce that isn't difficult to make. Combine with your favorite ravioli, and you have a winner.
Let me guide you through the recipe with this step-by-step video.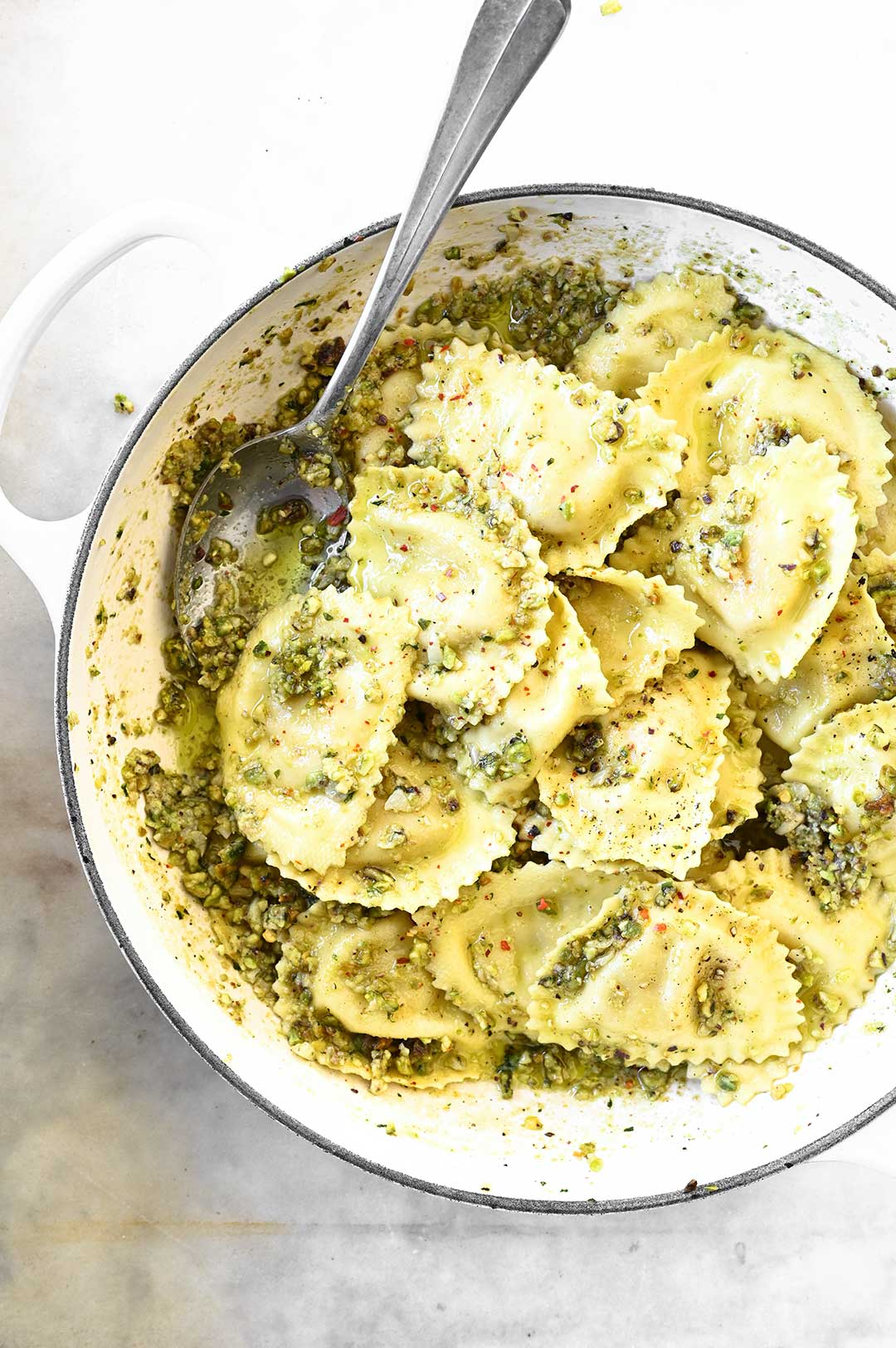 RECIPE NOTES
I used ravioli with parma ham, but you can use ravioli with your favorite filling, like ricotta, butternut squash, mushroom, lobster or goat cheese
use parsley instead of basil
swap pecorino for parmesan
pimp up your sauce by adding cherry tomatoes or sun-dried tomatoes
you can make more pistachio pesto and store it for 7 days in the refrigerator. Just double the ingredients and add 1/2 cup olive oil. You can use it on pizza or crostini, with pasta or gnocchi, in soup or spooned over grilled veggies
Try These Next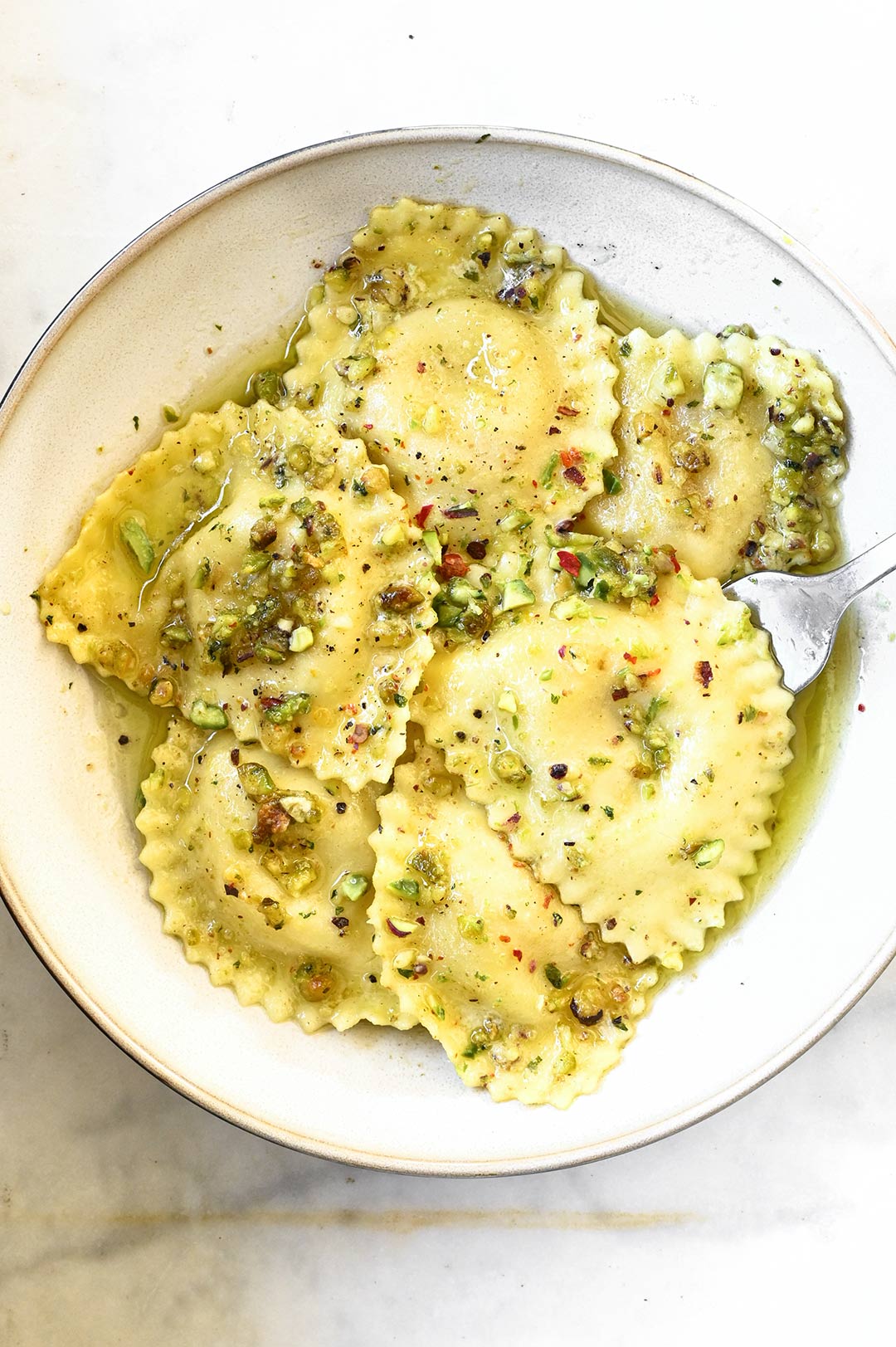 Recipe Video
Yield: 4
Ravioli with Pistachio Pesto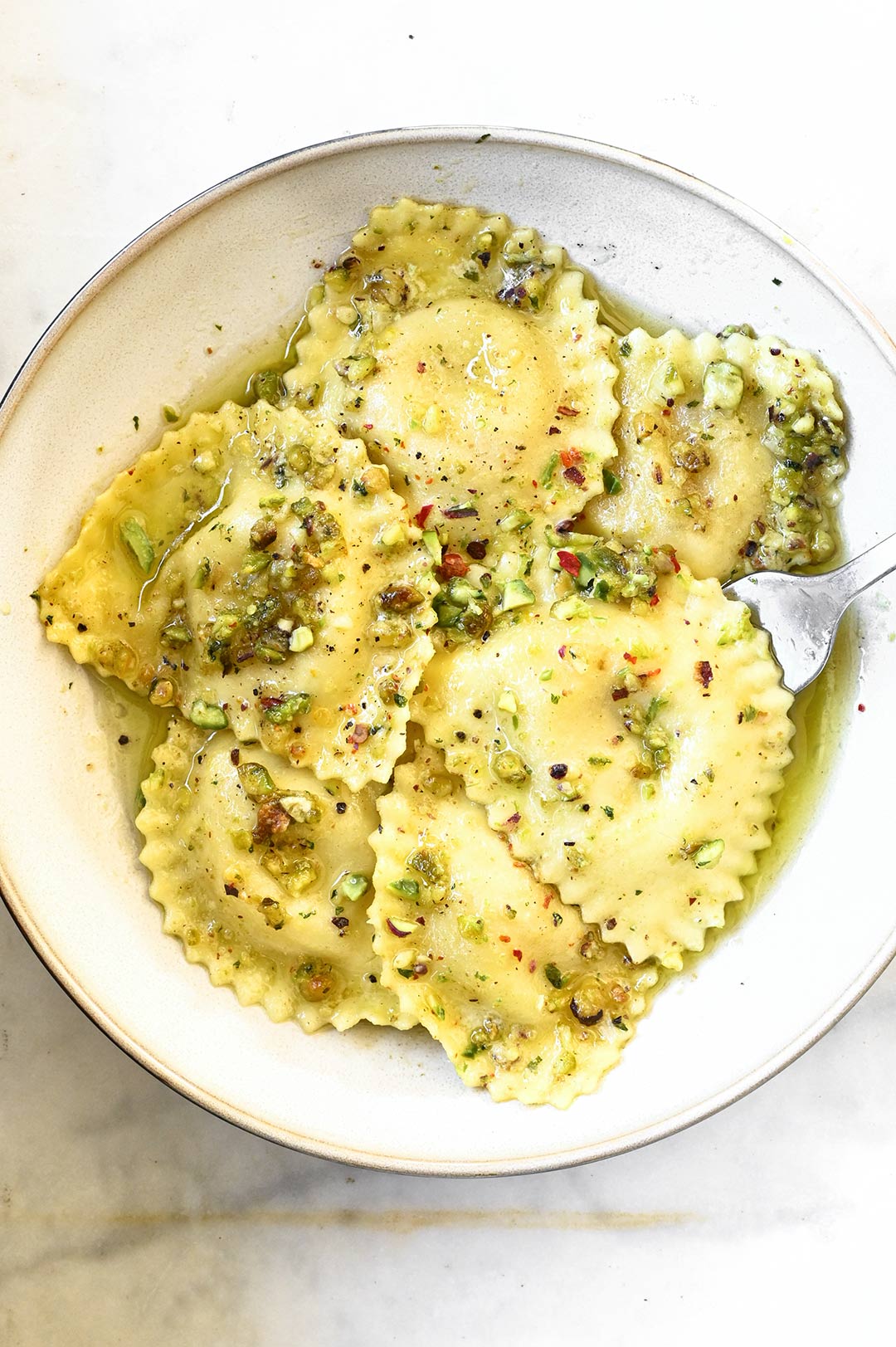 Ingredients
80 g/3 oz toasted pistachios
30 g/1 oz grated pecorino
2 tbsp lemon juice
¼ tsp salt
1 tsp black pepper, more for serving
4 g/¼ cup basil leaves
6 tbsp olive oil, divided
1 tbsp unsalted butter
2 garlic cloves, minced
600 g/1.3 pounds ravioli, with your favorite filling
crushed red pepper flakes, for serving
Instructions
Bring a large pot of generously salted water to a boil.
Add pistachios to your food processor, pulse briefly to break up the nuts. Add pecorino, lemon juice, salt, black pepper and basil leaves. Start to blend. While the machine is running, add 3 tablespoons olive oil and blend until just combined but not puréed. Set aside.
Mince the garlic.
Heat butter and the remaining olive oil in a large skillet over low. Add garlic and cook until soft and fragrant, about 2 minutes.
In the meantime, add ravioli to the pot with boiling water and cook, for about 3 minutes. Drain, reserving 1/2 cup cooking water.
Add pesto to the softened garlic, stir for 1 minute to combine the flavors. Pour in ¼ cup cooking water and add ravioli, toss to combine. Add more water to create more sauce. Finish off with black pepper and red pepper flakes. Serve with a side salad, enjoy!
Notes
Calories Per Serving: 622 kcal
Nutritional information is only an estimate. The accuracy of the nutritional information for any recipe on this site is not guaranteed.

//= __('Print recipe (no photos)', 'servingdumplings' );?> //= __('Print recipe (with photos)', 'servingdumplings' );?>