Lemon parmesan butter ravioli with garlic sautéed asparagus. This ravioli tastes unbeatably delicious, is super easy to make and ready in 15 minutes. Cheese ravioli bathed in a parmesan butter sauce that's brightened up with lemon juice and packed with tender-crispy asparagus is a winning combo. Perfect for a dinner party or busy weeknights when you're looking for something fast and fancy.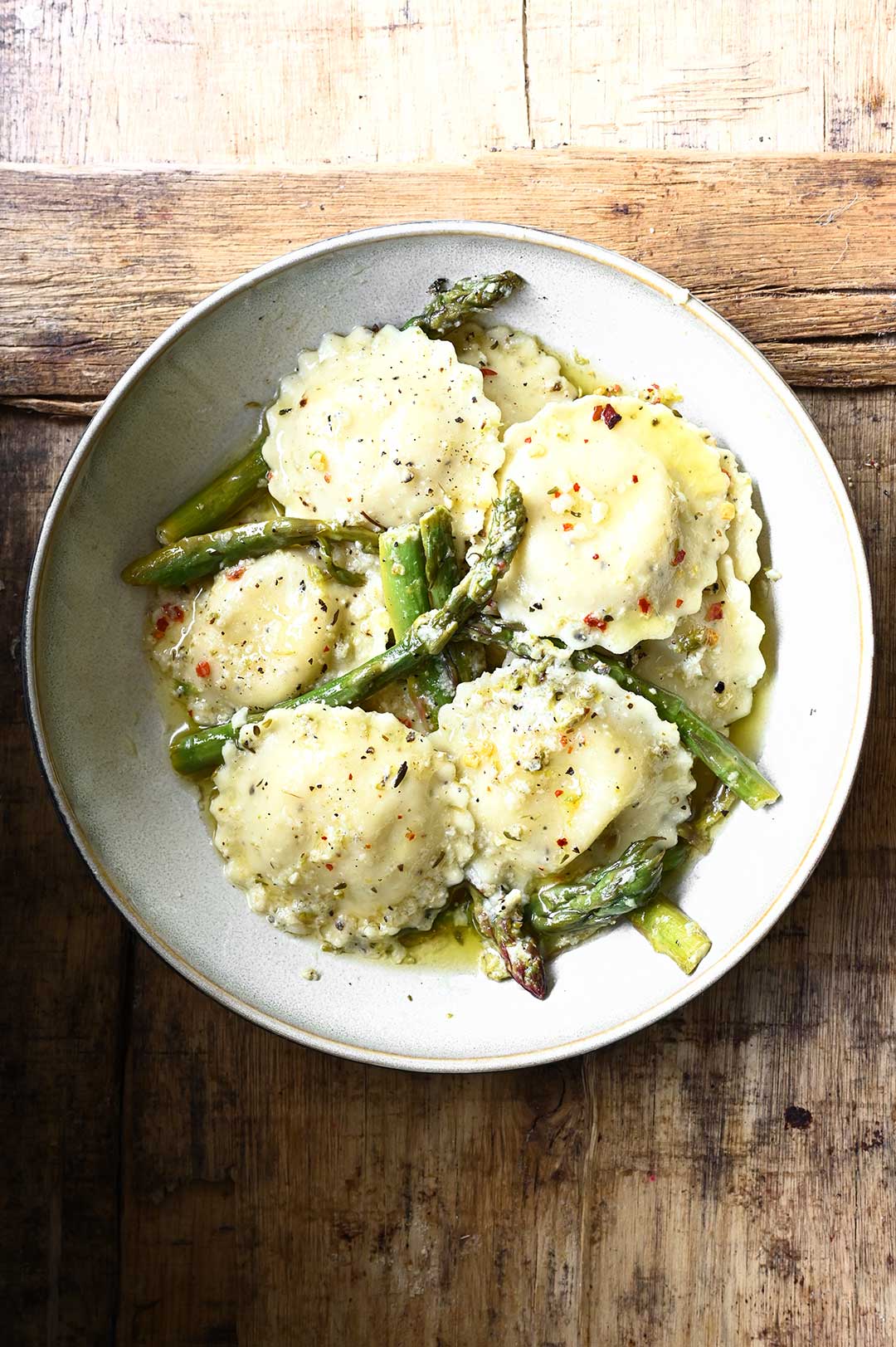 A combination of lemon juice and zest gives this dish an intense citrusy punch and forms a bright contrast to the butter sauce. This is one of those super-quick pasta recipes where the sauce comes together while the ravioli boils. It's super simple but satisfying. It might look like a lot of butter but we add some pasta water and lemon juice.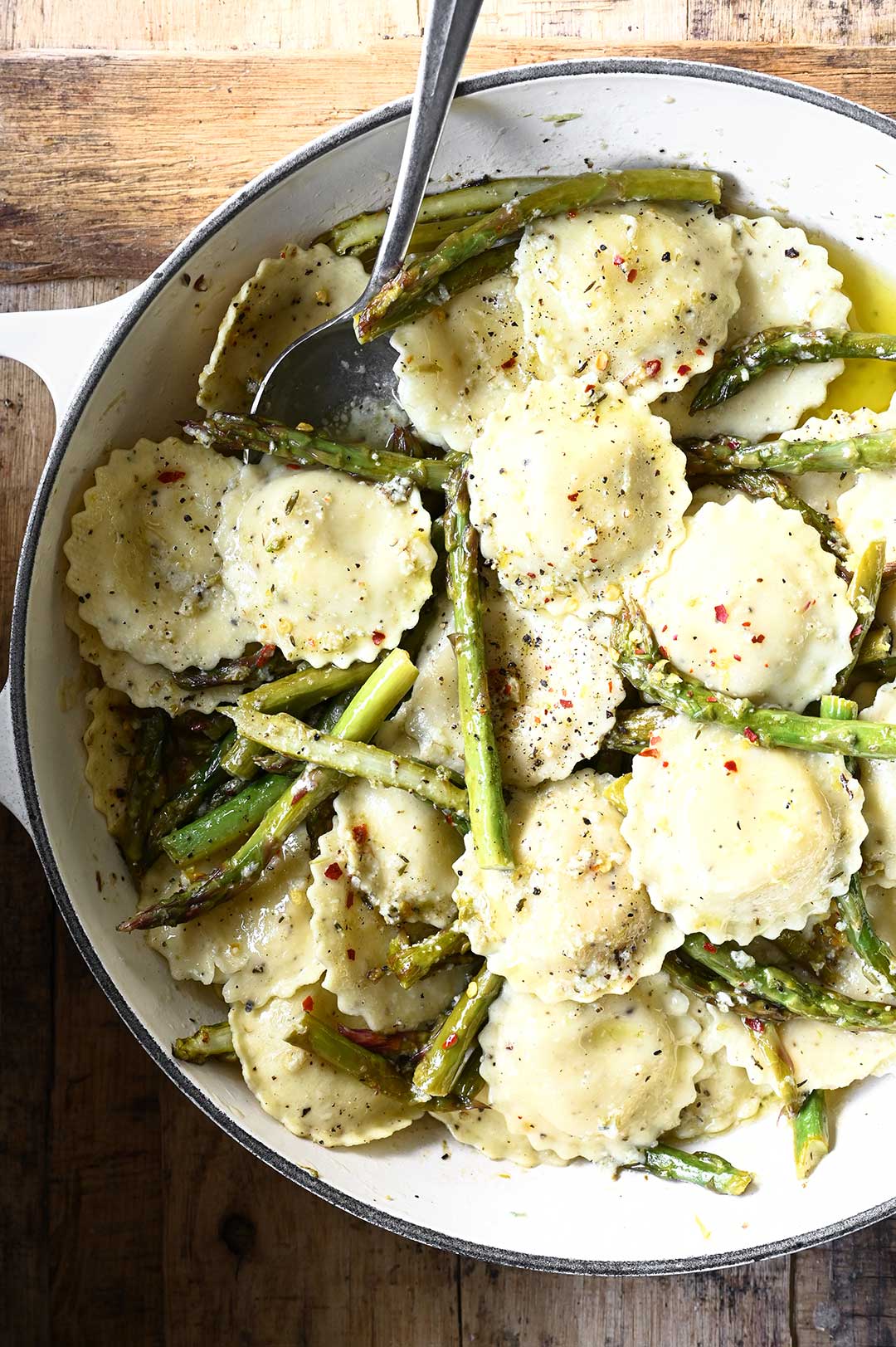 This jazzed-up butter sauce is the key for a fast and super delicious ravioli. And this is how we do it. Toss some grated garlic into the butter as it cooks, then add spices and finish by adding a big squeeze of lemon juice for a complex, balanced sauce. The only thing left to do, is to sauté the asparagus right in that butter and cook the ravioli. Toss everything together with Parmesan and done! Prepare yourself to get blown away.
Let me guide you through the recipe with this step-by-step VIDEO.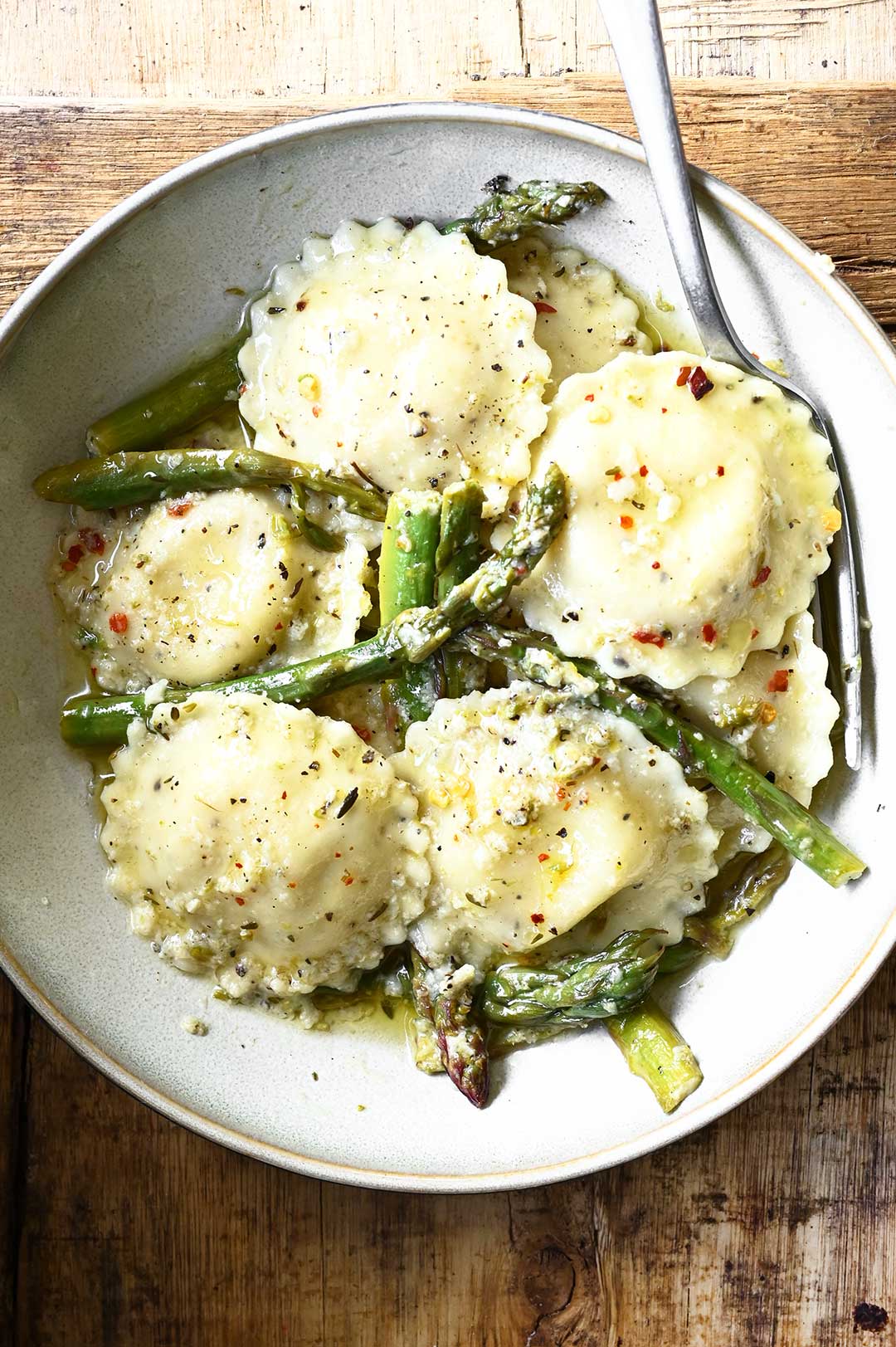 RECIPE NOTES
for this recipe, you can use ravioli, tortellini or pasta
use any of your favorite ravioli, like 4-cheese, spinach-ricotta, meat, mushrooms…
add some pancetta or bacon
instead of asparagus, use spinach or green peas
serve as dinner with a big side salad or as a starter
you can refrigerate the leftovers and easily reheat it over low heat
and if you're looking for more fast & easy ravioli sauces, try these too
Try These Next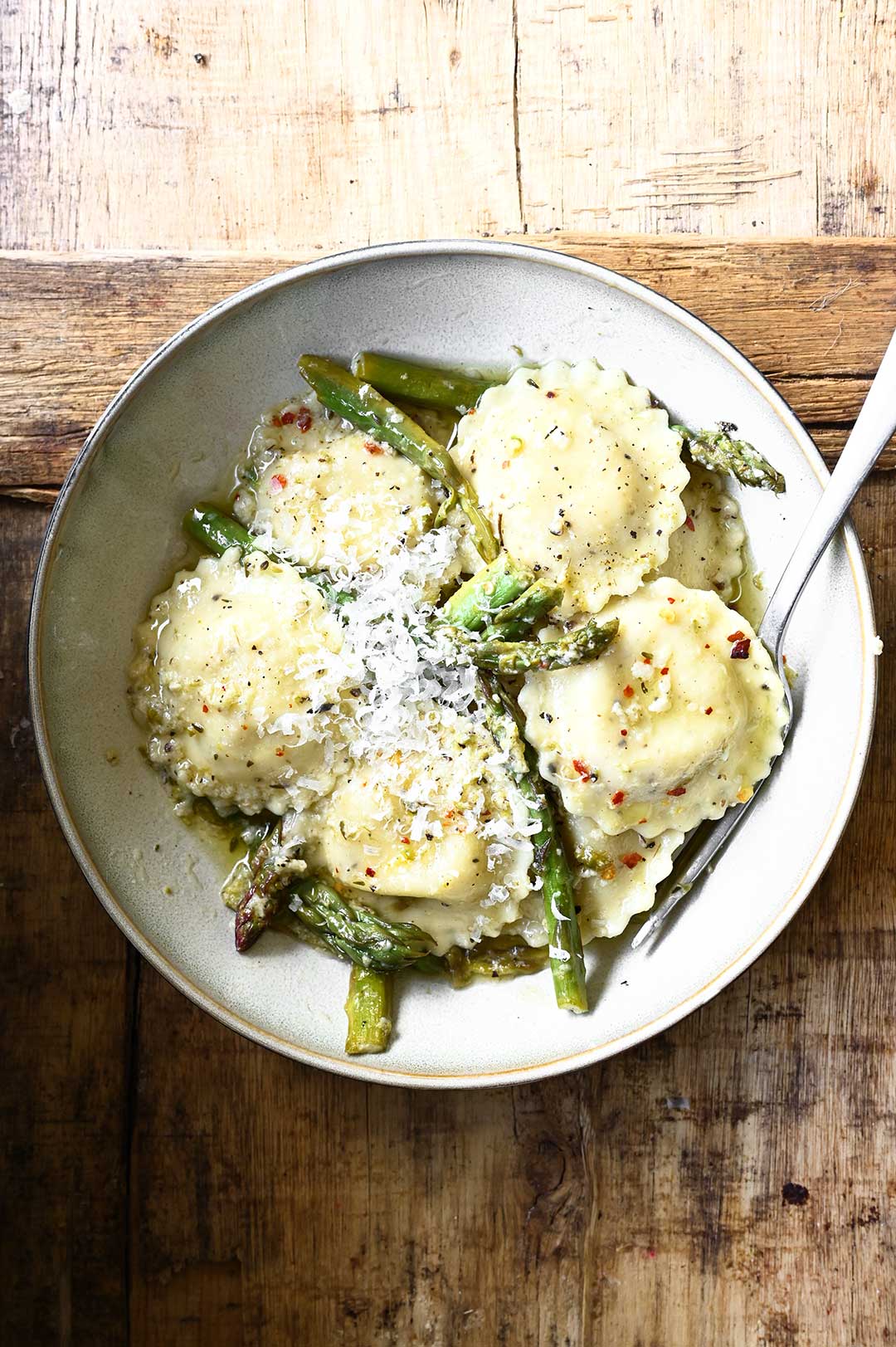 Cooking Video
Yield: serves 4
Ravioli in Lemon Parmesan Butter
Prep Time 5 minutes

Cook Time 10 minutes

Total Time 15 minutes
Ingredients
500 g/1.1 pounds ravioli
90 g/3 oz unsalted butter
¼ cup lemon juice
30 g/1 oz grated Parmesan
1 tsp each: salt, black pepper, dried thyme
2 garlic cloves, grated
200 g/7 oz small green asparagus
crushed red pepper flakes, for serving
freshly ground black pepper, for serving
lemon zest, for serving
Instructions
Get the prep done before you start cooking: grate the garlic, snap off the woody end of asparagus. Cut the larger ones in half lengthwise. Squeeze out the lemon juice.
Bring a large pot filled with salted water to a boil.
Heat a large skillet over low. Add butter and stir until melted. Add garlic and sweat for about 1 minute. Stir in salt, pepper and thyme. Add lemon juice and stir for 30 seconds. Add asparagus, place in a single layer and cook for 3-5 minutes.
In the meantime, add ravioli to the pot with boiling water and cook, for about 3 minutes. Drain, reserving ½ cup cooking water.
Add ¼ cup cooking water to asparagus, cook for 1 minute. Turn off the heat and stir in parmesan. Add ravioli, toss to combine.
Finish off with freshly ground black pepper, red pepper flakes and lemon zest. Serve!
Notes
Calories Per Serving: 438 kcal
Nutritional information is only an estimate. The accuracy of the nutritional information for any recipe on this site is not guaranteed.

DOWNLOAD PRINTABLE RECIPE PDF