Ravioli in creamy bacon sauce. A fuss-free, quick meal that tastes like dream. A flavorful cream sauce made with crispy bacon, Parmesan and a hint of garlic. It's super delicious, especially when served with your favorite ravioli. Added bonus? It comes together in only 20 minutes and it's pretty versatile, too!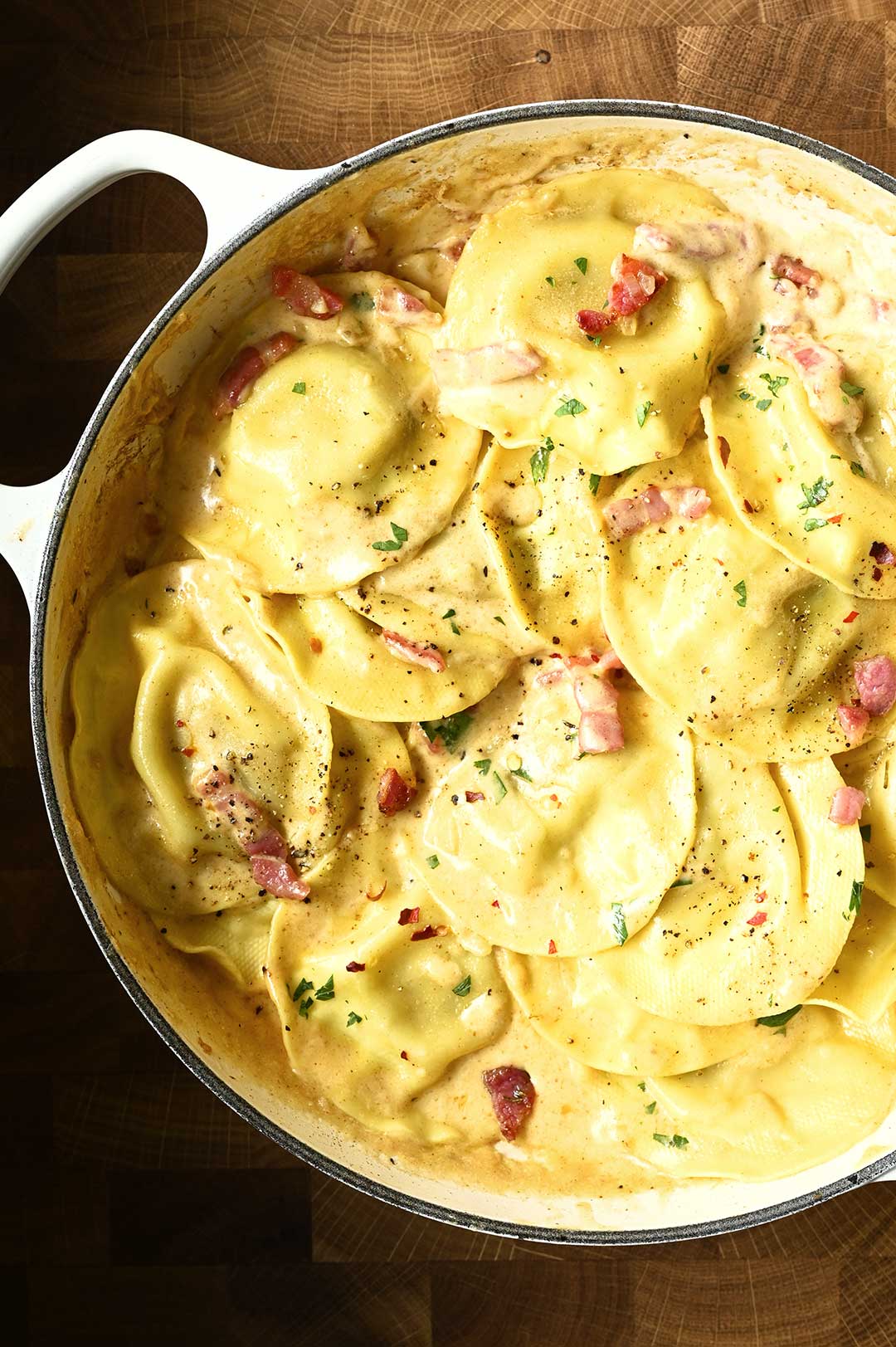 This is a multi-purpose sauce that can take on a lot of extra seasonings and, besides ravioli, you can use it with proteins, carbs or vegetables. If you want to serve more, just double the recipe.
This dish is a secret weapon to get weeknight dinners ready in no-time, with minimal effort or planning.
Let me guide you through the recipe with this step-by-step VIDEO.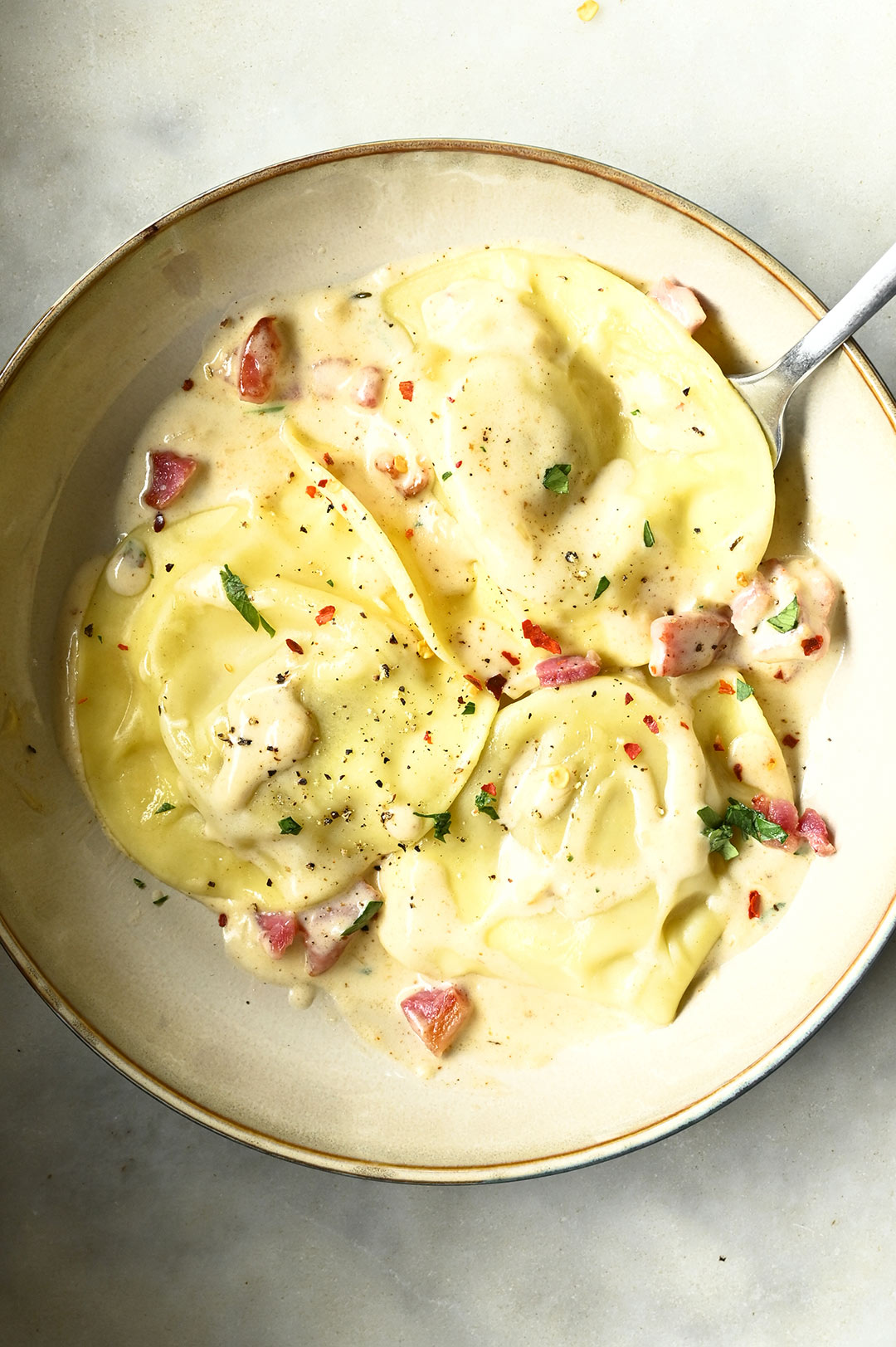 Besides tossing the sauce with ravioli or tortellini, you can use it over pasta noodles or gnocchi. Or use the sauce with fish, shrimp, grilled vegetables, chicken, steak, lamb or pork chops.
And don't forget to add a big side salad for a real treat.
RECIPE NOTES
use thick cut salted bacon or pancetta, and if you love some smokiness, use smoked bacon. Use good quality bacon, as it's the star of the sauce
as for the cream, use heavy cream or cream with at least 30% fat. It has the necessary fat content to create a stable backbone for the sauce
use any of your favorite ravioli, like 4-cheese, spinach-ricotta, meat, mushrooms…
serve as dinner with a big side salad or as a starter
you can refrigerate the leftovers and easily reheat it over low heat. When reheating, add a bit of extra cream and simmer until you get the desired consistency
Try These Next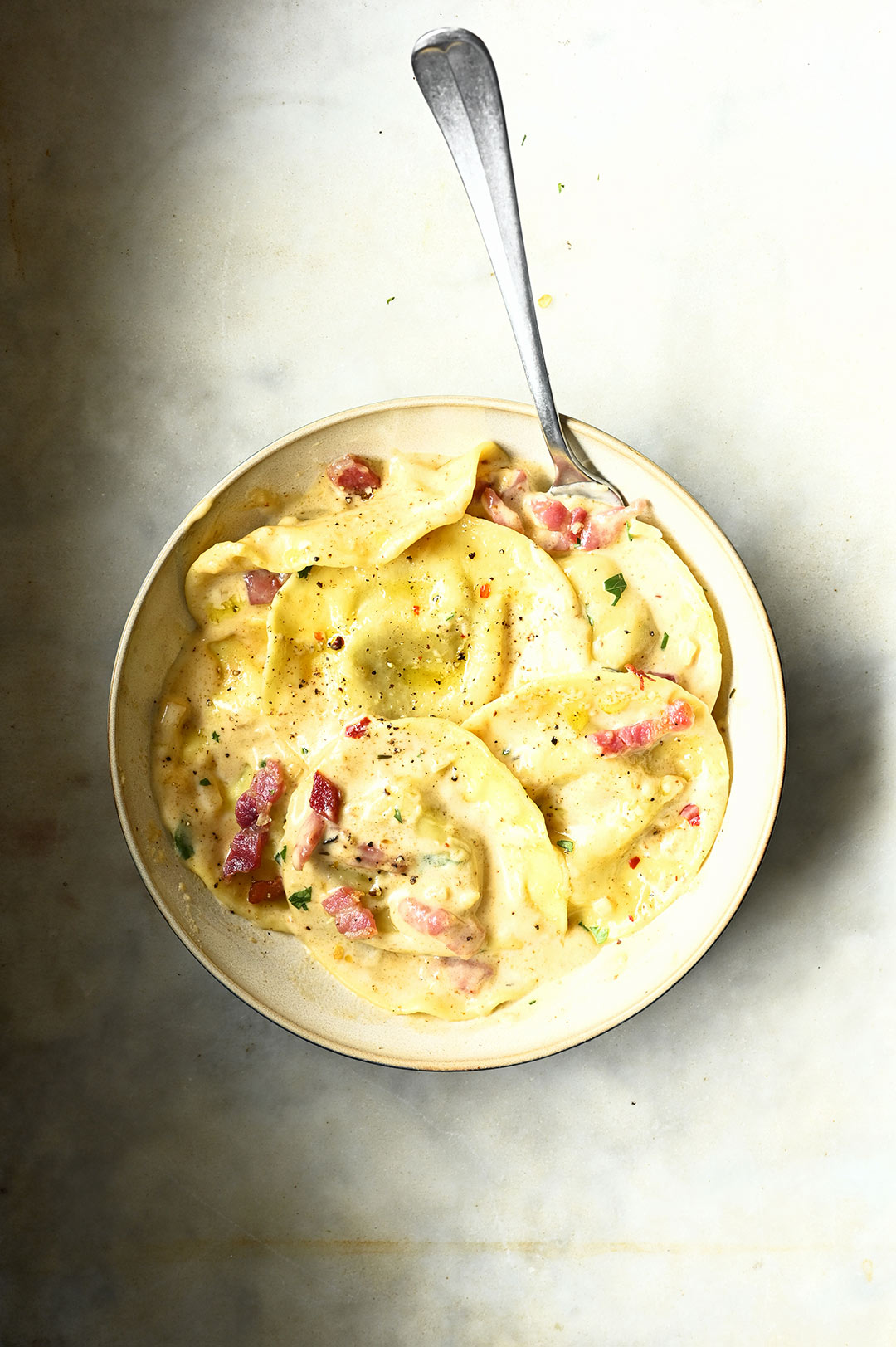 Cooking Video
Yield: serves 4
Ravioli in Creamy Bacon Sauce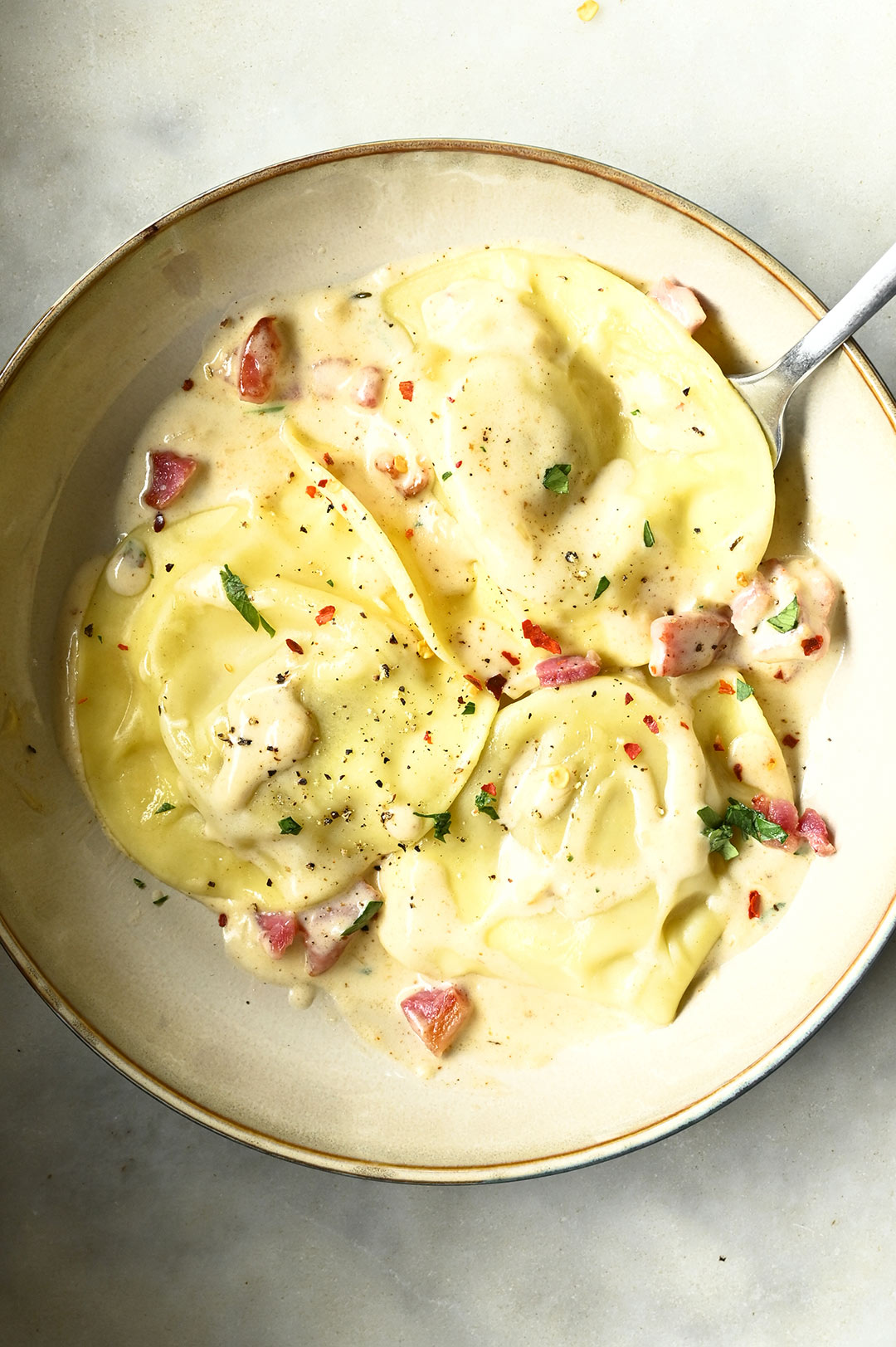 Ingredients
500 g/1.1 pounds fresh ravioli
1 tbsp olive oil
1 tbsp unsalted butter
170 g/6 oz thick cut salted bacon, chopped
4 garlic cloves, minced
1 shallot, finely chopped
¼ tsp each: sweet paprika, grated nutmeg
½ tsp each: black pepper, dried thyme
½ cup/120 ml low sodium chicken broth
1 ¼ cups/300 ml heavy cream
30 g/1 oz grated Parmesan
1 tbsp lemon juice
2 tbsp chopped parsley
crushed red pepper flakes, for serving
freshly ground black pepper, for serving
Instructions
Get all the prep done before you start cooking: mince the garlic, finely chop the shallot and dice or cut the bacon into small pieces.
Bring a large pot filled with salted water to a boil.
Heat oil and butter in a skillet over medium. Add bacon, cook until crispy, about 5 minutes. Remove excess fat, if needed. Add garlic and shallot, cook until soft, about 3 minutes.
Stir in pepper, nutmeg, paprika and thyme. Deglaze with chicken broth, simmer for 2 minutes, while stirring and scraping the brown bits with a wooden spoon from the bottom of your skillet. Pour in cream and add grated Parmesan, stir until dissolved. Simmer over low, try not to boil it, about 5 minutes or until the sauce starts to thicken. Adjust salt to your own taste.
While the sauce is simmering, add ravioli to the pot with boiling water and cook, for about 3 minutes. Drain, reserving 1/4 cup cooking water.
Add ravioli and chopped parsley to the sauce, stir gently to combine. If needed, add a splash of cooking water to thin out the sauce.
Serve topped with red pepper flakes and lots of freshly ground black pepper. Enjoy!
Notes
Calories Per Serving: 633 kcal
Nutritional information is only an estimate. The accuracy of the nutritional information for any recipe on this site is not guaranteed.