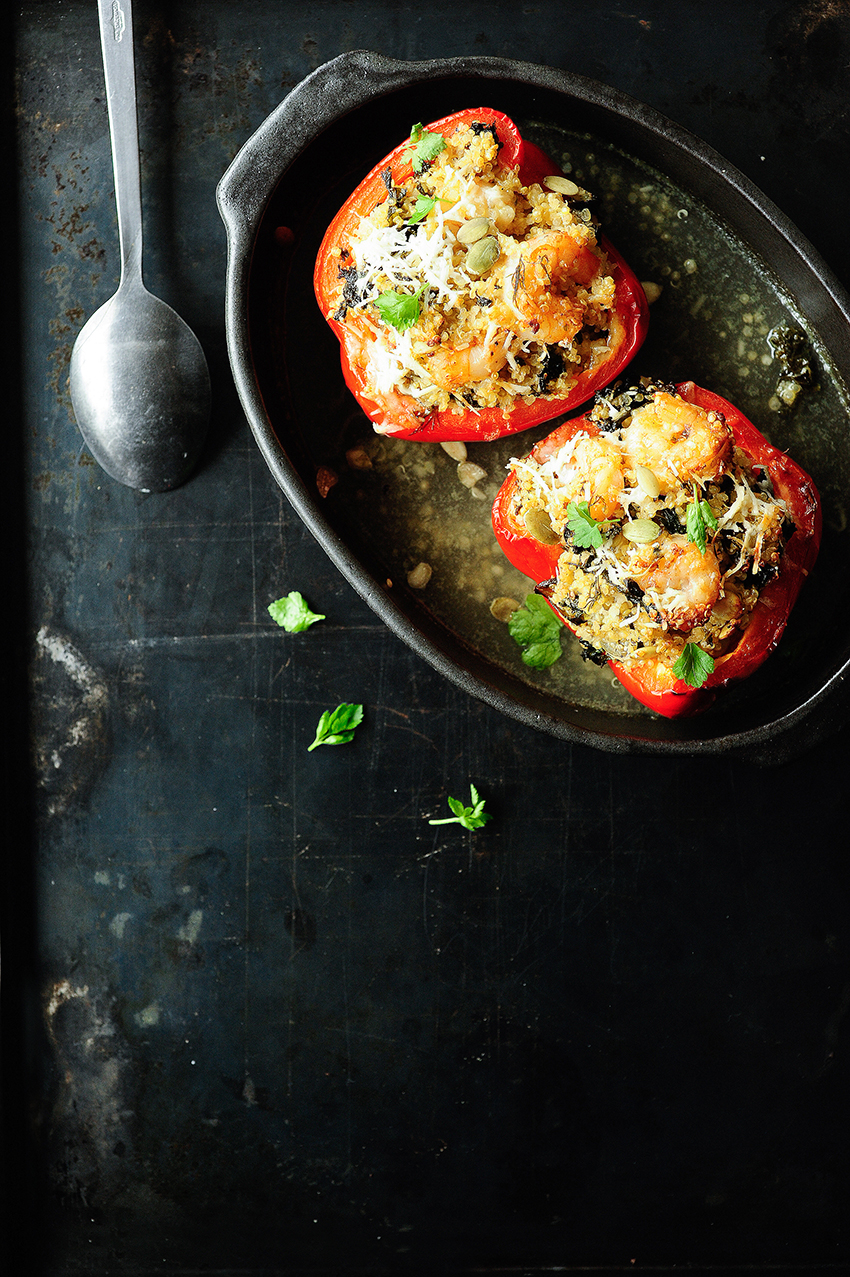 These stuffed peppers make a delicious healthy meal. It's light and full-flavored with a creamy filling that won't leave you feeling stuffed. Very tasty and easy to make.
Ingredients
4 red peppers
250 g quinoa
300 g shrimps
250 g kale
2 shallots, finely chopped
2 cloves garlic, finely chopped
2 tbl chopped dill
2 tbl chopped parsley
4 tbl pumpkin seeds
5 tbl Greek yogurt
2 tbl heaped grated pecorino cheese + more to sprinkle
olive oil
1 stock cube
1 cup broth
cayenne pepper
salt and black pepper
Instructions
In a saucepan, boil water with the broth cube and cook the quinoa grains until tender.
Rinse kale under running water, remove stems and cut into strips.
Peel and devein the shrimps. Fry in a hot pan with 2 tablespoons of olive oil for a minute on each side. Season with cayenne pepper, salt and pepper. Take out the shrimps and heat 2 tablespoons olive oil in the same pan, fry the shallots and garlic. Add the kale and simmer for 10 minutes, then pour in 1/2 cup water. Simmer until the water evaporates. Season with salt and pepper.
In a large bowl, stir quinoa with the shrimps, kale, dill and parsley. Add the pumpkin seeds, 2 tablespoons olive oil, Greek yogurt and pecorino. Season with a pinch of salt and black pepper.
Wash the peppers, cut in half, gently remove the seeds and stuff with quinoa mixture. Place in a roasting pan, sprinkle with cheese and add the broth. Cover with foil and bake for 50 minutes at 190 degrees. Remove the foil, increase the heat to 200 degrees and bake 15 minutes more.
Bon Appetit!