Pumpkin Thai Chicken Curry. A delicious, super flavorful and quick one-pot dinner! Chicken fillets in coconut red curry sauce loaded with tender sautéed pumpkin chunks. This is the ultimate comfort food dinner idea that's pretty versatile too!
If you love Thai flavors, check out my 'Thai Coconut Shrimp Curry', 'Thai Chicken Meatballs in Peanut Sauce' or 'Thai Coconut Salmon Curry'.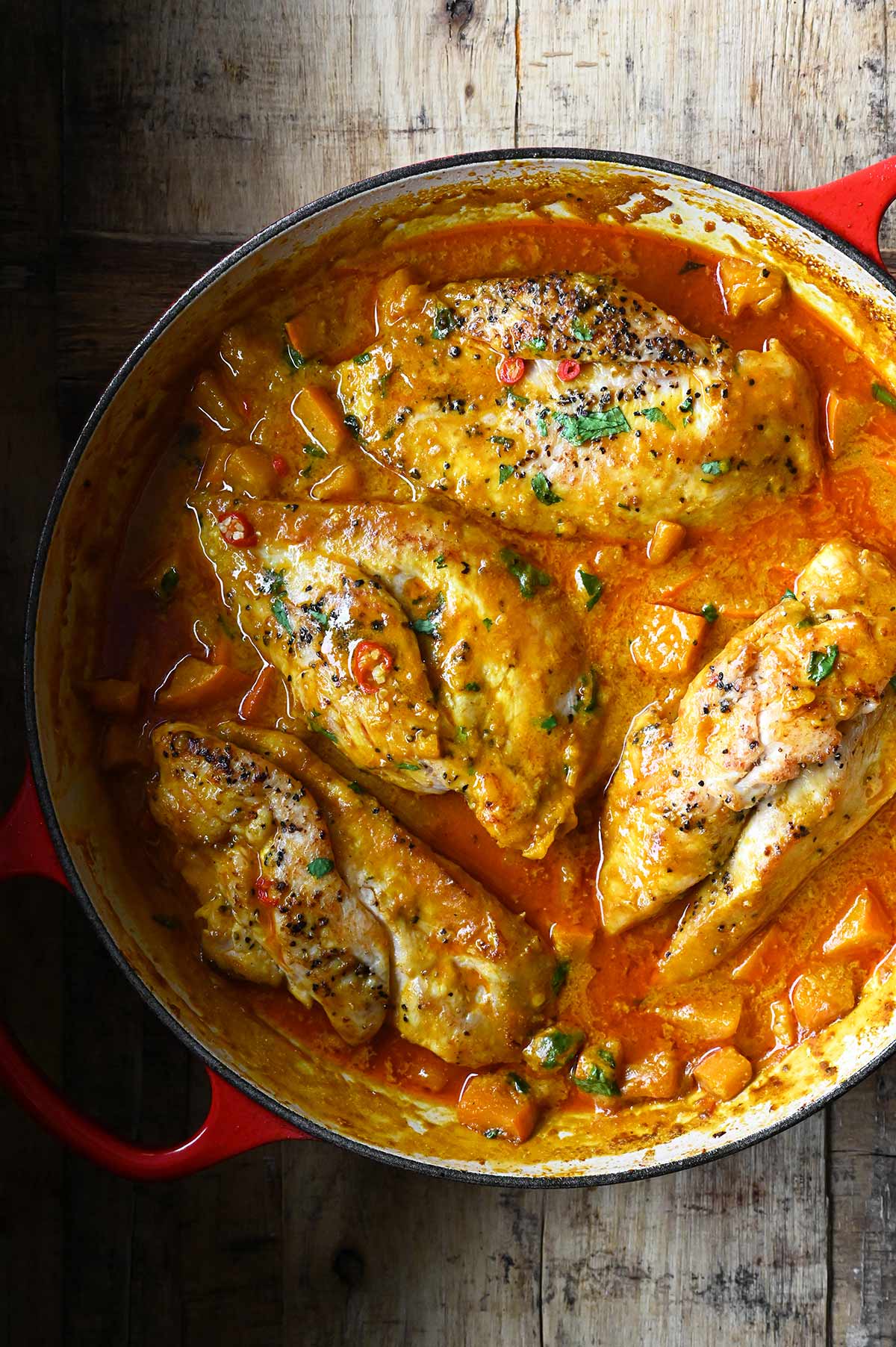 Why You'll Love this Thai Chicken Curry with Pumpkin Recipe
A quick and incredibly tasty dinner that the whole family will enjoy. It's a dish that combines chicken with a flavorful Thai curry sauce, along with chunks of pumpkin cooked in coconut milk. Serve with rice and garnish with fresh cilantro, and you're all set!
The pumpkin adds a special touch to this curry, making it even more delicious and likely to make you want seconds.
This curry is creamy and very easy to make. It's not only versatile, but it's also a great option if you want to include more vegetables or skip the chicken. Plus, you can use either leftover pumpkin or chopped store-bought pumpkin, which makes it perfect for a busy weeknight.
Every bite is packed with delightful flavors, and it's not too spicy, making it suitable for kids and adults who prefer milder dishes. It's also gluten-free, dairy-free and ideal for meal prep.
Let me guide you through the recipe with this step-by-step VIDEO or follow along on YouTube.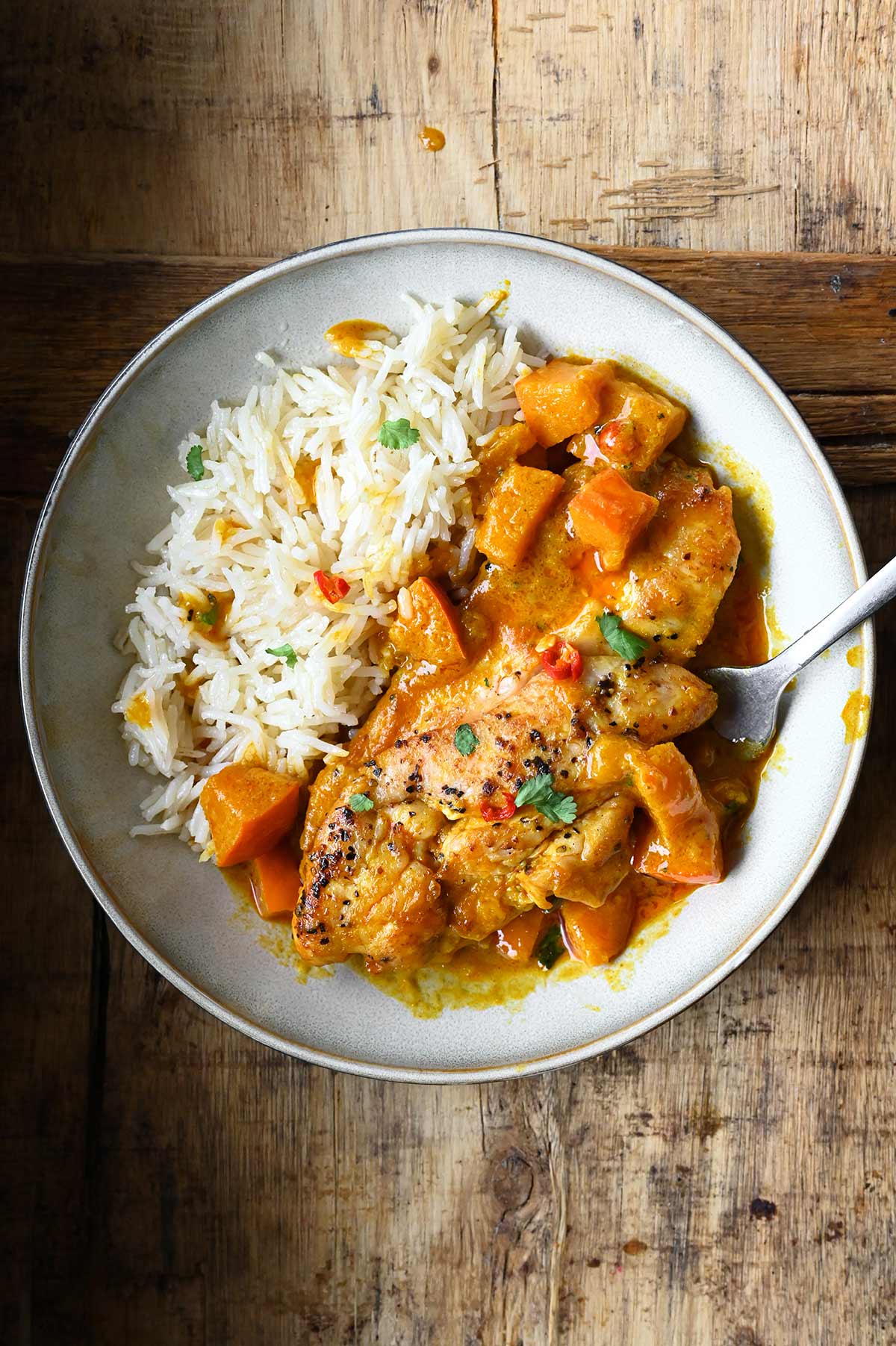 What to serve with Thai chicken curry?
You can pair pumpkin Thai chicken curry with various delicious options:
Freshly steamed white rice, fragrant jasmine rice or cauliflower rice.
Rice noodles or zucchini noodles.
Warm flatbread.
Chopped roasted nuts like cashews or peanuts, for added crunch and flavor.
Lime wedges to squeeze over the top, giving your dish a zesty kick.
Freshly chopped cilantro or Thai basil leaves for a burst of freshness and aroma.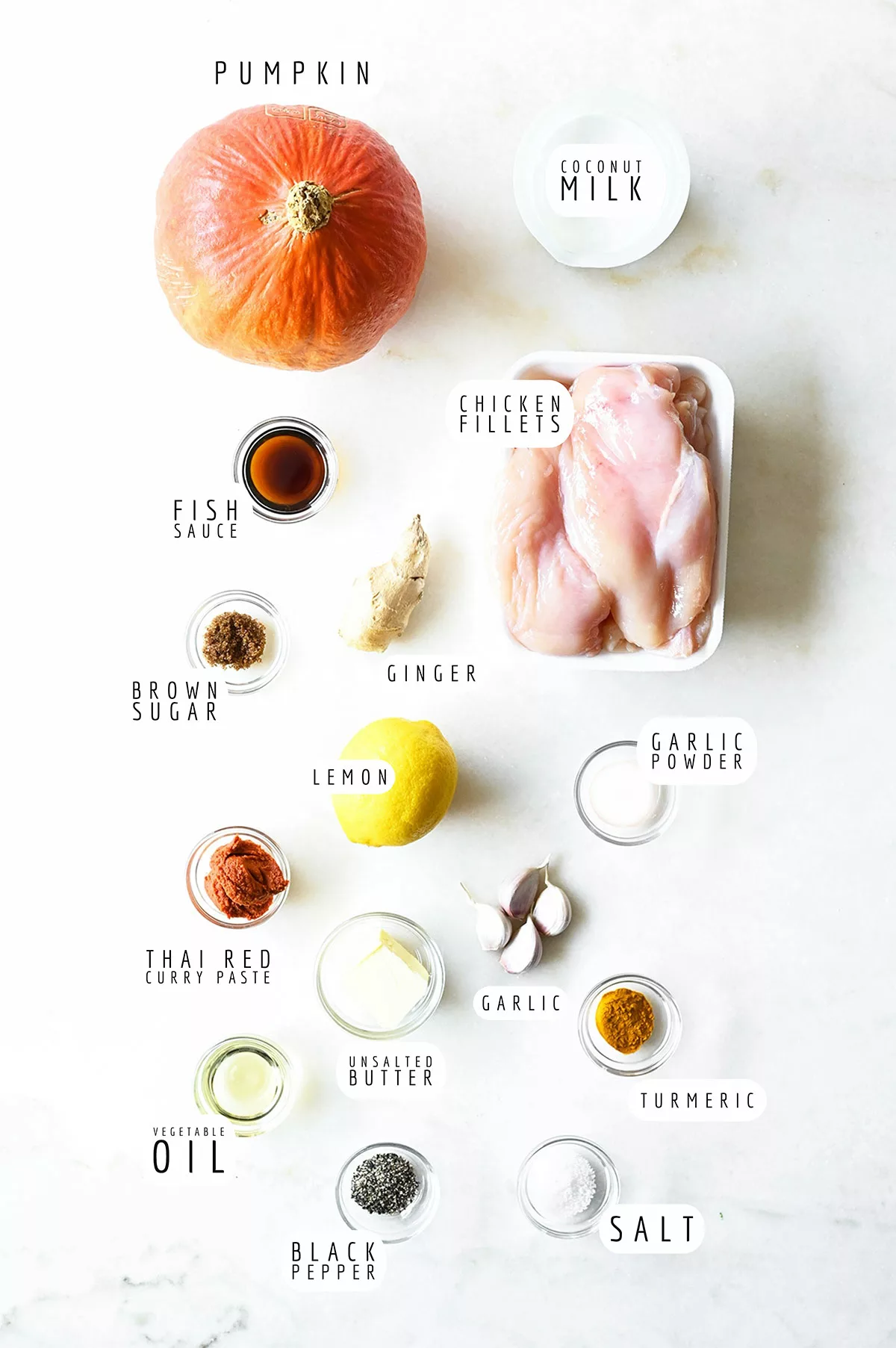 What You'll Need to Make Pumpkin Thai Chicken Curry
Pumpkin: I recommend using vibrant Hokkaido pumpkin, which is super soft and doesn't need peeling. However, you can also use Kabocha squash, butternut squash, sweet potato or acorn squash. If you're in a hurry, you can use pre-chopped store-bought pumpkin or canned pumpkin purée.
Chicken Fillets: You can use whole chicken fillets or cut them into bite-sized pieces. Alternatively, you can substitute for boneless/skinless chicken thighs.
Thai Red Curry Paste: Opt for a high-quality brand. You can start by adding 1 tablespoon and adjust to your liking before adding the chicken.
Chicken Broth: This forms the base of our sauce, but you can also use vegetable broth.
Seasoning: A mix of salt, black pepper, garlic powder, brown sugar and turmeric. Using all these seasonings ensures a well-balanced flavor.
Coconut Milk: Use full-fat unsweetened coconut milk for the best result.
Fish Sauce: This ingredient adds saltiness and complexity, enhancing the overall flavor of the curry. It's a key component in many Thai curry recipes. If needed, you can replace it with soy sauce or tamari.
Garlic and Ginger: These aromatics are crucial for an excellent flavor, and it's best to use freshly grated garlic and ginger.
Lemon: A touch of fresh lemon juice brings the flavors to life. If you prefer, you can substitute it with lime juice.
Helpful Tips
Add Extra Veggies: Feel free to include a variety of vegetables like broccoli, bell peppers, zucchini, carrots, cauliflower, spinach, snow peas or green beans. You can adapt the recipe based on what's in your fridge or pantry.
Making It Vegetarian: To turn this Thai pumpkin curry into a vegetarian delight, skip the fish sauce and replace it with soy sauce, tamari or coconut aminos. Instead of chicken, consider using chickpeas, tofu or mushrooms.
Alternative Proteins: Instead of chicken, you can try to make this curry with salmon or shrimp for a seafood twist.
Explore More Thai-Inspired Recipes: If you enjoy the flavors of Thai cuisine or want to try something different, explore my other Thai-inspired recipes to expand your culinary repertoire.
Delicious Side Options: Consider serving your curry with a refreshing cucumber salad or a mango salad to complement the flavors and textures.
Storage
Fridge: If you have leftovers, store them in an airtight container in the refrigerator. Thai pumpkin curry can be refrigerated for up to 3 days.
Reheating: When you're ready to enjoy your leftovers, reheat the curry in a microwave or on the stovetop.
Freezer: Store in a freezer-safe container for up to 3 months. Thaw overnight in the refrigerator before reheating.
Cooking Video: How To Make Pumpkin Thai Chicken Curry
Yield: serves 4
Pumpkin Thai Chicken Curry
A delicious, super flavorful and quick one-pot dinner! Chicken fillets in coconut curry sauce loaded with tender sautéed pumpkin chunks. This is the ultimate comfort food dinner idea that's pretty versatile too! Serve with steamed rice for a complete meal.
Ingredients
4 chicken fillets
1 tsp each: salt, black pepper, garlic powder
1 tbsp vegetable oil
1 tbsp unsalted butter
2 cups (300g) diced pumpkin, or store-bought chopped pumpkin
4 garlic cloves, grated
1 tbsp grated ginger
1 tsp each: brown sugar, turmeric
2 tbsp fish sauce
3 tbsp Thai red curry paste, more or less to taste
½ cup/120 ml low sodium chicken broth
¾ cup/200 ml full fat unsweetened coconut milk
1 tbsp lemon juice
cilantro or chili peppers for serving, optional
Instructions
Get your prep done before you start cooking. Season the chicken fillets on both sides with salt, pepper and garlic powder. Set aside.
Remove the seeds and dice the pumpkin, you don't need to peel it if using Hokkaido pumpkin. Grate the ginger and garlic cloves.
Heat oil and butter over medium high in a heavy-bottomed skillet or pan. Add chicken fillets and cook for about 5-8 minutes per side or until cooked through. The cooking time may vary depending on the size of your chicken. Remove from skillet onto a clean plate.
Add pumpkin and cook for 3 minutes. Stir in garlic and ginger. Then add turmeric, brown sugar and fish sauce. Add Thai red curry paste and stir until incorporated.
Pour in broth, bring to a boil and simmer for 3 minutes. Add coconut milk and lemon juice, simmer for 3 minutes more until the sauce starts to thicken.
Finally add the chicken fillets back to the skillet and simmer over medium low until the chicken is heated through, about 2 minutes. Top with cilantro and serve with your choice of sides. Enjoy!
Nutrition Information:
Yield:
4
Serving Size:
1
Amount Per Serving:
Calories:

293
Total Fat:

11g
Saturated Fat:

4g
Trans Fat:

0g
Unsaturated Fat:

6g
Cholesterol:

91mg
Sodium:

1641mg
Carbohydrates:

15g
Fiber:

2g
Sugar:

5g
Protein:

34g
Nutritional information is only an estimate. The accuracy of the nutritional information for any recipe on this site is not guaranteed.