A rich pumpkin pie with lots of walnuts and chocolate, covered with a thin layer of a velvety mocha butter. This pumpkin cake matches perfectly with the crispy nuts, chocolate and creamy butter. A beautiful cake that can be served at any celebration.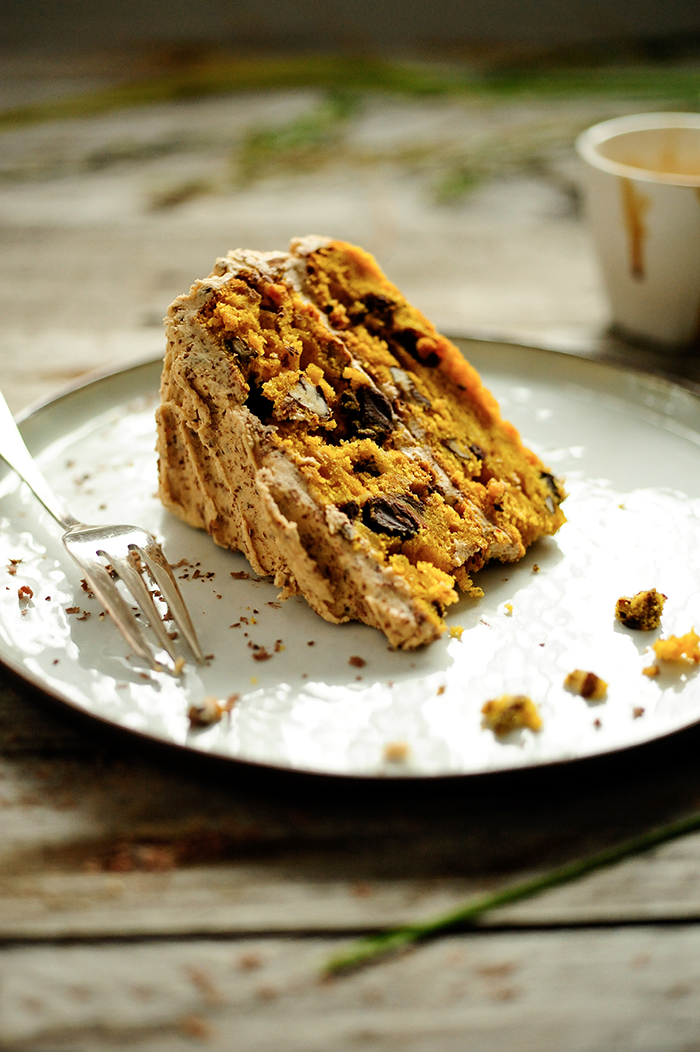 Ingredients
cake
300 g flour
600 g pumpkin, seeds removed
120 g butter at room temperature
300 g sugar
3 eggs
150 g chopped walnuts
150 g chocolate chips
1 teaspoon baking powder
1 teaspoon vanilla extract
pinch of salt
mocha frosting
400 g icing sugar
130 g butter at room temperature
pinch of salt
1 teaspoon vanilla extract
5 teaspoons instant coffee dissolved in 2 tablespoons hot water
70 g dark chocolate, grated
Instructions
Cut the pumpkin into small pieces. Boil water in a saucepan, add the pumpkin and cook until tender. Drain and cool, then blend to a purée.
In a large bowl, beat the butter and sugar using a mixer until light and fluffy. Beat in eggs, one at a time. Stir in the pumpkin purée, then sift half of the flour and add baking powder, salt and vanilla extract. Stir and sift the rest of the flour, whisk until smooth. Add nuts and chocolate chips.
Prepare two 20 cm springform pans. Line the bottoms with parchment paper. Butter and flour the sides. Pour the batter into the pans and bake for 35 minutes at 180°C. Let cool completely.
Make the mocha frosting. Beat the icing sugar with the butter by using a mixer, adding about a third sugar at a time. Add salt, coffee and vanilla extract and mix until smooth. At the end pour the grated chocolate and stir. If the cream comes out too thick, add a tablespoon of milk or water.
Place one cake layer on a platter, spread with frosting and cover with the second cake. Ice top and sides of the cake. Enjoy!