Potato salad with herbs and miso dressing. Everyone's got a favorite potato salad, and this is mine. Delightful fresh flavor of new potatoes and crunchy vegetables with a mayo dressing mixed with tangy yogurt, garlic and savory miso.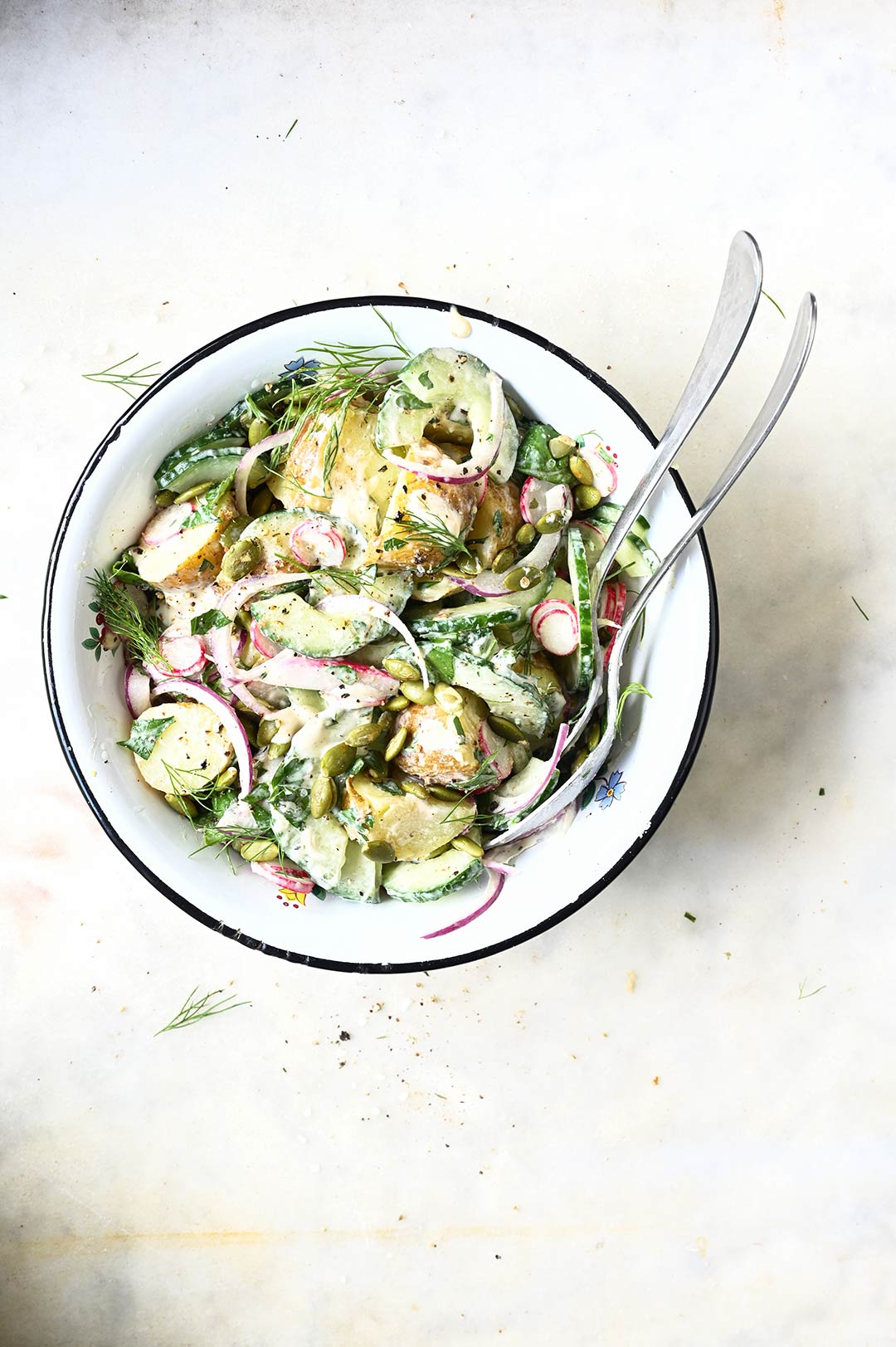 I'm a huge potato lover, there are worse things, right?! They're just about my favorite thing to eat. I grew up with them and probably was served them different ways four or five times a week along with garden vegetables and either pork or chicken. And tiny new potatoes with butter, sour cream, chives and an egg on the side was a favorite!
Potatoes are pretty magical in all their forms, like crisp-skinned baked potatoes, creamy mashed potatoes, or the little new ones, boiled and tossed with green herbs, good butter and flaky salt… You can bake them, boil, make wedges, chips, salads, fritters and fries. Is there anything more versatile than a potato?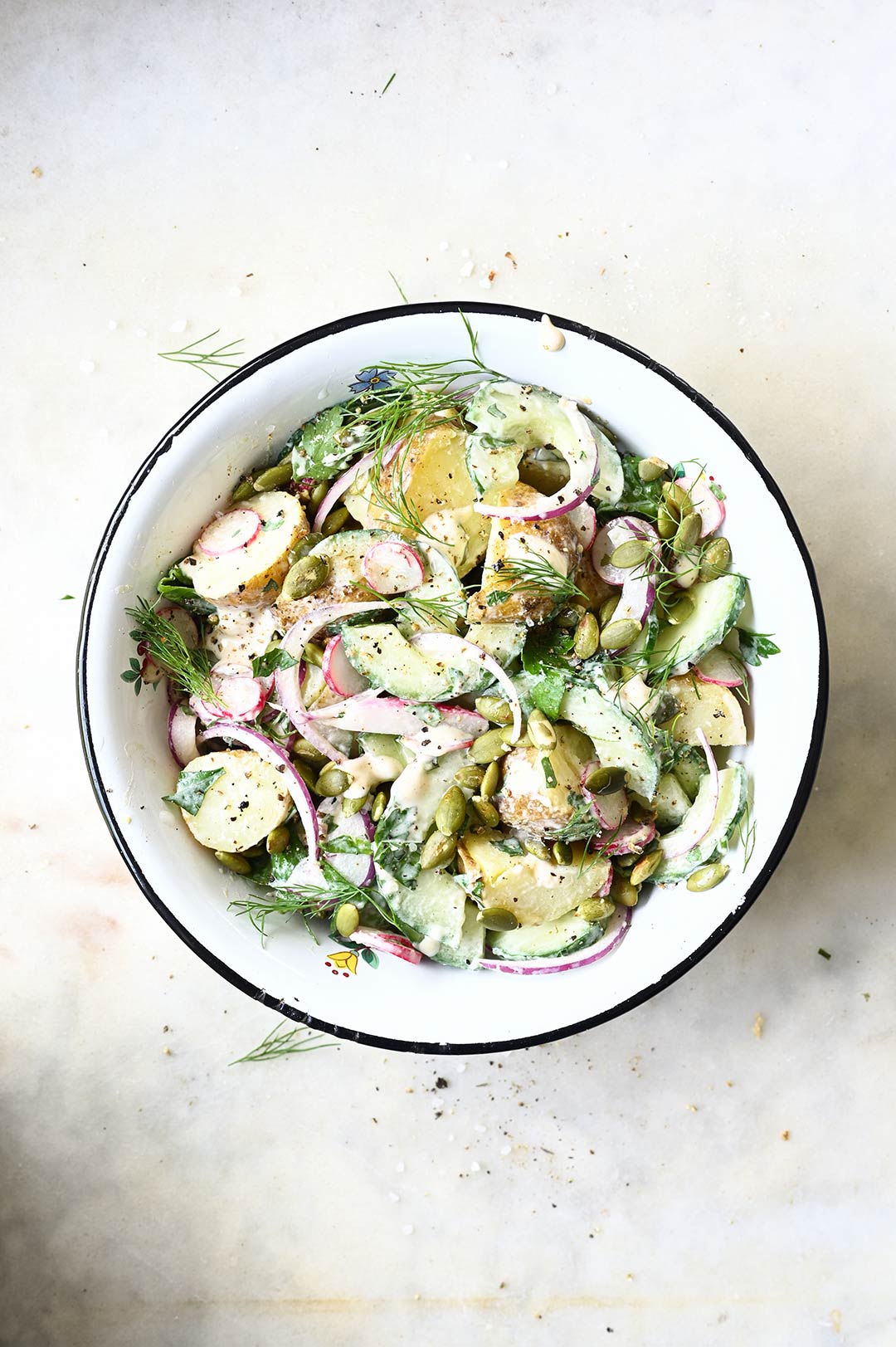 This potato salad is loaded with crunchy vegetables, like radishes and cucumbers, and tossed with a creamy miso garlic dressing. It feels like a complete meal you might eat for dinner in warmer weather, and not only as a bbq side or a picnic salad. Summer wouldn't be complete without this cold and creamy potato salad that can be thrown together really quick. By adding crunchy veggies, miso, fresh herbs, toasted pumpkin seeds and thinly sliced red onion you can spruce up your salad. Super small additions that go a long way. Imagine a world full of crunch, texture, tang, complexity and flavor.
I'm always looking for ways to use a spoon of miso, after all, I can't eat miso soup every day (basically, I probably could). So I like to sneak it into dressings for some extra umami. Any miso paste will work in this recipe, although I usually use white miso. It gives this creamy dressing a savory taste that complements the potatoes and herbs.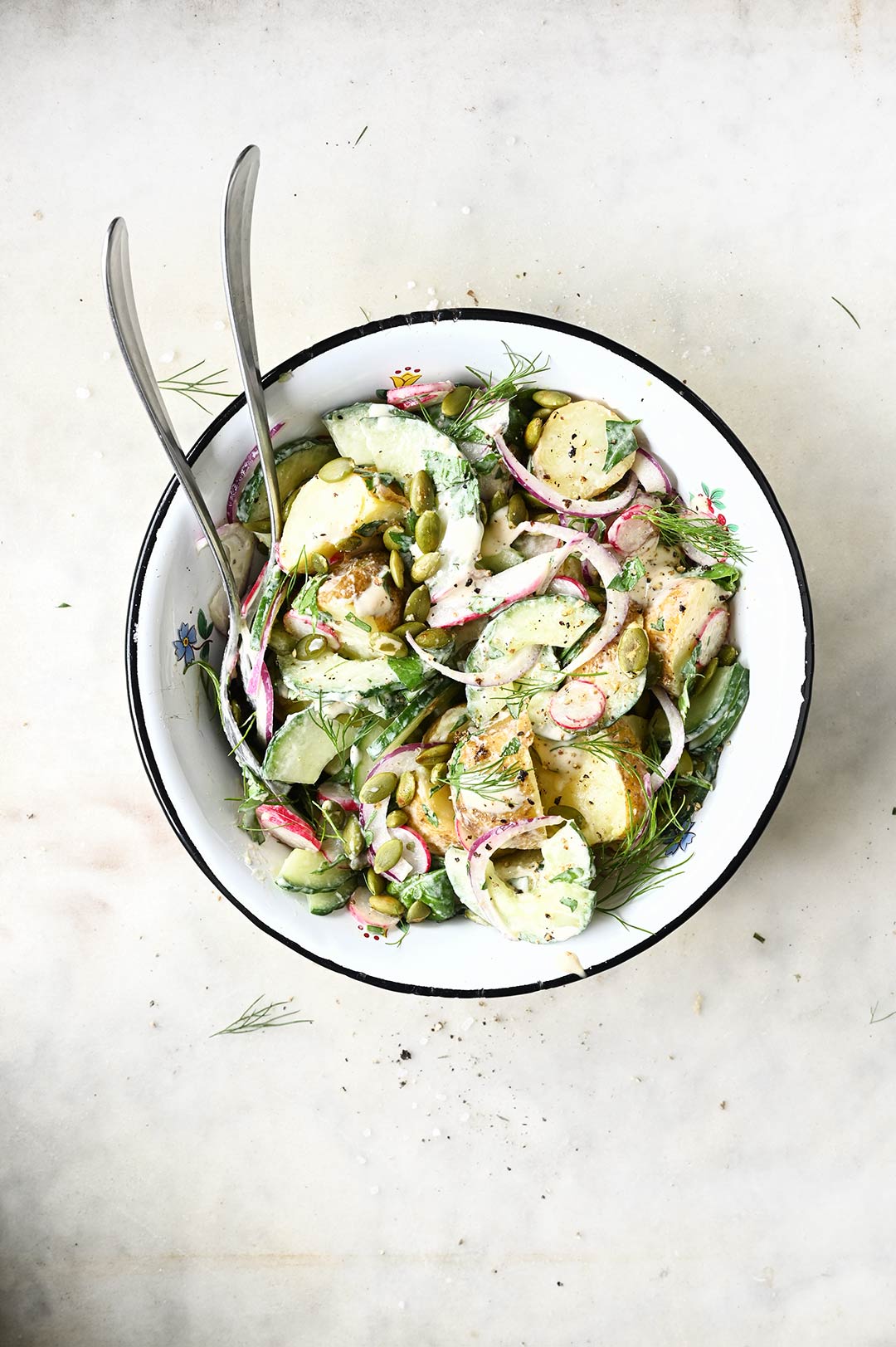 Try These Next
Yield: serves 4
Potato Salad with Miso Dressing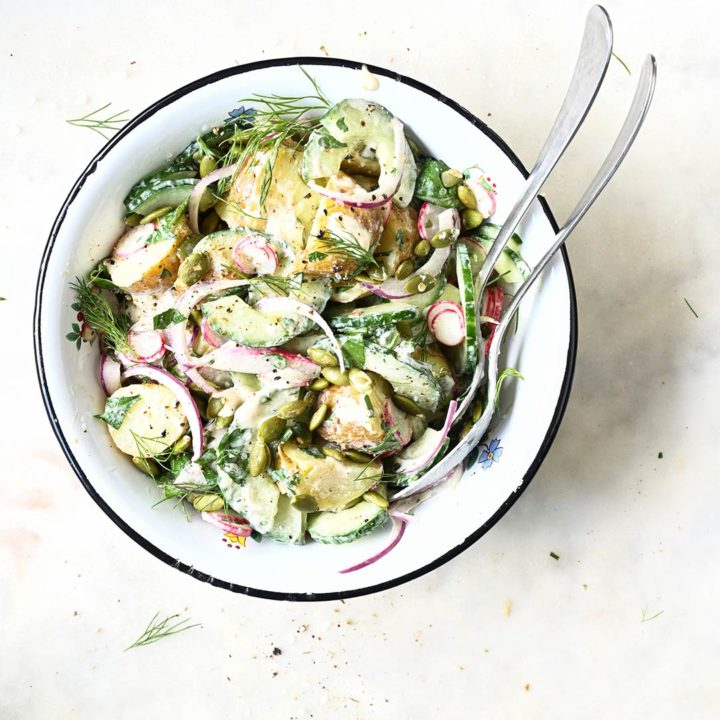 Ingredients
Salad
500 g/1.1 pounds baby potatoes
10 radishes, trimmed and thinly sliced
1 cucumber, cut in half lengthwise and cut into slices (not too thin to keep them crunchy)
1 small red onion, thinly sliced
4 tbsp toasted pumpkin seeds
3 tbsp each: chopped dill, parsley and basil leaves
sea salt + black pepper
Miso Dressing
3 tbsp mayo
2 tbsp yogurt
2 garlic cloves, minced
1 tsp mustard
2 tsp white miso
1 tsp lemon juice
sea salt + black pepper
Instructions
Bring a large pot of salted water to a boil. Scrub and clean the potatoes, leaving skin on. Add potatoes to the boiling water and cook until ready for about 15 minutes. Drain and run under cold water. Cut into small pieces.
Combine potatoes with radishes, cucumber, parsley, dill, basil, red onion and pumpkin seeds in a large bowl.
In a small bowl whisk all dressing ingredients until smooth. Pour the dressing over the salad and gently stir until completely coated. Season with salt and pepper to taste. Garnish with extra dill and parsley. Serve cold or at room temperature. Enjoy!
Notes
Calories Per Serving: 237 kcal
Nutritional information is only an estimate. The accuracy of the nutritional information for any recipe on this site is not guaranteed.