I love stuffed cabbage, usually I make them with rice and meat simmered in tomato sauce, but today something totally different.
Savoy cabbage stuffed with mashed potatoes, sweet pear and chicory. My personal highlight was the creamy gorgonzola sauce with crispy walnuts. The flavors complement each other perfectly, pear soothes characteristic bitterish taste of chicory and gorgonzola sauce fits perfectly to the whole in combination with the roasted nuts. This is one of those dishes, which I couldn't resist and ate too much:)
serves 4 | 60 minutes
Ingredients
stuffed cabbage1 kale
500 g potatoes
6 chicory, sliced
2 pears, diced
1 shallot, chopped
salt and black pepper
1/2 tsp grated nutmeg
2 tbs butter
gorgonzola sauce
200 ml double cream
100 g Gorgonzola
salt and black pepper
4 tbs chopped walnuts
Instructions
In a large pot, bring salted water to boil. Peel off the damaged cabbage leaves , separate gently the remaining leaves, wash and boil them for 8 minutes or until tender. Rinse under cold water and drain.
In a separate pan boil the potatoes in salted water, drain and crush with a fork, leaving large pieces.
In a skillet, melt the butter and fry the shallots, then add the chicory with pears. Season with salt, pepper and grated nutmeg. Simmer for 10 minutes over medium heat. Then stir together with the potatoes.
Mix the cream with gorgonzola cheese, season with a pinch of salt and pepper.
Lay the cabbage leaves on the kitchen counter. Put the filling in the beginning of each leaf, fold up the sides and roll it up. Transfer the cabbage rolls to a baking dish, pour the cream sauce and sprinkle with nuts. Bake in the oven for 25 minutes at 180 degrees.
Bon Appetit!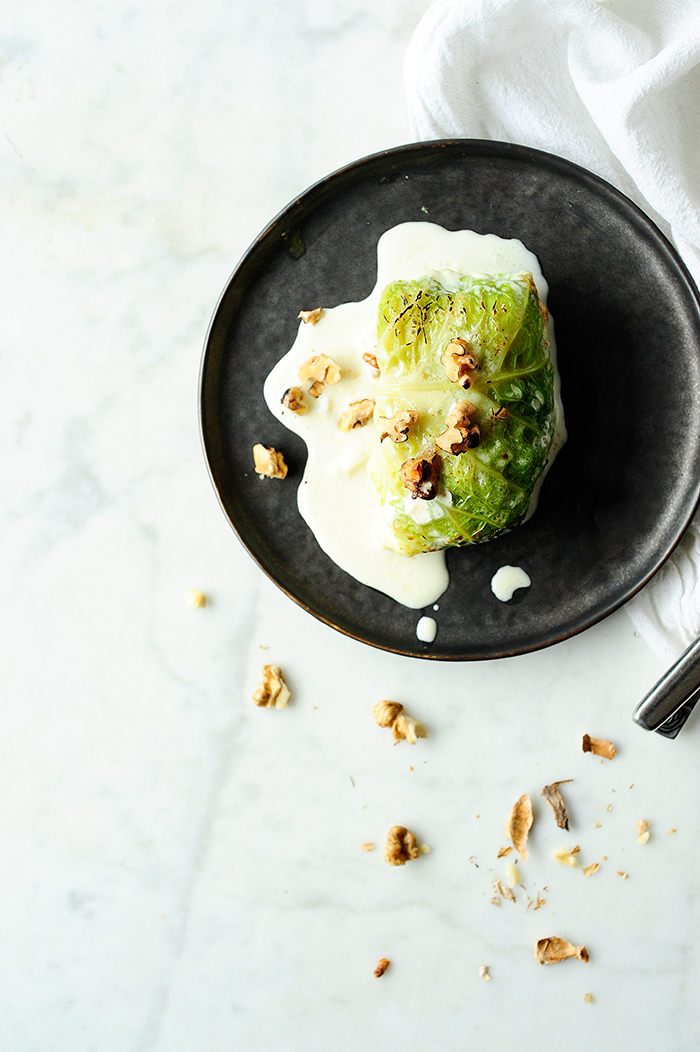 //= __('Print recipe (no photos)', 'servingdumplings' );?> //= __('Print recipe (with photos)', 'servingdumplings' );?>