Easy potato and sausage stew. It's hearty and all you need to keep you warm on a cold day. Smoked sausage, melt-in-your-mouth potatoes and tender bell peppers simmered in a savory tomato broth. You only need one pot and a few basic ingredients. Just add some crusty bread and dig in!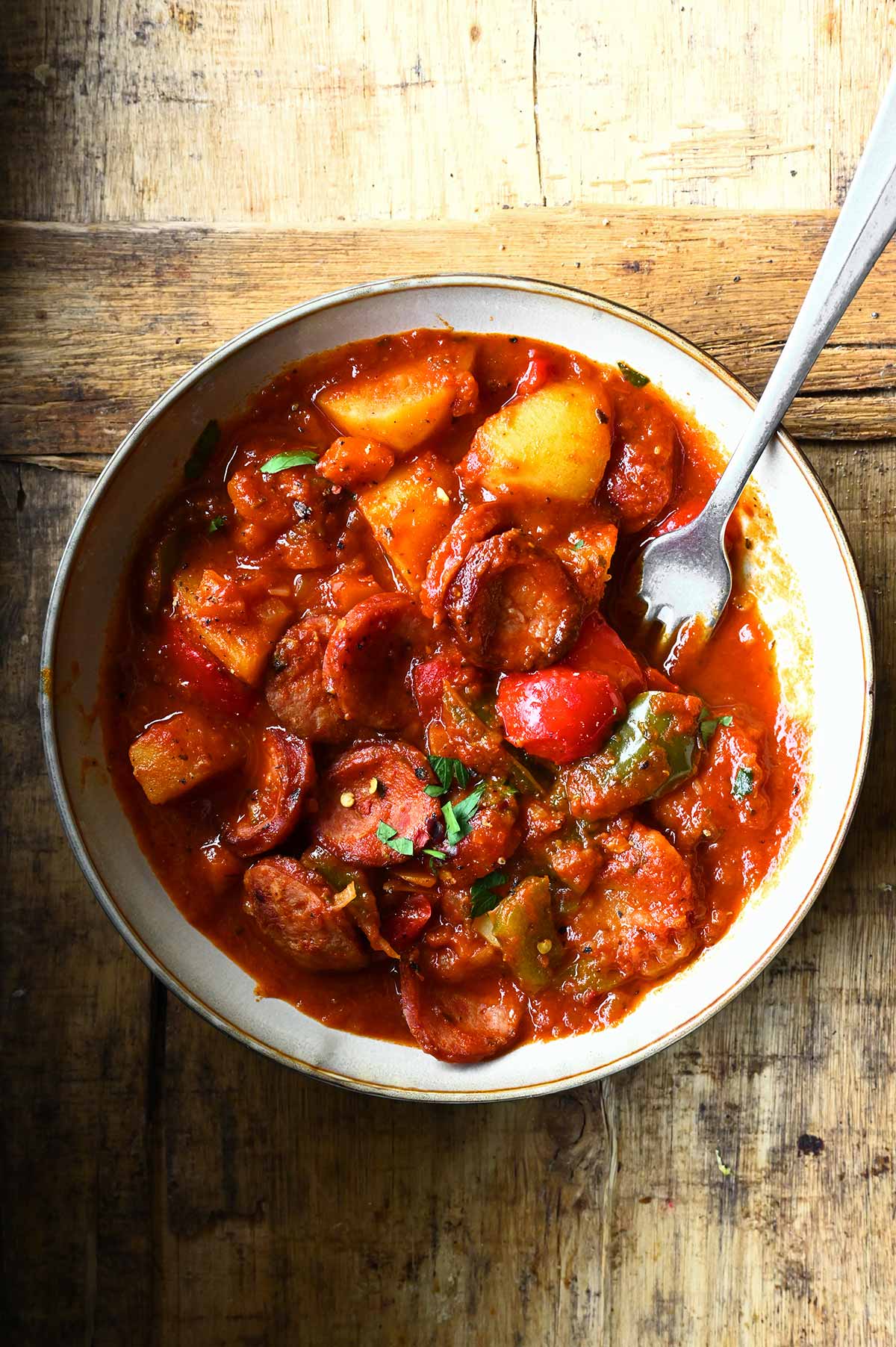 If you're looking for a hearty dish to fill out your meal plan, look no further than this sausage, potato and pepper stew. Browned sausage and Italian herbs infuse the chicken broth with flavor, while tender potatoes make it super satisfying. Jazzed up with peppers for a delicious stew that is truly greater than the sum of its parts.
There's no greater comfort food than a hearty stew. With just a little preparation, this is a very straight forward recipe to make. Once the ingredients are in the pot, it's pretty much hands-off, just let it simmer and you're done. It's an ideal dinner for busy families because it's just so easy to toss together, even on the busiest days.
Let me guide you through the recipe with this step-by-step VIDEO.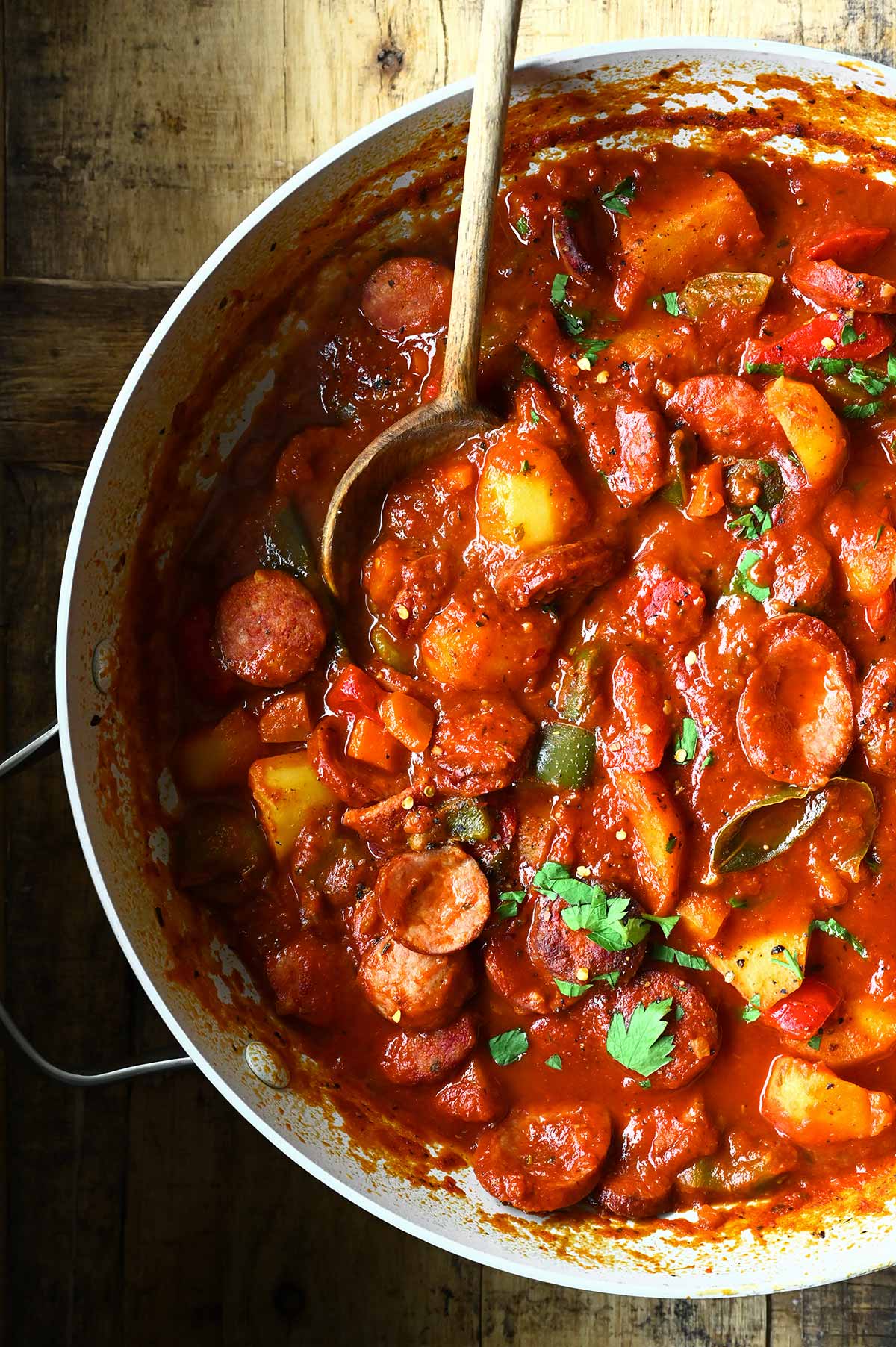 And if you're in a hurry, you could even use pre-cut peppers or potatoes. Just don't forget to serve with some crusty bread to mop up all of that tasty sauce. It's a staple I like to make at home, and I hope it'll become one in yours too.
Because there are no noodles or dairy in the ingredient list, this stew is super freezer-friendly and ideal for meal prep. You can easily double the ingredients and make a big batch for later. Once you've simmered the stew, ladle into dinner bowls, pack into grab-and-go containers to eat for lunch throughout the week or pop it in the freezer.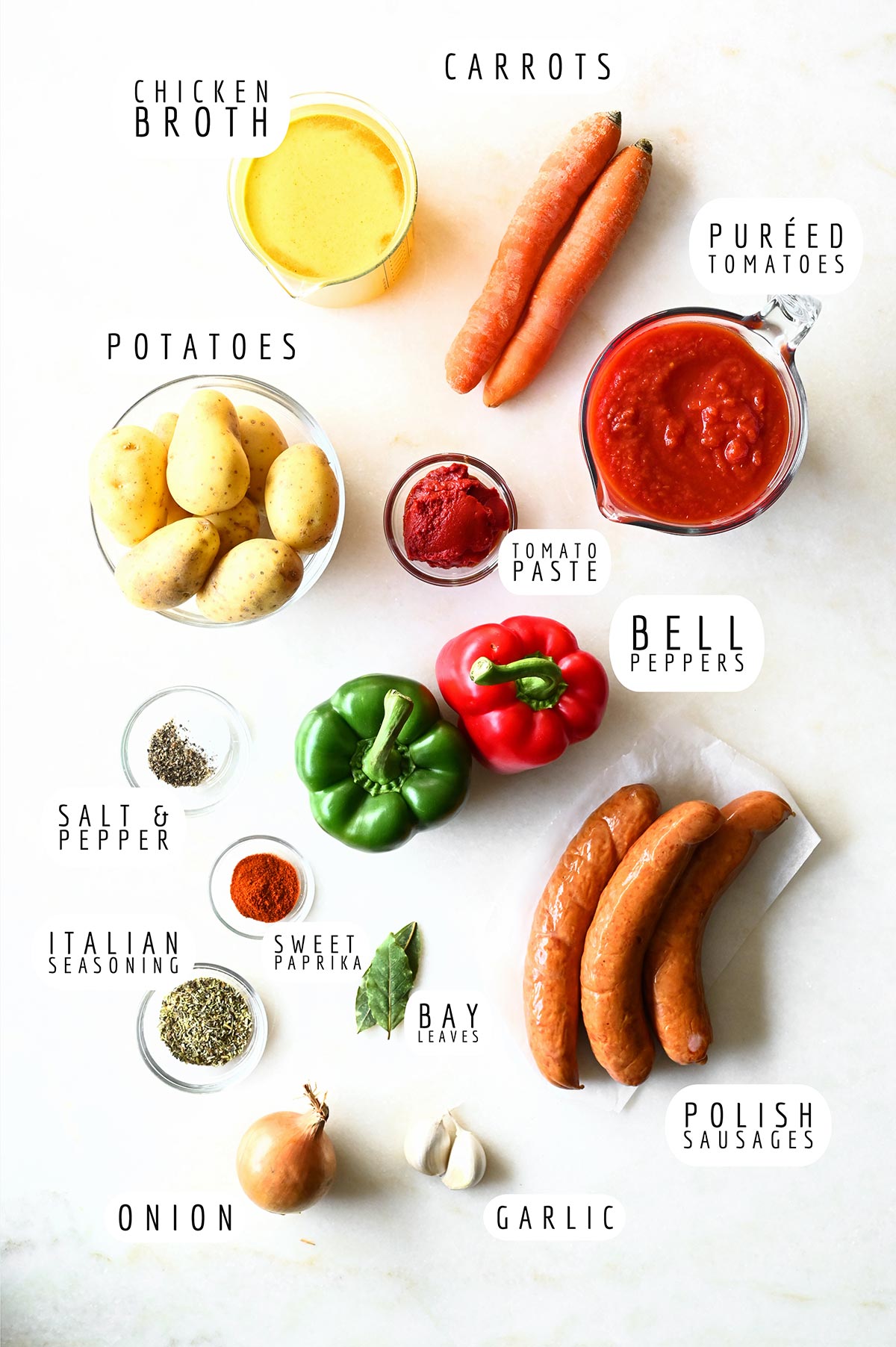 Ingredients in Potato and Sausage Stew
Sausage: Adds so much flavor! I used Polish sausage, but you can also use chorizo, mild Italian sausage, bratwurst or andouille.
Onion and Garlic: Essentials.
Bell Peppers: We use a red and a green pepper. It's a great way to add flavor to the stew. Sautéing and slowly simmering intensifies their sweetness and flavor.
Potatoes: I used waxy potatoes. You can either peel them or leave the skin on.
Carrots: I purposely bought large, thick carrots for this stew. When cut into slices, they become sweet and fork-tender after simmering. You could use more carrots, or add sweet potatoes, a parsnip, spinach or kale.
Spices: salt, black pepper, sweet paprika, Italian seasoning and bay leaves.
Chicken broth: To add depth and a salty touch. you can use homemade or store-bought broth, but I recommend using a good-quality, low-sodium option. You can also swap for vegetable broth. Don't use water, it will give you a thinner, less soulful bowl of stew.
Puréed Tomatoes and Tomato Paste: Our tomatoey base.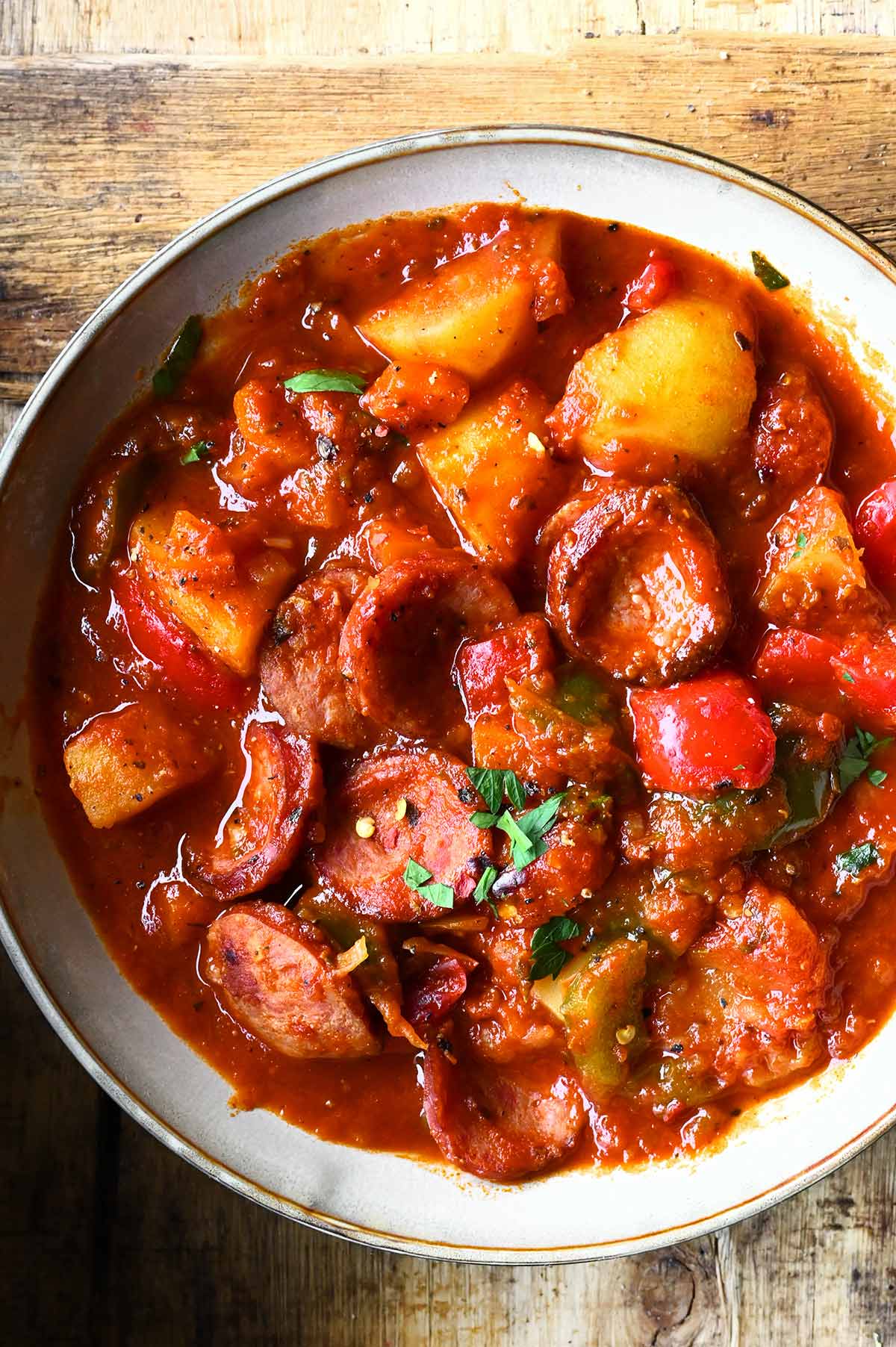 RECIPE NOTES
Serve with a leafy salad and crusty bread to mop your bowl clean:)
Other cooking methods:
–OVEN: Prepare on the stove until step 2. Add broth, bay leaves, tomato paste and puréed tomatoes. Cover and bake for 2 hours at 180°C/350°F.
–SLOW COOKER: Prepare on the stove until step 2. Transfer everything into your slow cooker. Add broth, bay leaves, tomato paste and puréed tomatoes. Cook on low for 6 hours.
–INSTANT POT: Add oil to your instant pot and turn on the sauté button. Add sausage, cook for 4 minutes. Stir in garlic, onion, all spices and peppers. Cook for 4 minutes. Add carrots and potatoes. Pour in broth, tomato paste and puréed tomatoes. Place the lid and turn the vent valve to "sealing." Cook on high for 10 minutes, then quick release the pressure and remove the lid. Turn the pot to sauté and cook the stew for 5 minutes, until thickened.
Make ahead: You can make this stew 1 day ahead of time and just reheat when you're ready to eat.
Leftovers will keep for 3 days in the fridge.
To freeze: Cool completely, then freeze in airtight containers for up to 3 months.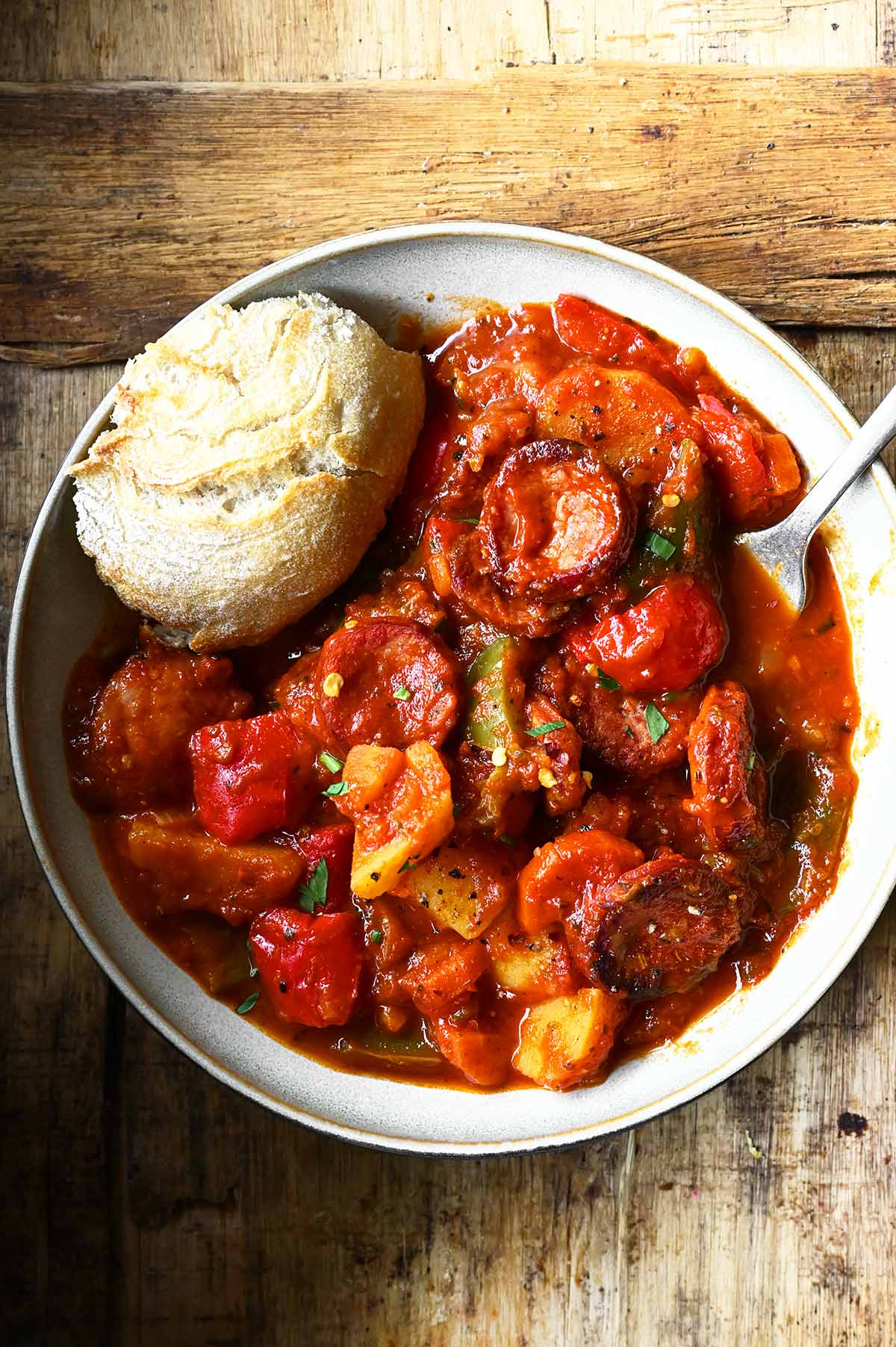 Try These Next
COOKING VIDEO
Yield: serves 4
Potato and Sausage Stew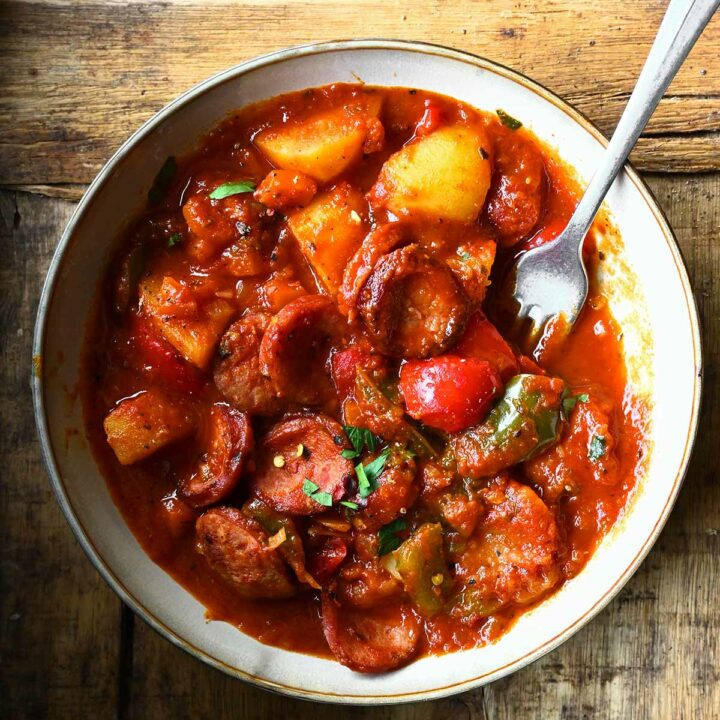 Ingredients
1 tbsp olive oil
1.3 pounds/600 g Polish sausage
1 medium yellow onion, finely chopped
2 garlic cloves, minced
2 bell peppers, red + green, chopped
1 tsp each: salt, black pepper, sweet paprika
2 tbsp Italian seasoning
2 large carrots, chopped
1.1 pounds/500 g potatoes, cut into bite-sized pieces
2 cups/500 ml chicken broth
2 bay leaves
3 tbsp tomato paste
2 cups/500 ml puréed tomatoes
chili flakes, for serving
chopped parsley, for serving
Instructions
Get all the prep done before you start cooking: Peel and cut the potatoes into bite-sized pieces. Deseed and chop the peppers. Finely chop the onion and mince the garlic. Peel and chop the carrots. Slice the sausages.
Heat oil over medium high in a large pan or pot. Add sausages and cook until crispy and golden brown for about 5 minutes. Add garlic and onion. Cook for 2 minutes. Add peppers, sauté for 3 minutes. Stir in salt, pepper, paprika and Italian seasoning. Then add carrots and potatoes.
Pour in the broth. Throw in the bay leaves and cover the pot. Bring to a boil, reduce the heat to medium-low and simmer for 15 minutes.
Next, add puréed tomatoes and tomato paste. Stir to combine, cover the pot and simmer for 10 minutes more or until the potatoes are tender and the stew is slightly thickened.
Finish off with black pepper, chili flakes and fresh parsley. Serve with some crusty bread. Enjoy!
Notes
Calories Per Serving: 560 kcal
Nutritional information is only an estimate. The accuracy of the nutritional information for any recipe on this site is not guaranteed.