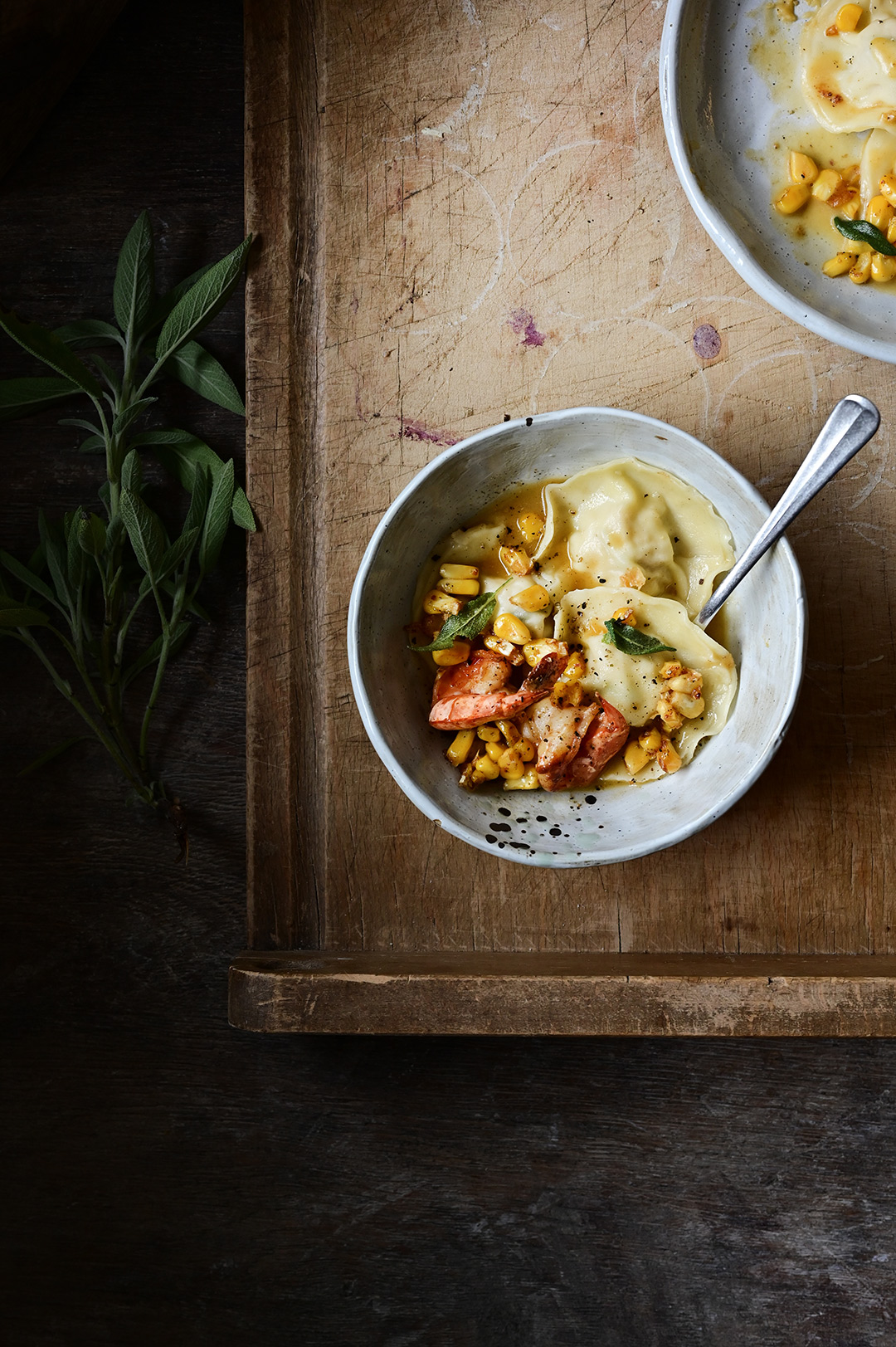 These might become your favorite ravioli. They're tasty and utterly irresistible. With a perfectly elastic and stretchable dough. Filled with ground pork, shrimps and chunks of parmesan.
To save some time, I prepared the filling in a food processor. The most time consuming part of the process is making the ravioli, but it's a very relaxing and satisfying experience. And it's definitely worth it! All of your work in a delicious and totally handmade meal.
The ravioli are served with an ultra intense buttery shrimp broth, infused with garlic and herbs. A little sprinkling of buttery toasted corn and topped with some crispy baked prawns and fried sage leaves. It's another level, guaranteed.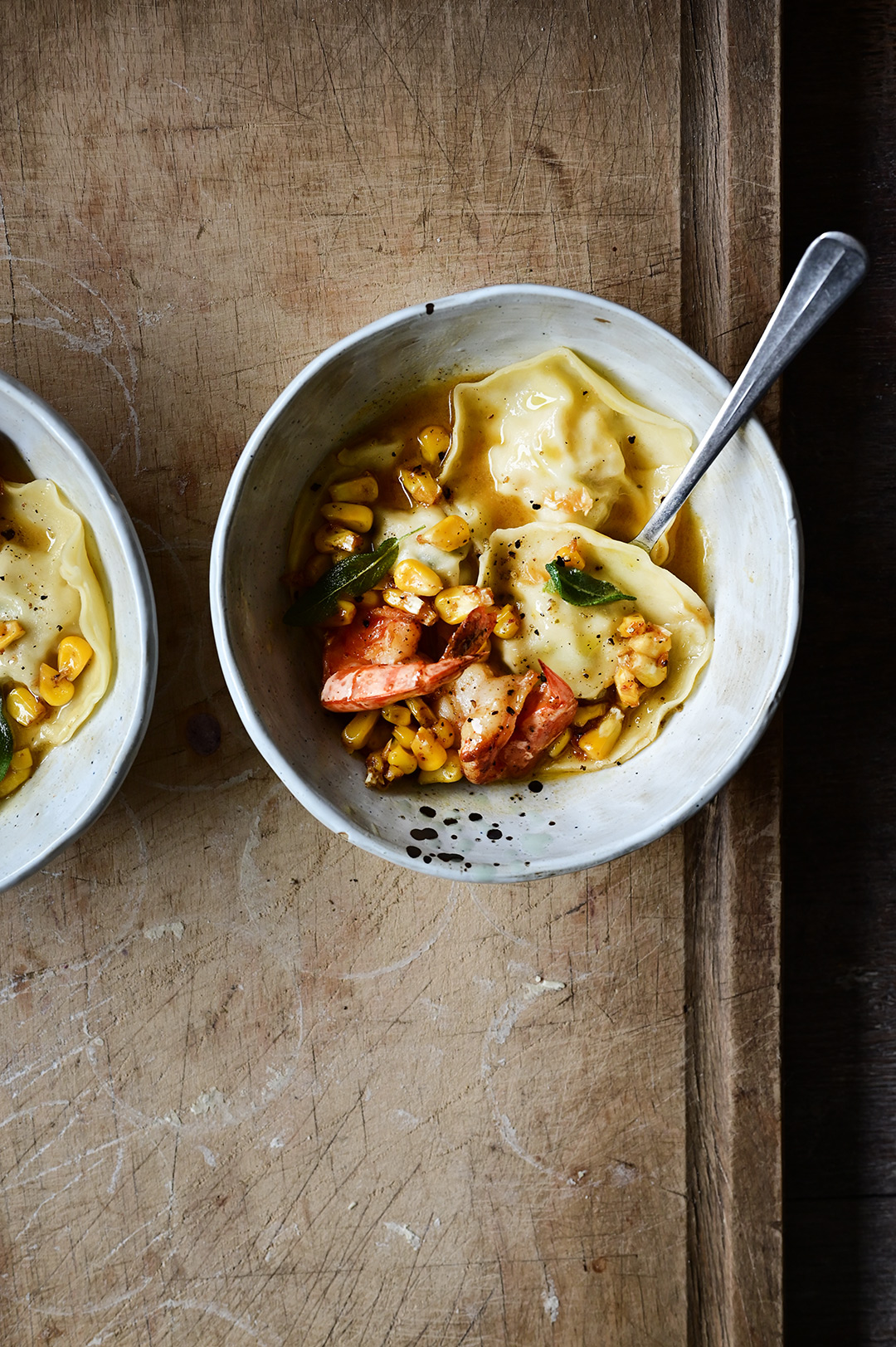 Ingredients
ravioli dough
500 g (17.6 oz) semolina flour
250 ml (1 cup) hot water
1 tablespoon butter, at room temperature
pinch of salt
filling
400 g (1 lb) ground pork
400 g (1 lb) shrimps with shells, with shells and heads
100 g (1/2 cup) parmesan, roughly chopped
1 tbsp heavy cream
1 shallot, finely chopped
2 garlic cloves, minced
1 tbsp chopped sage leaves
1 tbsp olive oil
sea salt + black pepper
buttery shrimp broth
shrimp shells and heads
100 ml white wine
1 carrot, roughly chopped
1 onion, chopped
2 garlic cloves, finely chopped
1 tsp dried rosemary
1 tsp dried thyme
1 bay leave
1 tbsp olive oil
1 tbsp salted butter
sea salt + black pepper
to finish
1 ear of corn on the cob, cut the kernels off the ear
8 shrimp, cleaned and deveined
1 garlic clove, finely chopped
1 tbsp butter
fried sage leaves
sea salt + black pepper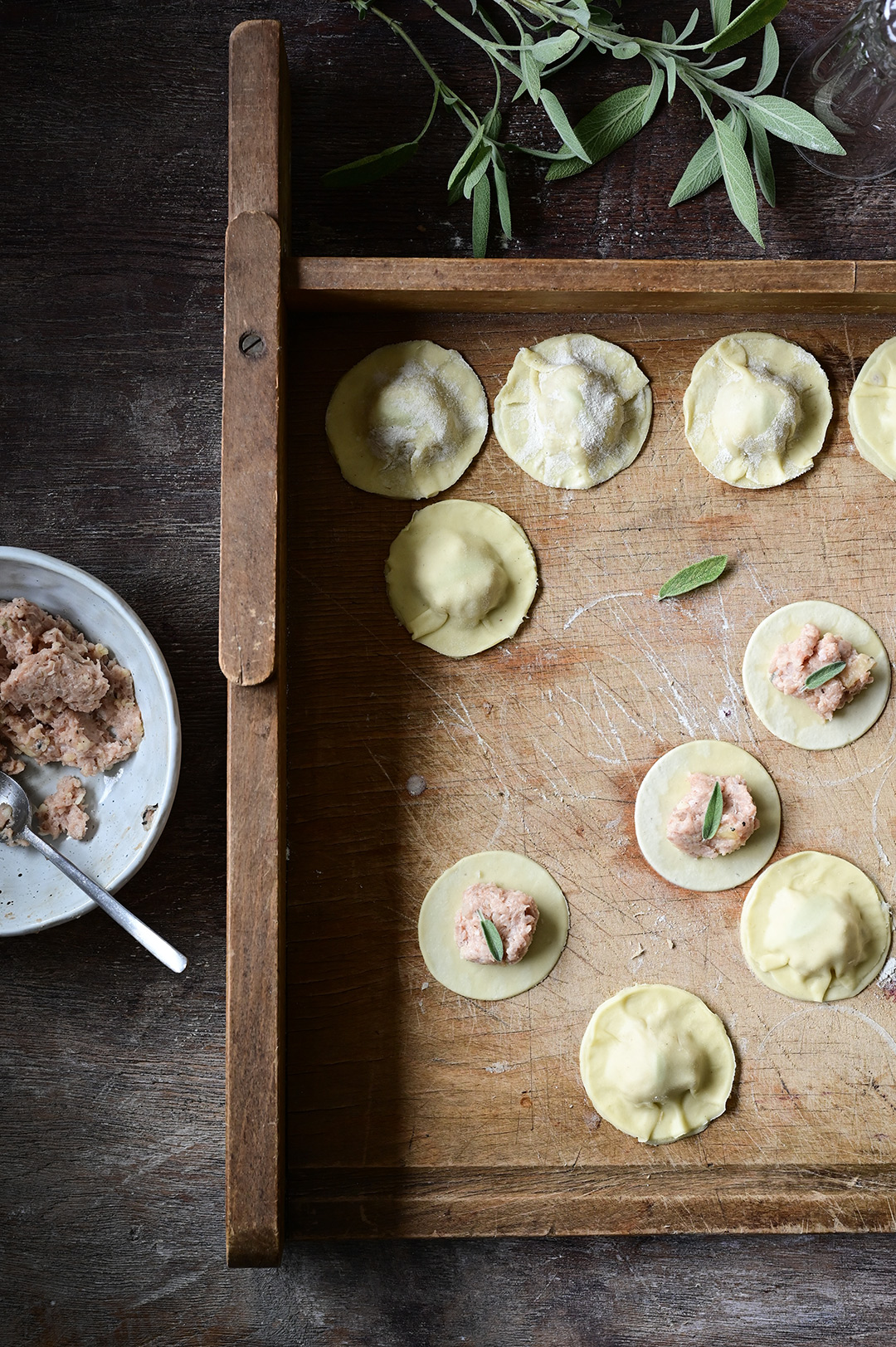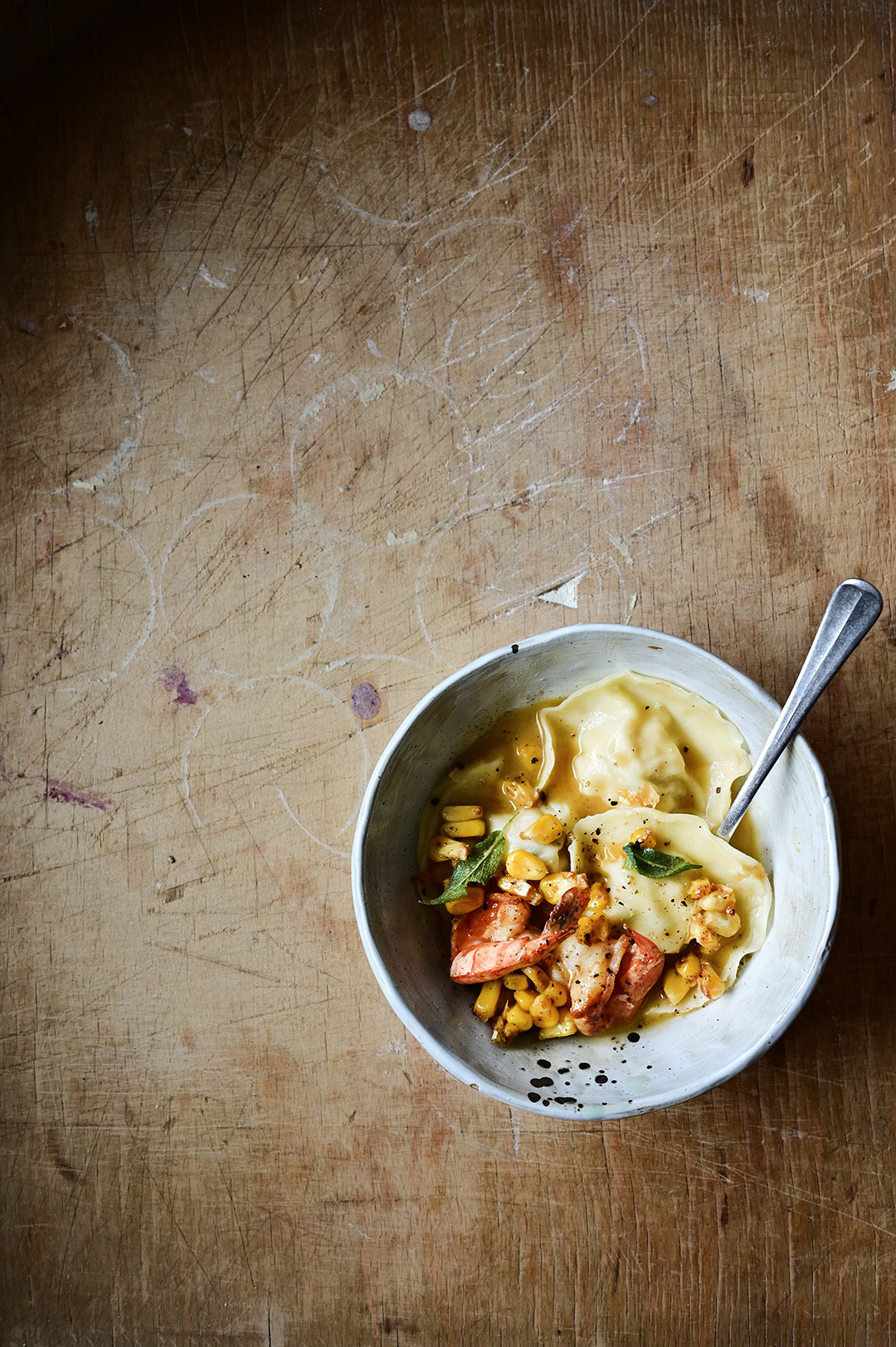 Instructions
Combine the flour with salt in a medium bowl. Make a well in the center and add butter and hot water. Knead the dough, cover and let sit for 30 minutes.
Make the broth, pull off the prawn heads and pry off the shells. Save the shrimps for the filling. Heat the oil in a pot and fry the heads and the shells for 3 minutes at high heat, stirring constantly. Add garlic and onion, fry for 3 minutes more. Add white wine and cook for 2 minutes, cover with water. Add carrot, rosemary, thyme and bay leave, season with salt and pepper. Bring to a boil, cover the pot and simmer for 40 minutes. Place a fine sieve over another pot and pour the broth through the sieve. Bring to a boil, add butter and season with salt and pepper. Cover and simmer until the liquid is reduced to half.
Make the filling, heat the oil in a skillet and cook the shallot and garlic until soft. Devein the shrimps and place them in the bowl of your food processor together with the softened garlic and shallot. Add the ground pork, parmesan, cream and sage leaves. Season with salt and pepper. Pulse until smooth and homogenous. Set aside.
Divide the dough into 8 pieces. Take one of the pieces and flatten it out, brushing some flour on both sides. Roll out into a thin sheet or feed it through the pasta roller. Repeat with the remaining dough.
Cut the pasta sheets with a biscuit cutter or a glass into small and slightly bigger circles. Place scoops of filling onto the small pasta circles. Brush the dough with water around the scoops of filling. Place the bigger dough circle on top, making sure that there is no air in the pockets. Stick the edges together.
Cook in salted water for about 3-5 minutes. Remove from the water with a slotted spoon.
In a skillet, heat the butter. Add shrimps and bake until golden on both sides. Add corn and toast for 3 minutes on high heat. Turn off the heat, stir in the garlic and season with salt and pepper.
Serve the ravioli in a bowl with toasted corn, sautéed shrimps and broth. Top with fried sage leaves. Eat!