Creamy Polish dill soup. This hearty, fresh-tasting soup is the perfect treat for lunch or a somewhat lighter dinner. Made with potatoes, carrots and a generous amount of fragrant dill. This is my version of one of the most soul-soothing dishes I grew up with.
Much like parsley, dill is a herb that is used quite frequently in Polish kitchens in very large quantities. And that's what makes this classic soup 'Zupa Koperkowa' so special. This is a very popular staple in most people's homes. Thanks to potatoes and carrots, the soup is not only tasty but also quite wholesome. A touch of sour cream adds a luxurious, silky texture.
This potato dill soup is easy to make, creamy and most importantly, super flavorful. There are different versions of this soup, some made with potatoes, others with rice, pasta or small meatballs. I personally prefer it with potatoes and an addition of green peas, which makes the soup extra delicious. Serve with a side of crusty bread for a complete meal.
Let me guide you through the recipe with this step-by-step VIDEO.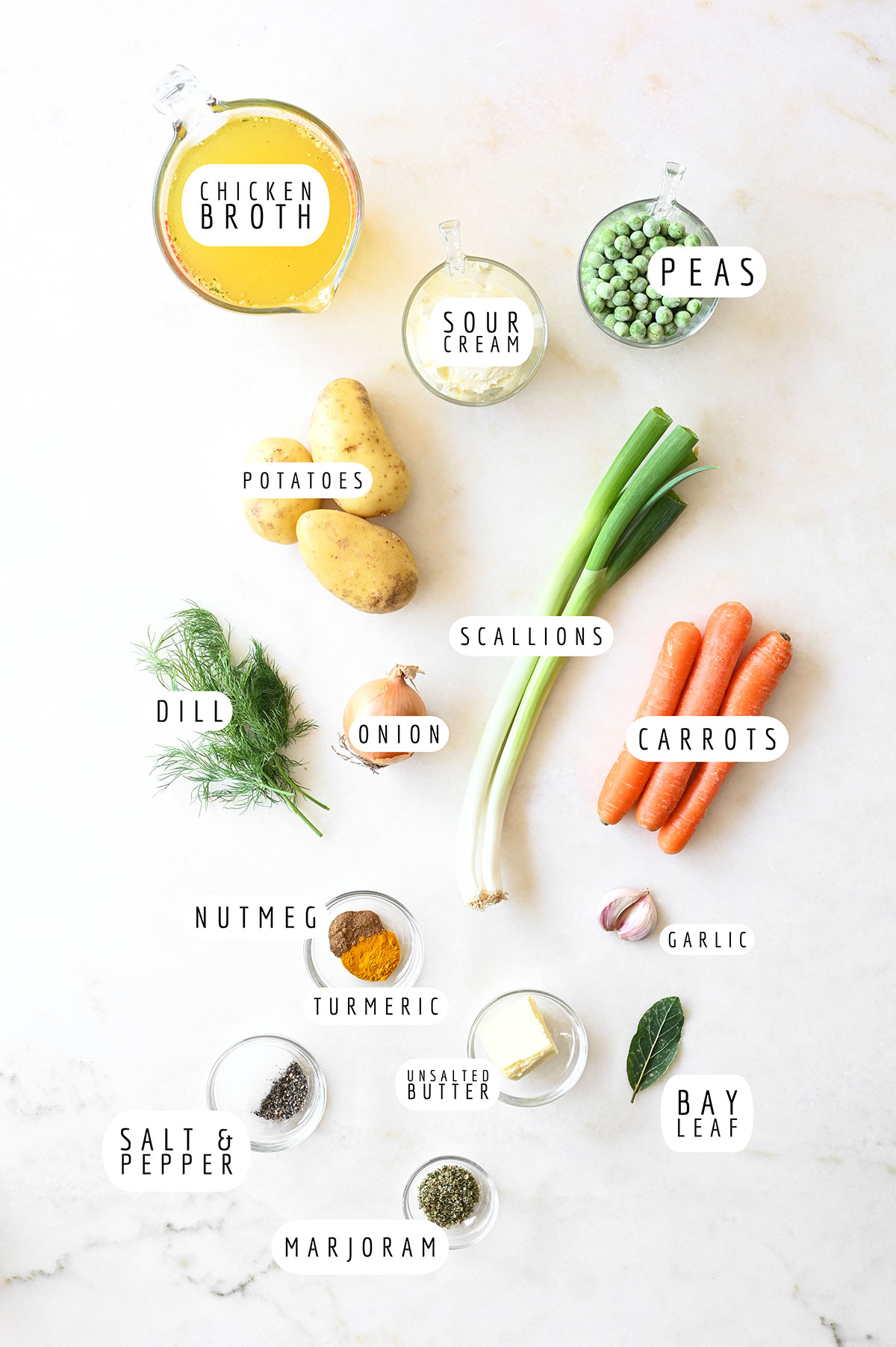 Ingredients, Tips & Substitutions
Dill: Our crucial ingredient. You'll need leaves from 1 small bunch. Try not to substitute fresh dill with dried dill, the flavors will never be the same.
Butter: To soften onion and garlic. You can also use vegetable oil.
Onion and Garlic: Kings of flavor.
Vegetables: Waxy potatoes, carrots and green peas.
Scallions: An other layer of flavor, you can swap it for leek.
Seasoning: A mix of salt, black pepper, nutmeg, marjoram and turmeric. If you can't find marjoram, use thyme or oregano. Turmeric is used for color.
Bay leaf: Adds a subtle flavor layer that's going to lend a little more depth to the soup.
Chicken broth: I would like to encourage you to use homemade broth, if you have some in the freezer, now it's your chance. It's much more flavorful than a store-bought product. You can use chicken or vegetable broth.
Sour cream: We use full fat sour cream, preferably at room temperature or simply temper the cream by stirring some hot soup in it before adding it to the pot. This will bring the cream to a higher temperature so it won't split up in the soup. Heavy cream or 20% cream are also great substitutes.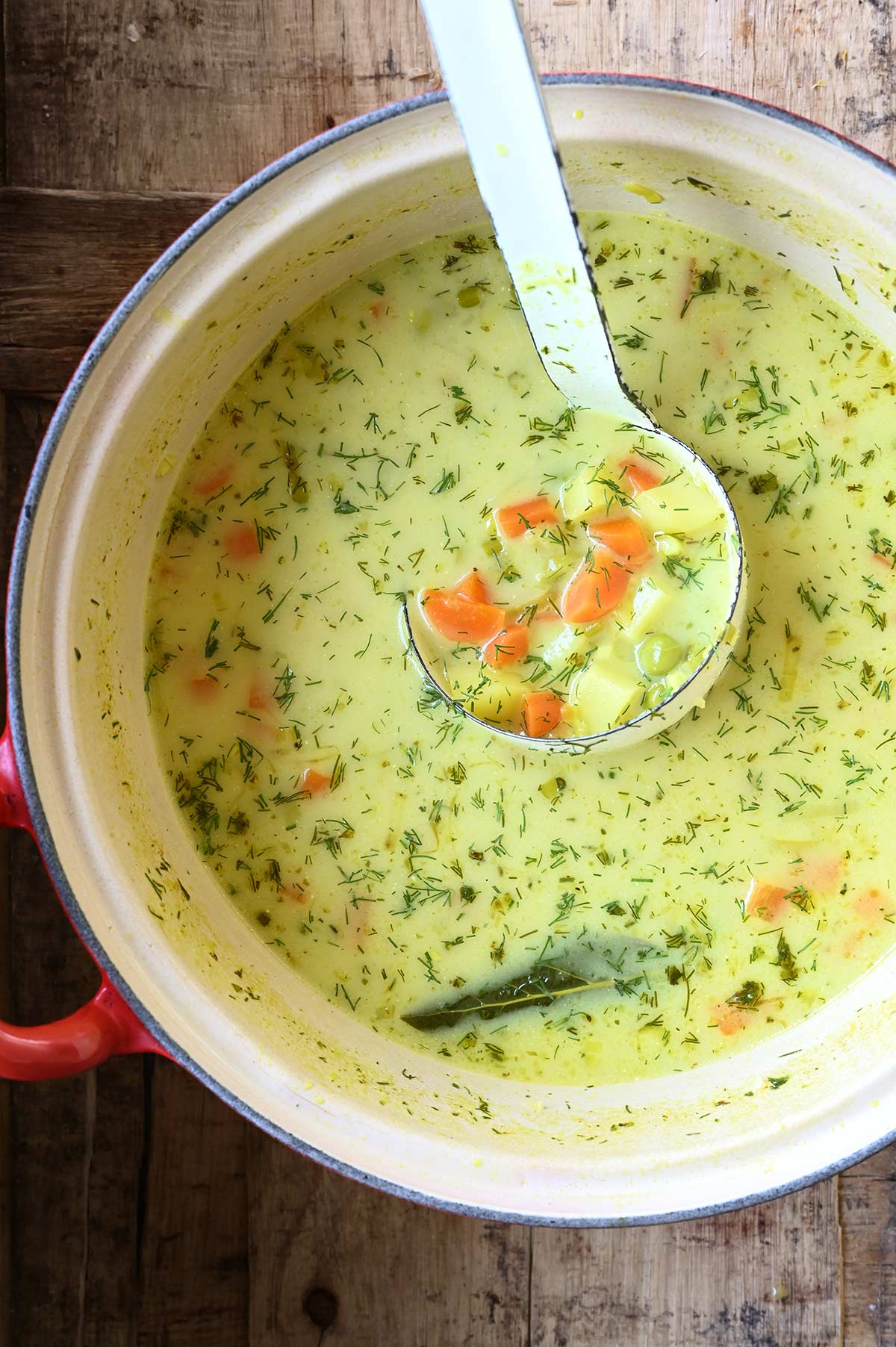 Recipe Notes
Dill soup is traditionally served as a starter, before the main course, but you can also enjoy it on it's own, for lunch or as a lighter dinner. For a complete meal pair it with some crusty bread or baguette.
Instead of potatoes, you can make this soup with rice, pasta, egg noodles or barley.
Add more veggies like celery root or celery stalk.
Serve it with a boiled egg or small meatballs.
Storing: You can refrigerate the soup in an airtight container for up to 3 days.
Make ahead: This is a perfect make ahead recipe! Go ahead and make a big pot of this soup, just add the sour cream right before serving.
To freeze: Put the soup into an airtight container and store in the freezer for up to 3 months. To reheat, let it thaw overnight in the refrigerator then heat on the stove.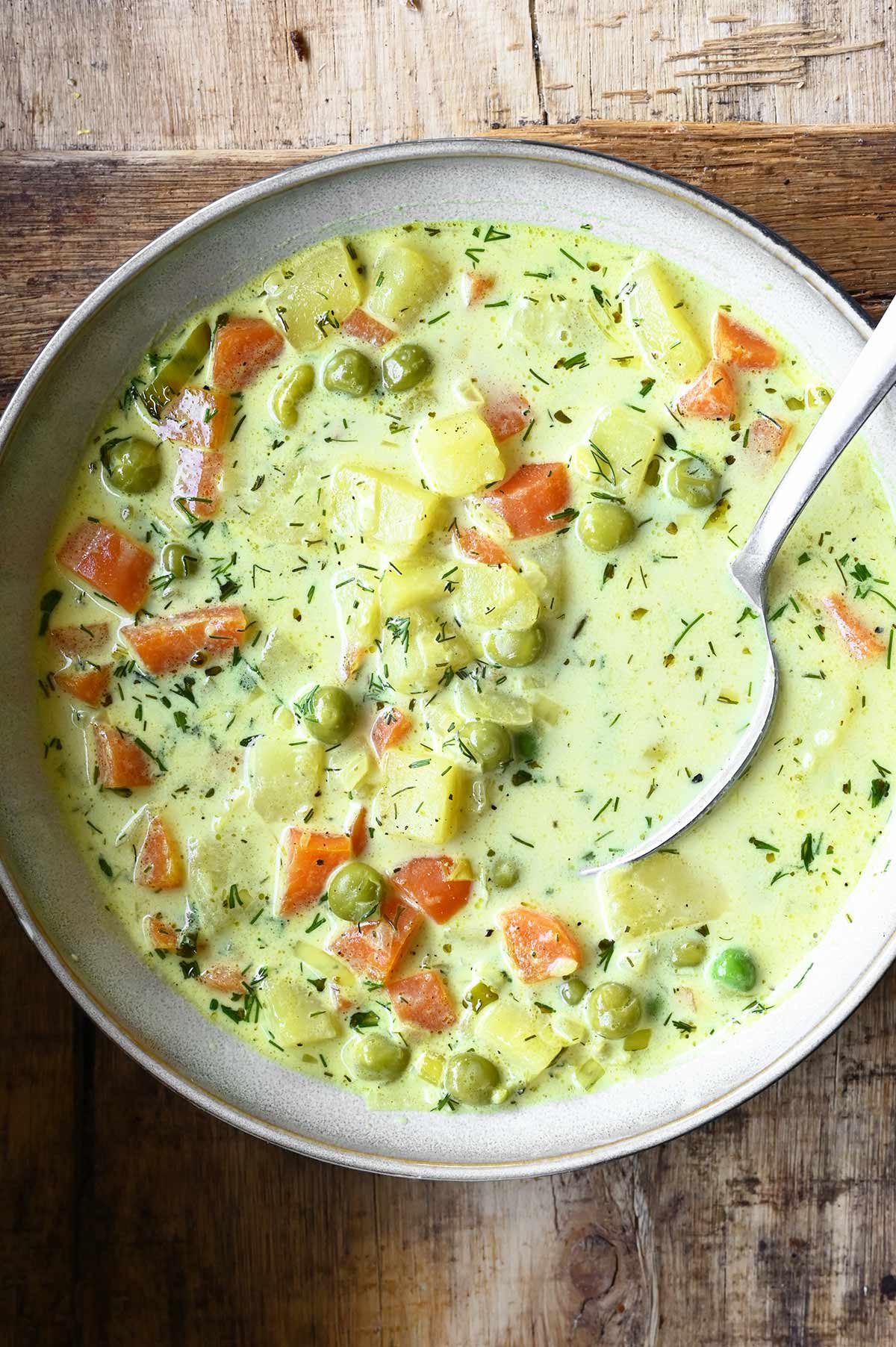 Try These Next
Cooking Video
Yield: serves 4
Polish Dill Soup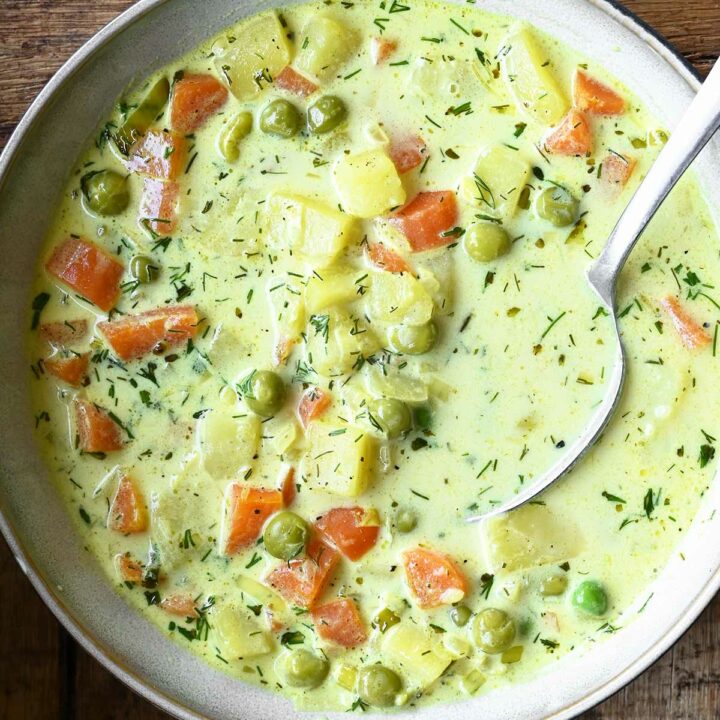 Ingredients
1 tbsp unsalted butter
1 small onion, finely chopped
2 garlic cloves, minced
3 carrots, peeled and diced
2 scallions, white and light green parts, chopped
1 tsp each: salt, black pepper, marjoram
¼ tsp each: ground turmeric, ground nutmeg
1 bay leaf
3 waxy potatoes, diced (about 10 oz)
½ cup frozen green peas
4 cups chicken broth
4 heaped tbsp full fat sour cream, at room temperature
4 tbsp chopped fresh dill, divided
Instructions
Get your prep done before you start cooking. Peel and dice the potatoes. Peel and dice the carrots. Chop the white and light green parts of the scallions. Finely chop the onion, mince the garlic and chop the dill.
Heat butter over medium low in a large pot. Add garlic and onion, cook for 1 minute. Add carrots and scallions, cook for 2 minutes. Stir in salt, pepper, marjoram, turmeric, nutmeg and bay leaf.
Add potatoes and green peas, then pour in chicken broth. Increase heat to high and bring everything to a boil. Cover and simmer over low for 15 minutes.
When ready, add sour cream and stir until completely incorporated. Add 3 tbsp dill and cook, uncovered for 5 minutes. Taste and adjust salt or pepper. Serve with the remaining dill. Enjoy!
Notes
Calories Per Serving: 214 kcal
Nutritional information is only an estimate. The accuracy of the nutritional information for any recipe on this site is not guaranteed.