Poached cod in a peppery tomato sauce. A delicious dinner made in under 30 minutes. Perfectly flaky cod simmered in an aromatic tomato sauce jazzed up with green peppercorns. Loaded with flavor, easy to make and totally delicious!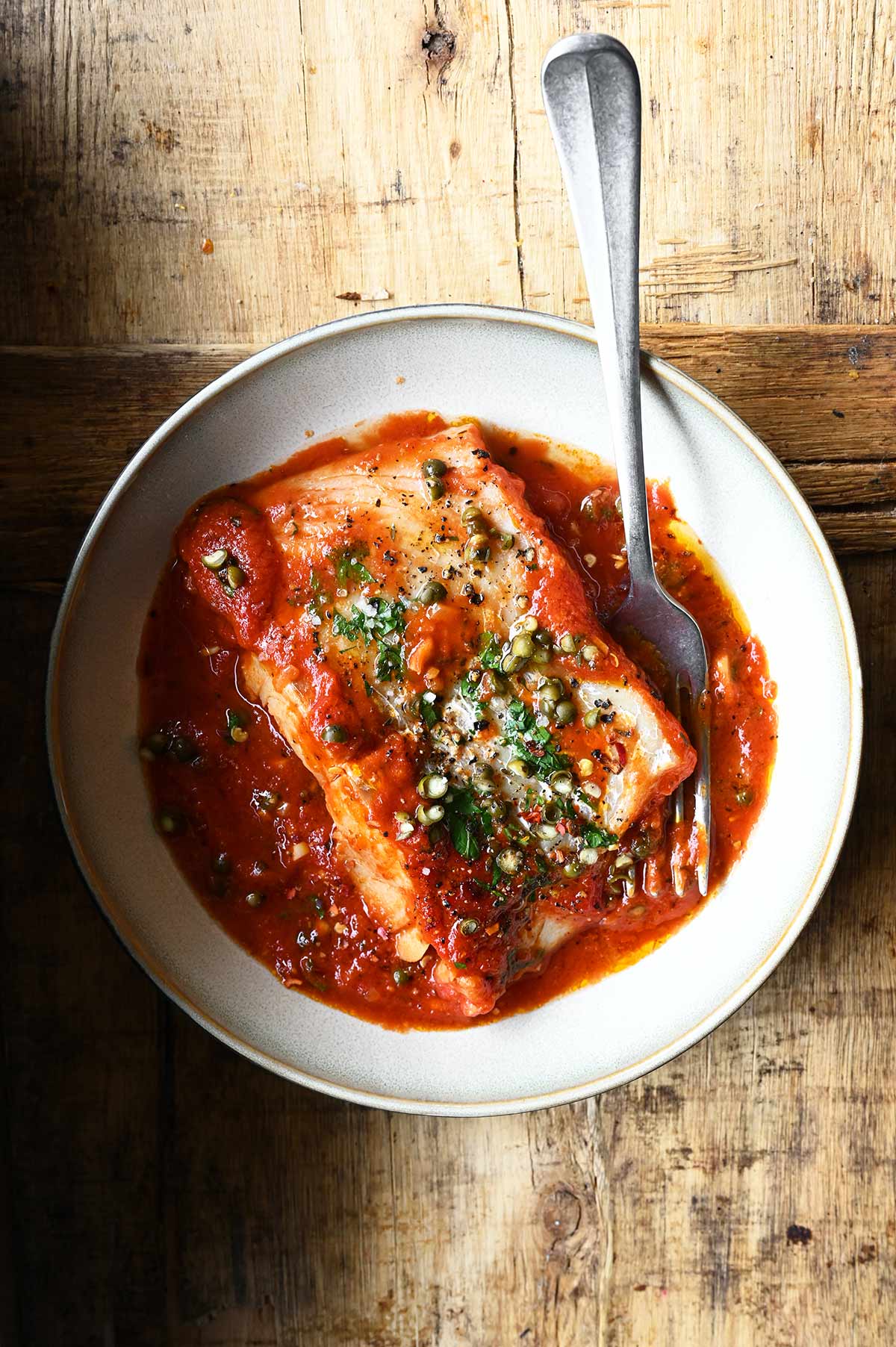 If you are looking for a delicious, healthy and quick dinner your whole family will love, then this recipe is for you. Poaching the cod in a rich tomato sauce adds an amazing flavor and cooks it into a flaky perfection.
It's full of flavor, easy to make and so tasty. This tomato poached cod is a breeze to prepare. The green peppercorns add a great spice and texture but don't hold back the brightness of the sauce. The cod fillets simmer in those delicious flavors while they become super tender. It makes for a simple and delicious dinner that's great for any night of the week.
Let me guide you through the recipe with this step-by-step VIDEO.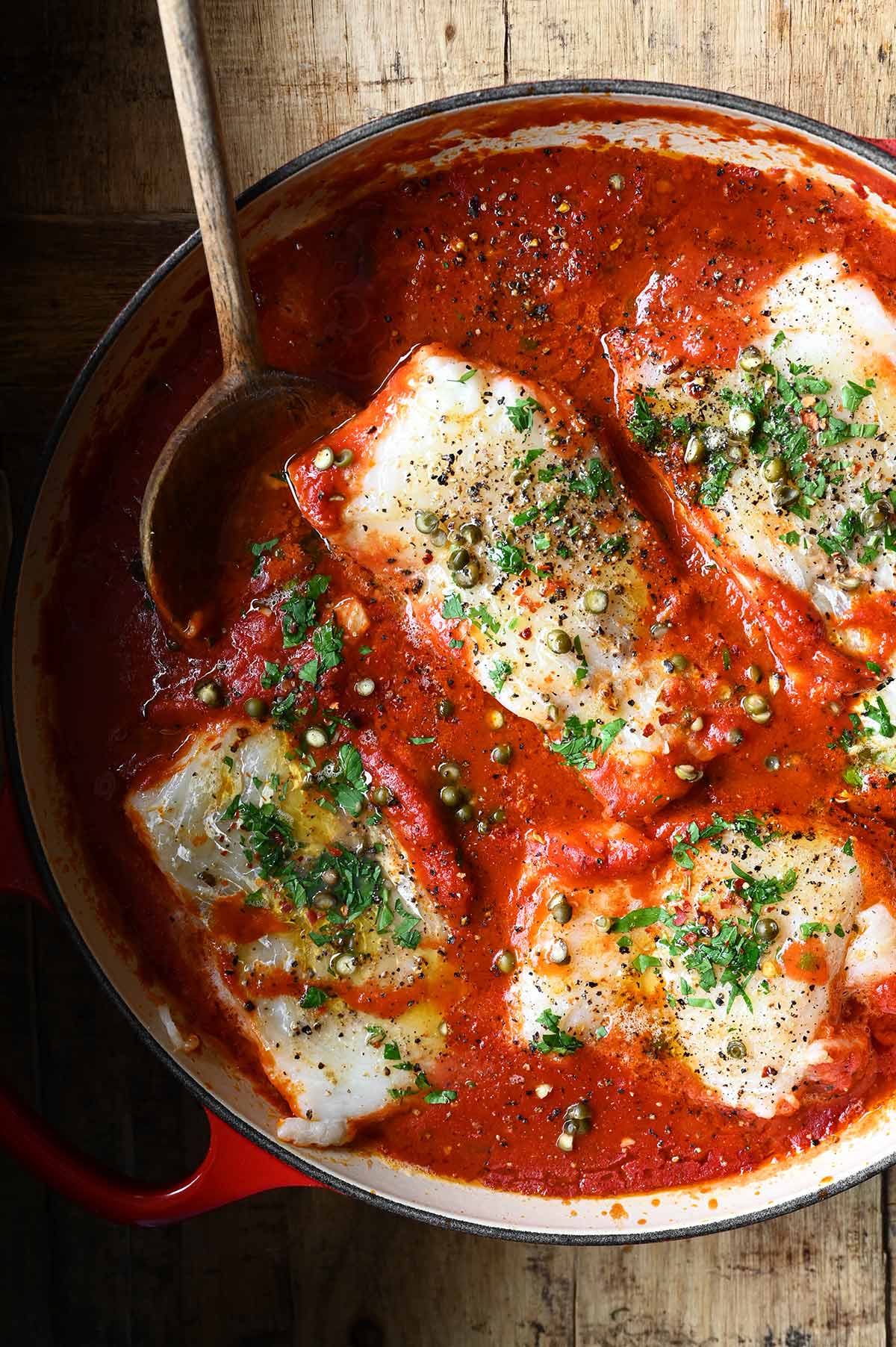 How to Poach Cod in Tomato Sauce?
Poaching cod fillets in sauce is a foolproof and an irresistibly delicious method. It's also a healthier way of cooking fish, it doesn't dry out the fish and it adds lots of flavor with an undeniable delicious result. You simply bring your sauce to a simmer and cook your preferred fish until opaque, in this case, it takes about 6-8 minutes.
This old-school technique is actually super-simple because your fish isn't likely to overcook or dry out. There's also no need to flip the fish over, it will be cooked through. When it's done cooking, the fish will be very tender and flaky.
This tomato sauce with green peppercorns is actually the perfect poaching liquid for cod fillets. It's bright with a nice peppery touch and calls for garlic, thyme and onion to infuse the poaching liquid with flavor without a ton of effort.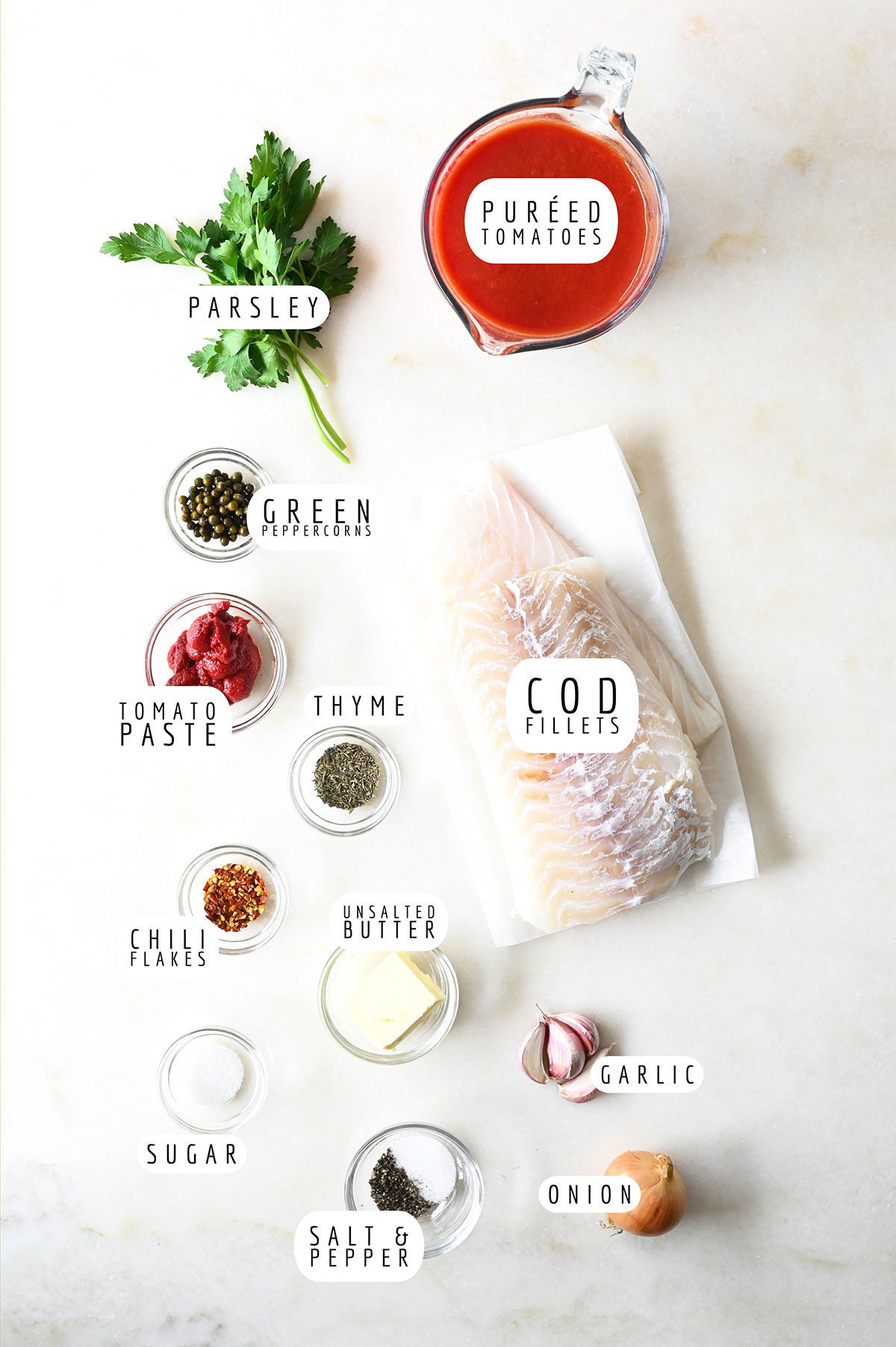 Ingredients, Tips & Substitutions
Cod: We go for meaty, mild-flavored, firm-fleshed cod fillets, but you could also try it with haddock, pollack or halibut. Use fish fillets of the same size and thickness so they can cook evenly.
Tomato Purée: The liquid that is needed for poaching. You can swap it for crushed tomatoes.
Green Peppercorns: They are simply peppercorns that have been harvested before they ripen. The flavor is similar to that of black peppercorns but milder and their texture is soft. You can find them in your local grocery store jarred, packed in brine. If you can't find them, use freshly cracked black pepper.
Tomato Paste: To elevate the tomatoey flavor.
Onion and Garlic: To add lots of flavor without a ton of effort.
Butter: To cook down the onion and garlic.
Seasoning: Salt, black pepper, dried thyme, sugar and chili flakes.
Herbs: Fresh parsley.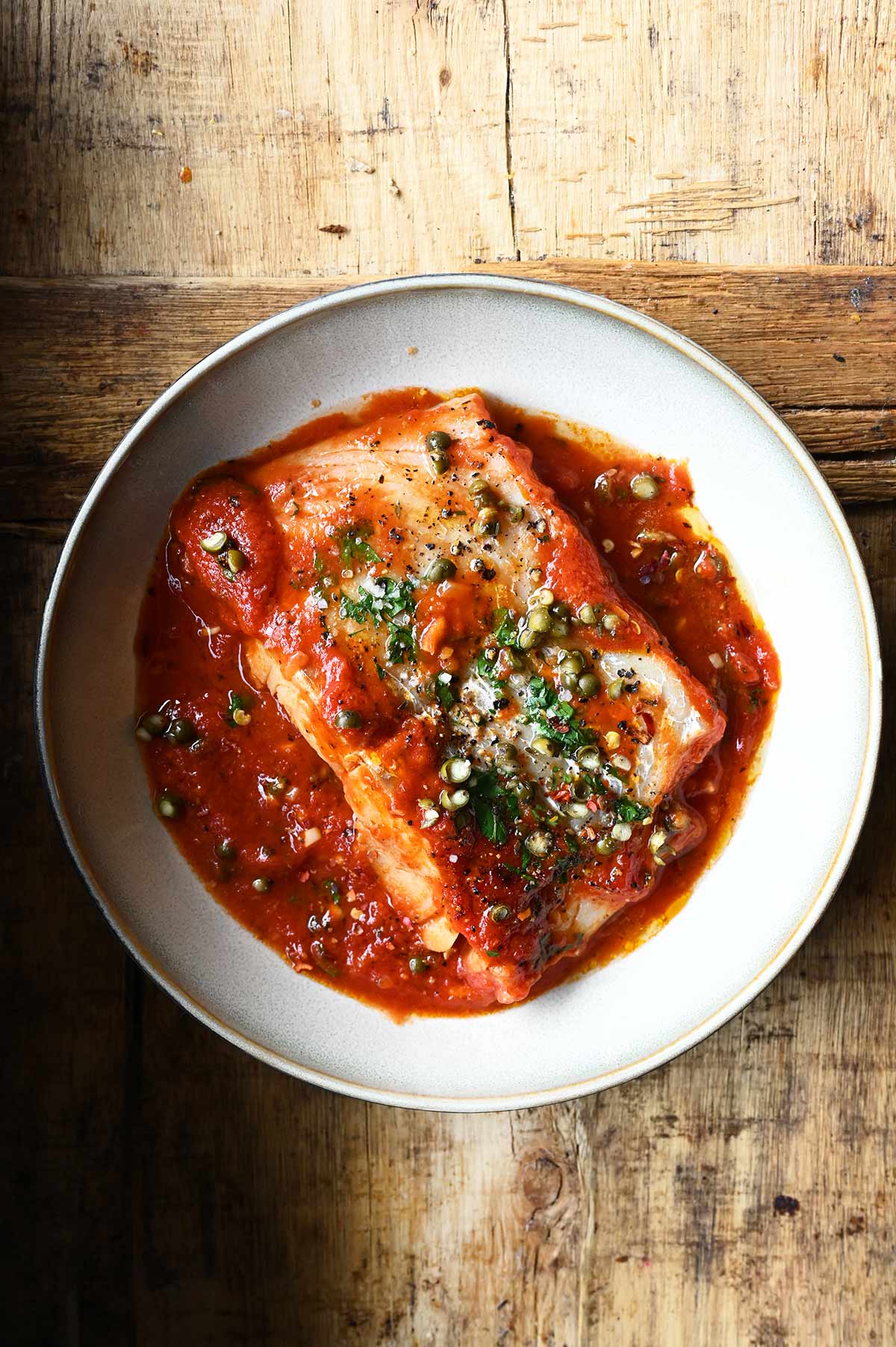 Recipe Notes
Serve with a big leafy side salad and some crusty bread. It's also great with pasta, rice, crispy potatoes or mashed potatoes.
Pair with steamed veggies like broccoli, cauliflower, green peas, …
Make ahead: You can make the sauce 1 day ahead of time. Store in the fridge, then reheat and add the fish when you're ready to eat.
Storage: Store any leftovers in an airtight container for maximum 1 day in the fridge, but best eaten the same day the fish is cooked.
Try These Next
Cooking Video
Yield: serves 4
Poached Cod in Peppery Tomato Sauce
Ingredients
1 tbsp unsalted butter
1 small yellow onion, finely chopped
4 garlic cloves, minced
1 tbsp green peppercorns, drained, roughly chopped
½ tsp each: salt, sugar
1 tsp each: black pepper, dried thyme
2 tbsp double concentrated tomato paste
1 ¾ cups/400 ml puréed tomatoes
4 cod fillets
a pinch of flaky salt
¼ tsp chili flakes, for serving
1 tbsp chopped parsley, for serving
Instructions
Melt butter over low in a large heavy bottomed skillet or pan. Add onion, garlic and green peppercorns. Sweat for 3 minutes until soft and fragrant. Stir in salt, black pepper, thyme and sugar. Add tomato paste and stir until incorporated. Pour in tomato purée, bring to a boil and simmer for 5 minutes.
Lay the cod fillets in the tomato sauce. Sprinkle the fish with a pinch of flaky salt and black pepper. Cover and simmer over low for 6-8 minutes. The cooking time depends of the thickness of your fillets. Check it with a fork, the flesh will easily flake when it's cooked.
When ready, top with parsley, freshly ground black pepper and chili flakes. Enjoy!
Notes
Calories Per Serving: 257 kcal
Nutritional information is only an estimate. The accuracy of the nutritional information for any recipe on this site is not guaranteed.

//= __('Print recipe (no photos)', 'servingdumplings' );?> //= __('Print recipe (with photos)', 'servingdumplings' );?>