Pesto ravioli with pancetta and peas. This quick and easy dinner is what happens when you bring together everyday pantry goodies with a touch of indulgence, and let your favorite ravioli take the lead. Accompanied by flavors of vibrant frozen peas, savory pancetta and fragrant pesto. In just 20 minutes, you can whip up a dinner that's both convenient and utterly delicious.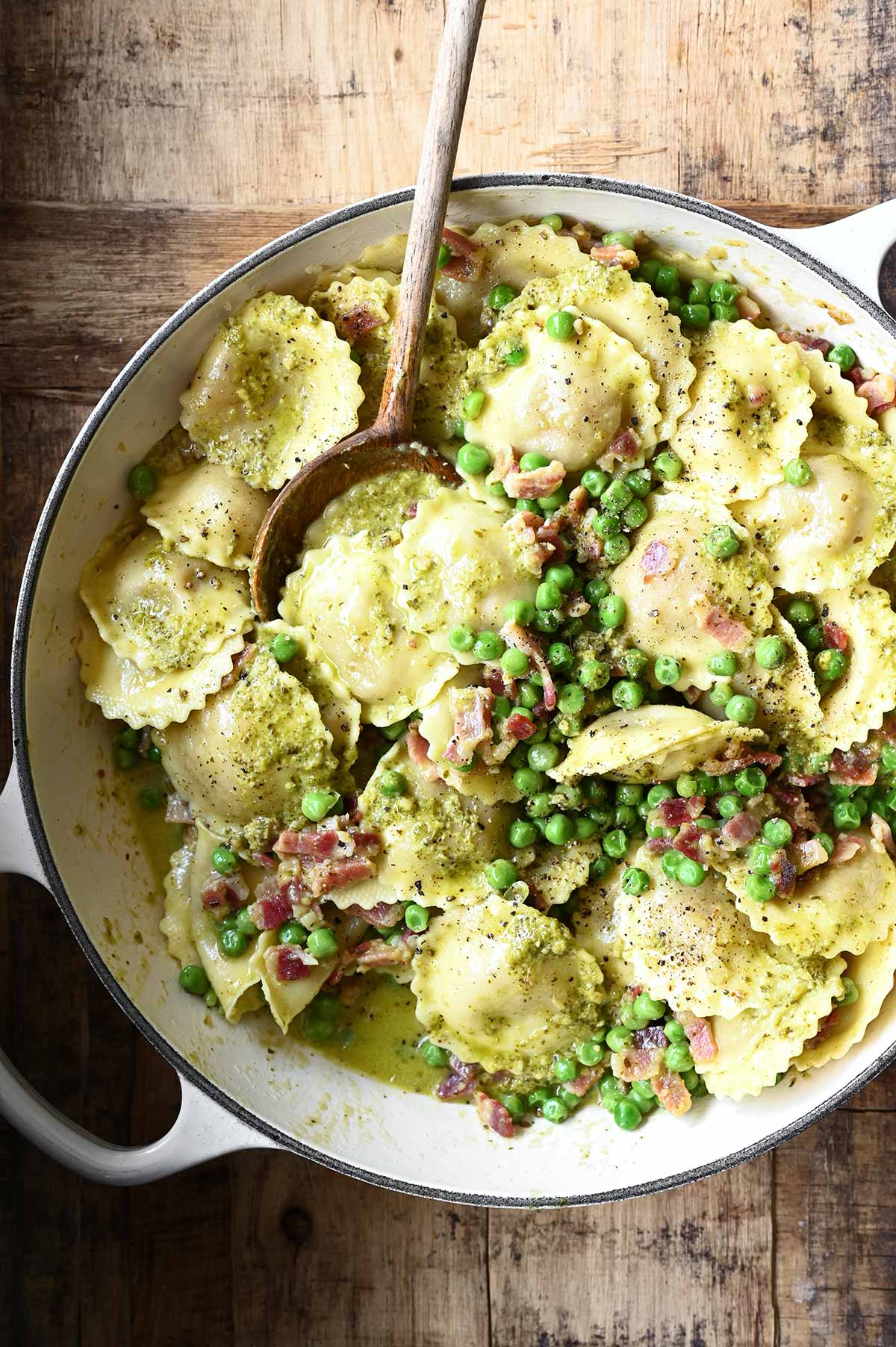 Experience the perfect harmony of convenience and culinary decadence, as every bite of these pea and pancetta ravioli transports you to a world of delightful flavors.
Discover the true potential of those fresh, ready-to-boil ravioli available at your local store. This recipe unlocks their hidden charm, elevating them to their full potential. With this back-pocket gem, you can effortlessly create a fancy meal on the busiest weeknights, while also impressing your dinner guests.
Just a few simple ingredients steal the show and turn your favorite ravioli and frozen peas into something out-of-this-world amazing. Imagine crispy bites of pancetta that bring that perfect touch of saltiness, and bam… You hit it with a big dollop of vibrant green pesto. It's like a flavor explosion of freshness and pure deliciousness that'll make your taste buds dance with joy.
Let me guide you through the recipe with this step-by-step VIDEO.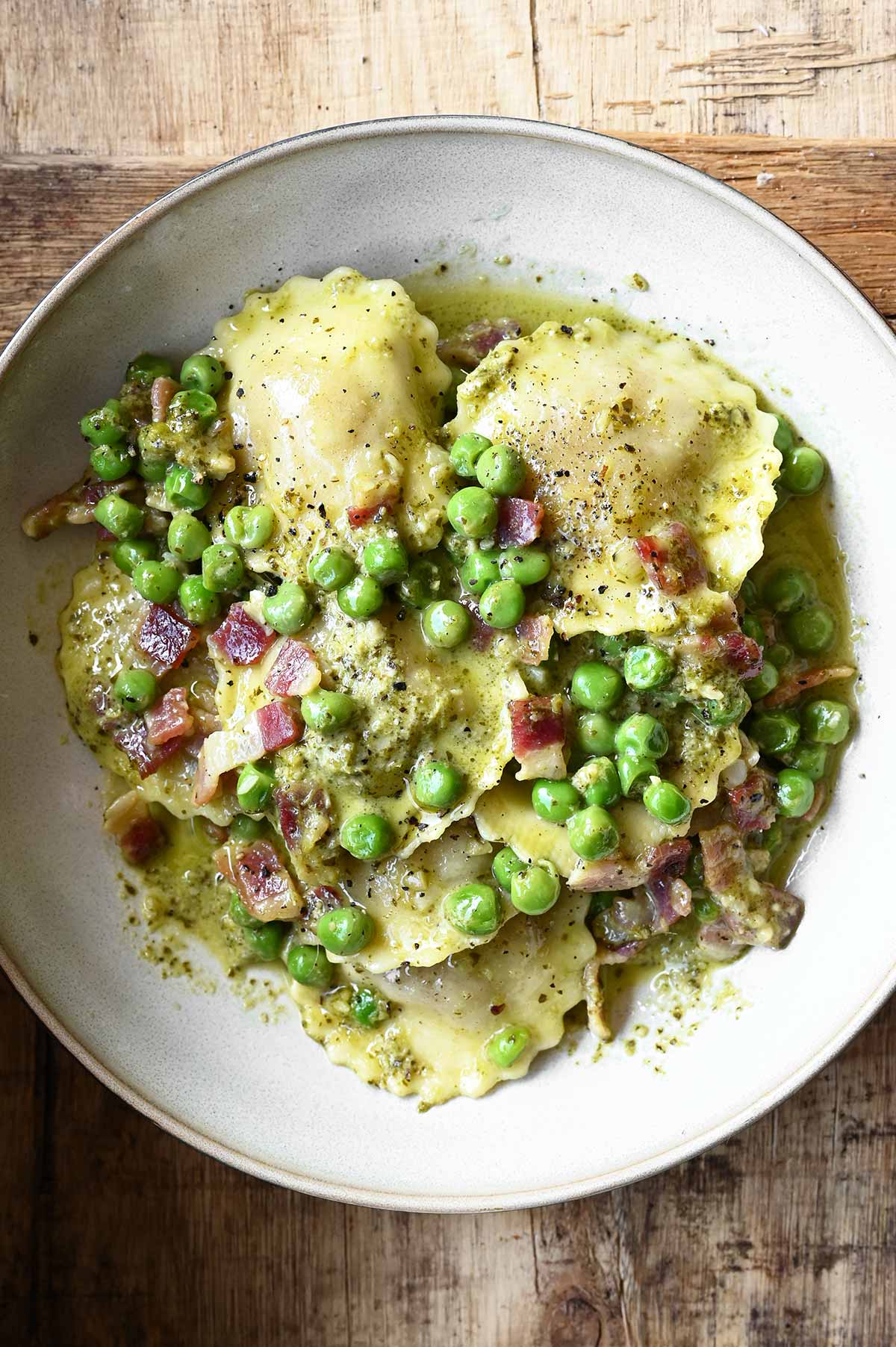 How to Make Pea and Pancetta Ravioli?
This recipe is awesome for any kind of pasta you have, but I'm a huge fan of using ravioli stuffed with a cheesy mix, or spinach and ricotta. Sneaking in some extra veggies is always a win. The best part? Fresh ravioli cook up super quick, so the only real waiting time is for the water to boil. While that's happening, we get busy preparing the sauce. We cook the pancetta until crispy, throw in garlic and peas. Once the ravioli are cooked, we turn off the heat from the skillet and mix in the pesto. That way, we keep the pesto's amazing flavor and vibrant color intact.
To make it even more delicious and creamy, we add a bit of Parmesan and some of the starchy pasta water. No need for heavy cream here! We give it all a good stir, throw in the ravioli, and finish it off with a generous sprinkle of freshly cracked black pepper. All that's left is to dish it up and dig in. Enjoy every mouthwatering bite!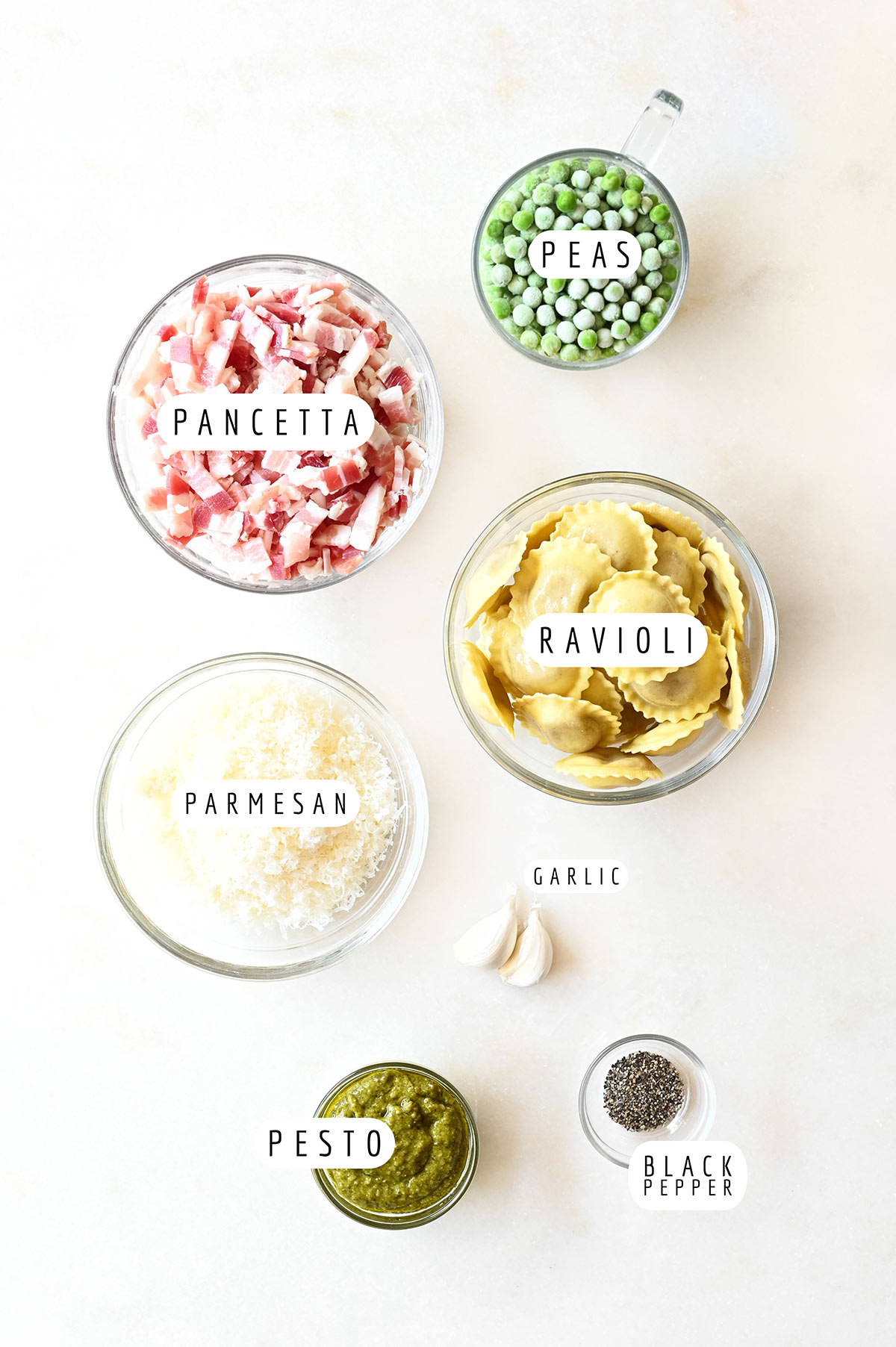 Ingredients, Tips & Substitutions
Ravioli: Use your favorite store-bought or homemade ravioli filled with meat, spinach/ricotta or cheese. You could also use pasta like orecchiette or penne.
Pancetta: If you can't find it, use salty bacon, turkey bacon or prosciutto.
Garlic: To lift up the flavor.
Peas: Frozen green peas. They're the star of this dish, I recommend not to substitute them.
Green Pesto: Use your trusted brand.
Parmesan: To flavor the sauce. Best to use freshly grated Parmesan.
Black Pepper: For a finishing touch.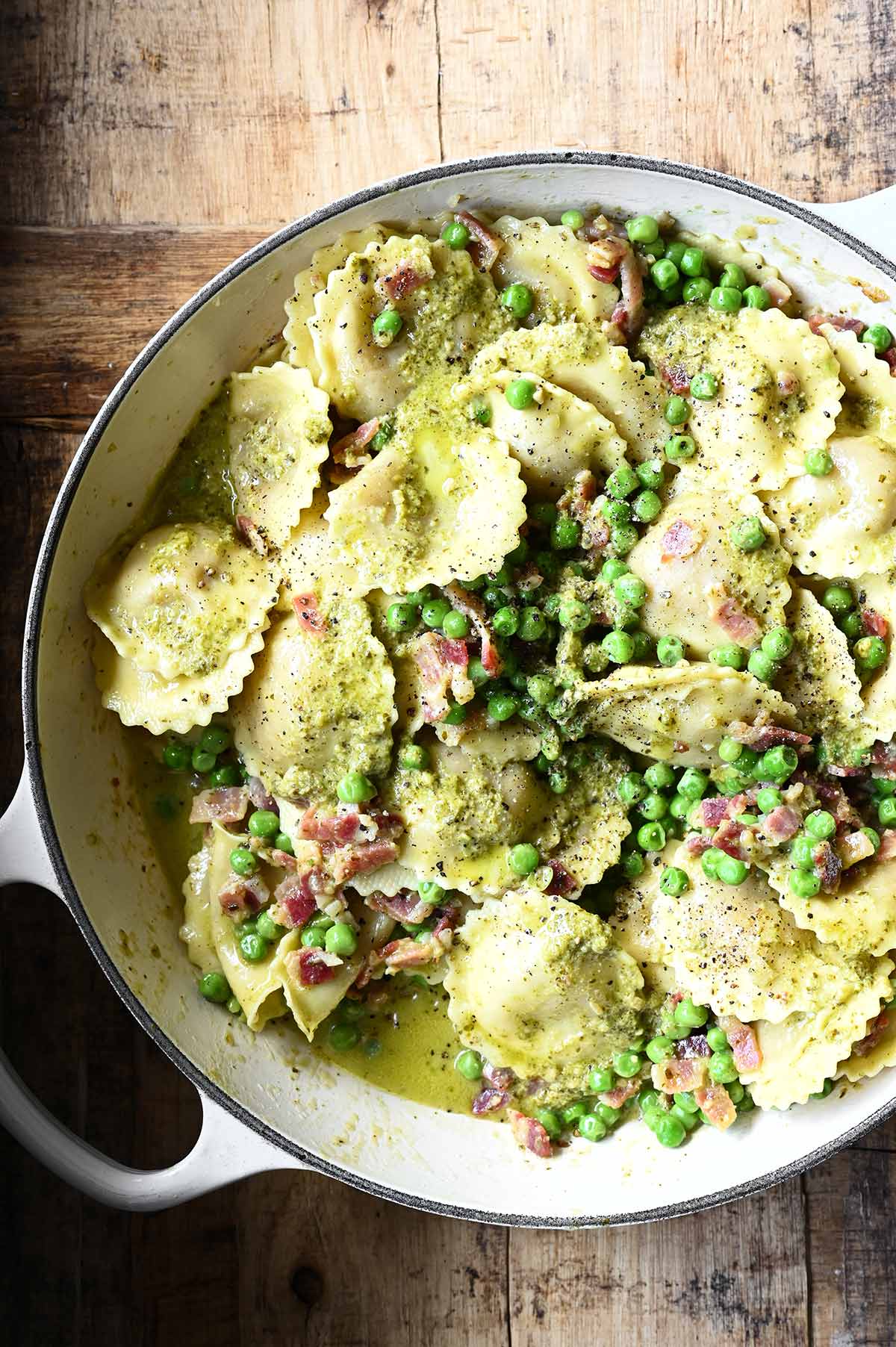 Recipe Notes
Serve with a big side salad drizzled with a balsamic or caesar dressing.
Storage: Leftovers can be stored refrigerated in an airtight container for up to 3 days.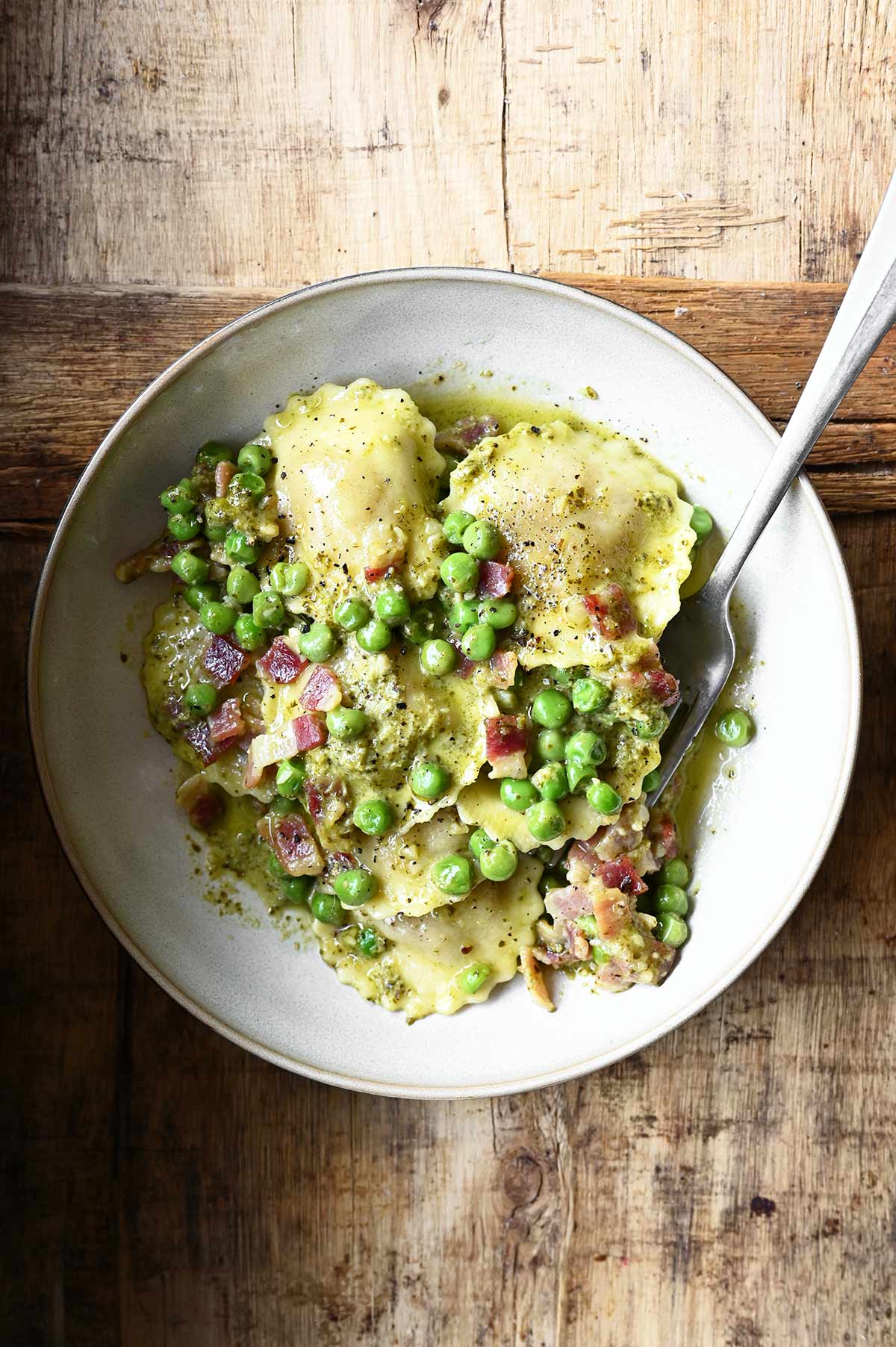 Try These Next
Cooking Video
Yield: serves 4
pesto ravioli with pancetta and peas
Ingredients
1.1 pounds/500 g fresh ravioli with your favorite filling
7 ounces/200 g pancetta
2 garlic cloves, minced
7 ounces/200 g frozen peas
6 tbsp green pesto, more to taste
½ cup/40 g grated Parmesan
freshly ground black pepper
Instructions
Bring a large pot with salted water to a boil.
Meanwhile, get your prep done before you start cooking. Mince the garlic cloves and grate the Parmesan cheese.
Heat a large skillet over high, add pancetta and cook until crispy and golden brown. Reduce heat to medium low, remove and discard excess grease.
Add garlic and stir in peas. Cook for 3 minutes.
In the meantime, add ravioli to the pot with boiling water. Cook for 2 minutes. When ready scoop up 1 cup cooking water and drain the ravioli.
Add ¼ cup cooking water to the skillet, then turn off the heat. Next, stir in pesto and Parmesan. Add ¼ cup more of the cooking water and stir until combined.
Toss with ravioli and finish off with a generous sprinkle of freshly ground black pepper. Add more cooking water or pesto, if needed. Serve!
Notes
Calories Per Serving: 512 kcal
Nutritional information is only an estimate. The accuracy of the nutritional information for any recipe on this site is not guaranteed.

//= __('Print recipe (no photos)', 'servingdumplings' );?> //= __('Print recipe (with photos)', 'servingdumplings' );?>