Pasta with mascarpone, smoked salmon, sun-dried tomatoes and garlic sautéed spinach. Super easy, creamy and a true flavor bomb. This pasta can be prepared as a quick weeknight dinner or served at a  fancy dinner party.⁠ Bonus? The entire dish takes about 15 minutes to throw together.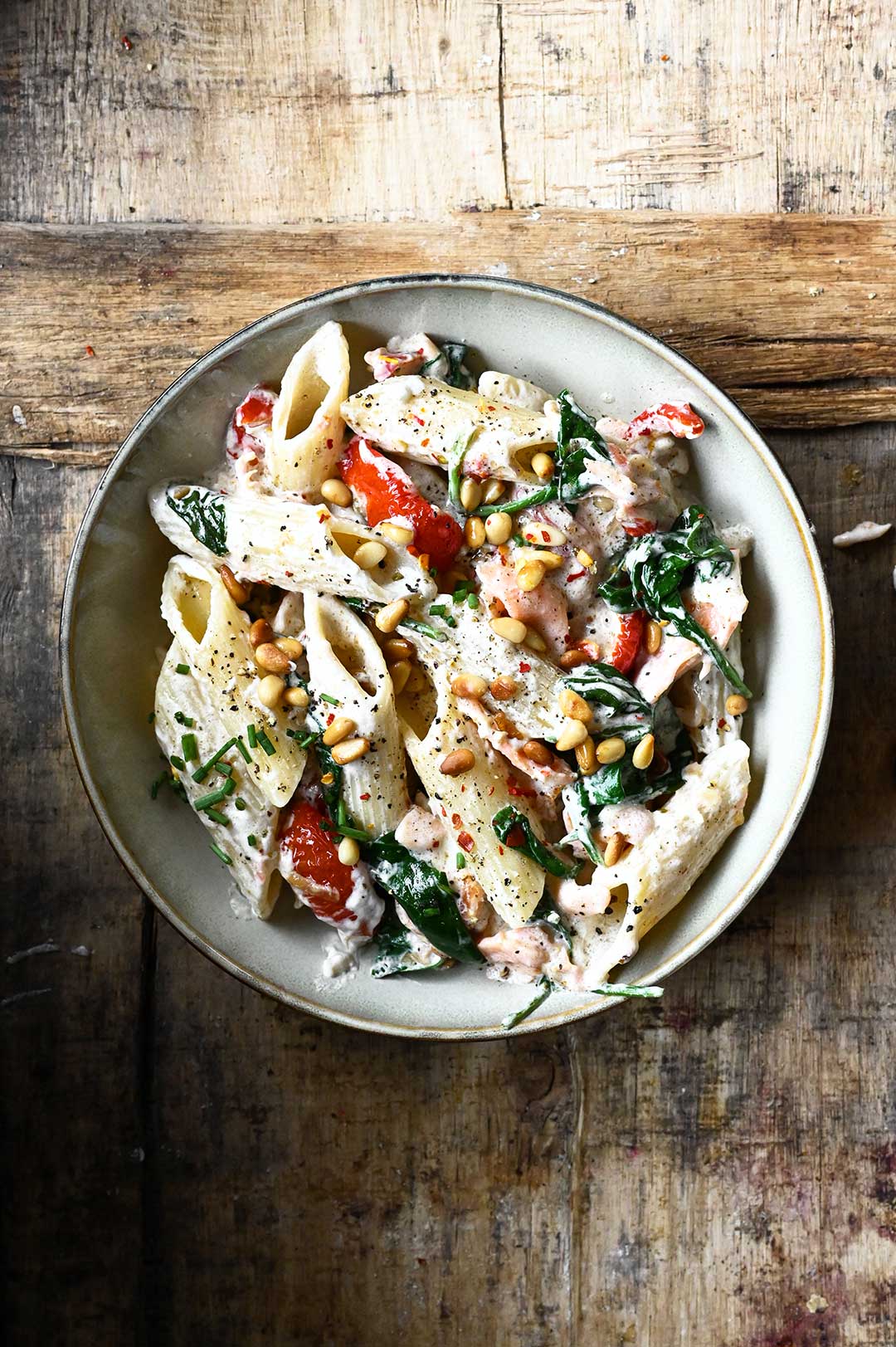 In this recipe, the surprise ingredient is the smoked salmon. It adds a smoky, salty boost to this dish. When tossed together with the mascarpone and the bright tomatoes, you'll be left with a great sauce for any pasta, lighter than a typical cream sauce but still silky and rich. We add toasted pine nuts for another marvelous layer of texture and flavor. Serve it with a sprinkle of crushed chili flakes and chopped chives. This is a versatile recipe that can take a rotation in your weekly meal plan. Highly recommended.
Let me guide you through the recipe with this step-by-step VIDEO.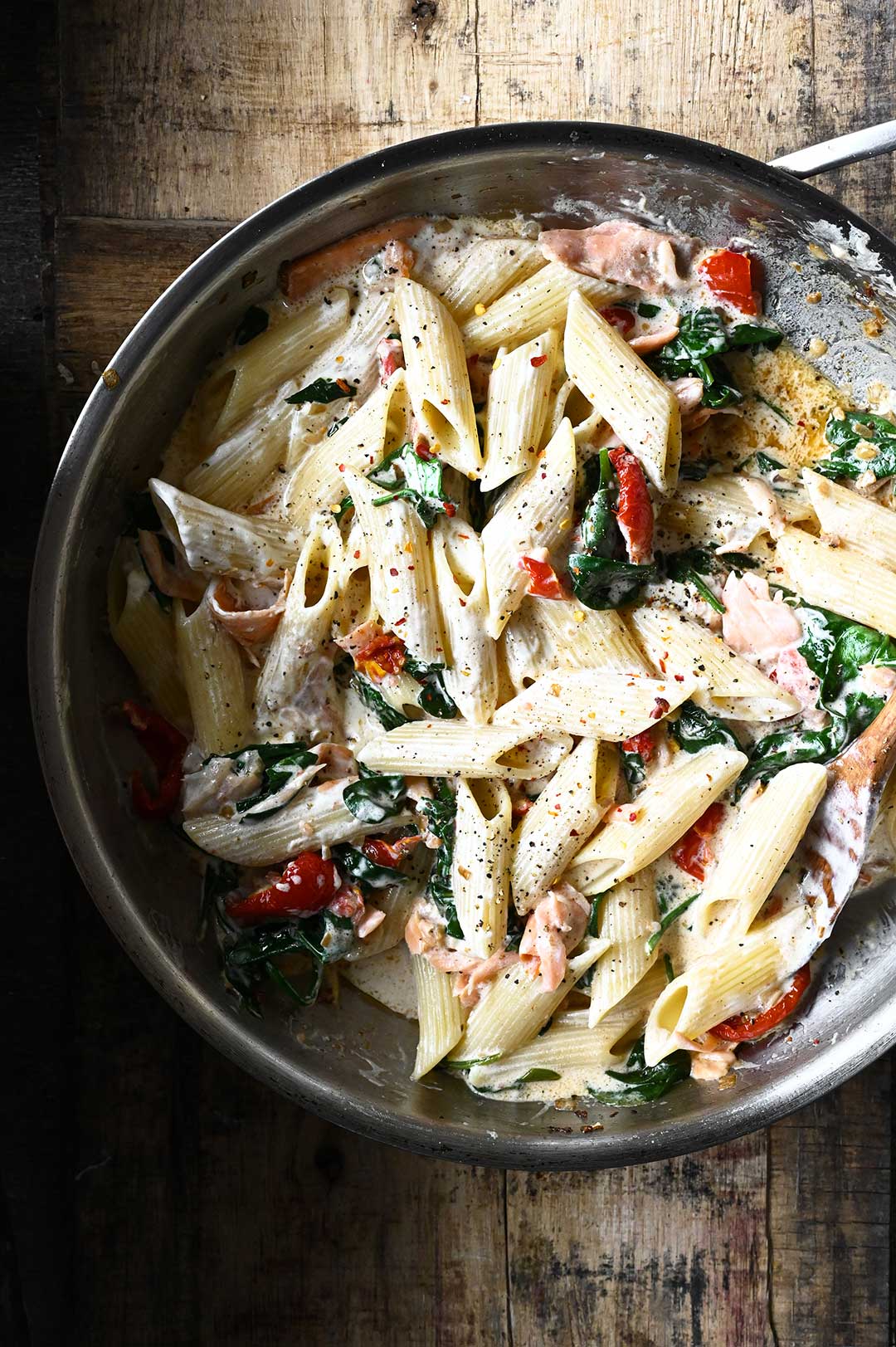 RECIPE NOTES
You can use canned salmon or cooked fresh salmon. Swap the spinach for broccoli, asparagus or kale. Use any kind of your favorite pasta. Swap the sun-dried tomatoes for cherry tomatoes. Make the dish vegetarian or use smoked bacon and pretend that you created a whole new dish without your family noticing it, that's what I always do.
Other Delicious Recipes to Try:
Pasta with smoked salmon and chorizo
One-Pan Creamy Tomato Salmon with Chorizo
Brown Butter Orecchiette with Walnuts and Sage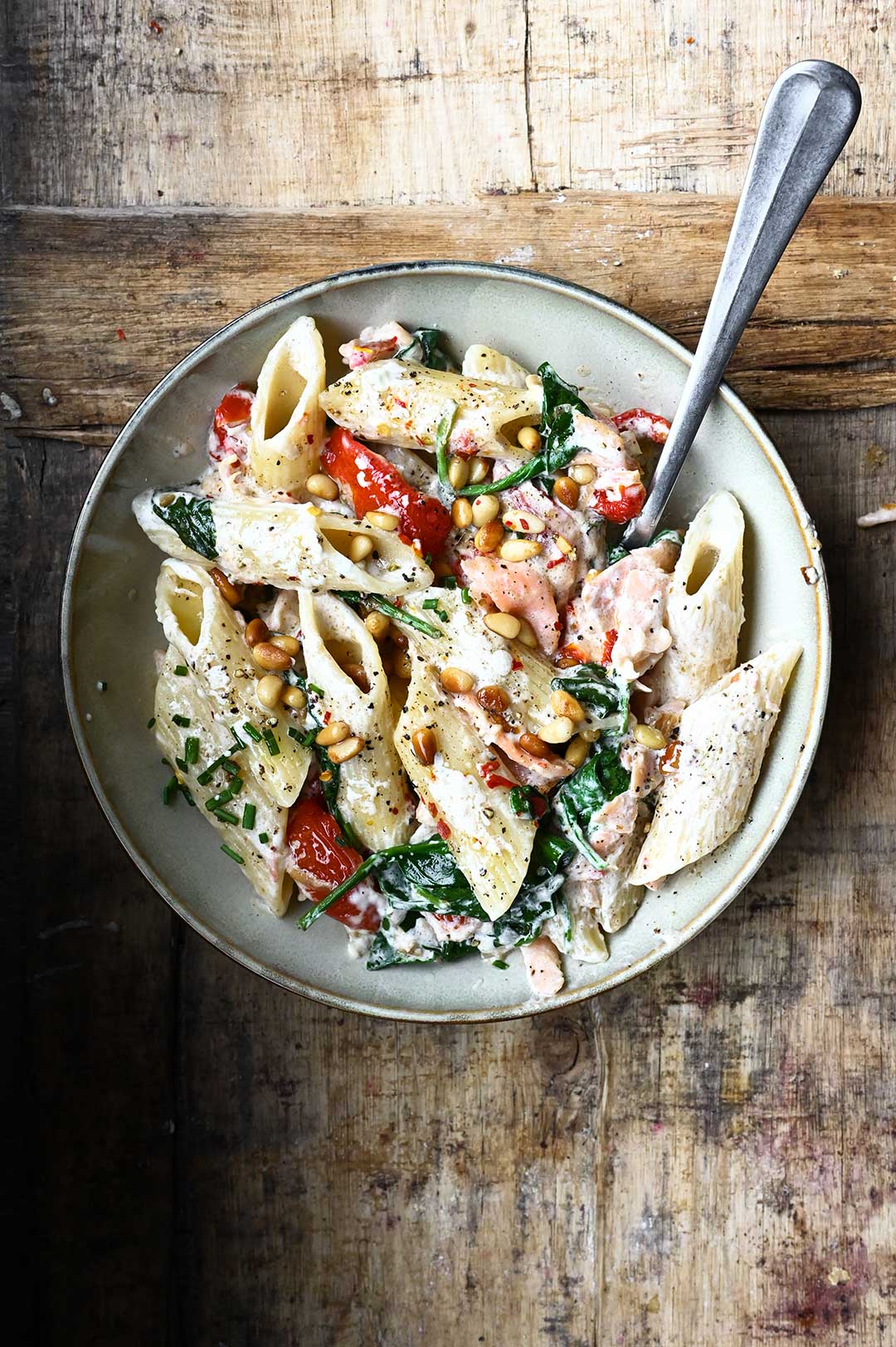 You need
200 g (7.1 oz) penne
150 g (5.3 oz) smoked salmon, cut into strips
200 g (7 oz) mascarpone
80 g (2.8 oz) semi-dried tomatoes, drained, oil reserved
100 g (3.5 oz) spinach
3 garlic cloves, minced
1 shallot, finely diced
3 tbsp oil from the sun-dried tomatoes
1 tbsp lemon juice
1/2 tsp ground cumin, crushed chili flakes, oregano, salt, black pepper
1/4 tsp grated nutmeg
4 tbsp pine nuts
chopped chives, for serving (optional)
How to
Let me guide you through the recipe with this step-by-step VIDEO. 
Boil the pasta in salted water until al dente. Drain, reserving 1/2 cup of the cooking water.
In a large skillet, heat 1 tbsp oil over medium low heat. Add pine nuts, toast until golden, 1-2 minutes. Remove from pan, leaving the toasted oil in the pan.
Add 2 tbsp oil to the skillet, garlic and shallot. Sauté until fragrant, 2 minutes. Add cumin, nutmeg, chili flakes, oregano, salt and pepper. Cook for 1 minute.
Stir in spinach, cook until slightly welted, for 1 minute. Add sun-dried tomatoes, cook for 2 minutes.
Now add lemon juice, smoked salmon and mascarpone, gently stir until just combined. Toss with pasta and add 1/4 cup pasta cooking water. Remove from heat.
Serve immediately with chopped chives, toasted pine nuts and some extra chili flakes. Enjoy!