Penne with Italian sausage and peas. A delicious combination of a tomatoey meat sauce with parmesan and peas for a comforting bowl of pasta. You definitely have to try this one, it's a true flavor bomb. A perfect 30-minute meal.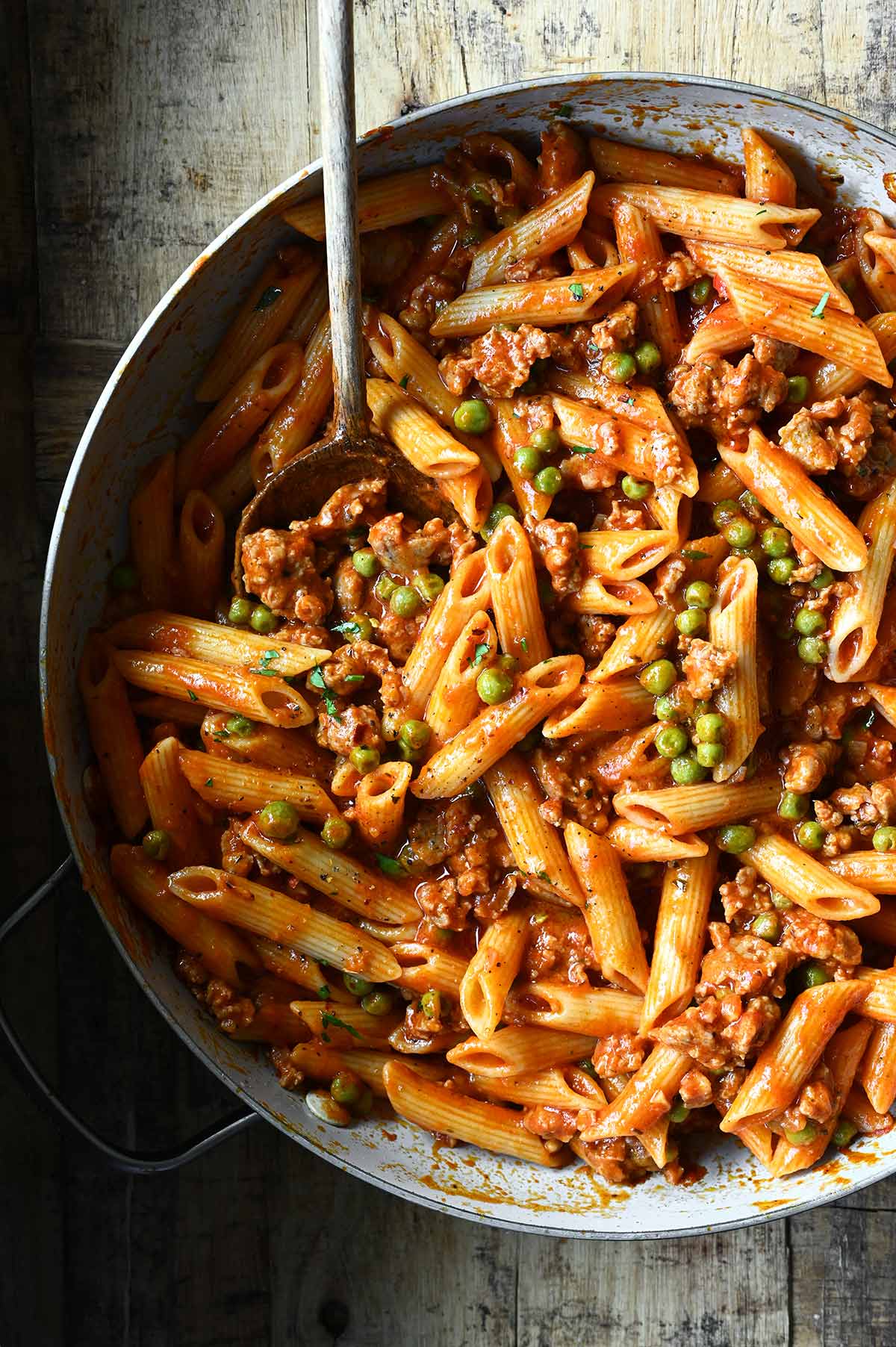 This pasta with Italian sausage and peas is a satisfying 30-minute meal that's sure to become your back pocket rescue recipe. It checks off all the boxes and more. It's meaty, jazzed up with Parmesan and filled with sweet peas, which are simmered in the delicious tomato sauce. A hearty sauce and open noodles to catch all the flavors.
Any type of dried short pasta can be used for this recipe. Penne and rigatoni are classic tubular shapes that never fail, but don't hesitate to try other fun options like elbows, fusilli, orecchiette or casarecce.
It's a wallet-friendly and a pantry-friendly kind of dish. A can of tomatoes, frozen peas powered by the Italian sausage turns what could have easily been a standard pasta into something crave-worthy. You likely have most of the ingredients in your pantry, and others like sausage and peas, keep well for months in the freezer, so keep this recipe in your back pocket for busy days when you have no time to shop.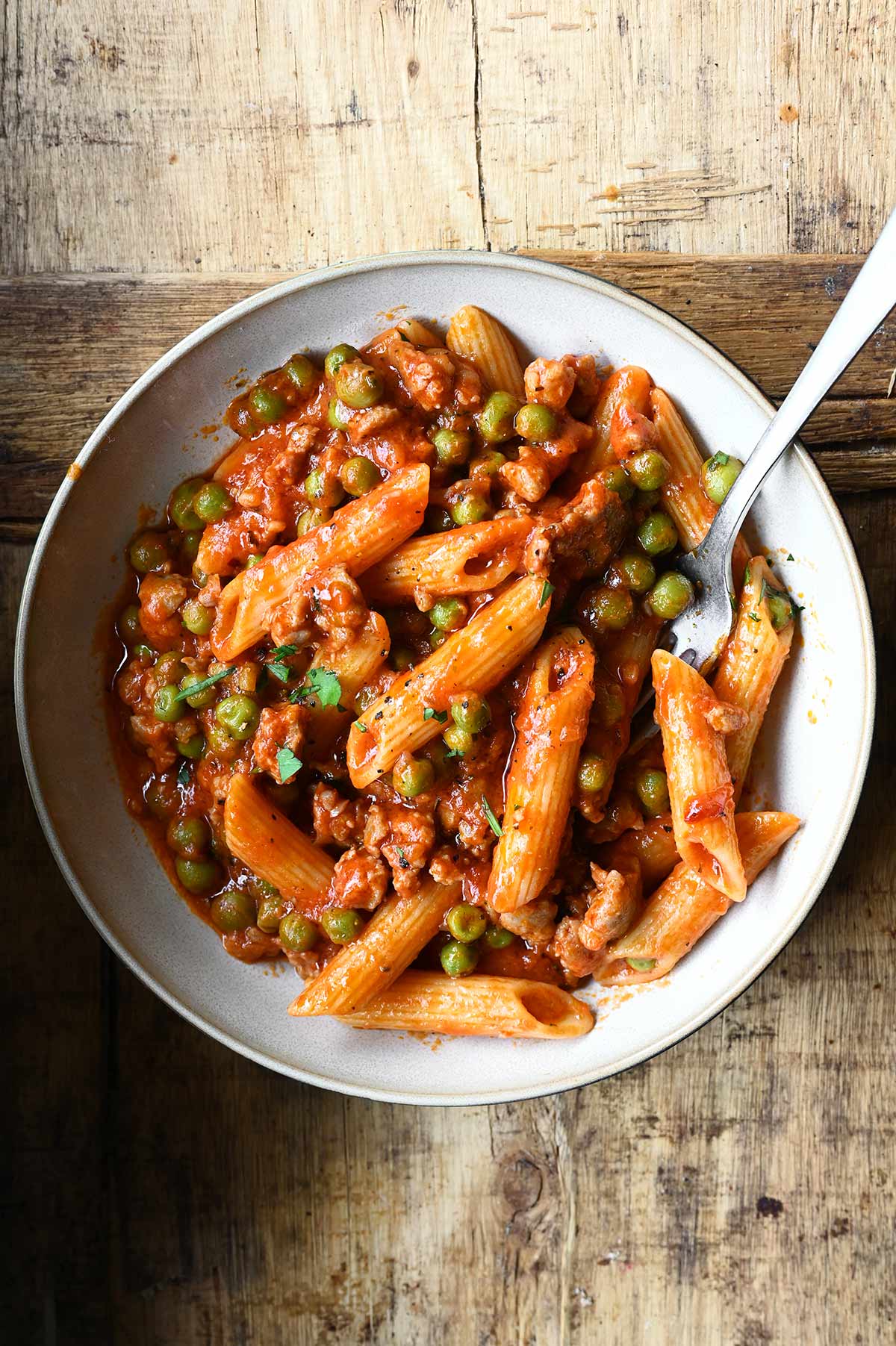 How To Make Penne with Sausage and Peas?
We start by cooking the sausage before stirring in the puréed tomatoes. This allows the sausage to brown and lock in its juices, which lends extra flavor to the sauce. Add garlic and onion, finally pour in the tomatoes… and let everything simmer for 10 minutes. While that's happening, we boil the penne. Toss it all together with a generous amount of Parmesan and peas, add some cooking water for a glossy finishing touch, and done!
Let me guide you through the recipe with this step-by-step VIDEO.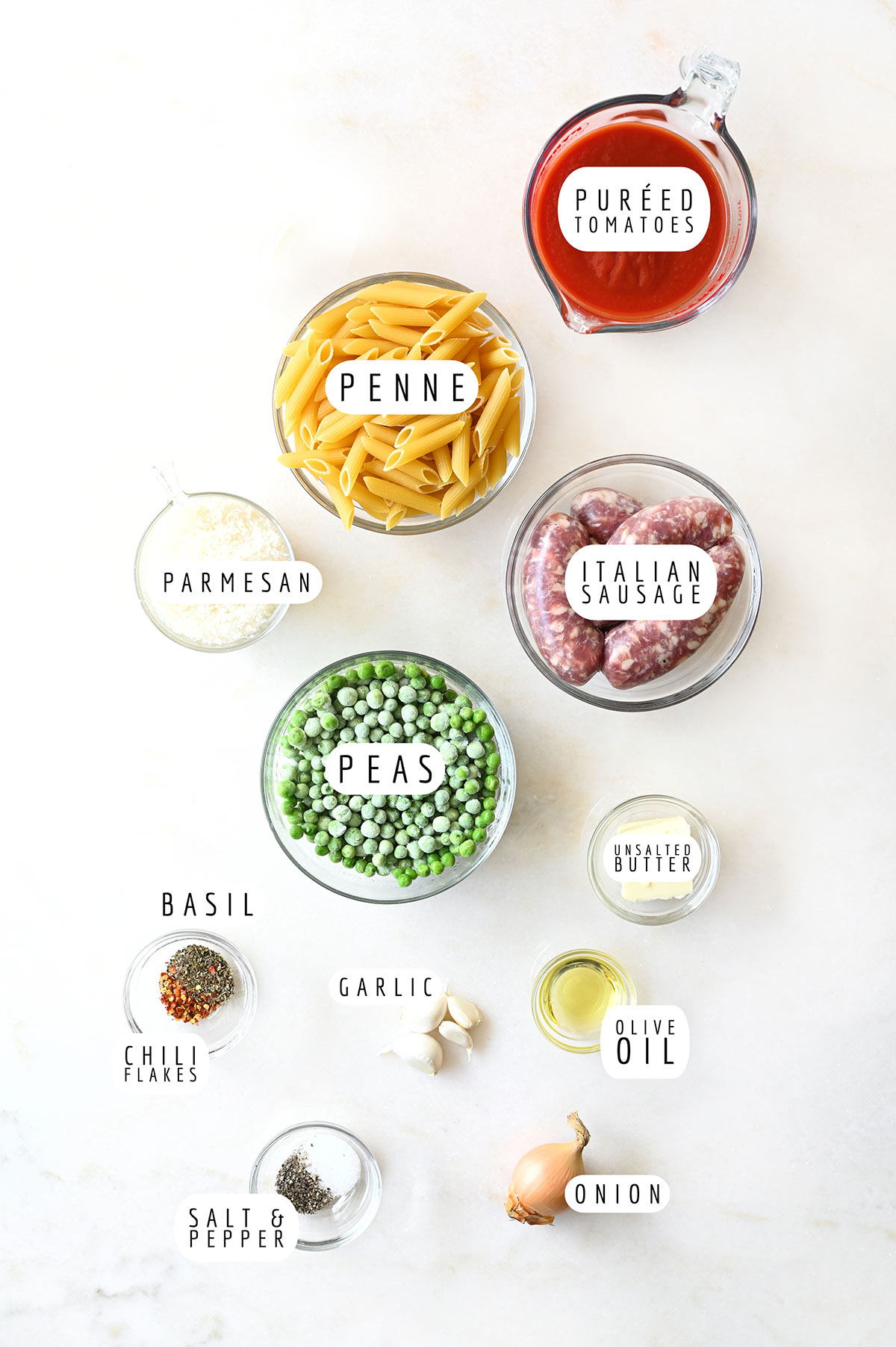 Ingredients, Tips & Substitutions
Pasta: Penne, rigatoni, ziti, fusilli, orecchiette, casarecce, or elbows work best. But if spaghetti or linguine is all you have on hand, just use it!
Italian Sausage: Italian sausage is fresh sausage typically made from pork, a mix of Italian spices, garlic, fennel seeds, pepper and chili flakes. Mild Italian sausage uses less chili flakes, while hot Italian sausage contains a more generous amount to ensure its spiciness. Either variety will work well in this recipe. You can also use Italian chicken sausage.
Olive Oil and Unsalted Butter: To cook the sausage.
Onion and Garlic: Small amounts, as the Italian sausage is hearty enough to enhance the flavors.
Seasoning: Salt, black pepper, dried basil and chili flakes. If you're using spicy Italian sausage, you can leave out the chili flakes.
Tomatoes: Puréed tomatoes are the go-to in this recipe, but you can use passata, crushed tomatoes, homemade marinara sauce or any tomato-based sauce.
Parmesan: To flavor the sauce. Best to use freshly grated Parmesan.
Peas: Frozen green peas. They're the star of this dish, I recommend not to substitute them.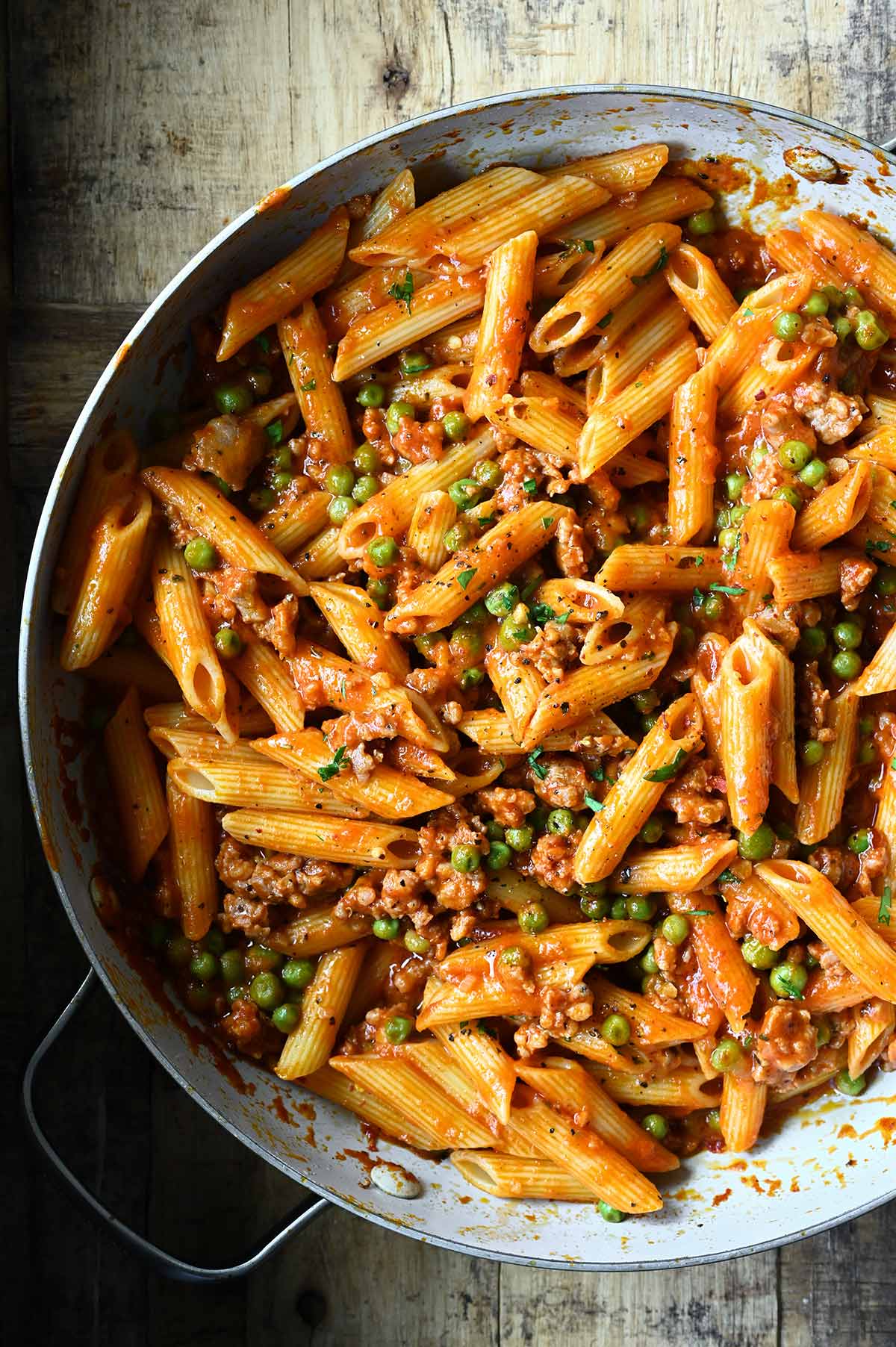 Recipe Notes
You can also make a delicious lasagna with this sauce, or a casserole with penne and grated mozzarella on top.
Serve with a big side salad drizzled with a balsamic or caesar dressing.
Make Ahead: You can prepare this dish in advance, keep the pasta and sauce separate in the fridge and reserve some cooking water. Then combine, reheat before serving and add a splash of cooking water.
Storage: Leftovers can be stored refrigerated in an airtight container for up to 3 days
For meal prepping: Store in the freezer in airtight containers for up to 3 months. Let thaw completely before reheating.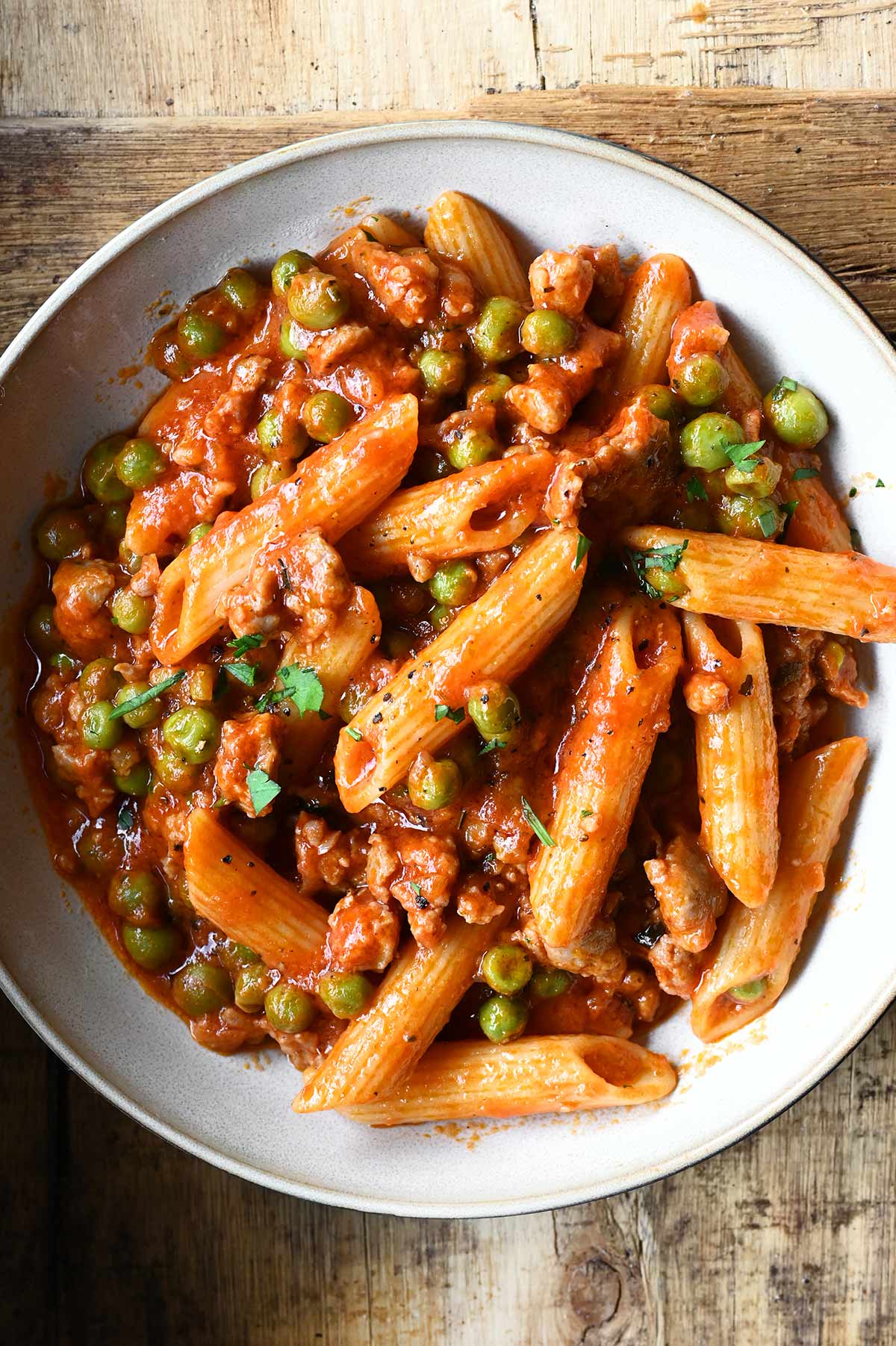 Try These Next
Cooking Video
Yield: serves 4
Penne with Italian Sausage and Peas
Ingredients
12 ounces/350 g dry penne
1 tbsp olive oil
1 tbsp unsalted butter
14 ounces/400 g Italian sausage, casings removed
1 small yellow onion, finely chopped
4 garlic cloves, minced
1 tsp each: salt, black pepper, dried basil
½ tsp chili flakes, more or less to taste
1 can (14 oz/400 ml) puréed tomatoes
½ cup/50 g grated Parmesan
1 cup/150 g frozen peas
chopped parsley for serving, optional
Instructions
Bring a large pot of salted water to a boil.
Get your prep done before you start cooking. Remove casings from sausages. Finely chop the onion and mince the garlic.
Heat oil and butter over medium in a large skillet. Add sausages, break up into pieces and cook until brown for about 3 minutes. Add garlic and onion, cook for 2 minutes. Stir in salt, pepper, basil and chili flakes. Add puréed tomatoes, bring to a boil and simmer for about 10 minutes over low.
In the meantime, add penne to the pot with boiling water and cook until al dente. Scoop up ½ cup cooking water, then drain the penne.
When ready, add Parmesan and stir until combined. Add peas and a generous splash of cooking water, simmer for 1 minute. Toss with penne and stir until glossy. Finish off with freshly cracked black pepper, some extra chili flakes and parsley. Enjoy!
Notes
Calories Per Serving: 534 kcal
Nutritional information is only an estimate. The accuracy of the nutritional information for any recipe on this site is not guaranteed.

//= __('Print recipe (no photos)', 'servingdumplings' );?> //= __('Print recipe (with photos)', 'servingdumplings' );?>