Salmon with chorizo? Oh yes, I always loved those kind of combos.
Few ingredients, one delicious dish. Pasta, smoked salmon, spicy chorizo, sun-dried tomatoes and butter sauce. Ready in just 20 minutes, with a summery feel, but enough 'kick' to take it into the cooler evenings, a delicious weeknight dinner that combines winning flavors.
Probably you can make this pasta with ingredients from your pantry. No smoked salmon? Use canned salmon. Can't find sun-dried tomatoes? Use cherry tomatoes instead. Or add other vegetables, spinach or zucchini are a great addition.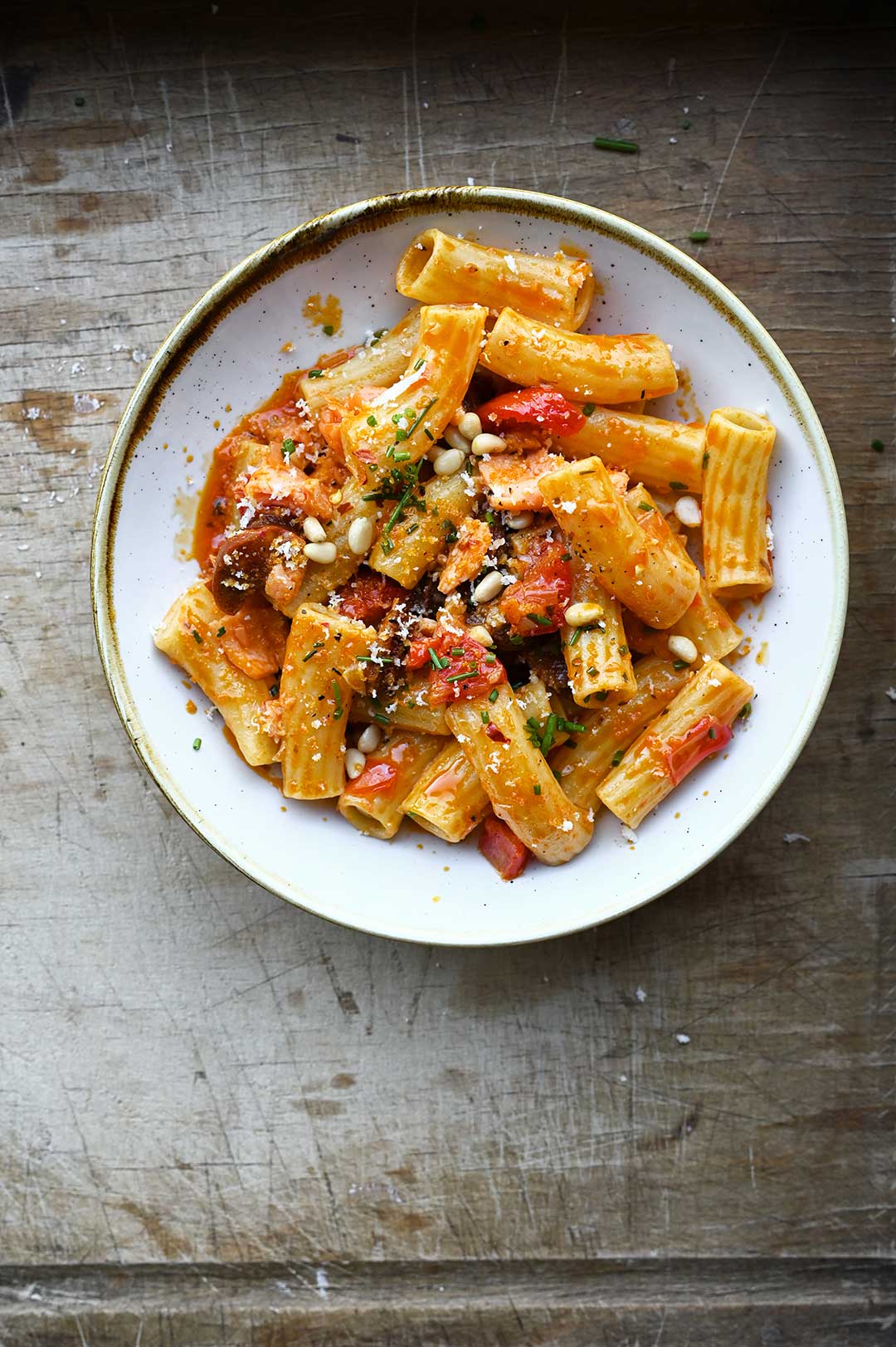 You need
250 g pasta
150 g smoked salmon, cut into slices
100 g spicy Spanish chorizo sausage, cut into slices (you can perfectly use a mild chorizo)
200 sun-dried tomatoes, or cherry tomatoes
1 shallot, finely chopped
3 garlic cloves, minced
1 tsp thyme
2 tbsp tomato paste
2 tbsp lemon juice
4 tbsp olive oil
2 tbsp butter
1 tsp smoked paprika
sea salt + black pepper
+
chili flakes, toasted pine nuts, grated parmesan for serving
How to
Cook the spaghetti in a pot of salted boiling water until al dente. Drain, reserving some of the cooking water.
While the pasta cooks, prepare the sauce. Heat the oil in a deep pan over high heat. Add chorizo and cook until crispy for about 3 minutes, stirring from time to time. Reduce the heat to low, add garlic and shallot, cook until soft for about 5 minutes. Add sun-dried tomatoes, tomato paste, lemon juice, thyme, smoked paprika and butter. Add about 1/4 cup of pasta cooking water and simmer over medium heat, for 3 minutes. Stir in the smoked salmon, season with a pinch of salt and black pepper. Simmer for 2 minutes more. Add the pasta to the sauce and toss to coat.
Divide pasta among bowls. Top with parmesan cheese, pine nuts and chili flakes. Enjoy!