Everyone loves a good pasta dish, right? This pasta recipe is absolutely divine. A pumpkin based sauce mellowed with mascarpone cheese, served with roasted broccoli, pancetta, fried sage and toasted pumpkin seeds. Incredibly easy to make, just roast some pumpkin, take some pasta, mascarpone, some herbs, and there you go, a bowl full of creamy pasta heaven. It all comes together in about 30 minutes.
This is definitely a must-make. A decadent pumpkin pasta sauce with earthy tastes. It isn't too full of cheese, there is only mascarpone and we serve it with a handful of Parmesan. And yet it's rich and creamy, thanks to the pumpkin. It also has a little bit of crunch from the toasted pumpkin seeds and the pancetta adds some saltiness. There is a boatload of flavor from sage and roasted garlic and a pinch of chili flakes to bring an elegant touch. A splash of lemon juice offers another layer of flavor. It's hearty and completely satisfying.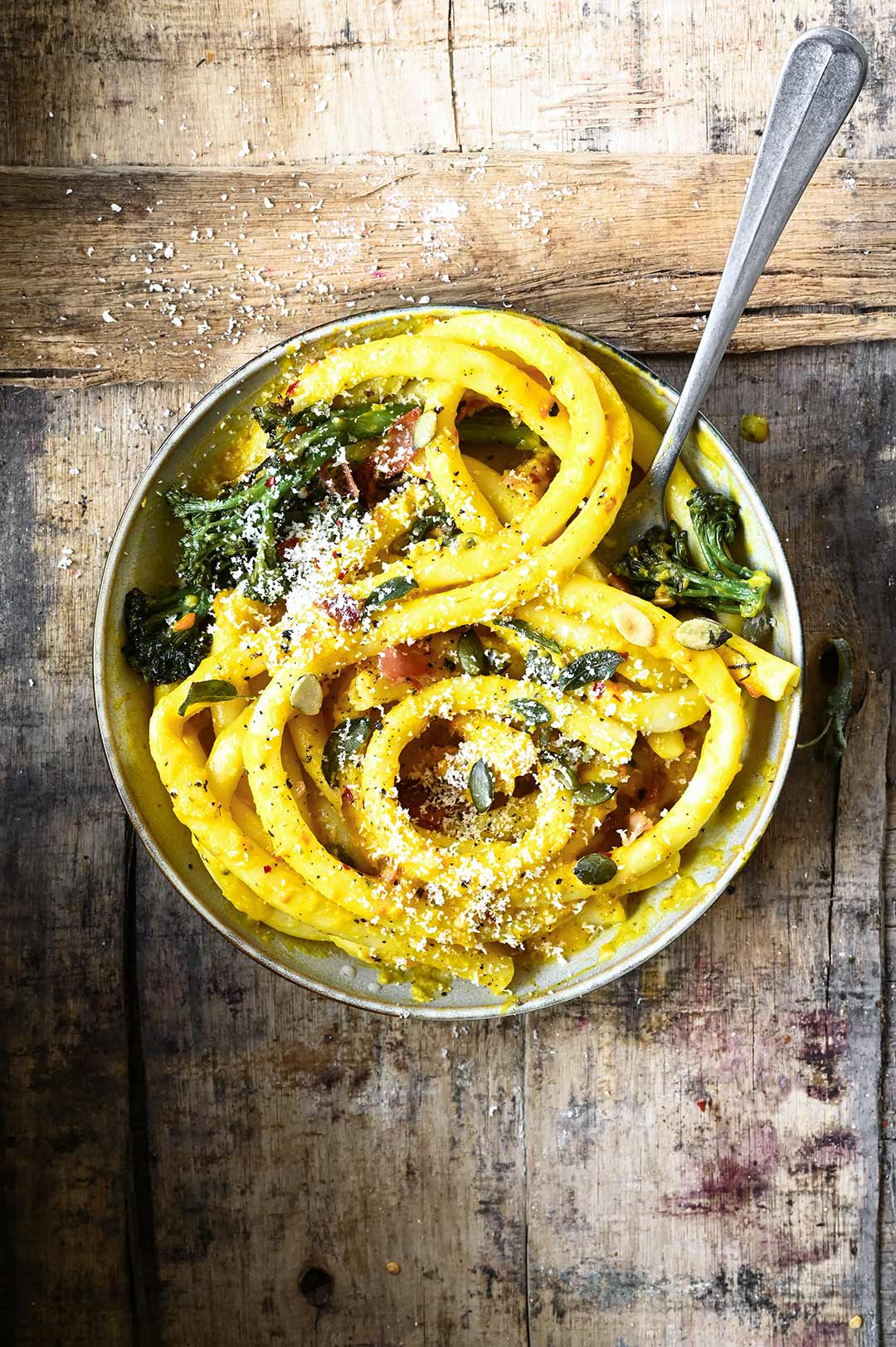 But the real thing you'll love about this dish is its convenience. We don't do anything except roast the vegetables, mix, cook the pasta, cook the pancetta and toss everything together. But this doesn't taste like convenience food, it's delicious, I promise.
I like to play around with the pasta shapes to fancy it up a bit, but this recipe will work with any dried pasta you have on hand. The other ingredients like pancetta aren't definitive, just leave it out for a vegetarian version.
Hop on over to Instagram to see how to make this in my highlights!
You may also like:
Buttery Mushroom & Chickpea Pesto Pasta
One Skillet Parmesan Chicken and Orzo
Sichuan shrimp stir fry with onions
Let's stay connected! Sign up for my NEWSLETTER to receive the latest recipes.
You need
250 g (8.8 ounces) pasta
400 g (14 ounces) pumpkin, with skin, cut into cubes
1 bunch of broccolini
250 g (1 cup) mascarpone
150 g (5 ounces) pancetta, cut into thin strips (omit if vegetarian)
olive oil
1 tbsp lemon juice
1 tsp each: thyme, sage, oregano, crushed red chili pepper flakes
1 head of garlic
salt + black pepper
+
4 tbsp toasted pumpkin seeds
20 fresh sage leaves
grated parmesan, for serving
…IF YOU LOVE THESE RECIPES … please consider supporting my work for just the cost of a cup of coffee.

How to
Preheat the oven to 220°C (425°F).
Cut the pumpkin (with skin) into small cubes. Using a sharp knife, cut off the top of the garlic cloves. Drizzle the pumpkin with 4 tbsp olive oil on a rimmed baking sheet. Sprinkle with dried thyme, oregano, sage and chili flakes. Season with salt and pepper. Add the garlic. Roast for 15 minutes.
Remove from the oven, add broccolini. Season them and drizzle with oil. Place the baking sheet back in the oven and bake for 10-15 minutes more.
In the meantime, boil the pasta in salted water until al dente. Drain, reserving 1/2 cup of the cooking water.
Toast the pumpkin seeds in a dry skillet for 2-3 minutes. Transfer to a plate.
In the same skillet, heat 2 tbsp olive oil. Add pancetta, fry until crispy and golden brown. Transfer to a plate.
Add sage leaves to the same skillet, fry for 10 seconds or until crisp. Transfer to a plate layered with paper towel.
When the pumpkin is ready, transfer (without broccolini) to a food processor. Add mascarpone and lemon juice. Squeeze out about 6 garlic cloves (you can store the rest in the fridge and use in any other recipe). Season with salt and pepper. Add pasta water and purée until smooth.
Toss with pasta, add pancetta and extra cooking water if the sauce is too thick. Taste, and season with salt and pepper. Serve with toasted pumpkin seeds, crispy sage leaves, red chili flakes and grated parmesan. Enjoy!
Hop on over to Instagram to see how to make this in my highlights!
If you give this recipe a try, leave a comment or mention me on Instagram @anna_s_table and tag me in your picture. I'd love to see what you're making. Happy cooking!