This is a creamy broccoli pasta seasoned generously with freshly-ground black pepper. Fast, easy and rich in taste. It might look plain but there are sooo many good flavors hiding in this dish. Black peppercorn cream cheese, garlic, a splash olive oil and chili flakes, all tiny flavor bombs. And broccoli, to make us feel good about ourselves. And best of all, it's ready in 15 minutes. Casual and easy to love.
What makes this creamy broccoli sauce different is the black pepper. We add black pepper and then, when you think that should be enough, we add some more.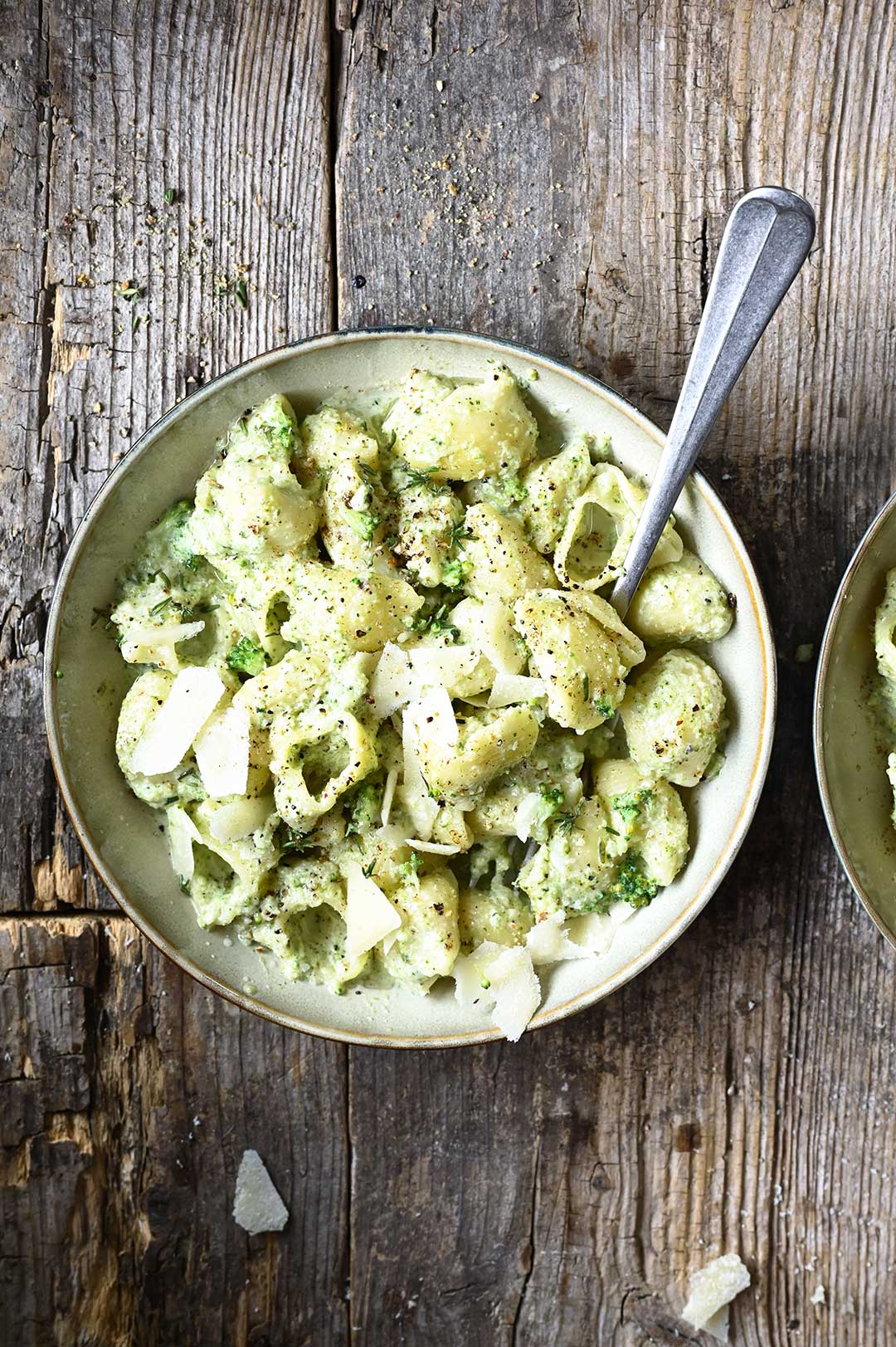 Is this the perfect pasta sauce? Maybe! With its sharp, spicy kick of black pepper, smooth cream cheese, salty Parmesan and healthy broccoli florets, basically this recipe offers so much delicious tastes. 
The broccoli florets are blend right into the sauce itself, adding a vibrant punch of green to the sauce as well as a serious nutritional boost. Along with some of the pasta cooking water and cream cheese, broccoli gives this sauce just a bit of extra texture and creaminess. Add some grated Parmesan and you have the easiest and most magical dish.
3 more delicious recipes:
15 minute broccoli pasta with basil oil
Easy pork Ramen with broccolini
Creamy black pepper chicken & asparagus pasta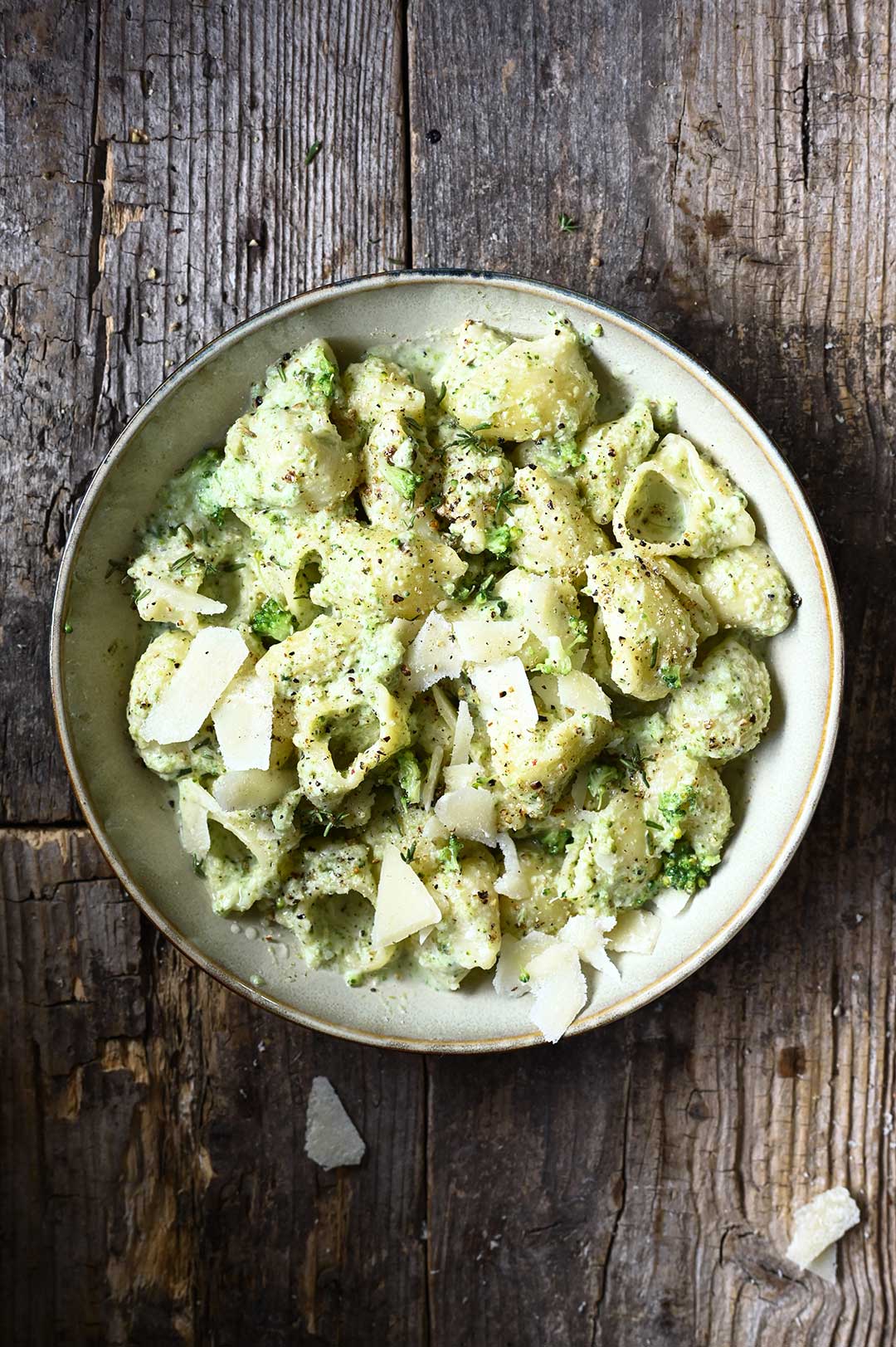 You need
250 g (2 1/2 cups) pasta
1 broccoli, cut into florets
1 tsp garlic powder
2 tbsp olive oil
1 package black peppercorns cream cheese (I used Boursin)
50 g grated Parmesan + more for serving
1/2 tsp chili flakes
sea salt + freshly ground black pepper
How to
In a large pot bring salted water to a boil.
Add the broccoli florets, bring the water back to a boil and cook for two minutes. Do not drain the water, transfer the broccoli with a slotted spoon to a bowl.
Bring the same water back to a boil, add pasta and boil until al dente. Drain, reserving 1/2 cup of the cooking water.
In a large blender or a food processor, blend together broccoli, black peppercorn cream cheese, garlic powder, olive oil, salt, chili flakes and Parmesan until smooth. Slowly pour in 1/4 cup of the reserved pasta water until a creamy sauce forms. If sauce is too thick, add more pasta water one tablespoon at a time. Add 1 tsp freshly grated black pepper. Give it a taste and add more salt, if needed.
Toss hot pasta with the sauce until completely coated. Top with extra Parmesan and chili flakes. Sprinkle some more black pepper on each serving, if desired. Enjoy!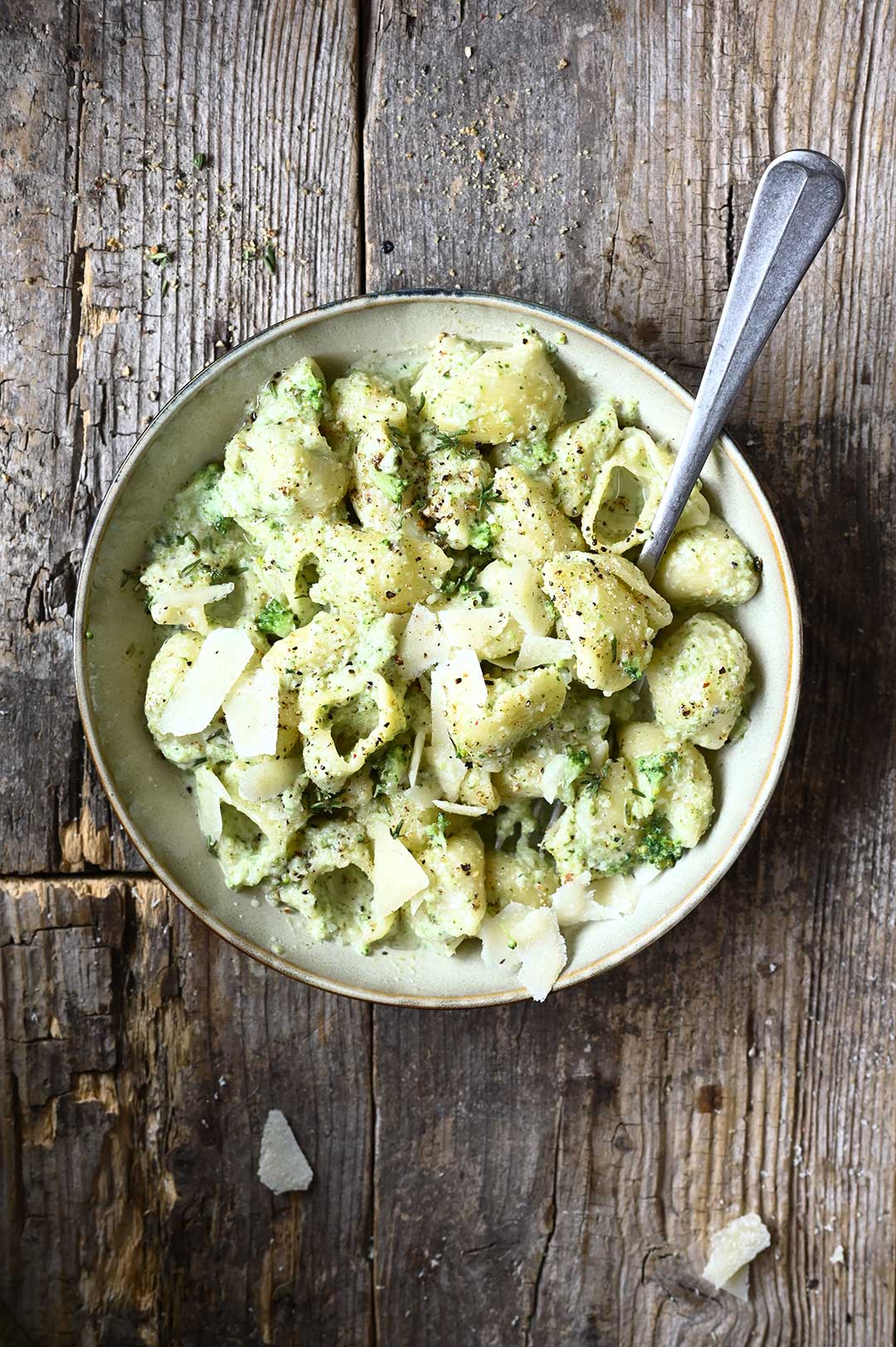 //= __('Print recipe (no photos)', 'servingdumplings' );?> //= __('Print recipe (with photos)', 'servingdumplings' );?>