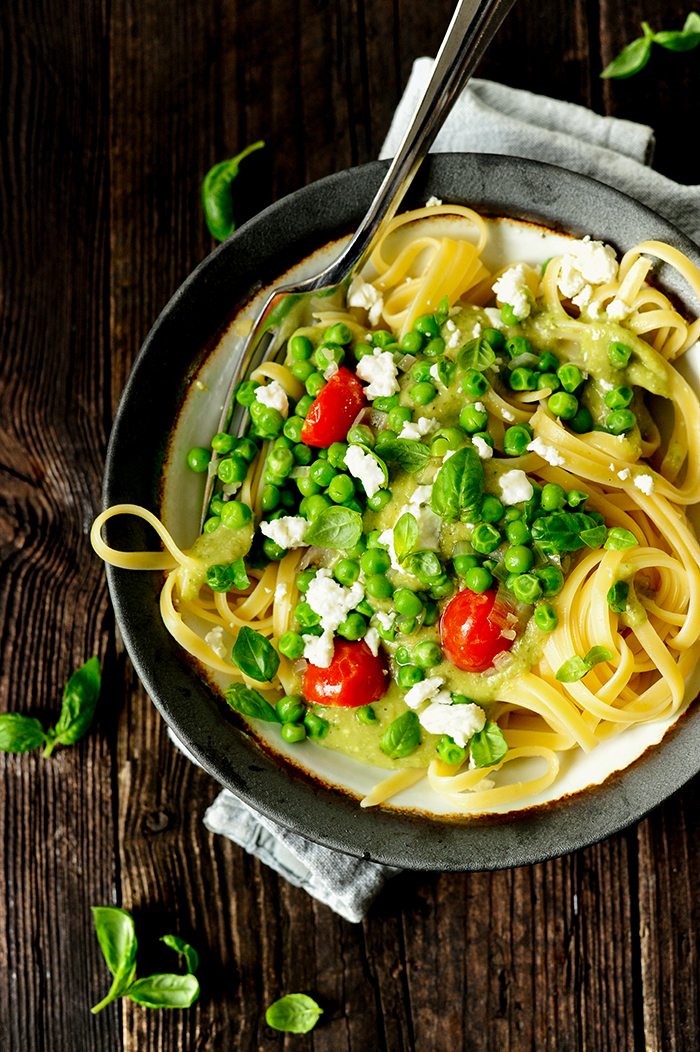 Meet your new favorite pasta dish:) Spaghetti with a creamy avocado sauce, sweet peas, cherry tomatoes and feta. The avocado sauce tastes wonderful, is simple to prepare, and healthy for you. You have to try this one!
25 minutes | serves 2
Ingredients
200 g pasta
100 g cherry tomatoes, cut in half
1/2 cup frozen peas
1 shallot, finely chopped
1 clove garlic, finely chopped
salt and black pepper
100 g feta
1 tablespoon olive oil
avocado sauce
1 ripe avocado
150 ml hot vegetable broth
2 tablespoons pine nuts
1 clove garlic, finely chopped
1 bunch basil
1 teaspoon lemon juice
salt and black pepper
Instructions
Cook the pasta until tender in salted water.
In a separate pan, boil water with salt, add peas and cook for 3 minutes.
In a skillet heat the oil, add the shallots and garlic and fry. Then add the peas and tomatoes, simmer on low heat.
In the meantime, cut the avocado in half, remove the pit and peel. Put into a foodprocessor together with the rest of the ingredients for the sauce, blend and season with salt and pepper.
Pour the sauce into the skillet with peas and tomatoes, add pasta and stir.
Serve with  crumbled feta and garnish with basil leaves, enjoy!
//= __('Print recipe (no photos)', 'servingdumplings' );?> //= __('Print recipe (with photos)', 'servingdumplings' );?>