Pasta alla Norma is a delicious pasta dish made with roasted eggplant, a rich tomato sauce, and lots of Pecorino cheese. It's a true crowd-pleaser, fitting for relaxed get-togethers or those extra-special moments. Try this easy recipe for a hearty and flavorful pasta dish that everyone will love!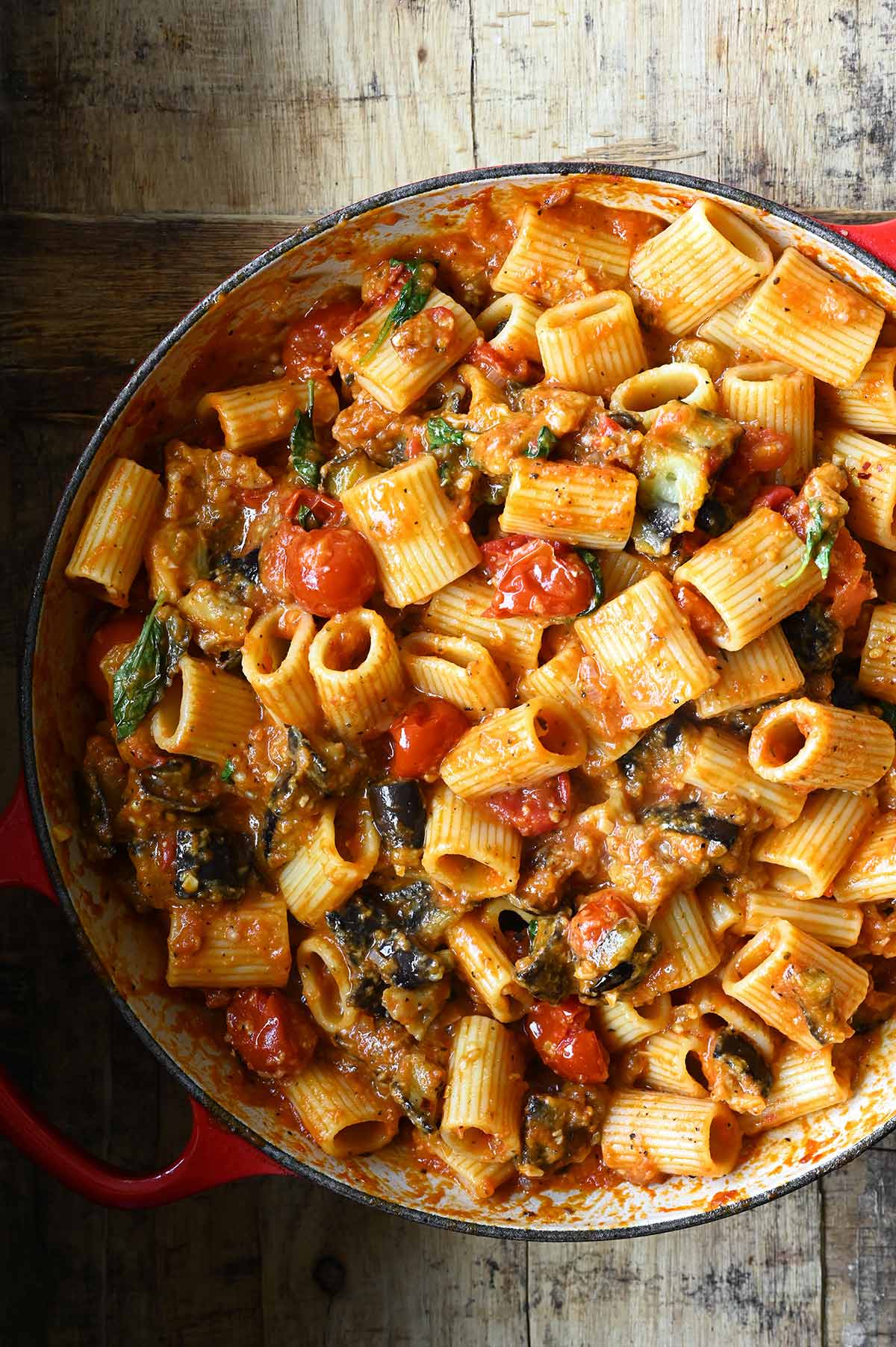 Get ready for a supreme pasta treat! Imagine buttery eggplant, salty Pecorino cheese, and a rich tomato sauce all teaming up with the perfect pasta shape for the ultimate scoop.
When it comes to veggies, eggplant is a star. It's hearty, easy to cook, and it soaks up flavors like a pro. It's silky and delightful, and you can enjoy it any time of the year. I've put a simple twist on pasta alla Norma by using roasted eggplant instead of the fried version. You know how eggplant can soak up oil easily, right? Well, I've reduced that and made it lighter by roasting. No more greasy guilt!
Let me guide you through the recipe with this step-by-step VIDEO.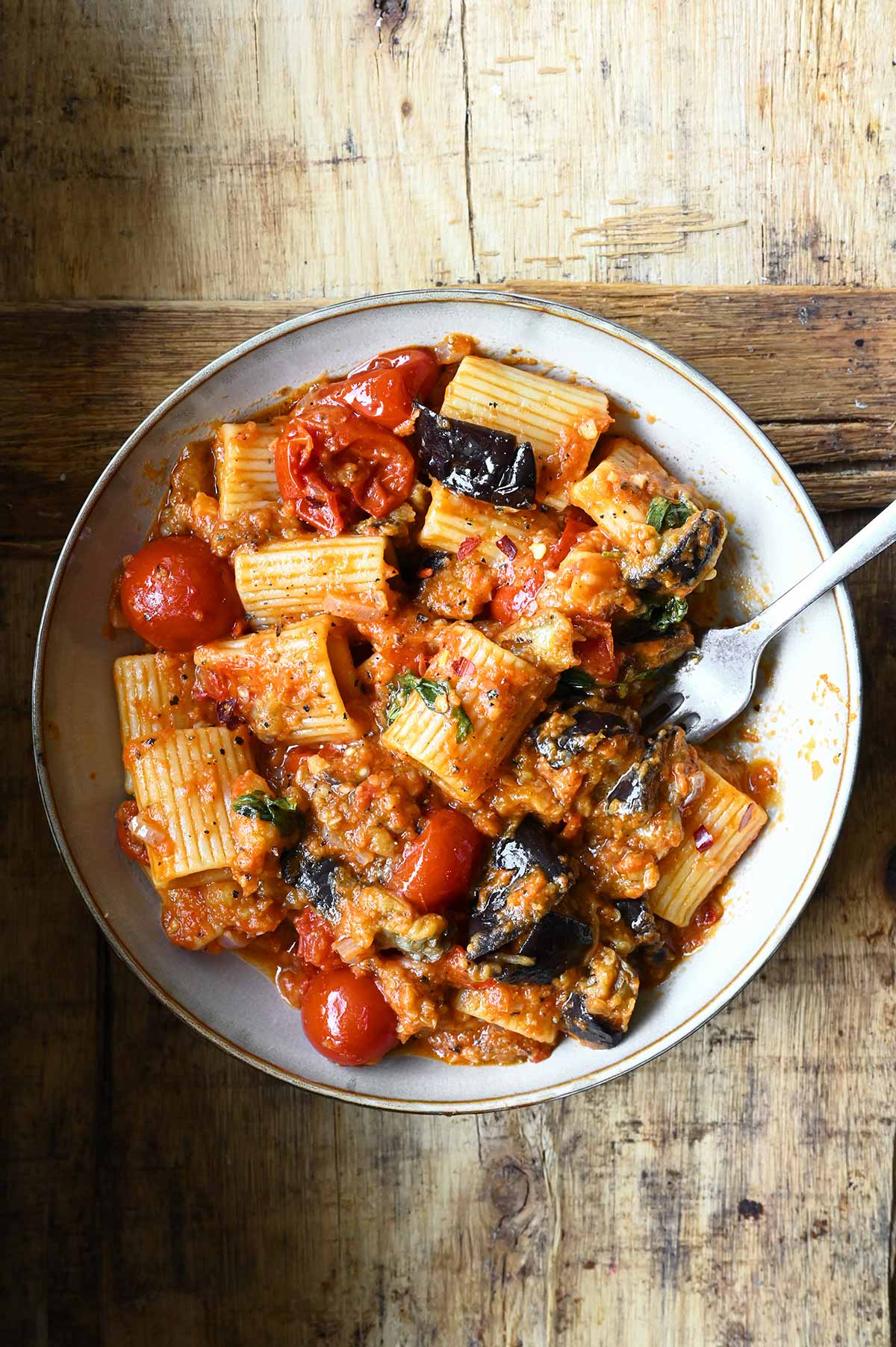 And guess what? We make this classic even better by adding more eggplant and cutting down on the pasta. That means you get more of that delicious taste without feeling too full afterwards. It's all about finding that saucy balance.
While eggplant takes the spotlight, tomatoes play a crucial role. My take on Pasta alla Norma recipe uses puréed tomatoes and canned cherry tomatoes. This makes the sauce even more amazing and brings out the natural sweetness of those cherry tomatoes. The result? Pasta that's coated in sauce, plump cherry tomatoes bursting with flavor, and chunks of roasted eggplant that add a smoky kick. And if you've got plenty of tomatoes from your garden, go ahead and use them to make it extra special!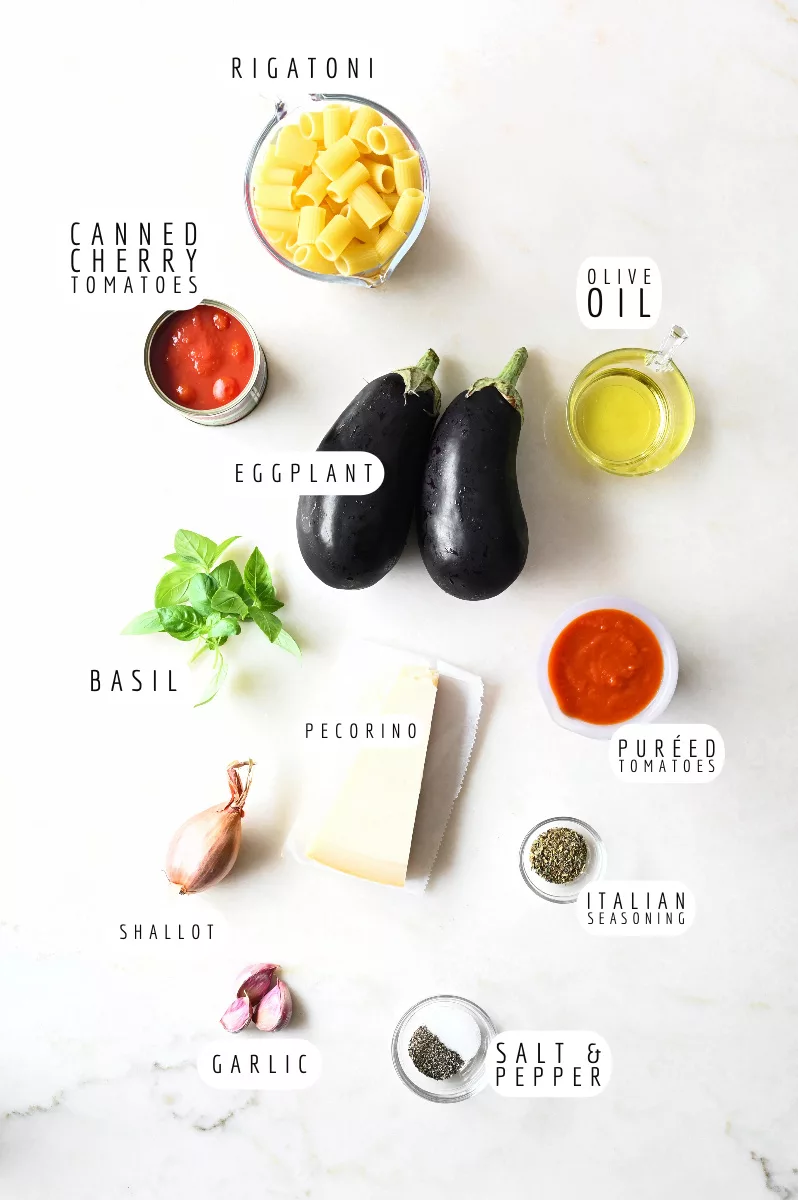 Ingredients, Tips and Substitutions
Pasta: Choose any type you like, except really small ones like risoni or tiny shapes. However, all sorts of pastas, both short and long, work. Personally, I prefer pasta that grips the sauce well, like rigatoni, fusili, or penne are my top picks, as they hold onto the thick, rich sauce.
Eggplant: Opt for medium or large eggplants with a firm, glossy skin and no bruises. They should feel weighty for their size. No need to salt the eggplant before roasting, nowadays eggplants don't require it.
Canned Cherry Tomatoes: These amplify the tomato sauce's flavor. Cherry tomatoes are naturally sweet, giving the sauce a nuanced taste. They're often packed in their own juices, which keeps their flavor intact. This differs from canned diced tomatoes, which are usually packed in water or tomato juice.
Puréed Tomatoes: Thick and smooth, perfect for speedy pasta sauces. Regular crushed tomatoes work too, but you'll need to simmer them for about 20 minutes, until they break down and create a thick sauce.
Shallot and Garlic: The flavor foundation, can't do without them.
Olive Oil: Any good-quality extra-virgin olive oil works.
Pecorino: A tasty cheese that complements the other ingredients. Pecorino is an Italian cheese made from sheep's milk, with a distinctive salty, tangy flavor. It adds depth, reflecting Sicilian cooking traditions. If unavailable, go for ricotta salata or Parmesan.
Basil: A vital ingredient that adds a burst of freshness to the final dish.
Seasoning: Basic spices like salt, black pepper, and Italian seasoning or dried oregano if you prefer.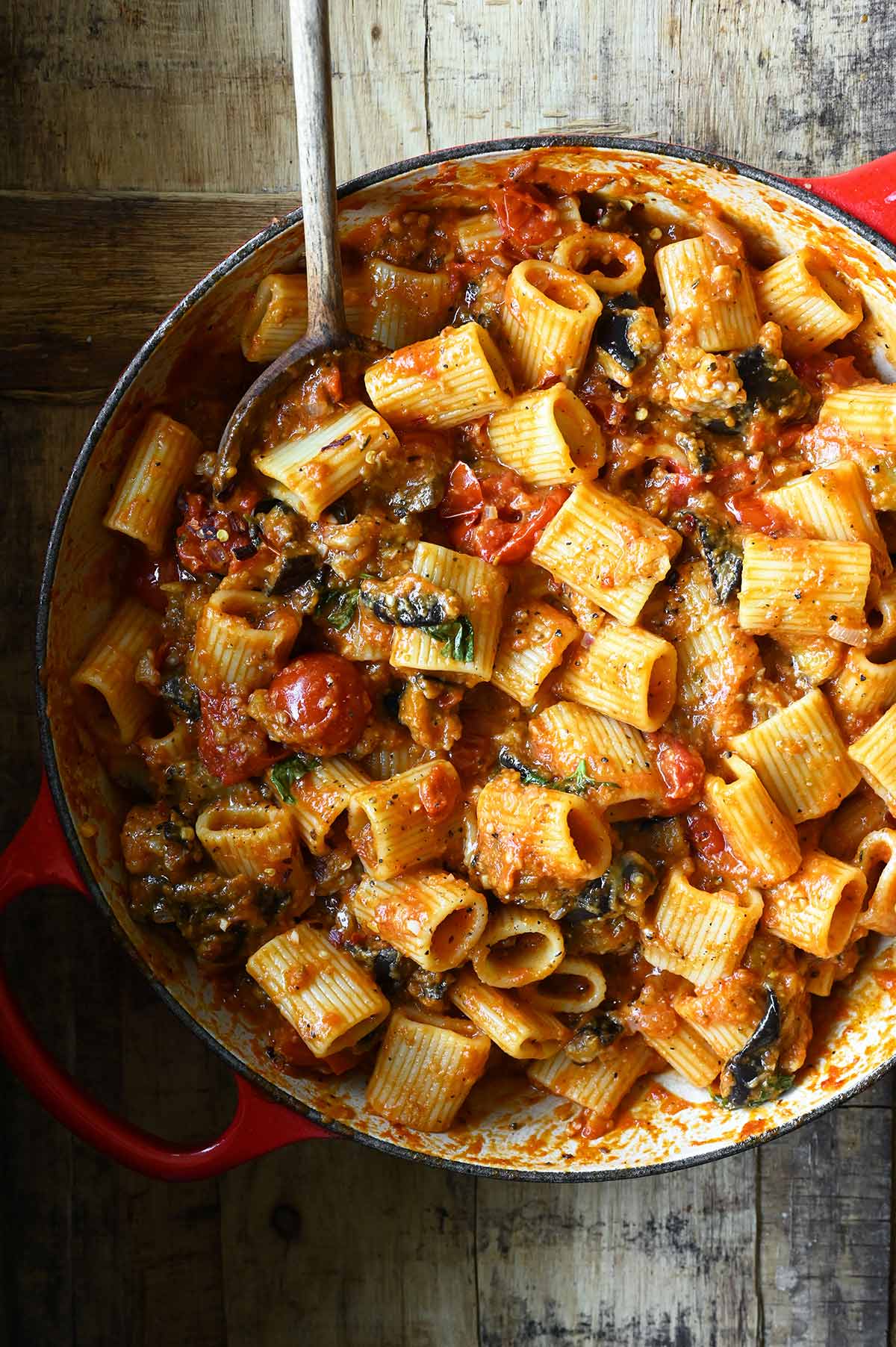 Recipe Notes
Serve it up with a fresh side salad! An arugula salad drizzled with balsamic dressing or a classic Caesar salad.
For an Italian feast, pair it with crusty focaccia or garlic bread on the side.
Go dairy-free: Use vegan Parmesan.
Liven it up with a splash of dry white wine!
Prepare a batch of this delectable sauce and stash it in the freezer for future cravings.
Get ahead of the game: You can roast the eggplant 1 day before.
Storing leftovers: Pop any extras into an airtight container and refrigerate for up to 4 days.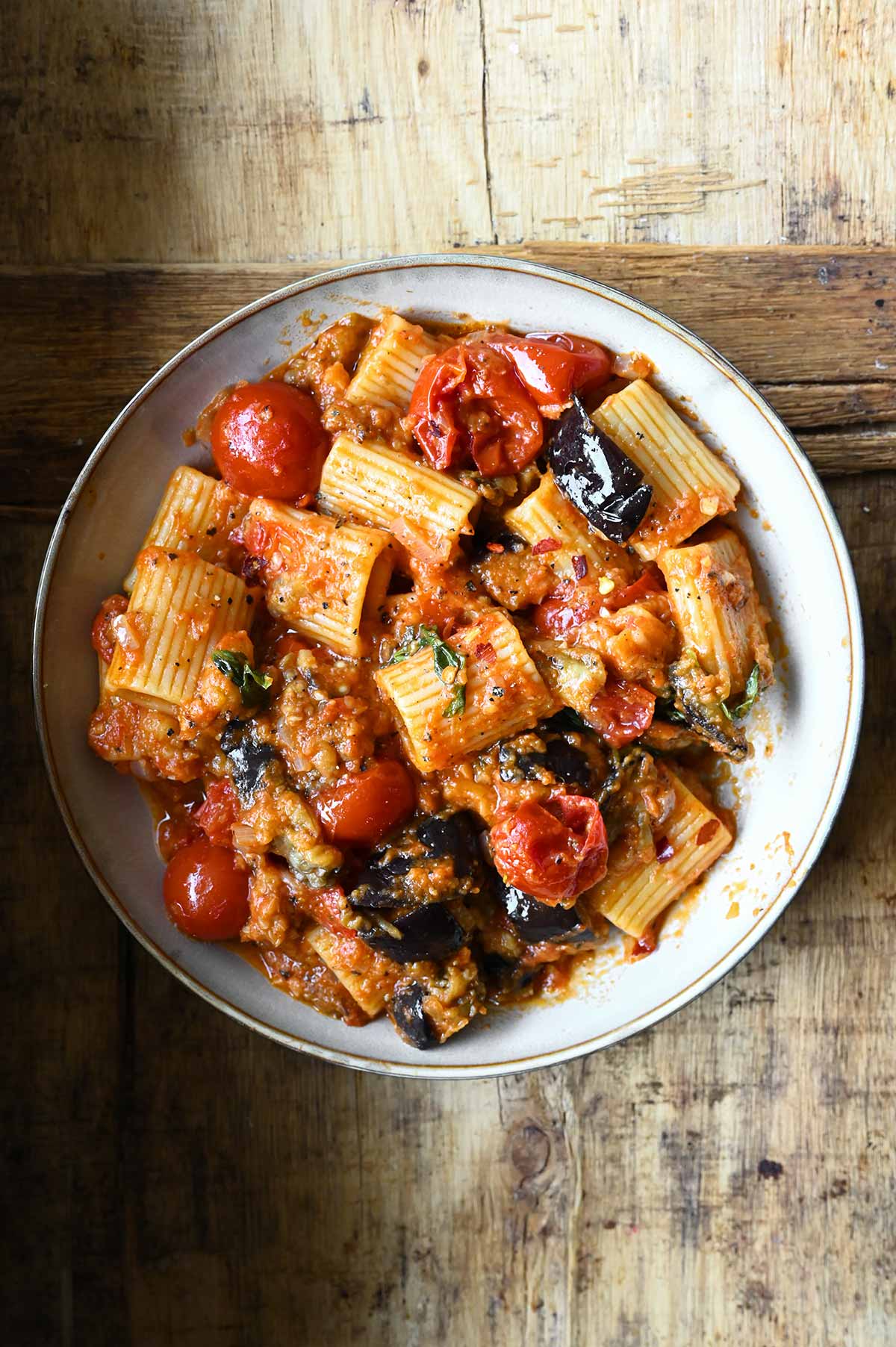 Try These Next
Cooking Video
Yield: serves 4
Pasta alla Norma
Ingredients
11 ounces/300 g dry rigatoni
2 medium or large eggplants, cut into 1 inch/2,5 cm cubes
¼ cup olive oil + 1 tbsp
1 ½ tsp salt, divided
1 tsp each: black pepper, Italian seasoning
1 shallot, finely chopped
3 garlic cloves, minced
1 can (14 oz/400 ml) cherry tomatoes
1 cup/250 ml puréed tomatoes
1 cup/100 g grated Pecorino
15-20 basil leaves
chili flakes, for serving
Instructions
Preheat the oven to 450°F/240°C.
Cut the eggplant into 1 inch/2,5 cm cubes. Place on a baking sheet layered with parchment paper and combine with ¼ cup olive oil, 1 tsp salt, ½ tsp black pepper and ½ tsp Italian seasoning. Spread out in a single layer and transfer to the oven. Roast for 30 minutes until buttery tender.
In the meantime, finely chop the shallot, mince the garlic and grate the Pecorino cheese.
Boil rigatoni until al dente in salted water. Drain, reserving ½ cup of the cooking water.
Heat oil over medium low in a large skillet or pan. Add shallot and garlic, sauté for 3 minutes until soft and fragrant. Stir in the remaining salt, pepper and Italian seasoning. Pour in canned cherry tomatoes and puréed tomatoes. Simmer for at least 10 minutes or until the eggplant or pasta is ready.
Stir in Pecorino and add the roasted eggplant chunks. Toss with pasta and basil leaves. Pour in a splash of cooking water, stir until glossy. Taste and adjust salt.
Finish off with chili flakes and freshly ground black pepper. Serve and enjoy!
Notes
Calories Per Serving: 361 kcal
Nutritional information is only an estimate. The accuracy of the nutritional information for any recipe on this site is not guaranteed.

//= __('Print recipe (no photos)', 'servingdumplings' );?> //= __('Print recipe (with photos)', 'servingdumplings' );?>