Pasta alla boscaiola. Intensely comforting and super easy to make. Imagine al dente rigatoni, lots of sautéed mushrooms and pancetta in a creamy herb-loaded tomato sauce. So delicious! This budget-friendly pasta dish is a real crowd pleaser.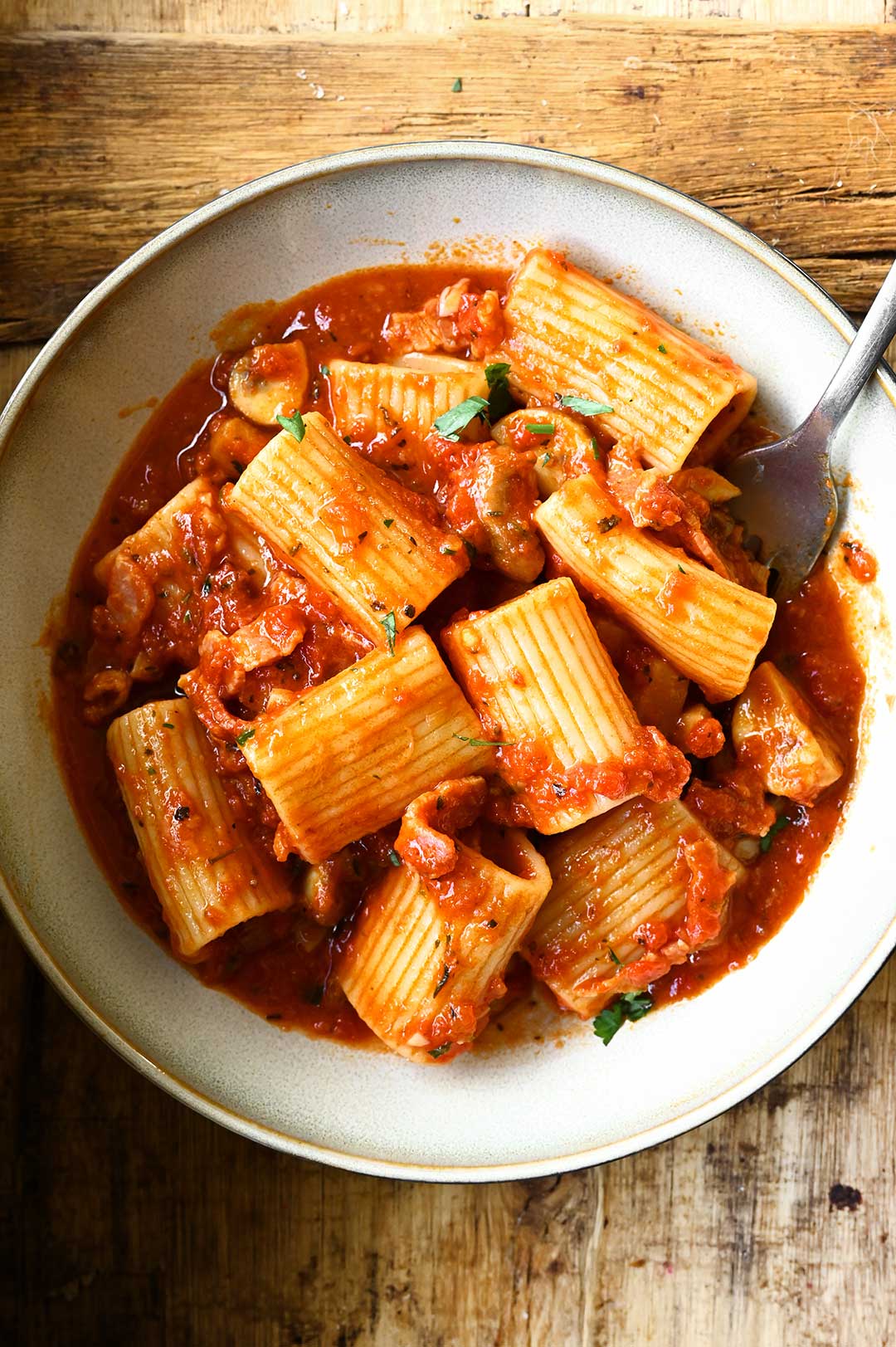 This dish is rich, indulgent and packed with earthy mushroom and pancetta flavor. Of course, as with all things Italian, there are countless variations on ways to prepare pasta alla boscaiola. Some skip the cream, parmesan or the tomatoes, or both. However, this recipe has become my personal favorite.
Make this recipe your own! Except for the mushrooms, the rest of the ingredients are changeable. Personally, I like it to be more tomatoey, but you can leave the crushed tomatoes out. Swap pancetta for sausage or just stick to the mushrooms. Parmesan, however, is non-negotiable.
Let me guide you through the recipe with this step-by-step VIDEO.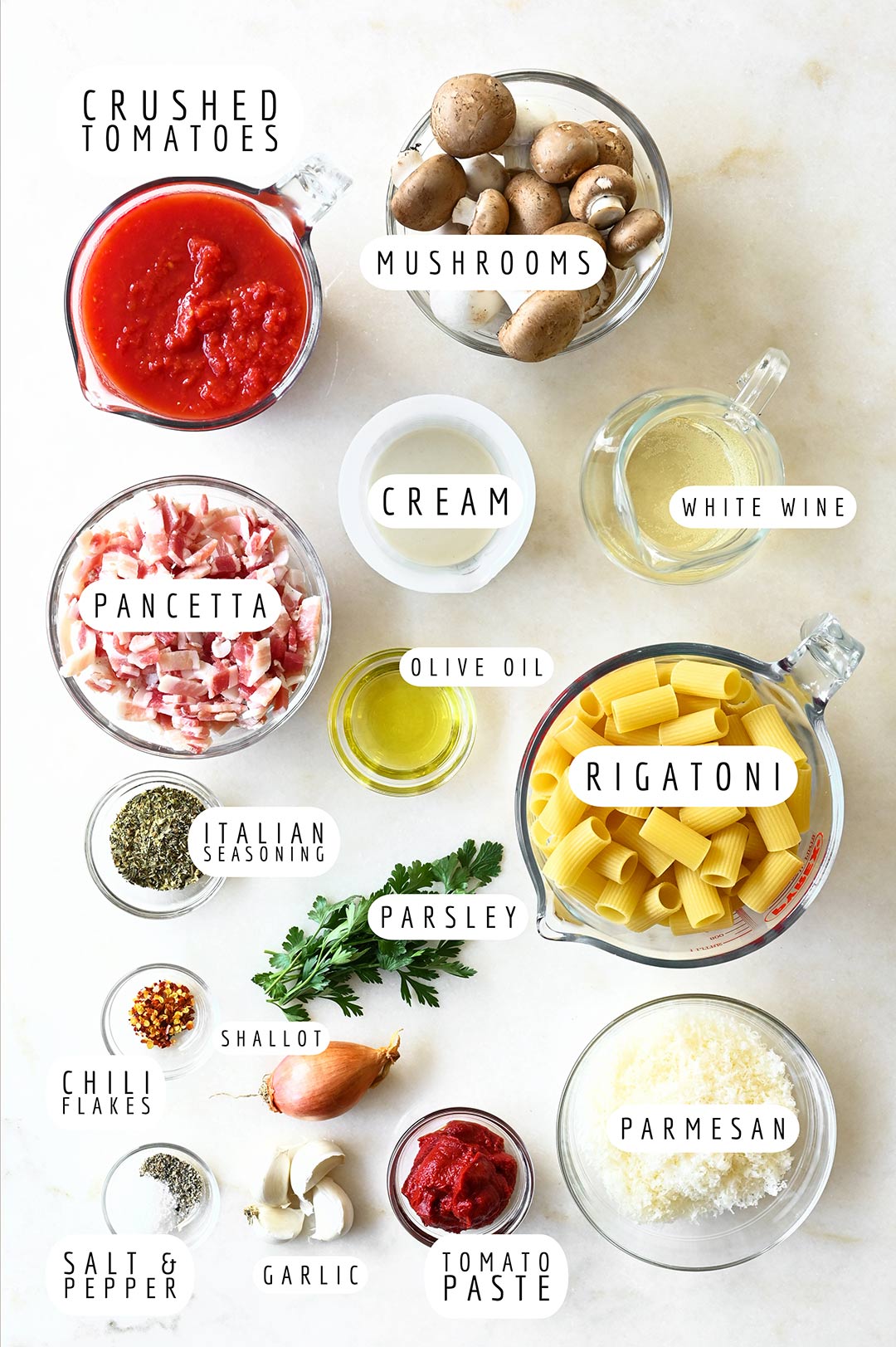 Pasta alla Boscaiola Ingredients
Let's talk ingredients. To make this easy pasta recipe, you will need:
Pasta: I used rigatoni, but any pasta shape that you have on hand works in this recipe
Mushrooms: they are the base of the sauce, you can use a mix of cremini mushrooms and brown mushrooms, but oysters, shiitakes or wild mushrooms work great here as well. For a much more intense flavor, add dried porcini mushrooms
Pancetta: it adds a nice flavor, but you could use smoked bacon
Seasonings: we add salt, freshly cracked black pepper, chili flakes and Italian seasoning
Garlic and Shallot: for fragrant aromas
White wine: any kind of wine you have open will work just fine, white or red, though I like white because it creates a brighter flavor. You can use Chardonnay or Pinot Grigio. You can also swap wine for chicken broth
Tomatoes: we use a combination of crushed tomatoes and tomato paste to form the base for our tomato sauce
Heavy Cream: we finish the sauce with a pour of heavy cream, but you can use half and half or soy cream
Parmesan: finally, we stir in a generous dose of Parmesan for a salty flavor. I also highly recommend sprinkling lots of Parmesan on each serving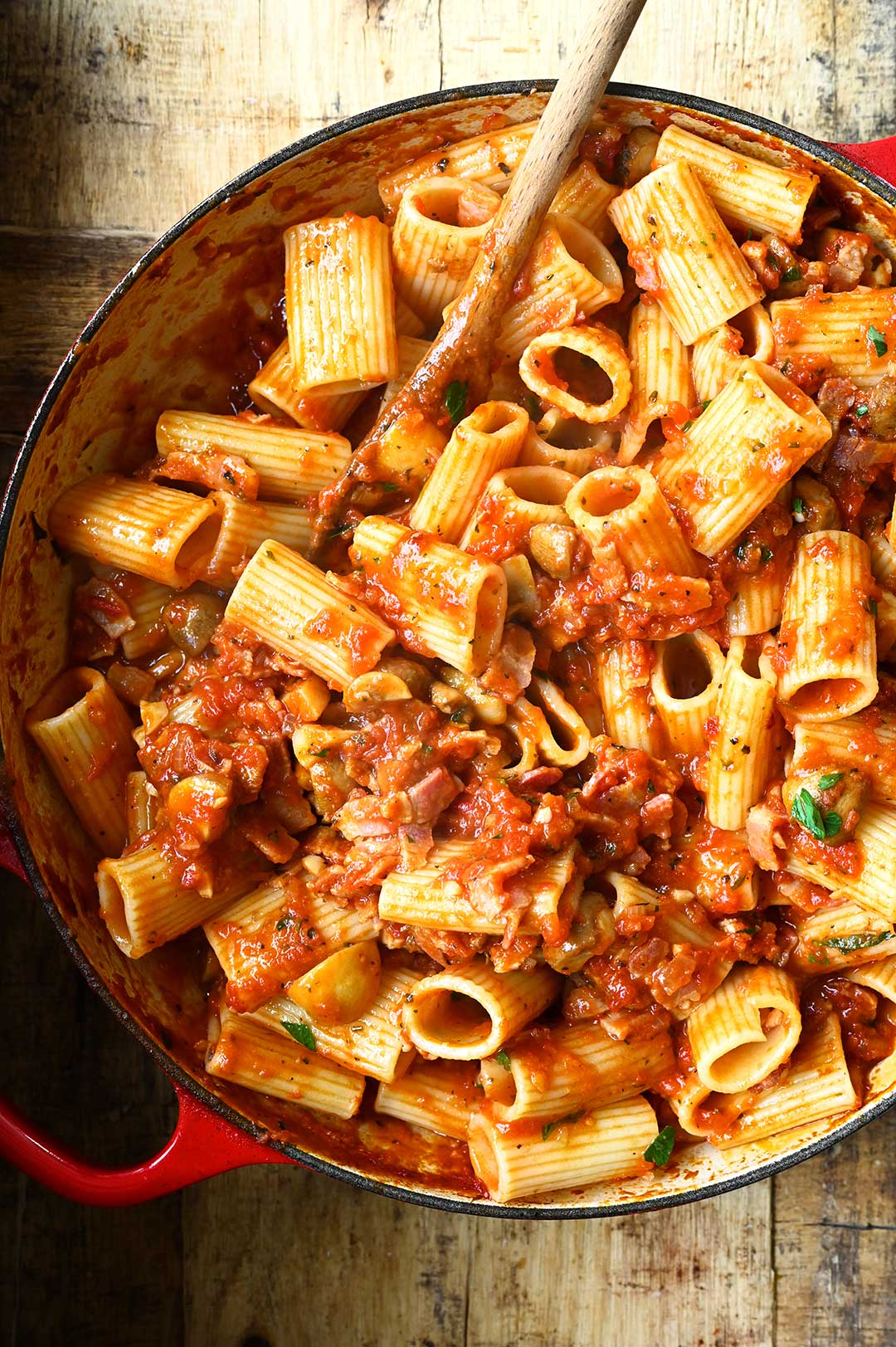 RECIPE NOTES
the key to prepare delicious mushrooms is to use excess grease from the pancetta and cook the mushrooms long enough until they release their moisture and are nicely browned
make it vegetarian and omit the pancetta
use Italian sausage or smoked bacon instead of pancetta
omit the white wine: if you prefer to cook without alcohol, just add chicken or vegetable broth
add in some extra veggies: many recipes use peas or olives, but sun-dried tomatoes or roasted peppers are a nice addition
make your own Italian seasoning mixture: 1 tbsp dried basil + dried oregano, ½ tbsp dried rosemary + dried thyme
you can make the sauce beforehand, reheat while you cook the pasta when you're ready to eat
how to store? in an airtight container in the fridge for up to 3 days
delicious when served with a leafy salad drizzled with caesar dressing or some garlic bread
More Pasta Recipes to Try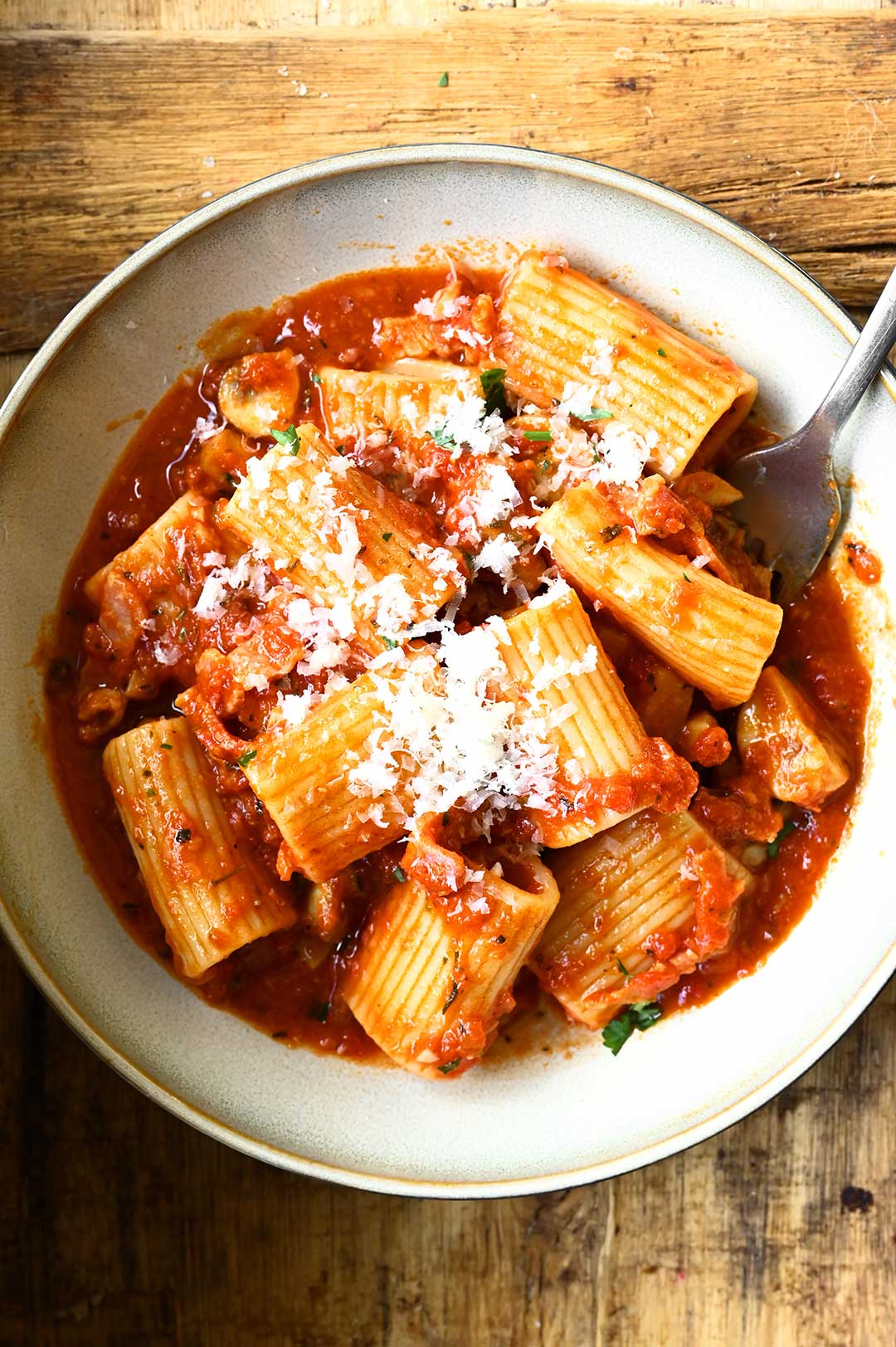 COOKING VIDEO
Yield: serves 4
Pasta alla Boscaiola
Ingredients
14 ounces/400 g rigatoni
1 tbsp olive oil
8.5 ounces/240 g pancetta
10 ounces/300 g mushrooms
4 garlic cloves, minced
1 shallot, finely chopped
2 tbsp Italian seasoning
½ tsp each: salt and chili flakes
1 tsp black pepepr
½ cup/120 ml white wine
3 tbsp tomato paste
2 ½ cups/600 ml crushed tomatoes
2 tbsp chopped parsely
¾ cup/200 ml heavy cream
1 ounce/30 g grated Parmesan, more for serving
Instructions
Get all the prep done before you start cooking. Roughly chop the mushrooms, mince the garlic, finely chop the shallot and parsley.
Cook rigatoni 1 minute before al dente in salted water.
Heat oil in a large skillet over medium, add pancetta and cook until crispy and golden brown. Remove from skillet. Remove also all excess grease, but don't discard, set aside.
Add mushrooms, cook until they released all of their moisture. Add 2 tbsp excess grease, more if needed. Cook until golden brown. Add onion and garlic, cook until fragrant, about 2 minutes. Add Italian seasoning, salt, pepper and chili flakes. Deglaze with white wine. Simmer for 2 minutes.
Stir in tomato paste. Add crushed tomatoes and allow to simmer for 10 minutes.
Add parsley, cream and Parmesan. Stir to combine. Next add pancetta and rigatoni. Toss well and simmer for 1 minute.
Serve topped with freshly grated parmesan and parsley for freshness. Enjoy!
Notes
Calories Per Serving: 712 kcal
Nutritional information is only an estimate. The accuracy of the nutritional information for any recipe on this site is not guaranteed.

//= __('Print recipe (no photos)', 'servingdumplings' );?> //= __('Print recipe (with photos)', 'servingdumplings' );?>