Parmesan tagliatelle with buttered mushrooms. A fast and easy recipe for a delicious pasta dish. Imagine tagliatelle tossed with Parmesan and sautéed mushrooms in a garlic butter sauce. This one will definitely fulfill your pasta night expectations.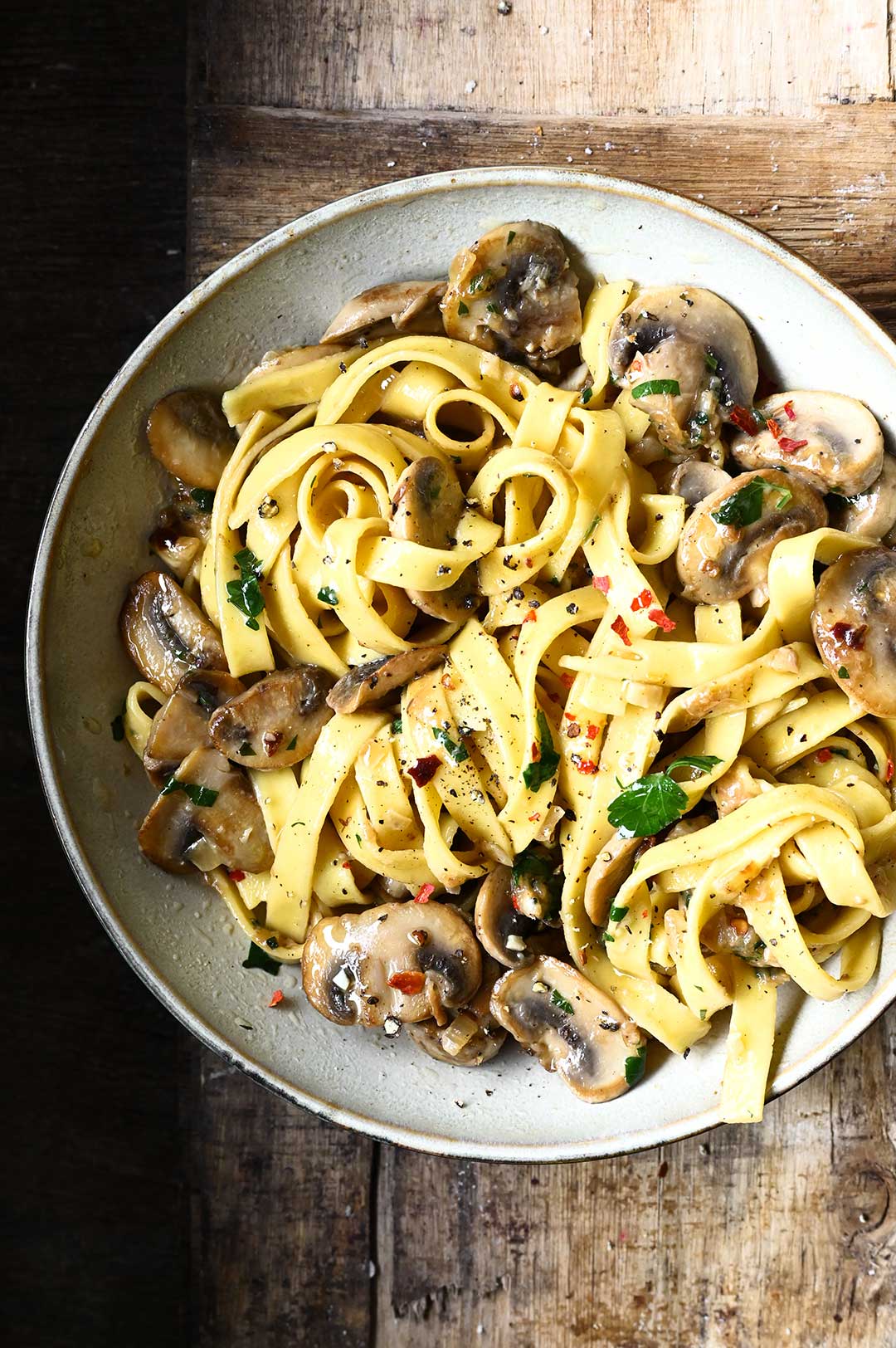 The mushrooms are sautéed in a mix of olive oil, butter and lots of garlic. The nutty, salty Parmesan adds the savory factor and makes this pasta taste luxurious. Oh, plus there's the added bonus that this dish comes together in just about 20 minutes. A knock-your-socks-off situation for your taste buds.
This pasta dish is rich, savory and irresistible. It's one of those dishes that'll make you feel like a smart cook.
These flavors make your pasta deeply satisfying, yet the recipe is super easy to throw together. Beyond doubt a recipe you'll turn to again and again.
Let me guide you through the recipe with this step-by-step VIDEO.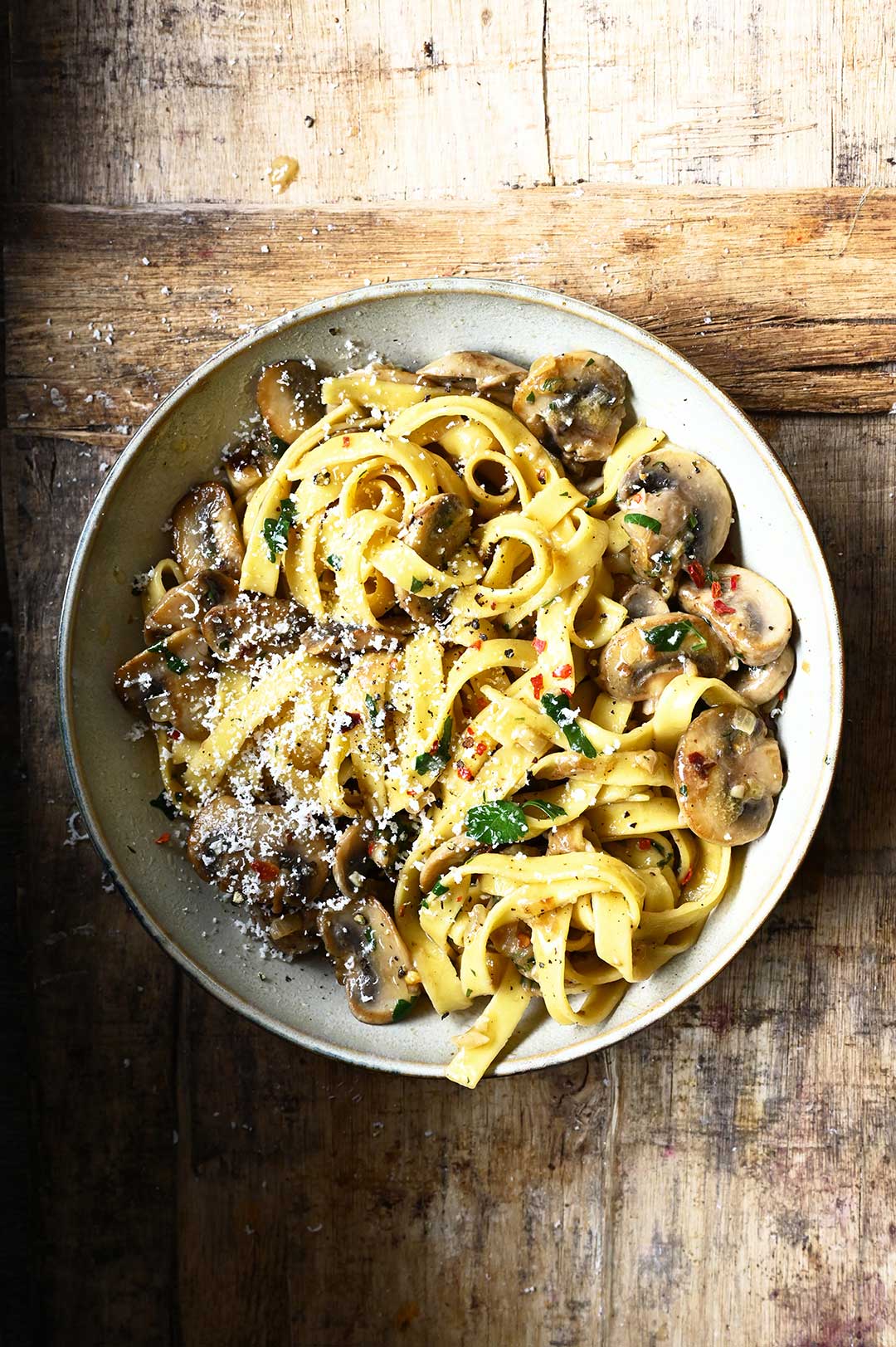 RECIPE NOTES
you can opt for a mix of different types of mushrooms, such as cremini, shiitake, oyster, chanterelle…
swap Parmesan cheese for Pecorino Romano cheese
try linguine, spaghetti or fettuccine instead of tagliatelle
add bacon or pancetta
serve with a big side salad drizzled with balsamic vinegar and olive oil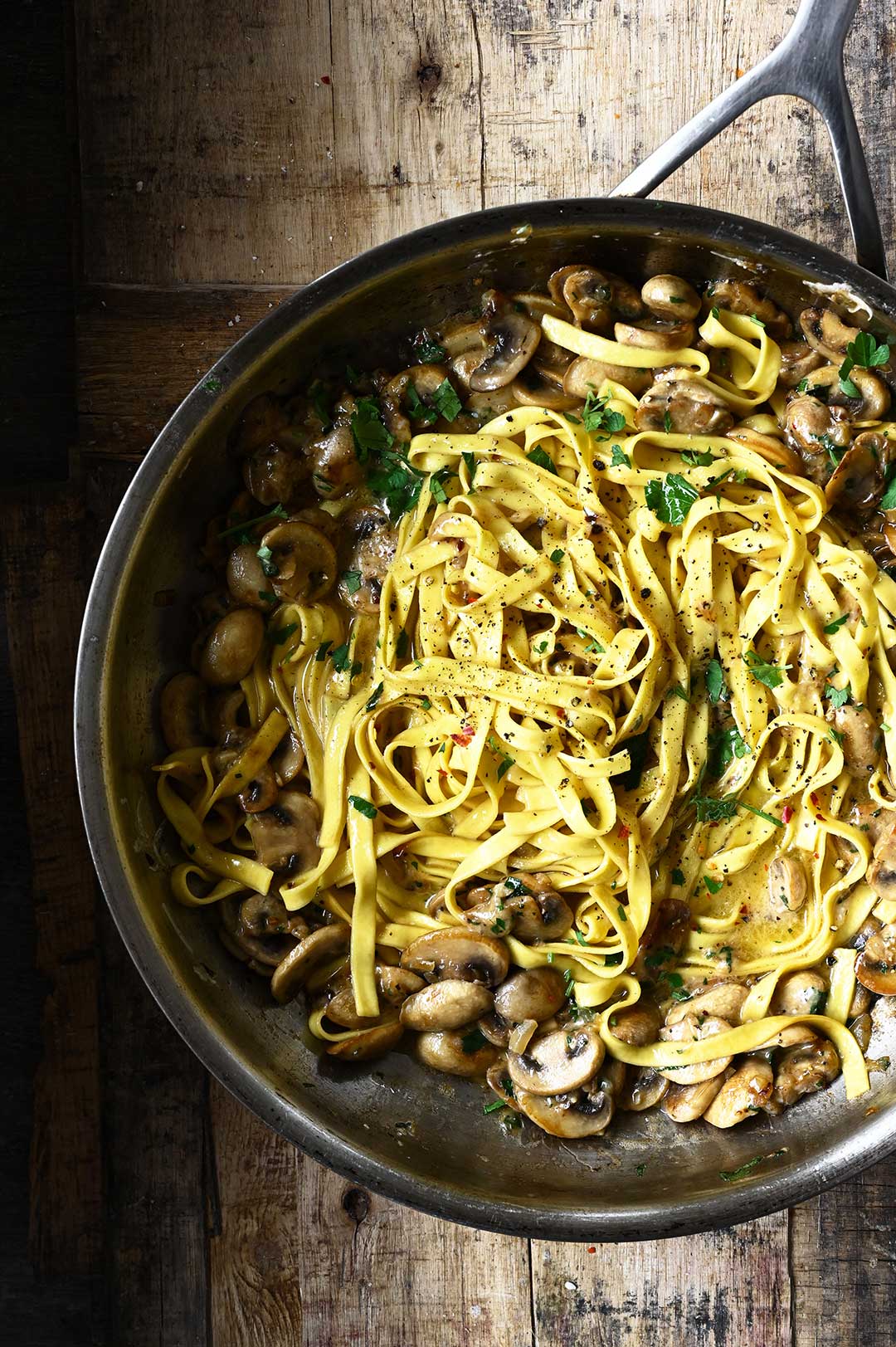 Try These Next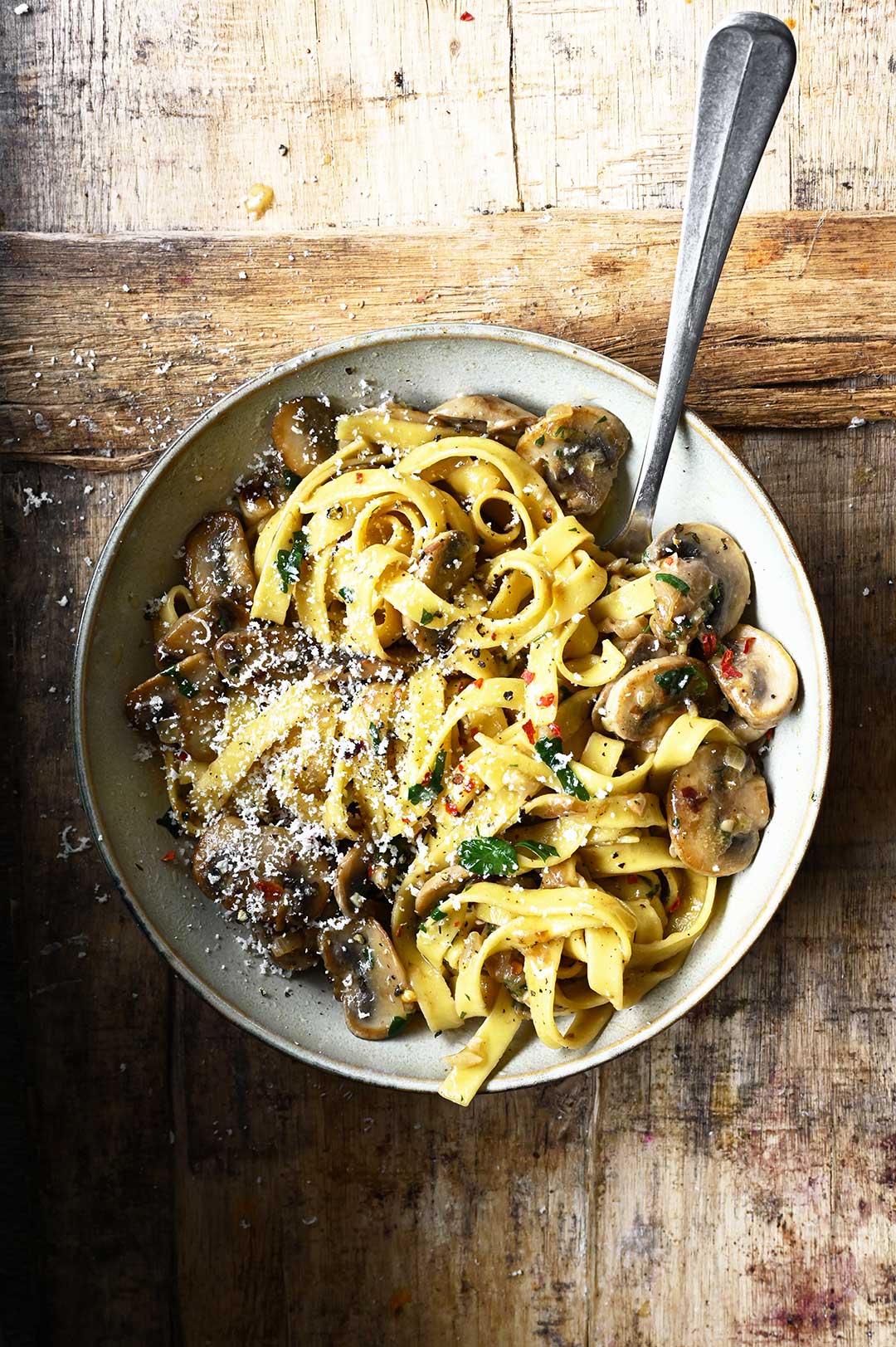 Recipe Video
Yield: serves 2
Parmesan Tagliatelle with Buttered Mushrooms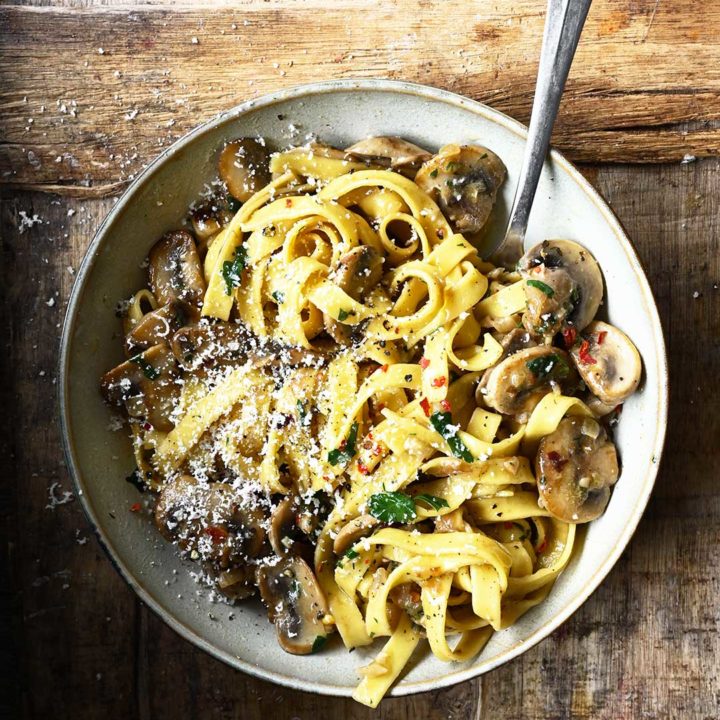 Prep Time 5 minutes

Cook Time 15 minutes

Total Time 20 minutes
Ingredients
200 g/7 oz tagliatelle
400 g/14 oz cremini mushrooms, cut into slices
90 g/3 oz grated Parmesan, more for serving
2 tbsp butter
2 tbsp olive oil
3 tbsp chopped parsley
1 small onion, finely chopped
4 garlic cloves, minced
1 /2 tsp red pepper flakes, more for serving
2 tsp black pepper
1 tsp salt
Instructions
Get all the prep done before you start cooking: mince the garlic and finely chop the onion. Thinly slice the cremini mushrooms and chop the parsley.
Cook the pasta in a large pot of generously salted boiling water, until al dente. Drain, reserving ½ cup of the cooking water.
In a large skillet, heat 1 tbsp olive oil over high. Add mushrooms, cook until they start to release moisture, for 4-5 minutes, stirring occasionally. Add 1 tbsp butter, stir until it melts and cook until mushrooms are golden brown and crispy. Lower the heat, add garlic and onion, cook for 3 minutes. Season with salt and pepper. Stir in the parsley and remove the mushrooms from skillet.
In the same skillet, heat 1 tbsp olive oil over medium-low. Add pepper and red pepper flakes. Cook, stirring, until toasted, about 1 minute. Add the remaining butter and stir until melted.
Add cooked tagliatelle and ¼ cup reserved cooking water to skillet and toss to combine. Turn off the heat and add Parmesan. Stir and toss until melted and the sauce coats the pasta. Add more pasta water if the pasta looks too dry. Add mushrooms and stir until combined. Adjust salt to your own taste.
Transfer pasta to bowls and serve immediately. Serve with grated Parmesan and extra red pepper flakes. Enjoy!
Notes
Calories Per Serving: 519 kcal
Nutritional information is only an estimate. The accuracy of the nutritional information for any recipe on this site is not guaranteed.

DOWNLOAD PRINTABLE RECIPE PDF