Parmesan penne with spinach. A creamy, delicate and easy to make pasta with spinach and a carbonara-style sauce. It's garlic kissed with lots of black pepper and a splash of lemon juice to add some brightness. The result is a luscious pasta dish with sautéed spinach and a smooth egg-sauce that holds it all together. The best part? It's ready in about 15 minutes.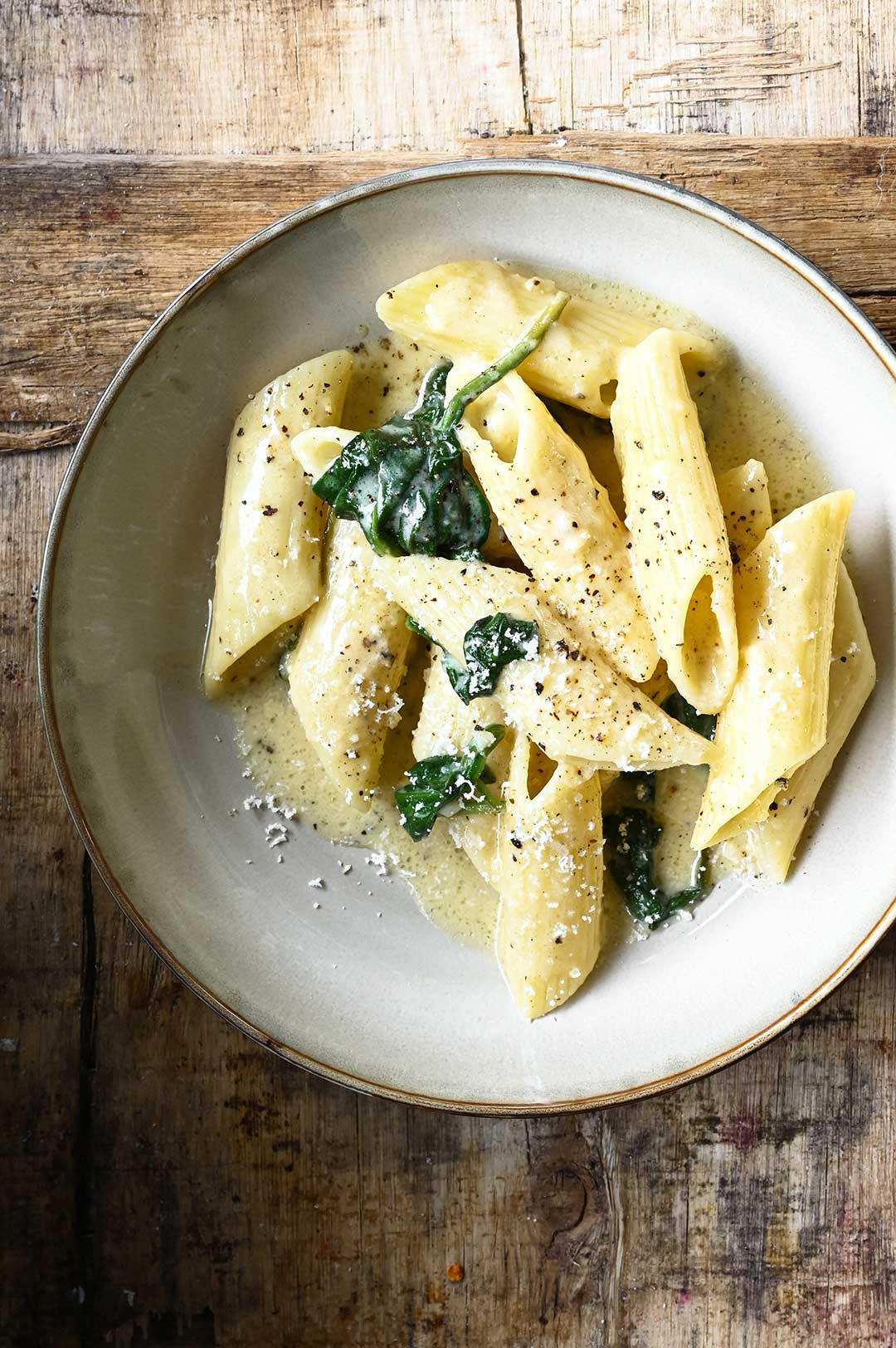 Remember: the main goal is creaminess, and this is how we do it. First, we whisk the eggs with parmesan in a bowl and set this aside. We cook the pasta, and in the meantime, we sauté the spinach together with garlic and a splash of lemon juice. Add pasta and the egg-Parmesan mixture along with some cooking water, toss and we're ready to serve. Add a simple salad on the side for a delicious meal.
Let me guide you through the recipe with this step-by-step VIDEO.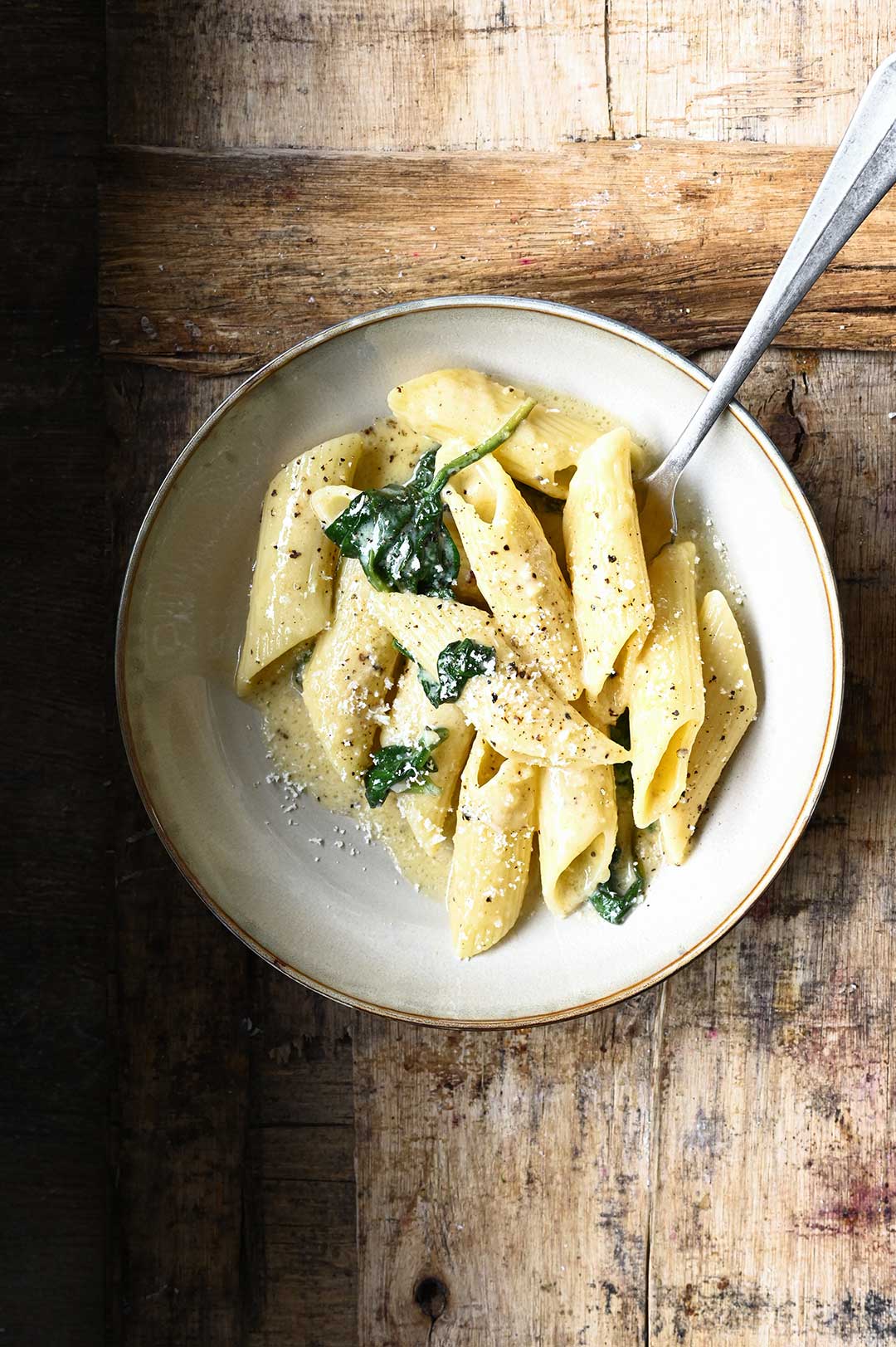 More pasta, please!
Recipe Video
Parmesan Penne with Spinach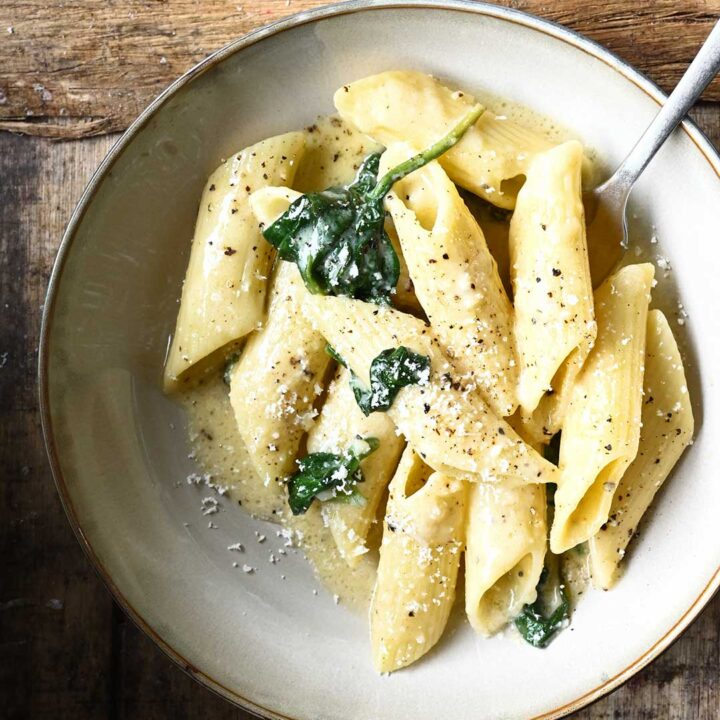 Ingredients
200 g/7 oz penne
100 g/3.5 oz spinach
2 tbsp/30 g salted butter
2 garlic cloves, minced
2 tbsp lemon juice
2 eggs + 2 egg yolks, at room temperature
80 g/2.8 oz grated Parmesan
2 tsp salt
2 tsp black pepper
1/2 tsp smoked paprika
1/4 tsp grated nutmeg
grated Parmesan, for serving
Instructions
Cook the pasta in a large pot of boiling, generously salted water. Drain, reserving 1 cup of the cooking water.
In a bowl, whisk the egg with the egg yolks and Parmesan, set aside.
In a large skillet, melt the butter over low heat. Add garlic, cook for 2 minutes until soft and fragrant, stirring occasionally. Add spinach, cook until wilted, about 1-2 minutes. Season with salt, pepper, paprika and nutmeg.
Add lemon juice and stir. Toss with pasta, then remove from heat.
Add 1/2 cup pasta cooking water to the egg mixture and stir to loosen the eggs. Now add the egg mixture to the pasta, stir and add more pasta water if needed to create a creamy sauce, toss for about 2 minutes. Taste, and adjust seasoning for salt and pepper.
Serve immediately, top with grated Parmesan and some extra black pepper. Enjoy!
Notes
Calories Per Serving: 452 kcal
Nutritional information is only an estimate. The accuracy of the nutritional information for any recipe on this site is not guaranteed.