This one-pan creamy salmon is as simple as it is satisfying. An ultra creamy mascarpone sauce made with copious amounts of garlic, sun-dried tomatoes and roasted bell peppers, coupled with pan-seared salmon and jazzed up with parmesan, lemon and basil. It's tasty, especially with a sprinkle of almonds and chives on top. Super easy, yet seriously delicious. Best served with some type of crusty bread, because that sauce is to die for.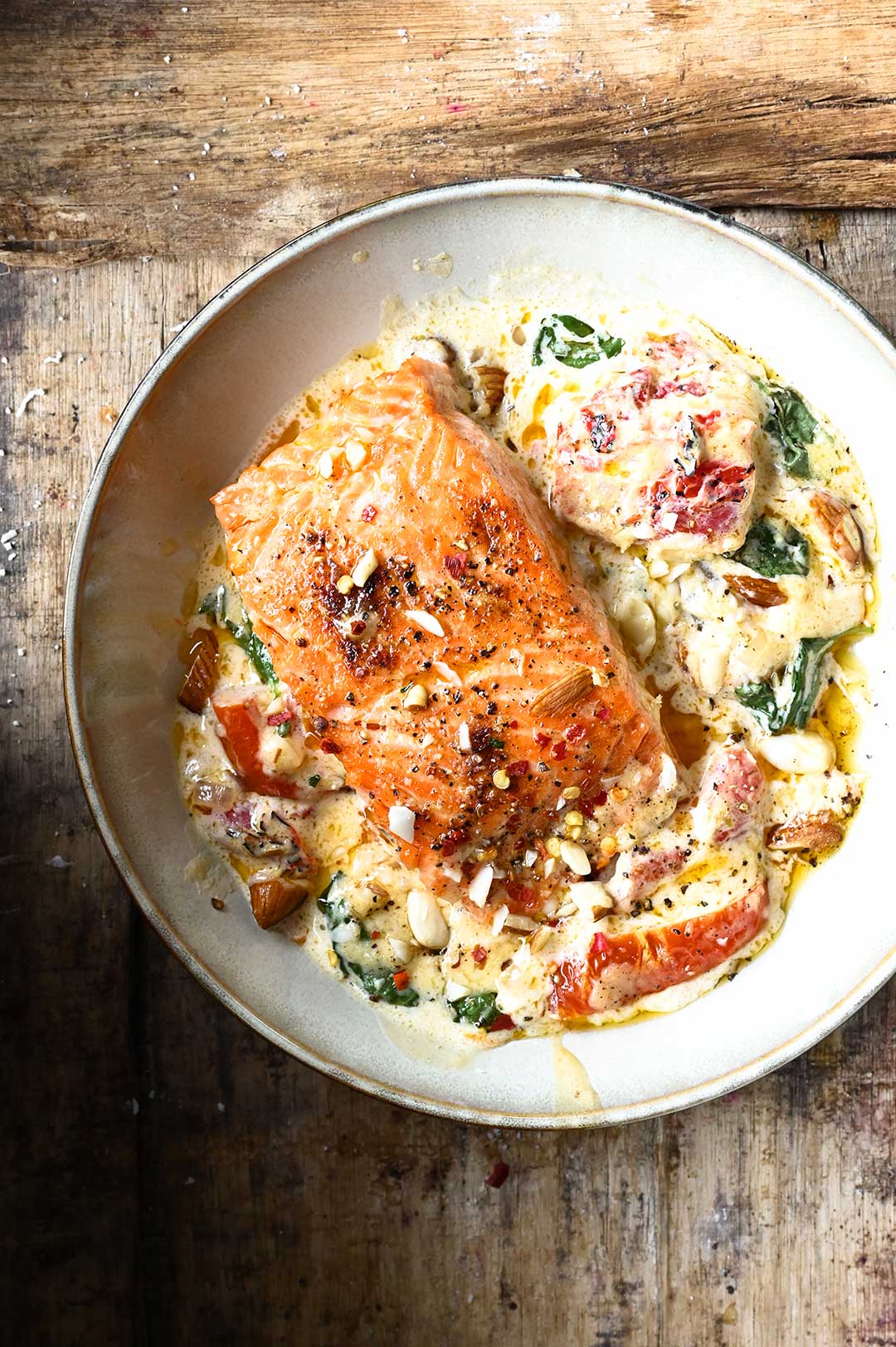 The sauce is full of wonderful flavors and the salmon is perfectly tender and flaky. The whole dish is anything but boring thanks to the mix of textures you'll get in every bite. It's perfect as an easy weeknight meal, but special enough for a dinner date.
The best part is that the whole dish comes together in about 20 minutes from start to finish and only one pan is needed. First we sear the salmon until crisp, make the sauce, then nestle the fillets back into the skillet and simmer briefly just until the flavors melt together. The result is mouthwatering.
Let me guide you through the recipe with this step-by-step VIDEO.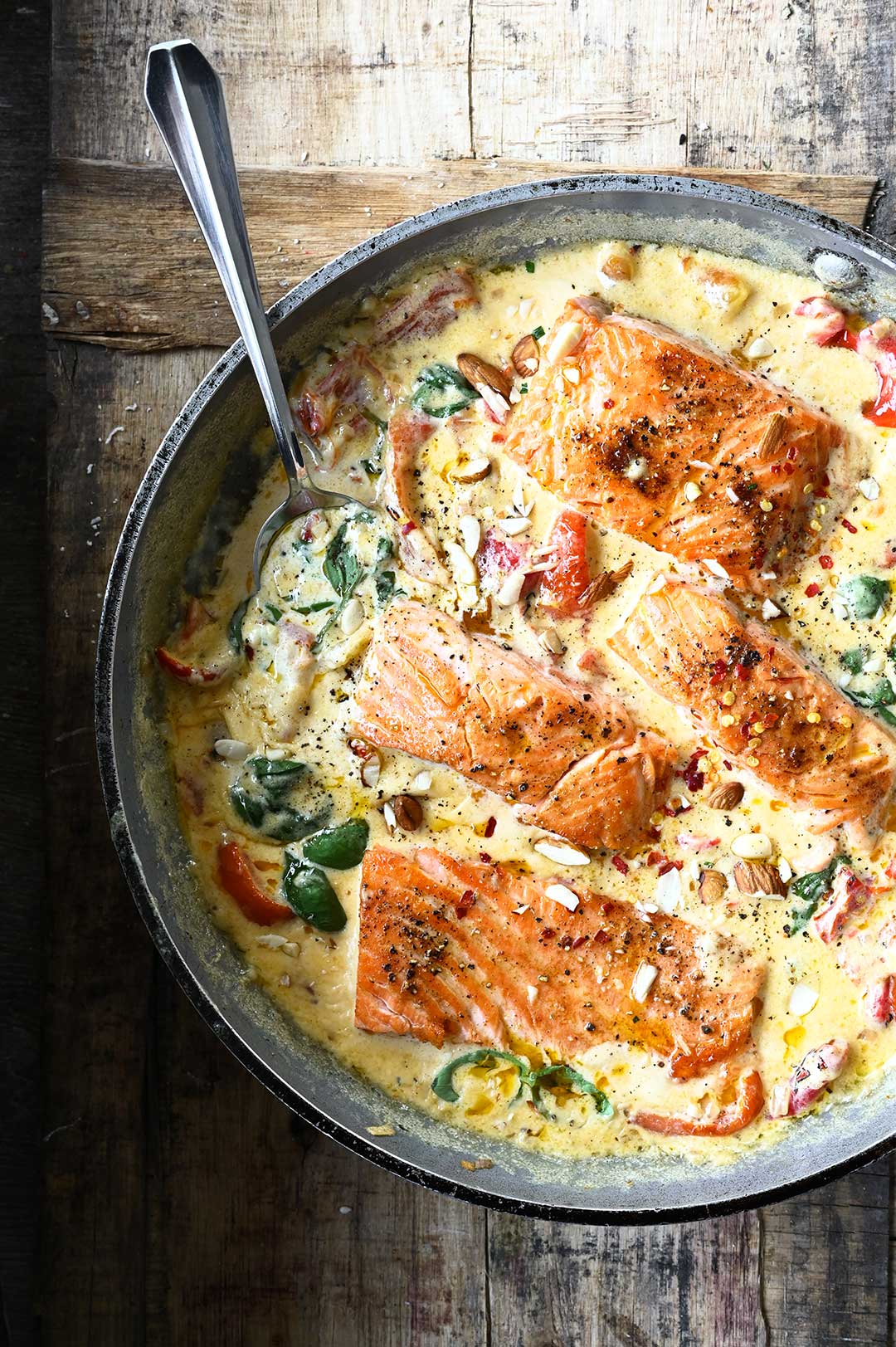 RECIPE NOTES
you can also use white fish for this recipe. Just adjust the frying time, depending on the thickness of the fish. Some other fish you can substitute with are pollack, hake, halibut or cod
add broccoli or spinach
serve with any of your favorite veggies or a simple side salad
over pasta, zoodles, rice, orzo or with some crusty bread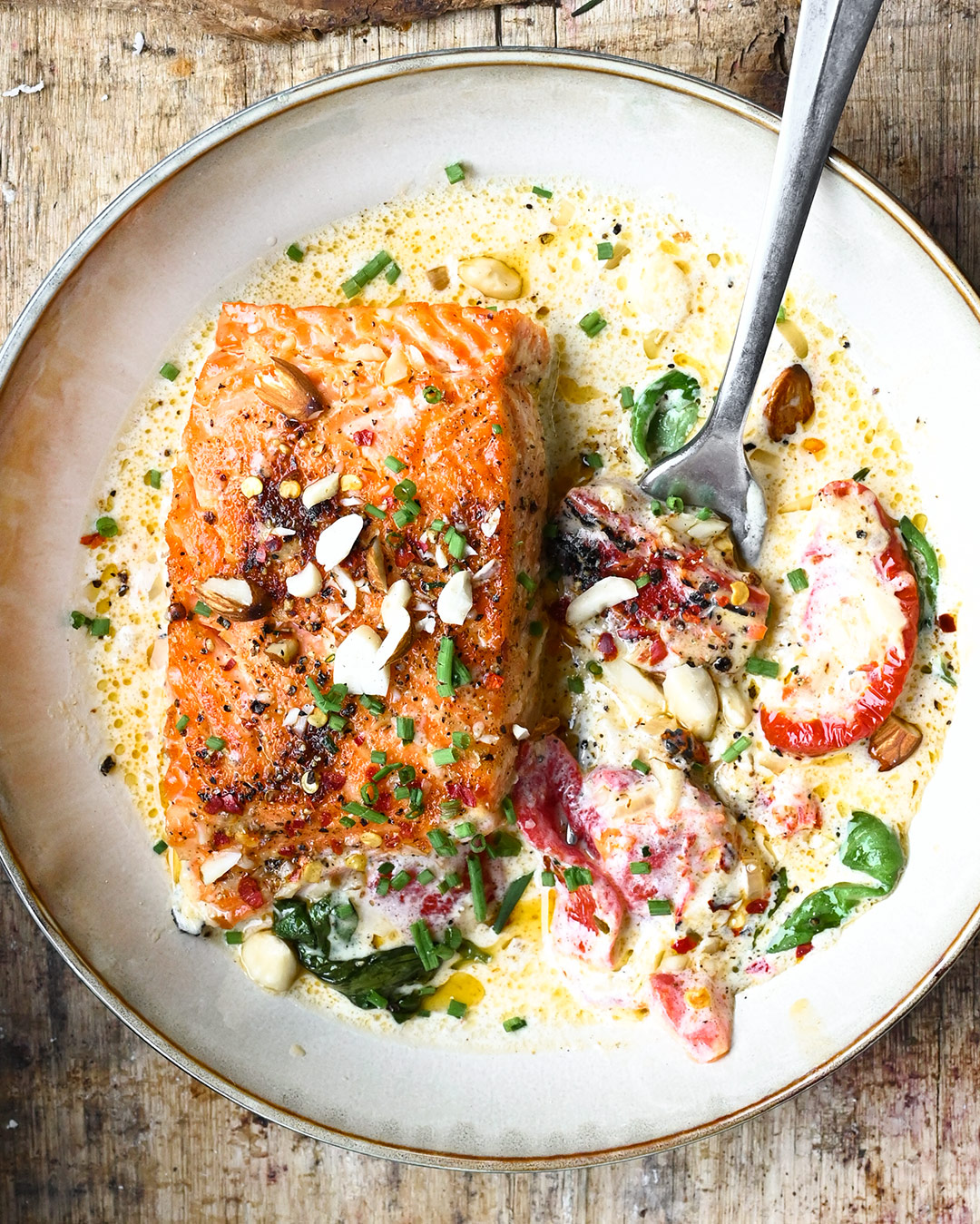 More salmon, please!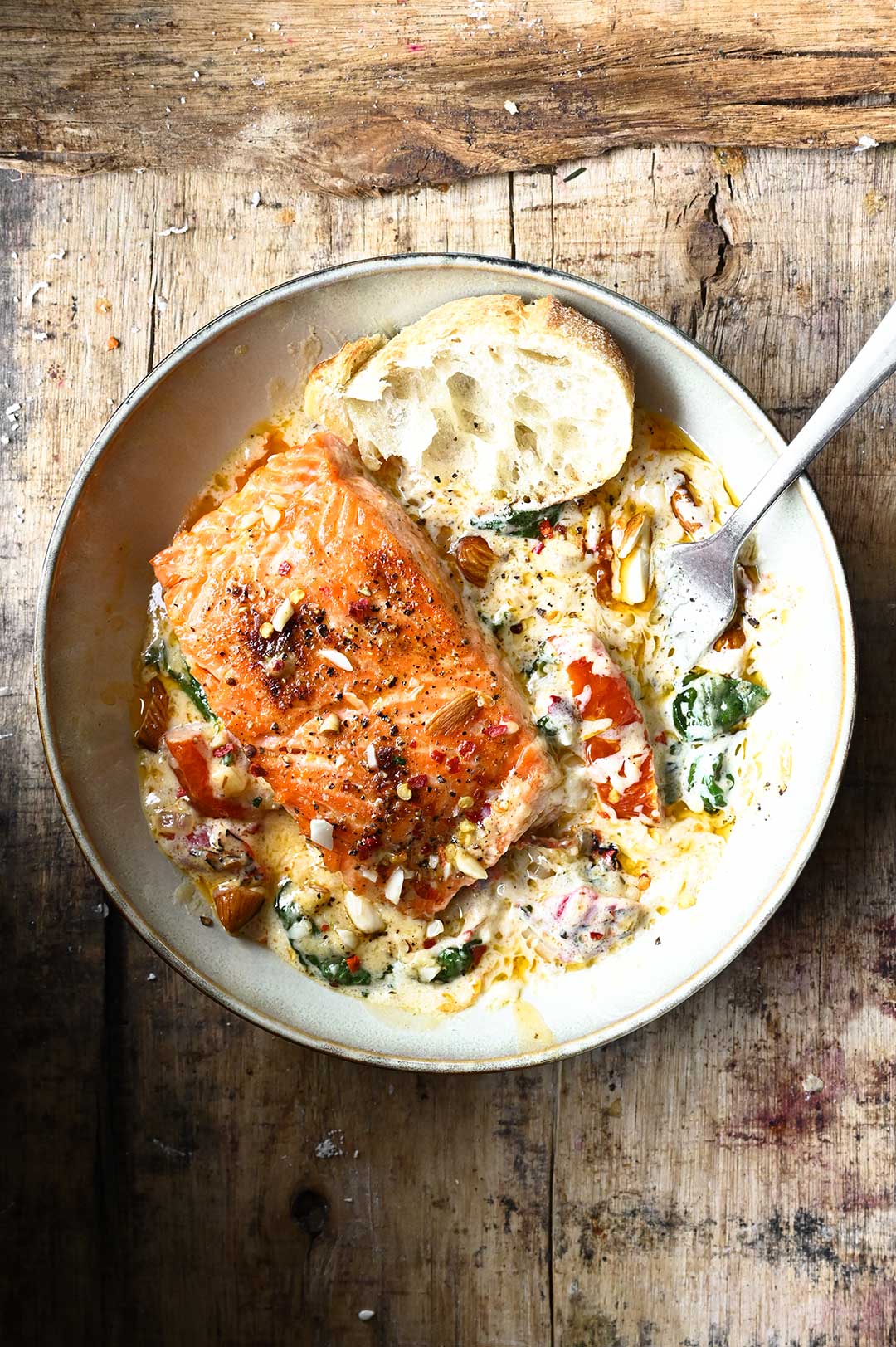 Cooking Video
Yield: serves 4
Pan Seared Salmon in Garlic Mascarpone Sauce
Prep Time 5 minutes

Cook Time 15 minutes

Total Time 20 minutes
Ingredients
4 salmon fillets, skin removed
110 g/4 oz sun-dried tomatoes, completely drained, oil reserved for cooking
1 small jar (280 g/10 oz) roasted bell peppers, excess oil drained
1 shallot, finely chopped
4 garlic cloves, minced
100 g/4 oz mascarpone, at room temperature
40 g/1.5 oz grated parmesan
3/4 cup/200 ml cream 20% fat, or heavy cream, at room temperature
1 tbsp lemon juice
1 tsp sweet paprika
salt + black pepper
20 basil leaves
2 tbsp chopped chives, for serving
4 tbsp chopped almonds, for serving
1 tsp red pepper flakes, for serving
Instructions
Get the prep done before you start cooking: pat the salmon fillets dry with a paper towel and season all over with salt, pepper and sweet paprika. Mince the garlic and finely chop the shallot.
Heat 3 tbsp oil from the sun-dried tomatoes in a large non-stick frying pan over medium high heat. Add to the salmon filets and sear, about 3-4 minutes on each side. Remove from the pan and set aside.
In the same pan, add shallot, cook over low heat until softened, about 2 minutes. Scrape up the brown bits on the bottom of the skillet with a wooden spoon. Add garlic, cook until fragrant, for 1 minute. Add sun-dried tomatoes and roasted bell peppers, cook for 2 minutes. Season with salt and pepper.
Pour in cream. Once the sauce starts to boil, slowly add mascarpone and stir until dissolved. Add parmesan and stir. Then nestle salmon in the sauce. Sprinkle with lemon juice and simmer for 3 more minutes or until the salmon is just cooked through and the sauce is slightly thickened. Remove from heat. Stir in the basil leaves and serve.
Top with chopped chives, almonds and red pepper flakes. Delicious!
Notes
Calories Per Serving: 590 kcal
Nutritional information is only an estimate. The accuracy of the nutritional information for any recipe on this site is not guaranteed.

PRINT RECIPE