Pad Thai chicken skewer salad. It's like pad Thai's cool cousin, with all the beloved flavors, served up as a fresh and crunchy salad. Paired with juicy chicken skewers, slathered in an irresistible Thai-inspired marinade. This dish is a summer sensation, ready in 30 minutes and perfect for picnics too. And the chicken skewers? You can grill them, prepare in a skillet or bake them in the oven, you're the chef!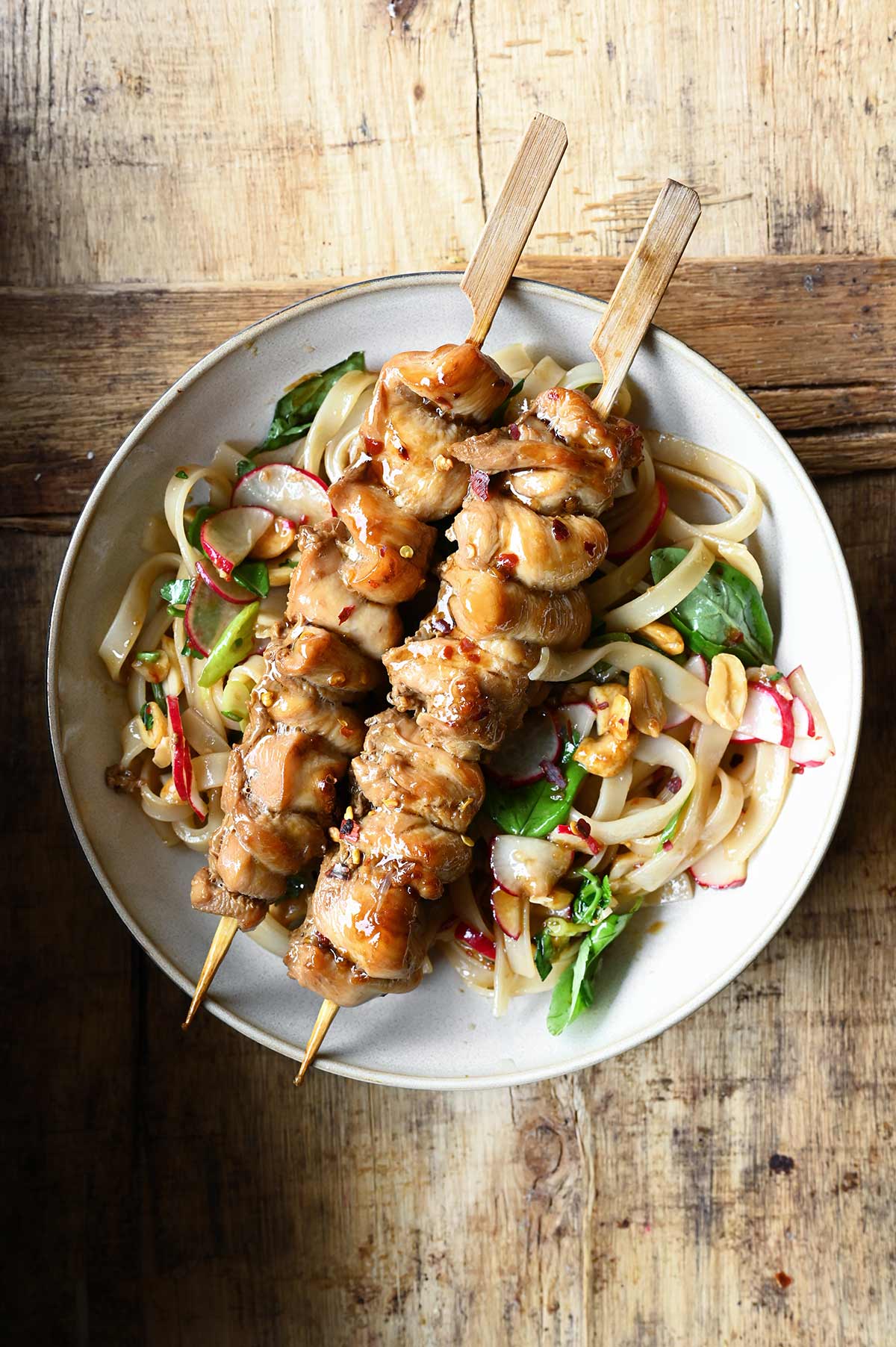 Check out this salad twist on everyone's favorite, Pad Thai noodles. Forget about cooked veggies! In this noodle salad, we're jazzing things up with radishes and scallions, or get creative with cabbage or shredded carrots. These crunchy additions bring a burst of freshness to the dish, alongside the chewy noodles, sweet and tangy sauce, roasted peanuts for that perfect crunch, and chicken to make it a satisfying and complete meal. It's comfort food at its finest!
It's the perfect blend of salty, sweet, and zesty that goes into a good pad Thai, made with crowd-pleasing chicken. If you prefer it with shrimp, go for it! The warm chicken skewers combined with cool noodles are ideal for dinner or lunch, you can easily prepare them ahead of time. Loaded with delicious flavors, this family-friendly dinner is always a hit.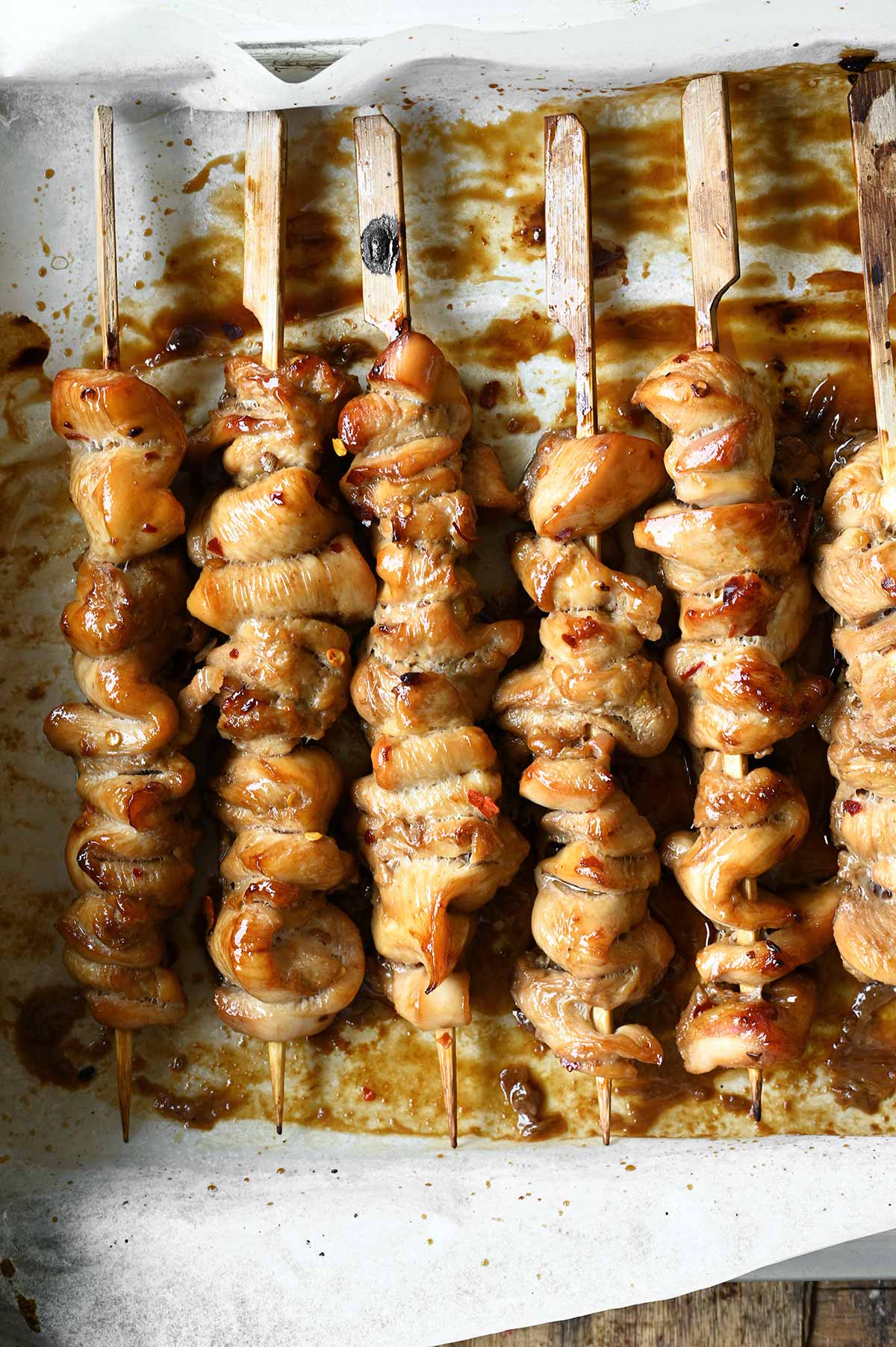 How to Make Pad Thai Chicken Skewer Salad
First things first, we start by slicing the chicken and whipping up a flavorful Thai-style marinade. It's a simple blend of soy sauce, fish sauce, brown sugar, chili flakes, and lime juice. This marinade hits all the right notes, it's sweet, tangy, spicy, and salty all at once. It keeps the chicken moist and prevents it from drying out in the oven. For extra tenderness and juiciness, you can use a combination of chicken fillets and thighs for our skewers.
Marinate the chicken for at least 15 minutes or overnight. While it's marinating, let's get the rice noodles boiling, prepare the dressing and chop up those veggies. Once the chicken is threaded onto skewers, it's time to pop them in the oven and let them bake. Meanwhile, we toss the chilled noodles with the tantalizing Thai dressing and stir in the crunchy veggies. When the chicken is beautifully seared on the outside and irresistibly juicy on the inside, it's time to serve up that delightful dinner that's bursting with flavor.
Let me guide you through the recipe with this step-by-step VIDEO.
Ingredients, Tips & Substitutions
Don't worry about the seemingly long ingredient list, as many of the ingredients are repeated, making it simpler than it appears.
Chicken + Marinade
Chicken: For most moist and tender skewers, use a mix of chicken fillets and boneless/skinless chicken thighs. You can also try it with shrimp, pork or beef.
Marinade: A mix of low sodium soy sauce, fish sauce, brown sugar, lime juice and chili flakes.
Dressing
Soy Sauce: Low sodium soy sauce to add a savory saltiness, you can swap for Thai soy sauce.
Fish Sauce: A key ingredient in pad Thai, is a savory and pungent condiment that adds a rich umami flavor.
Lime Juice: Provides a tangy and citrusy kick that balances the flavors and adds a refreshing zing.
Brown Sugar: A crucial component in pad Thai, brings a hint of sweetness that enhances the overall taste and helps create a delicious flavor balance.
Sesame Oil: Imparts a rich and aromatic essence that elevates the dish with its irresistible and flavorful touch.
Vegetable Oil: To thin out the dressing. You can use any neutral oil.
Chili flakes: For a nice kick.
Garlic: I recommend grating the cloves to bring more flavor to the dressing.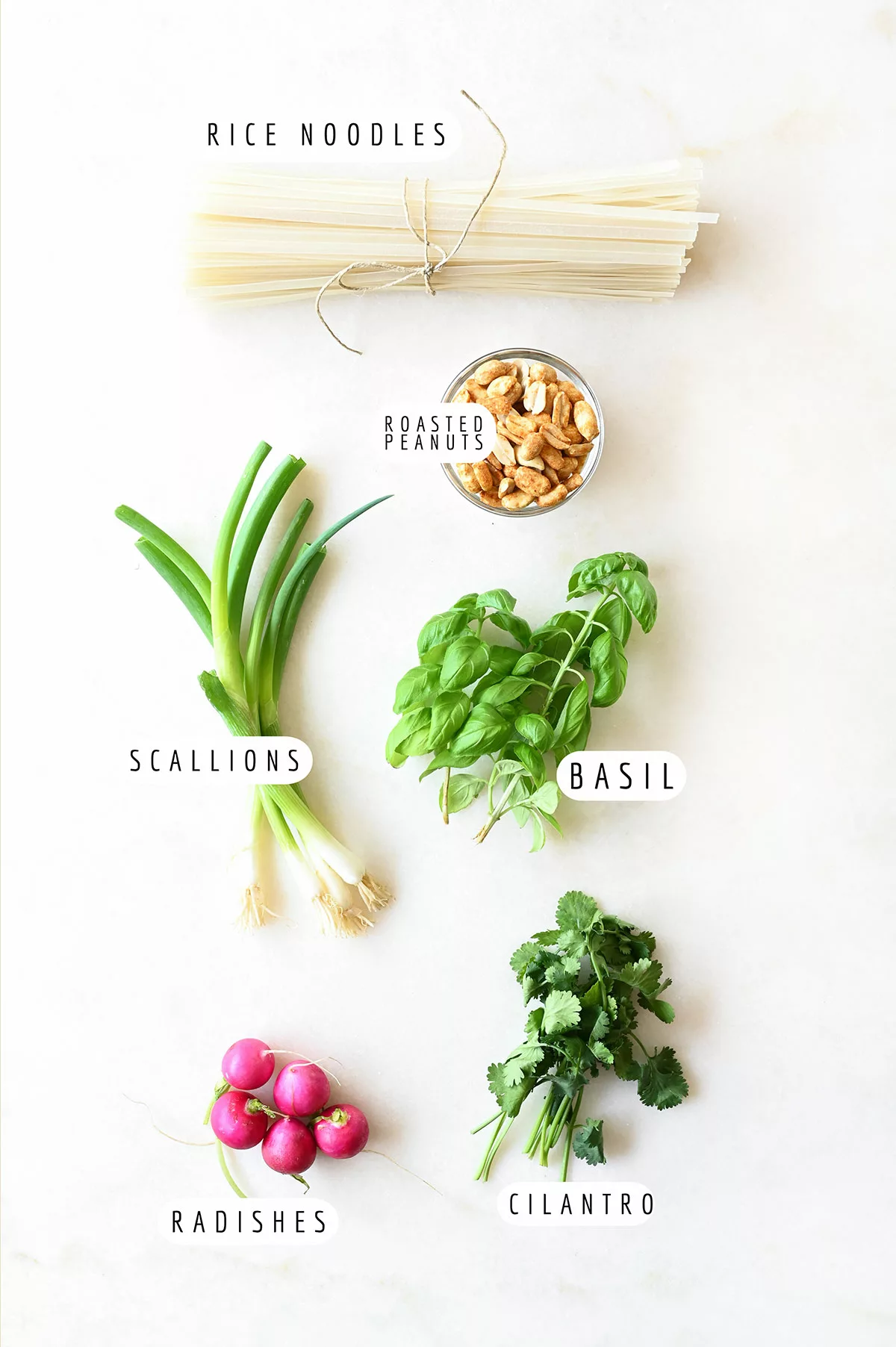 Vegetables + Noodles
Rice Noodels: While traditional Pad Thai is made with flat rice noodles, you can experiment with other noodle varieties like soba noodles, brown rice noodles, or even pasta like linguine to give your dish a unique twist. The texture and taste may differ slightly, but it can still result in a delicious and creative adaptation.
Vegetables: Radishes and scallions. You can also add shredded carrots, cabbage or cucumbers.
Herbs: Basil leaves and cilantro.
Peanuts: A common ingredient in Pad Thai, add a delightful crunch and a nutty flavor that complements the dish perfectly, providing a satisfying textural contrast.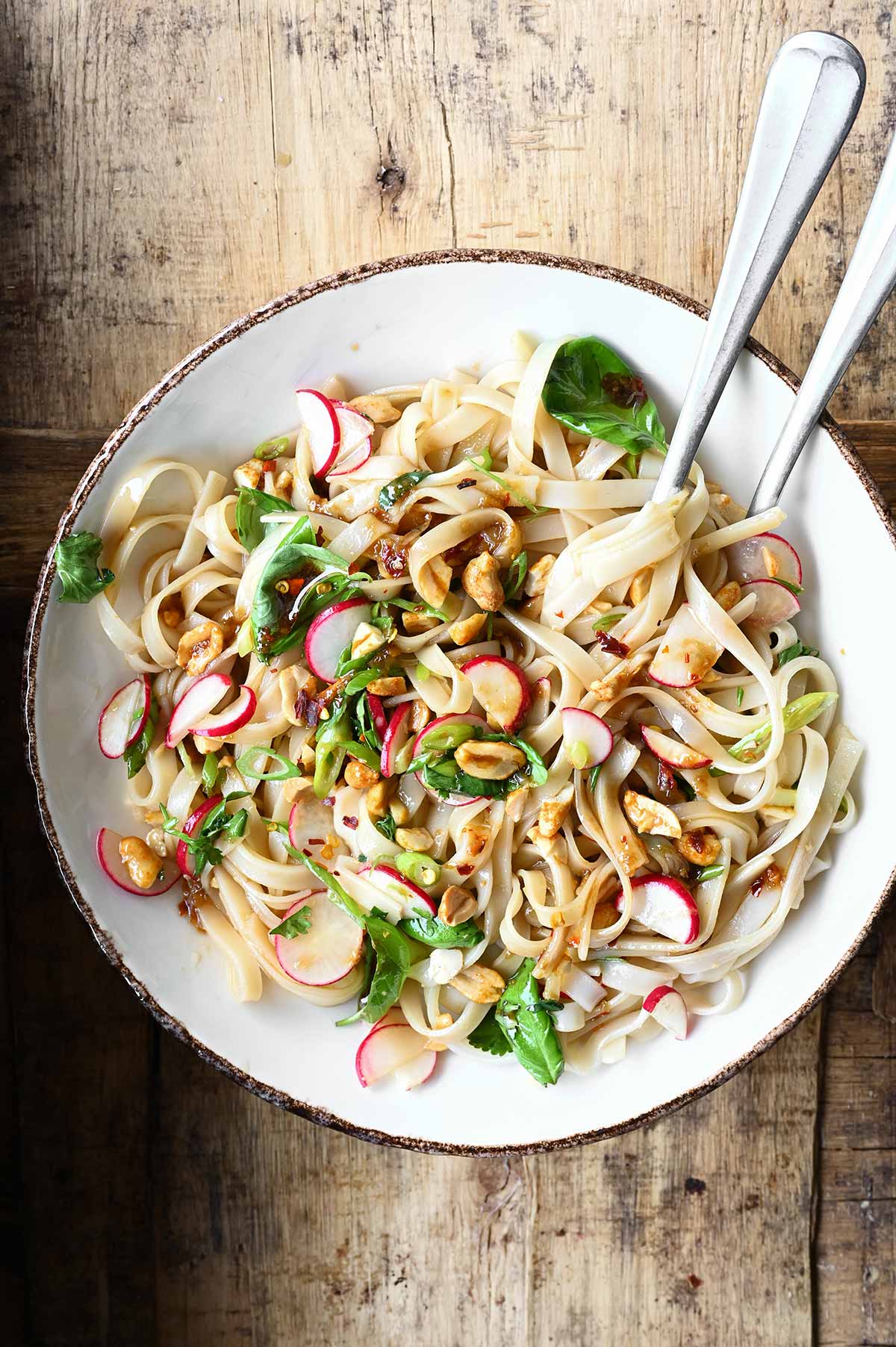 Recipe Notes
You can grill the chicken skewers, cook them in a skillet on the stove, or bake them in the oven.
Enjoy the salad on its own, without the skewers.
Prep ahead of time and enjoy for lunch the next day.
For this recipe, you can also use shrimp, pork or beef.
Instead of brown sugar, use honey or maple syrup.
Make ahead: you can marinate the chicken, make the skewers and refrigerate overnight. Chop the veggies, prepare the dressing and boil the noodles. When you're ready to eat, bake your chicken skewers, and combine the ingredients for the salad.
Freeze: you can freeze the uncooked marinated skewers in airtight containers for up to three months.
Try These Next
Cooking Video
Yield: serves 4
Pad Thai Chicken Skewer Salad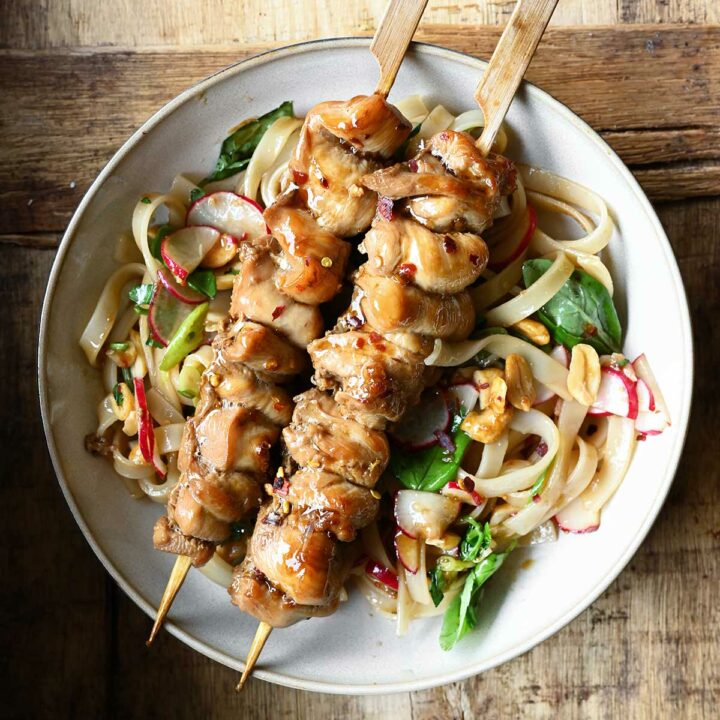 Ingredients
11 oz/300 dry rice noodles
10 radishes, thinly sliced
5 scallions, chopped
20 basil leaves
3 tbsp chopped cilantro
4 tbsp chopped roasted peanuts
Dressing
2 tbsp low sodium soy sauce
2 tbsp fish sauce
3 tbsp brown sugar
3 tbsp lime juice
2 tbsp vegetable oil
1 tbsp toasted sesame oil
½ tsp chili flakes
2 garlic cloves, grated or pressed
Chicken Skewers
8 skewers
1 pound /450 g chicken fillets
1 pound/450 g boneless/skinless chicken thighs
4 tbsp low sodium soy sauce
2 fish sauce
2 tbsp brown sugar
2 tbsp lime juice
½ tsp chili flakes
Instructions
Slice the chicken into thin strips. Combine ingredients for the marinade in a large bowl. Add chicken, toss to coat. Set aside for 15 minutes or overnight in the fridge.
Preheat the oven to 400°F/200°C.
In the meantime, boil the rice noodles according package directions. When ready, drain and run under cold water.
Prepare the dressing by combining the ingredients in a jar or a small bowl.
Chop the scallions, thinly slice the radishes, roughly chop the peanuts and chop the cilantro.
When all the prep is done. Thread the marinated chicken onto skewers. Once prepared, place skewers on a baking sheet lined with parchment paper. Roast for 15 minutes or until nicely browned.
Meanwhile, combine noodles with scallions, radishes, basil leaves, cilantro, peanuts and the prepared dressing. Toss well.
Serve bowl-style with chicken skewers. Enjoy!
Notes
Calories Per Serving: 640 kcal
Nutritional information is only an estimate. The accuracy of the nutritional information for any recipe on this site is not guaranteed.

//= __('Print recipe (no photos)', 'servingdumplings' );?> //= __('Print recipe (with photos)', 'servingdumplings' );?>