Say hello to your new addition to a fast-but-delicious recipe rotation. It sounds like a cliché, because it is, but this recipe adds far more than the sum of its parts. Orecchiette, crispy pancetta bits, the fresh sweet pop of peas and a butter sauce jazzed up with Parmesan. This dish is easy to make on a weeknight when you're pressed for time, but fancy enough to brighten up your next dinner party when you host friends for dinner. The crunchy breadcrumbs steal the show to make everyday pasta and frozen peas feel super special. Crisp bites of pancetta add a salty twist and perfectly cut through the sweetness of the peas, making it simply delicious.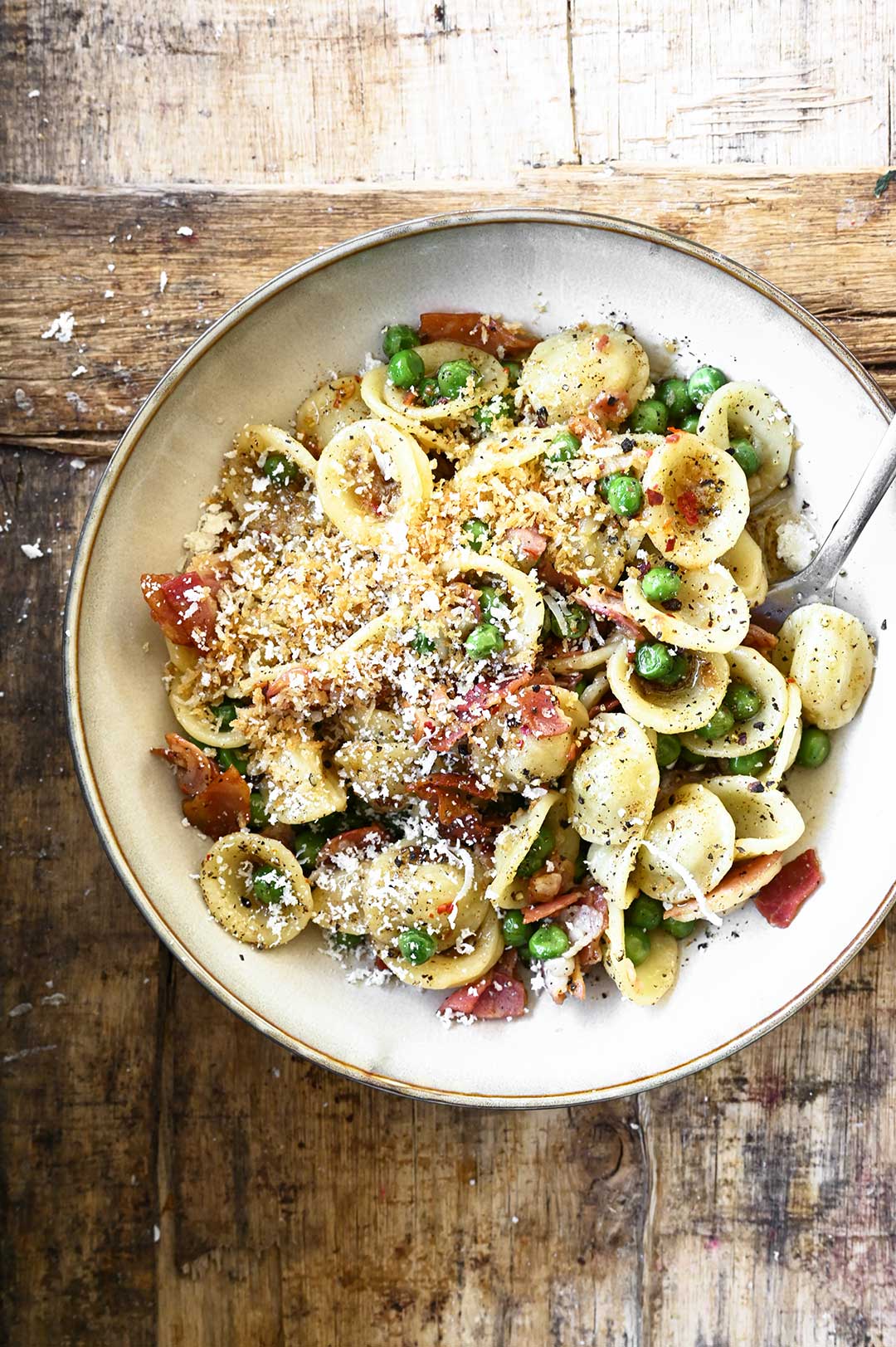 This recipe teaches you the magic of everyday fast and fancy weeknight dinners. It's impressive, full of hidden flavors and feels a little more special than a standard weeknight meal, yet it's quick and easy enough to pull together any night of the week. Keep this recipe in your back pocket for busy days when you have just a little time to shop, because this dish turns what could have easily been a standard pasta into something crave-worthy week in and week out.
Let me guide you through the recipe with this step-by-step VIDEO.
RECIPE NOTES
– swap peas for spinach or blanched broccoli
– use your favorite pasta shape
– swap pancetta for salted bacon
More pasta, please!
Smoky Bacon Tomato Sauce Pasta
Brown Butter Broccoli and Walnut Past
Pasta with sun-dried tomato ricotta pesto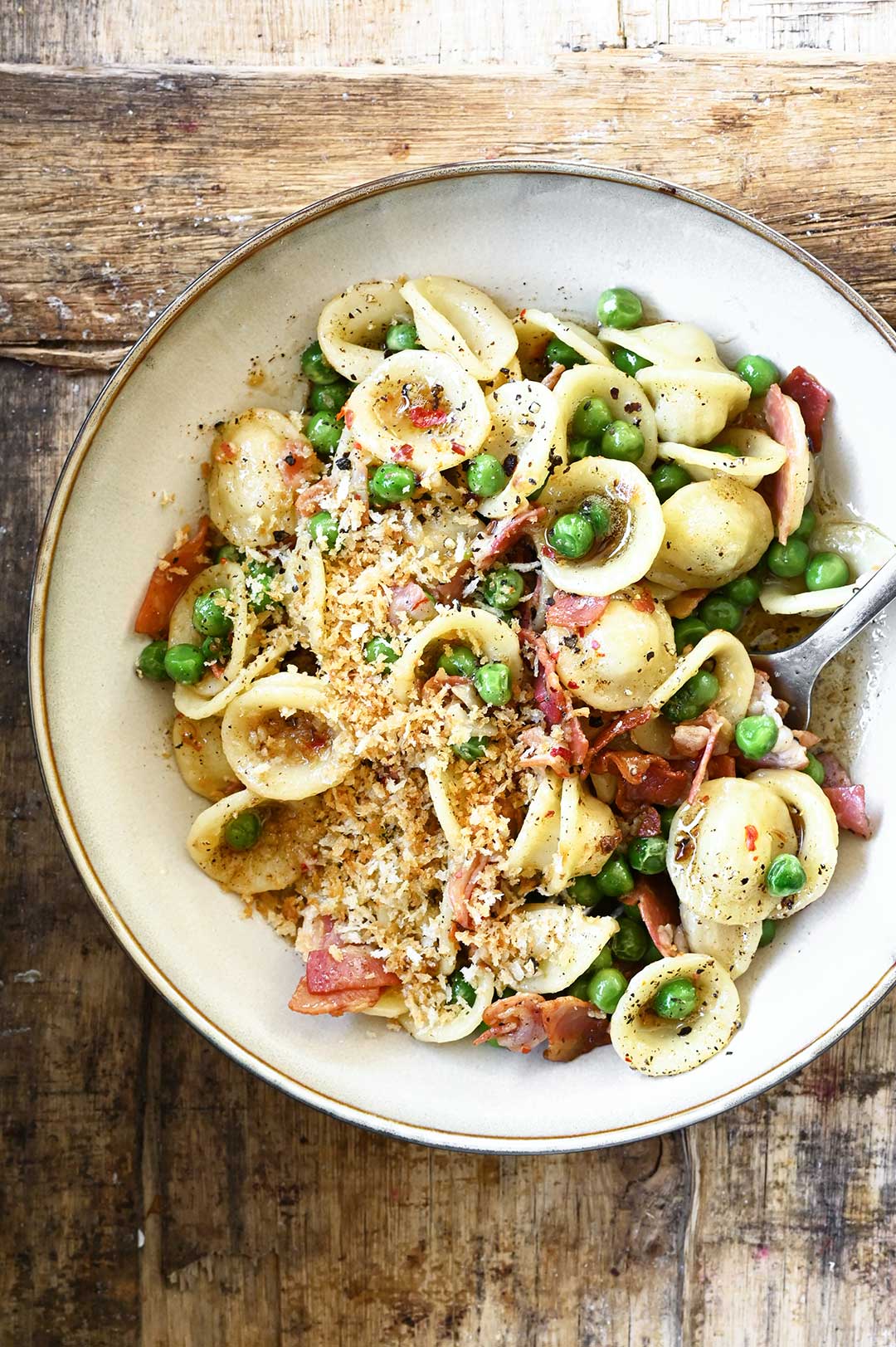 You need
200 g (7 oz) orecchiette
150 g (5.3 oz) frozen green peas
150 g (5.3 oz) pancetta, cut into small pieces or matchsticks
2 garlic cloves, minced
2 tbsp unsalted butter
2 tbsp olive oil
1/2 tsp salt
1 tsp black pepper
1 tsp red pepper flakes
20 g (0.7 oz) grated Parmesan
bread crumbs
30 g (1 oz) panko bread crumbs
3 tbsp olive oil
salt + black pepper
How to
Let me guide you through the recipe with this step-by-step VIDEO.
Cook the pasta in a large pot of boiling salted water. Drain, reserving 1/2 cup of the cooking water.
For the breadcrumbs. Heat a large skillet over medium heat and add the olive oil. Once hot, add panko and cook while constantly stirring for 4 minutes until toasted and golden. Season with salt and pepper. Remove from the skillet to a plate.
In the same skillet, heat olive oil and butter. Add pancetta, cook until crispy and golden brown, stirring occasionally, for about 5 minutes. Add garlic, cook for 2 minutes more. Stir in peas and season with salt, black pepper and red pepper flakes. Sauté for 3 minutes, stirring from time to time.
Add cooked pasta and parmesan, toss and add a splash of cooking water. Stir until pasta is coated with butter sauce.
Divide among bowls, serve with crunchy bread crumbs. Enjoy!