Orange chicken. This recipe is fast, easy and will stand its ground when compared to your favorite take-out meal. Bite-sized chicken pieces cooked until crispy, then coated with a sticky sweet-sour orange sauce. You can prep pretty much everything ahead of time, making this a fantastic last-minute weeknight dinner.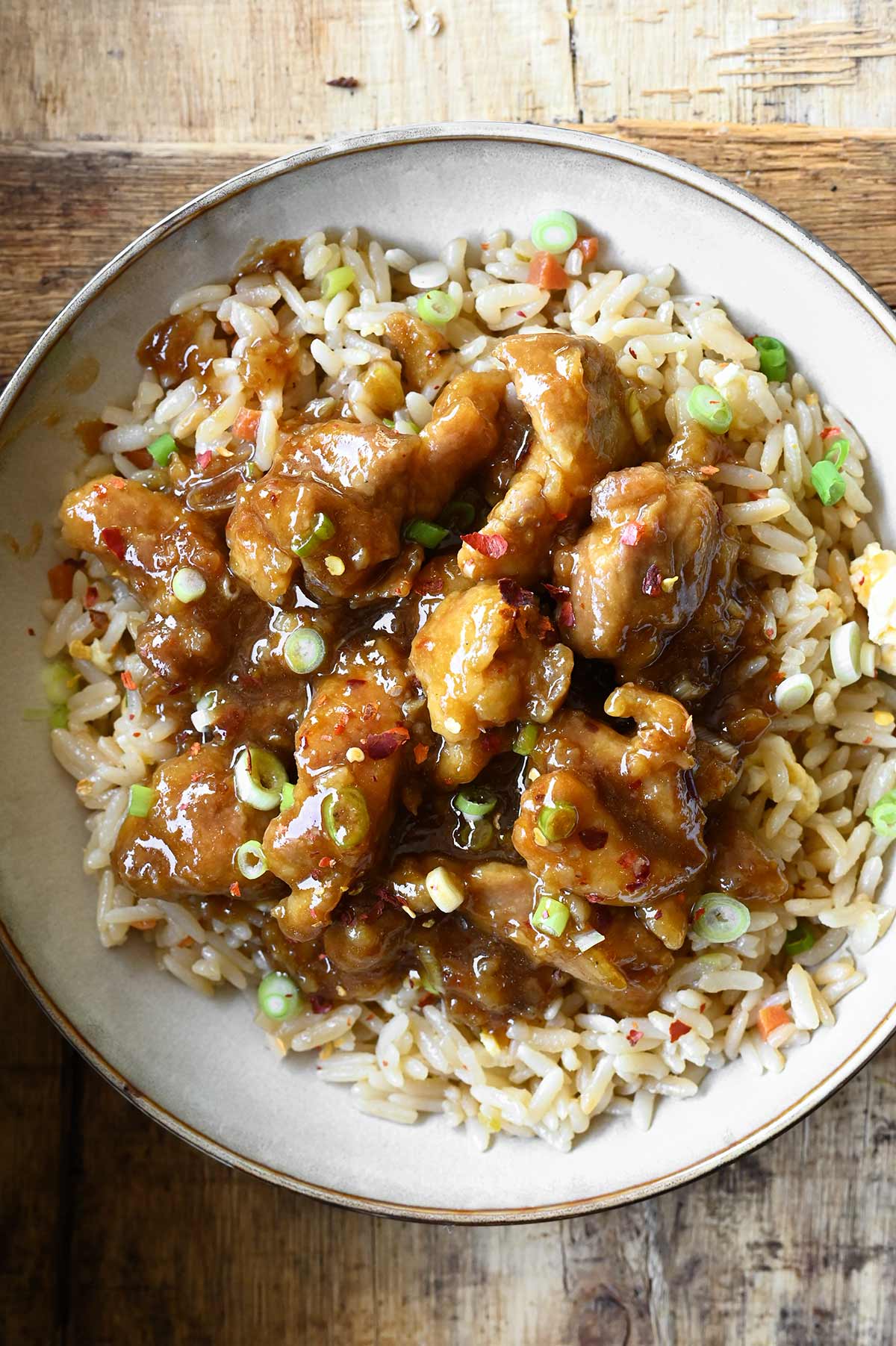 Fragrant, fresh, and so easy-to-make. Within just one bite, this Chinese orange chicken is truly irresistible. It's everything you expect from this beloved dish, from the tender chicken to the thick blanket of sauce made with fresh orange juice and orange zest. While the restaurant version is made with deep-fried chicken, we're making things easier by stir-frying the chicken in a wok. This means less oil and a fuss-free cooking technique.
Instead of overcrowding the wok, we'll cook the chicken in two batches, this will keep the wok hot and ensure the stir-fry cooks correctly. If we'd add too much chicken at once, it would lower the temperature of the oil, causing the chicken to absorb the oil and become soggy.
The slight sweetness in the sauce makes this dish a true crowd-pleaser that even a picky eater will love. There's also plenty of sauce to spoon over rice. You can serve it over steamed white rice, brown rice or fried rice.
Let me guide you through the recipe with this step-by-step video.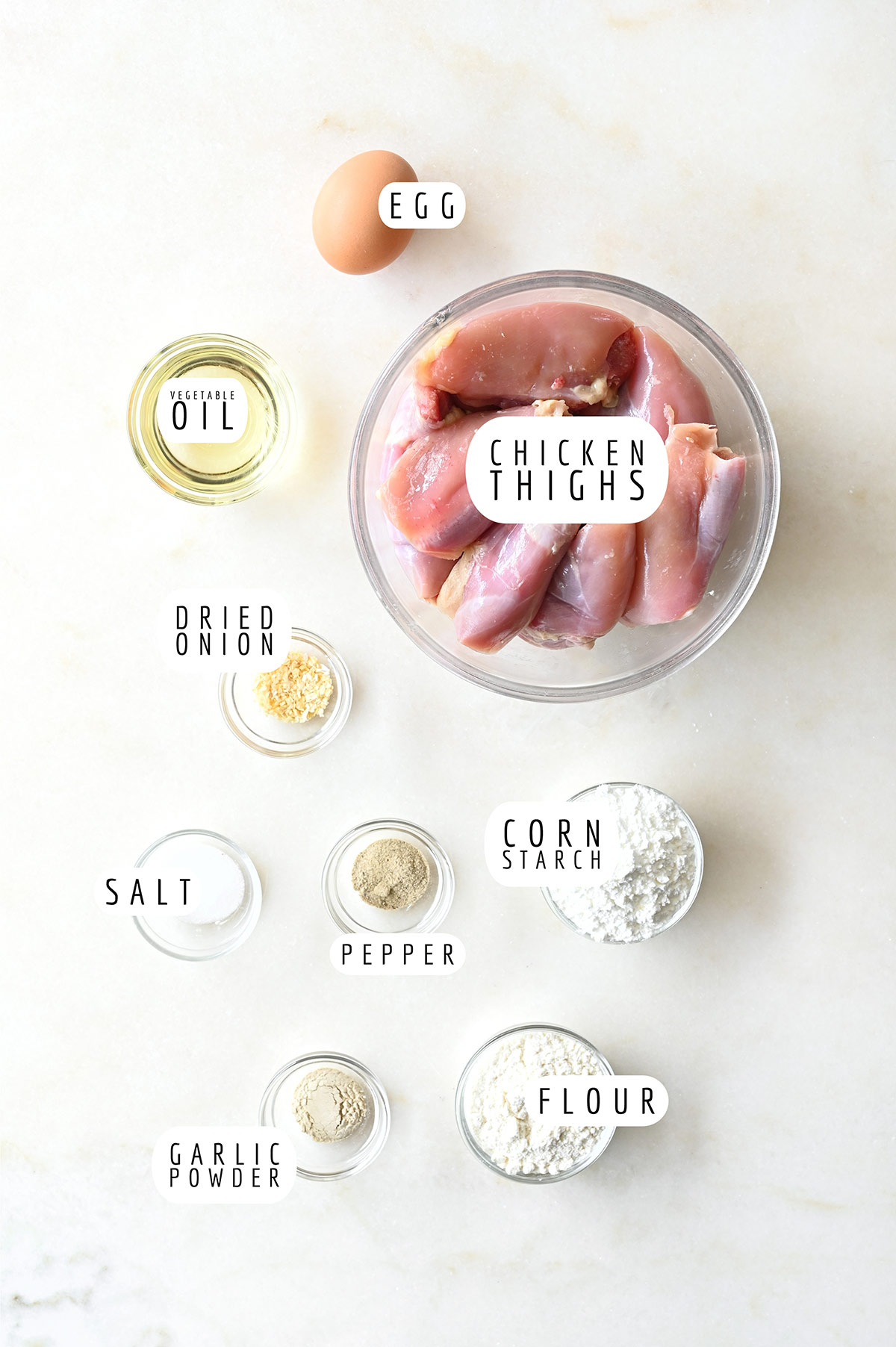 Ingredients, Tips & Substitutions
Chicken
Chicken: Boneless/skinless chicken thighs are highly recommended for this recipe as they contain some fat. It will make the chicken tender and juicy and prevent it from drying out. If you can't find chicken thighs, use chicken breast fillets instead.
Flour and Cornstarch: To coat the chicken.
Egg: For the batter.
Seasoning: Salt, white pepper, garlic powder, dried onion.
Oil: Vegetable oil for frying, you can use grape seed oil, sunflower oil or peanut oil.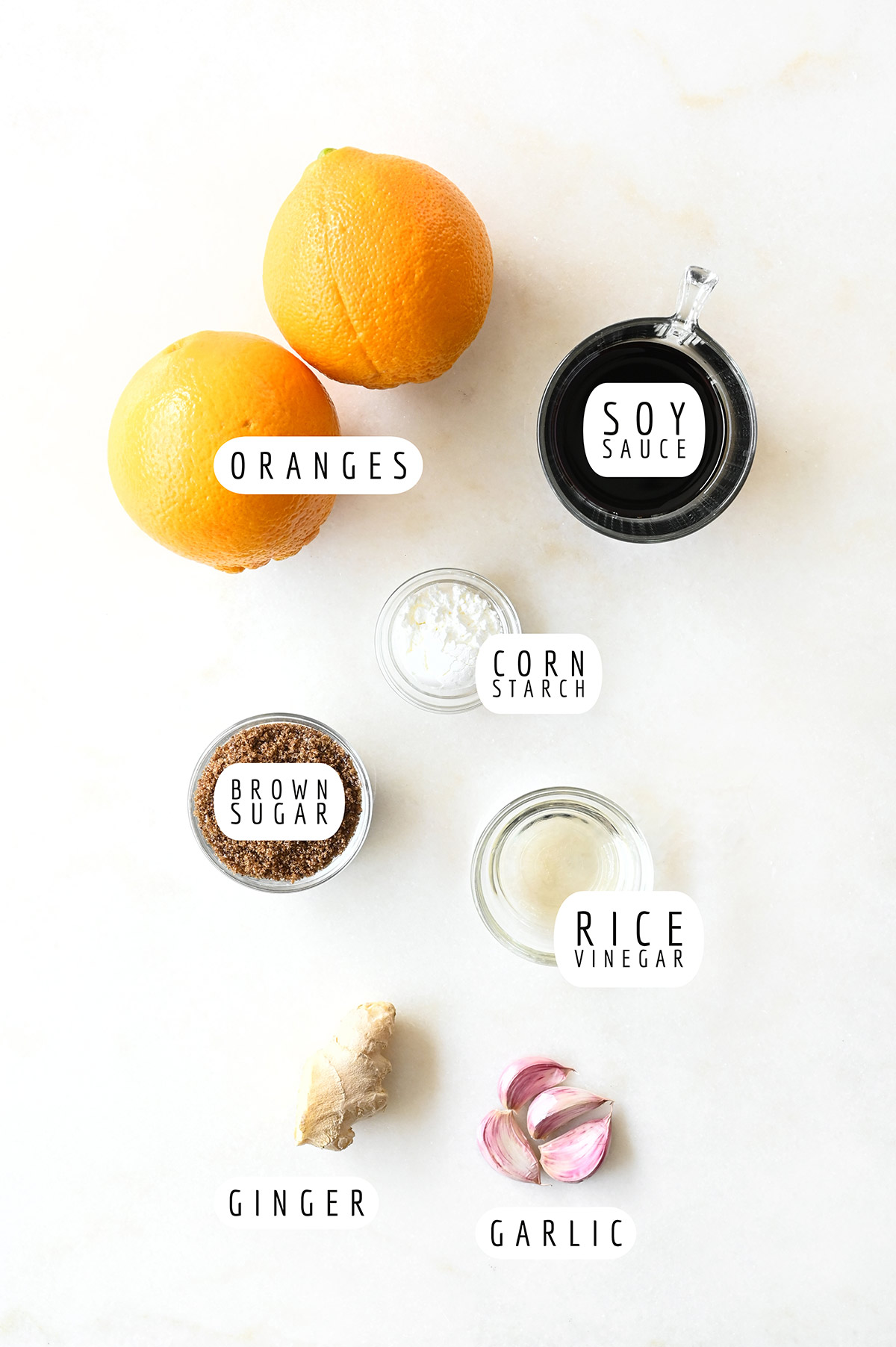 Orange Sauce
Oranges: Freshly squeezed orange juice and orange zest is the key ingredient for the best orange chicken sauce. It tastes so much better and fresher than store bought orange juice. However, if you need to use store-bought, avoid the juices with pulp or concentrated orange juices.
Brown Sugar: To reveal the floral flavor of the orange. Can be substituted for honey.
Soy Sauce: Low sodium soy sauce to add a savory saltiness to our sauce.
Rice Vinegar: To add acidity.
Garlic: I recommend grating the cloves to bring more flavor to the dish.
Ginger: For a warming taste and a hint of heat.
Cornstarch: To provide a sticky texture to the finished sauce.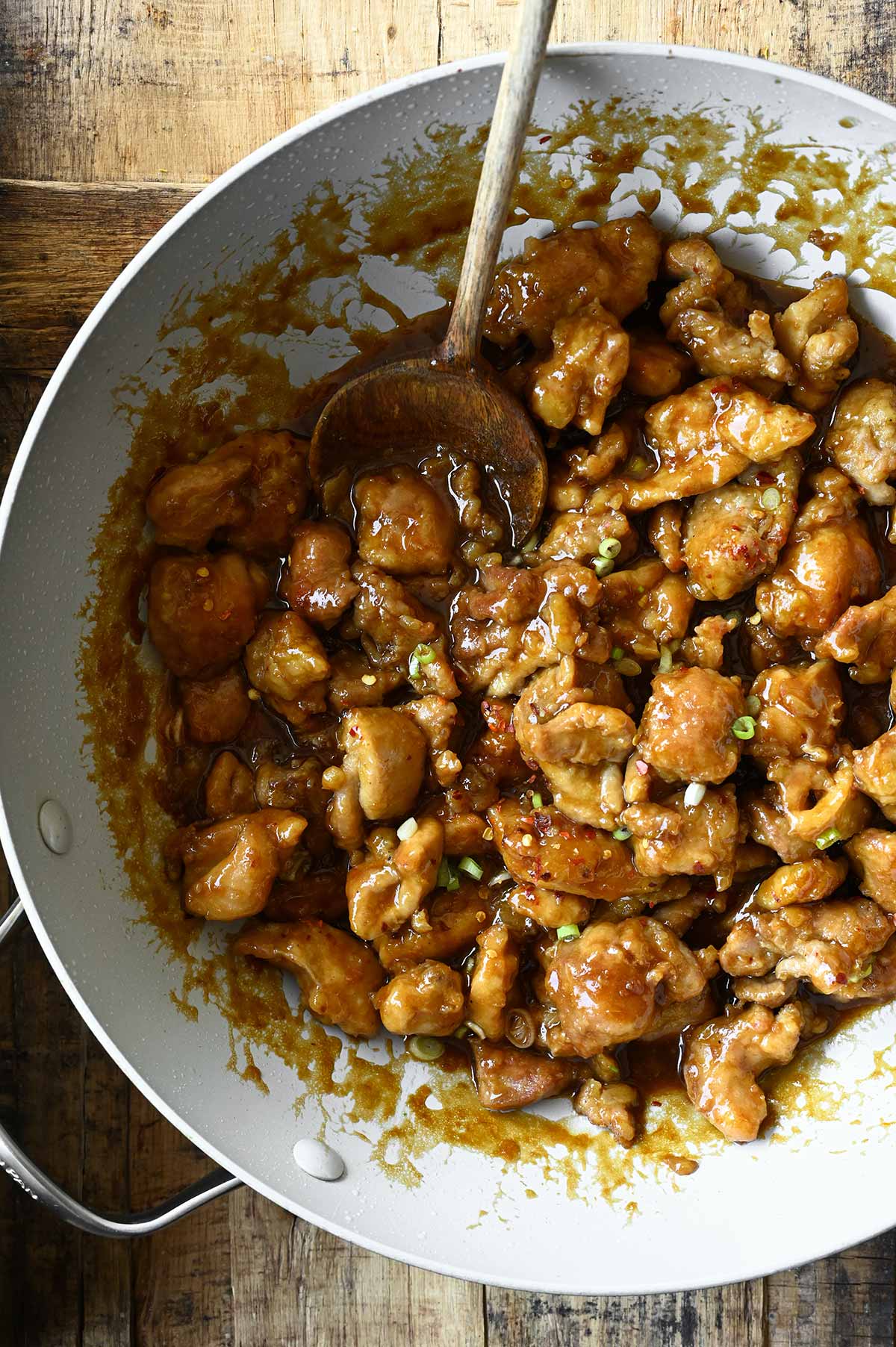 Recipe Notes
This is not a spicy dish, but you can adjust the spice level to your liking.
Pair with a side of broccoli, stir-fried bok choy or an asian cucumber salad.
Serve with steamed rice, brown rice, jasmine rice or fried rice.
Storage: Leftovers can be stored in the fridge for up to 3 days.
Make ahead: You can cut the chicken and prepare the sauce, 1 day ahead. Store separated in airtight containers in the refrigerator.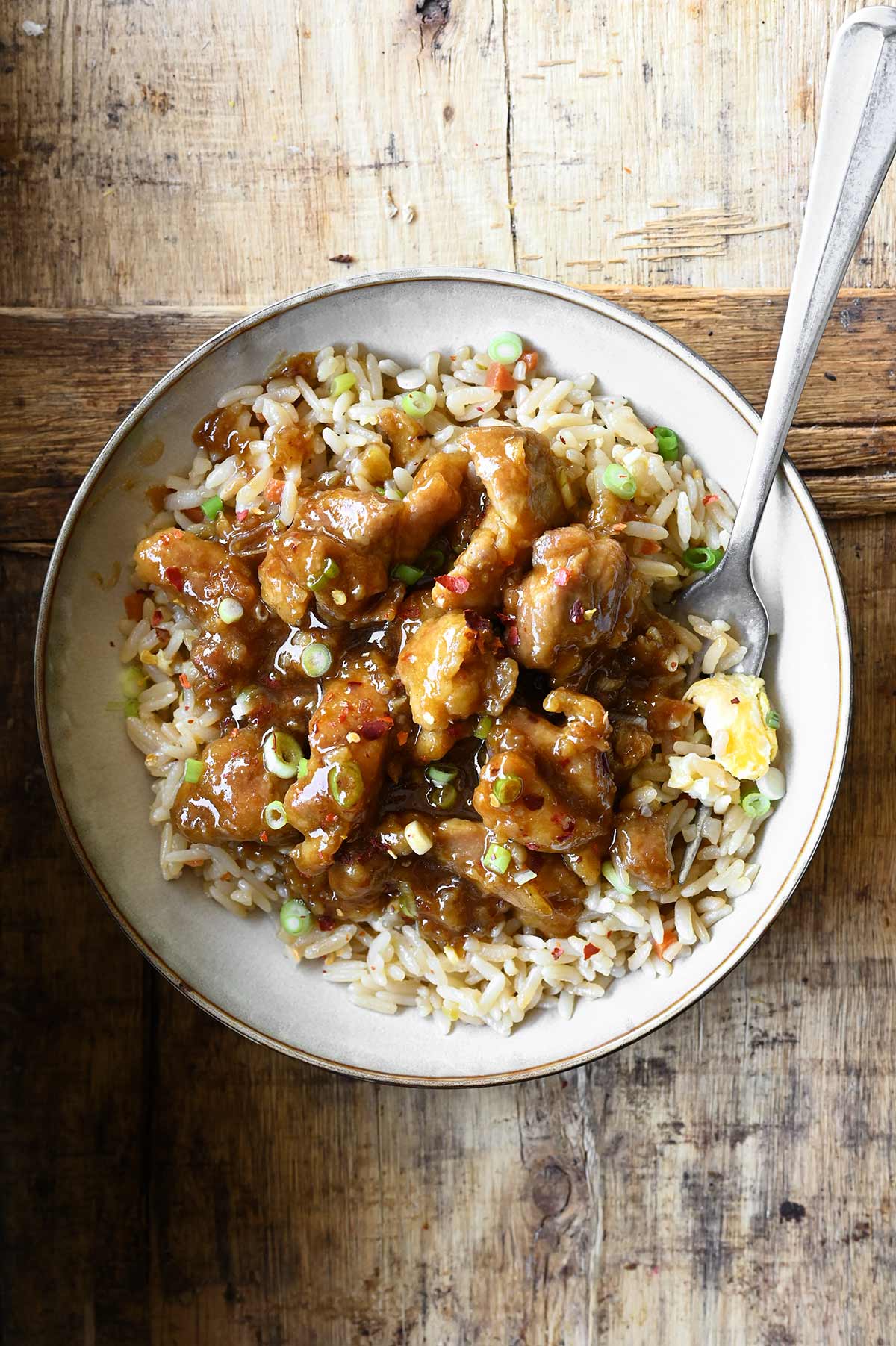 Other Recipes You May Like
Cooking Video
Yield: serves 4
Orange Chicken
Ingredients
Chicken
2 pounds/900 g boneless/skinless chicken thighs
½ cup cornstarch
½ cup all-purpose flour
1 egg
1 tsp each: salt, white pepper, garlic powder, dried onion
¼ cup vegetable oil, for frying
Orange Sauce
2 large oranges
4 garlic cloves, grated
1 tbsp grated ginger
3 tbsp rice vinegar
¼ cup brown sugar
1 tbsp cornstarch
½ cup/120 ml low sodium soy sauce
½ tsp flakes, more or less to taste
4 scallions, chopped, for serving
steamed or fried rice, for serving
Instructions
Cut the chicken thighs into bite-sized pieces. In a large bowl, beat the egg. Add cornstarch, flour, salt, pepper, garlic powder and dried onion. Toss until combined, set aside.
Prepare the orange sauce. Zest one orange, then squeeze out the juice from both oranges. Combine with grated garlic, grated ginger, rice vinegar, brown sugar, cornstarch and soy sauce. Set aside.`
In a wok or skillet, heat oil over high. Place half of chicken in a single layer and sear, undisturbed for 1 minute. Then start stirring and fry the chicken for 8-10 minutes until cooked through and golden. Remove from wok, and repeat with the remaining chicken. Discard the oil and wipe out the wok with a paper towel.
To the same wok, add the prepared orange sauce. Bring to a boil and simmer for 2 minutes until the sauce bubbles and thickens. Stir in chicken.
Finish off with scallions and chili flakes. Serve immediately over rice. Enjoy!
Notes
Calories Per Serving: 633 kcal
Nutritional information is only an estimate. The accuracy of the nutritional information for any recipe on this site is not guaranteed.