One pot ratatouille orzo. A delicious and easy weeknight meal that's sure to please everyone at the table. It's a fun twist on a classic French dish, bursting with vibrant colors and mouthwatering flavors. Made with fresh vegetables, orzo pasta, and a rich tomato sauce. Get ready to dive into this delightful and oh-so-satisfying meal!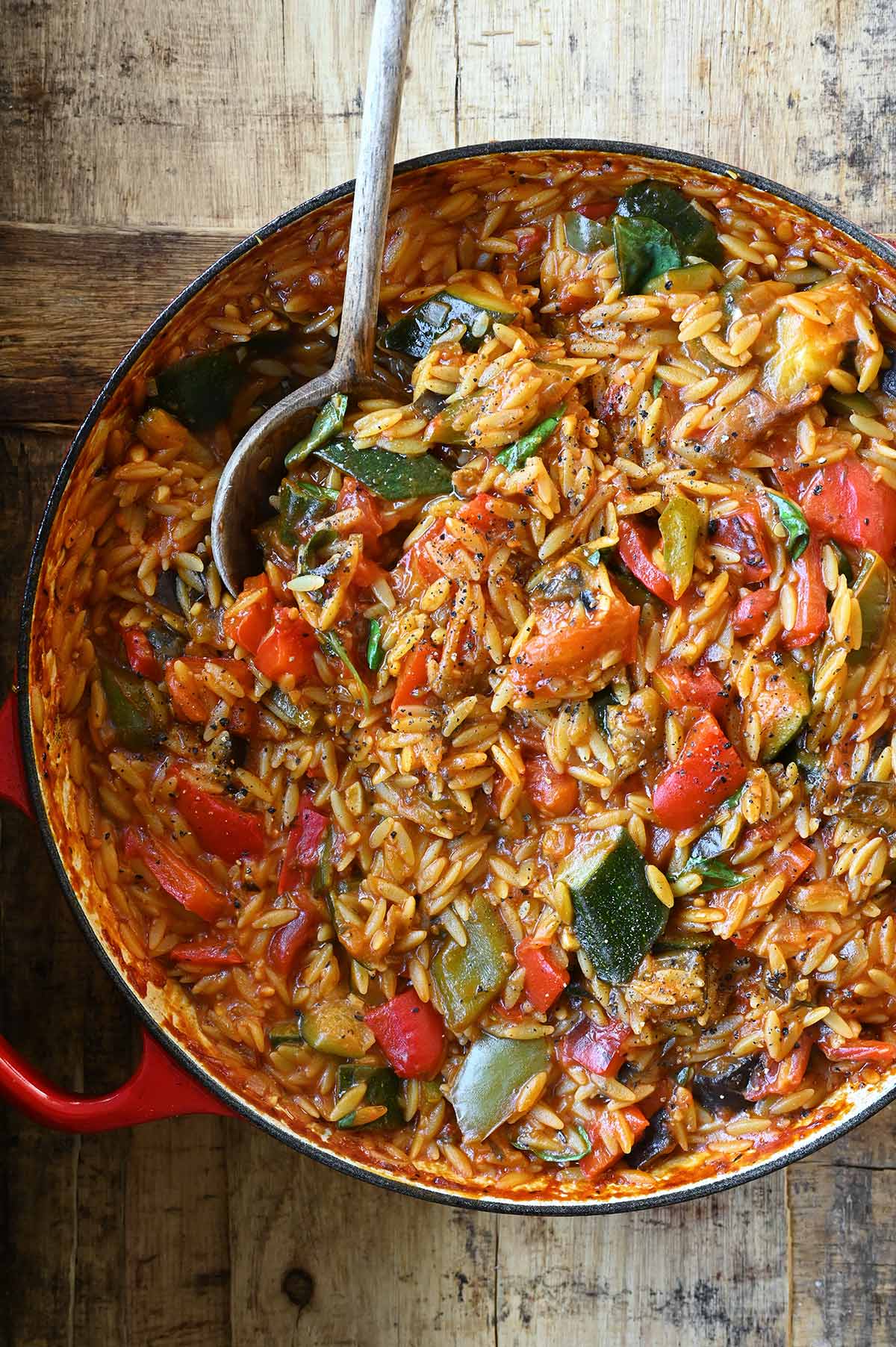 This One-Pot Ratatouille Orzo recipe is a delight you won't want to miss. If you're a fan of ratatouille, this orzo recipe brings all those fantastic veggie flavors together in one amazing meal. It's a marvelous French classic that's just perfect for using up your late summer veggies.
In this dish, tender sautéed eggplant, zucchini, and bell peppers join forces with whole peeled tomatoes to create a rich and savory sauce that pairs wonderfully with silky orzo pasta. It's a showstopper of a dinner, especially when you add some herbs de Provence.
What's great about this one-pot wonder is its versatility. It's an easy and flavorful weeknight dinner that you can customize with any veggies you have. Add bacon or ground meat for extra flavor, or serve it as a side dish with seared chicken. You can even toss in some mushrooms for a delicious twist.
Let me guide you through the recipe with this step-by-step VIDEO.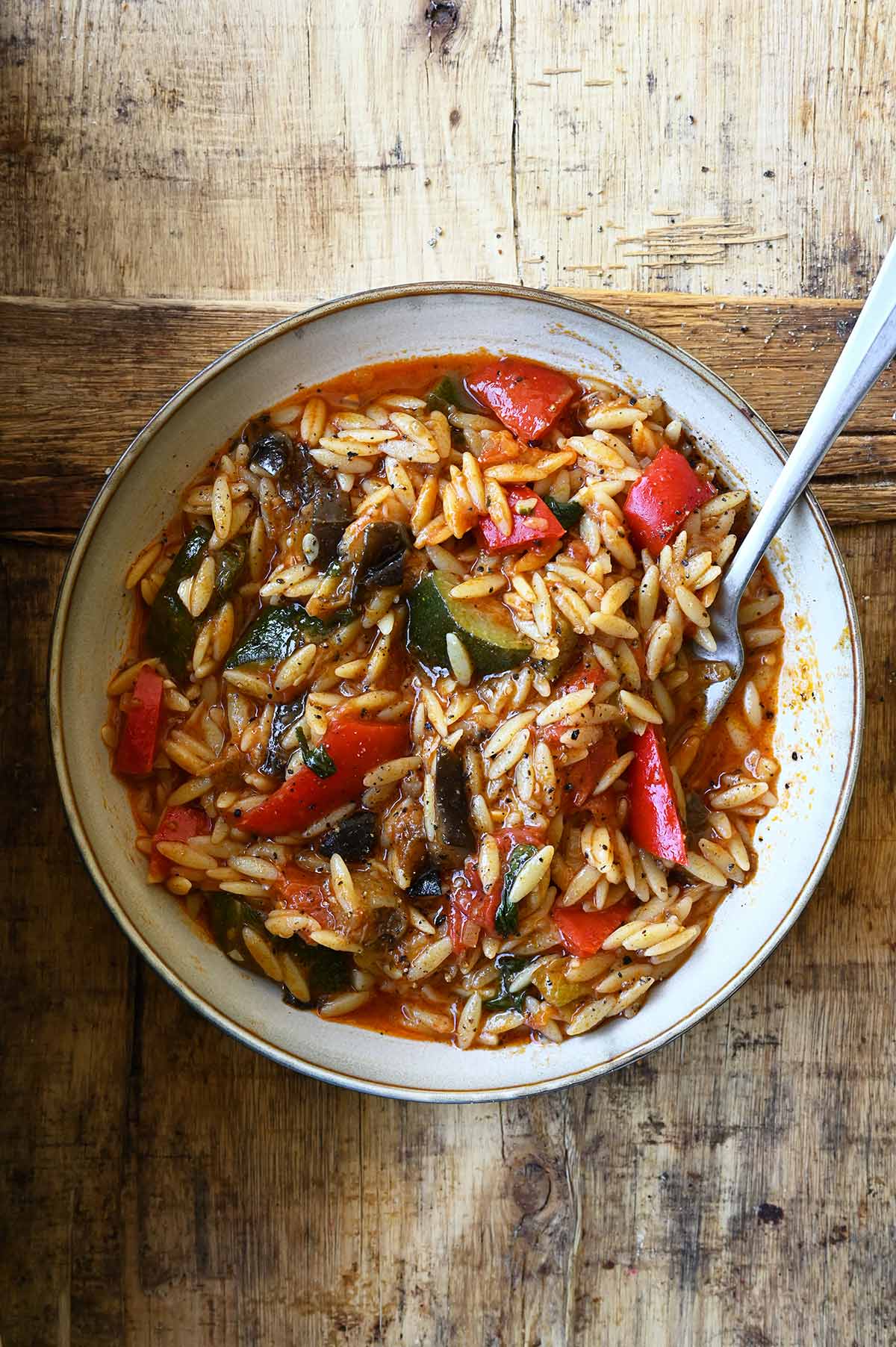 How To Make One Pot Ratatouille Orzo
Making a delightful ratatouille orzo is a breeze, even though it requires a bit of prep time. Here's how it all comes together:
Prep Your Veggies: Start by washing and chopping all your vegetables. This step is essential to get everything ready for the cooking process.
Layer and Sauté: Take your time to sauté the veggies in layers. This allows them to brown nicely, adding depth to the flavors.
Infuse with Aromatics: Once your veggies have developed some color, we introduce aromatic elements like garlic, shallots, and a delightful blend of spices and herbs. These ingredients will take your dish to the next level.
Incorporate Orzo and Liquid: Now it's time to add the orzo. Pour in the chicken broth and add whole peeled tomatoes (or fresh ones if you have them on hand).
Simmer to Perfection: Allow everything to simmer until the vegetables reach tender perfection. The real magic happens here as the veggies meld together, creating a silky and tender texture infused with the amazing flavors of garlic and herbs de Provence.
Cook the Orzo: Continue to simmer until the orzo reaches that perfect al dente and silky consistency.
Finish with Fresh Basil: Just before serving, stir in some fresh basil leaves to elevate the dish's flavor profile. This simple addition adds tons of freshness.
In a nutshell, it's a straightforward process that yields an abundance of flavor. You'll be amazed at how easily this dish comes together, and your taste buds will thank you for it!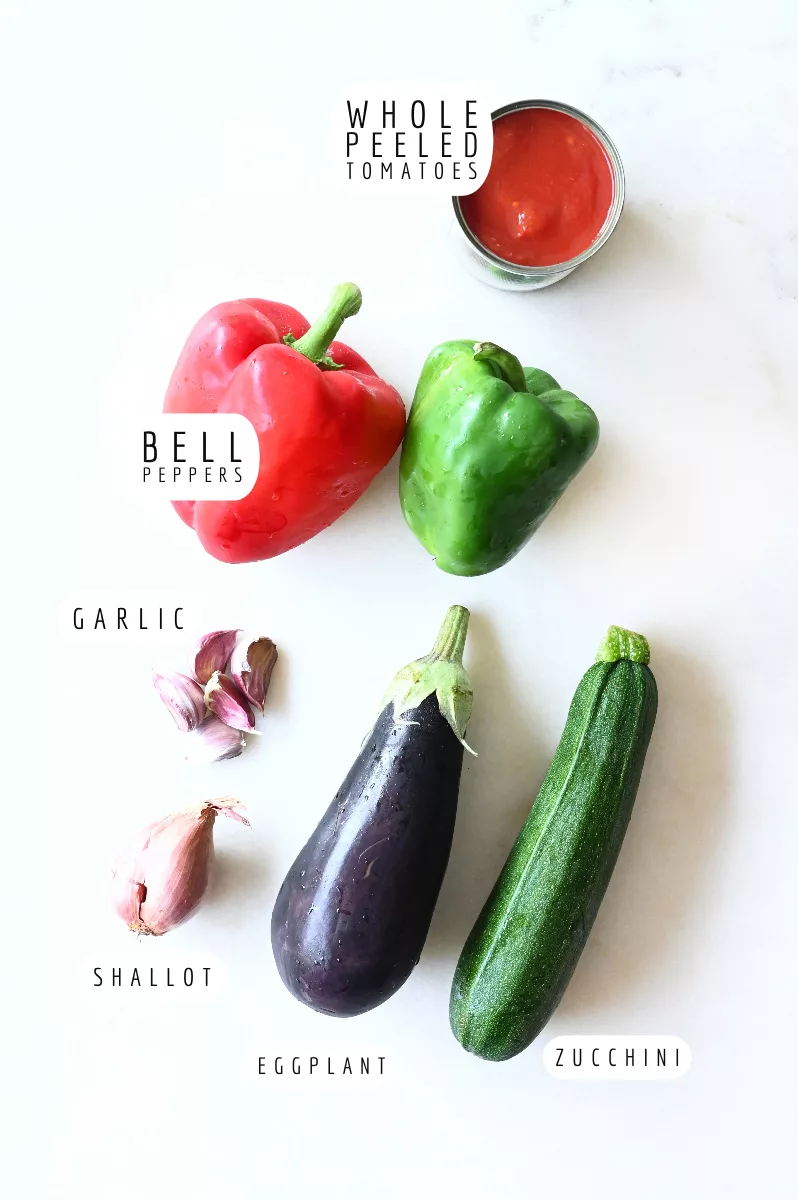 Ingredients, Tips & Substitutions
Eggplant: Adds a creamy and earthy flavor to the mix.
Bell Peppers: Red and green varieties bring vibrant and earthy tones to enhance the overall dish. Feel free to use more bell peppers or switch to yellow if you prefer.
Zucchini: Brings a tender and slightly sweet taste. Summer squash works too!
Shallot and Garlic: Impart an aromatic and savory note, elevating the flavor. You can swap shallot for yellow onion.
Whole Peeled Tomatoes: Form a rich base, binding all the vegetables together in this delightful ratatouille orzo recipe. You can also opt for crushed, puréed, or fresh tomatoes.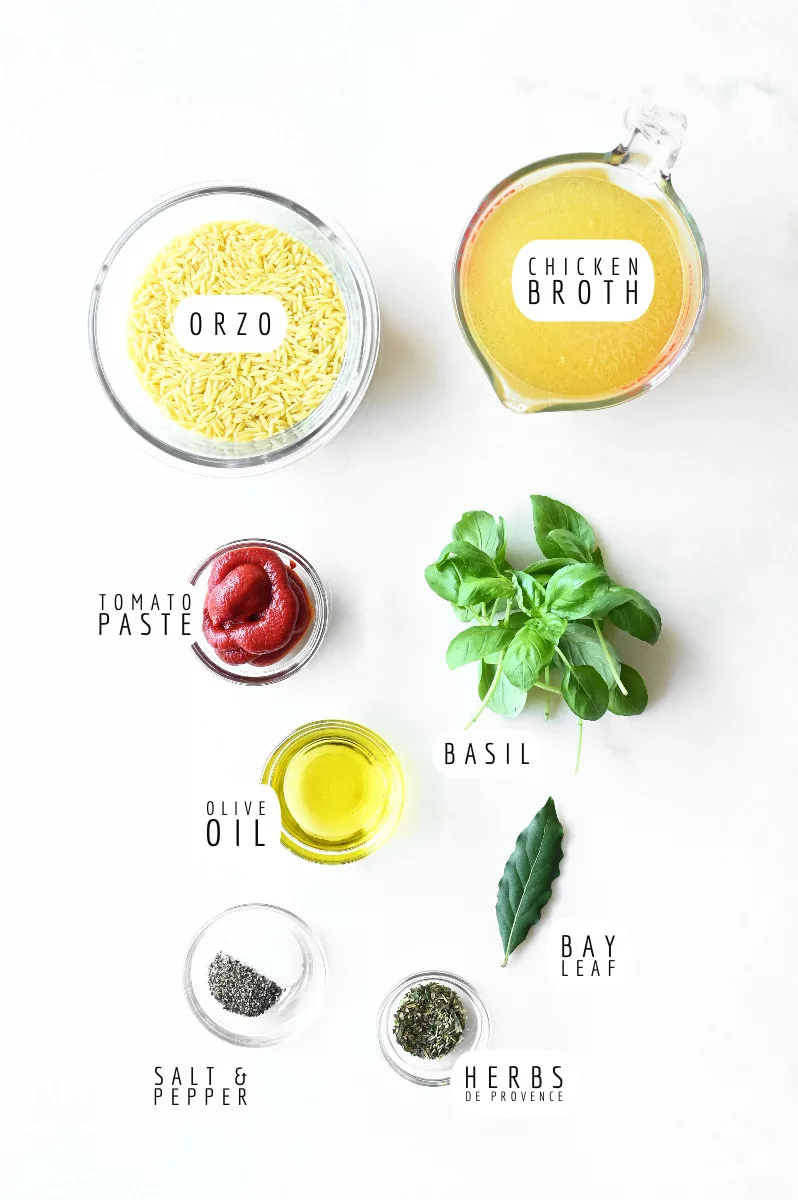 Other Essential Ingredients:
Orzo: This small-cut pasta is perfect for one-pot dishes like this. If needed, you can substitute it with other tiny pasta options such as risoni, orecchiette, or tiny macaroni.
Cooking Oil: Olive oil is used here to help the eggplant become tender and buttery, but you can also use butter, canola oil, or sunflower oil.
Herbs: Fresh basil adds a delightful herbal aroma and fresh taste to the dish.
Seasonings: Include salt, black pepper, bay leaf, and herbs de Provence. If you don't have herbs de Provence, you can substitute with dried thyme, rosemary, marjoram, tarragon, or oregano.
Tomato Paste: Contributes a concentrated tomatoey flavor, enriching the overall taste.
Broth: Chicken broth is used, but vegetable broth is a great alternative.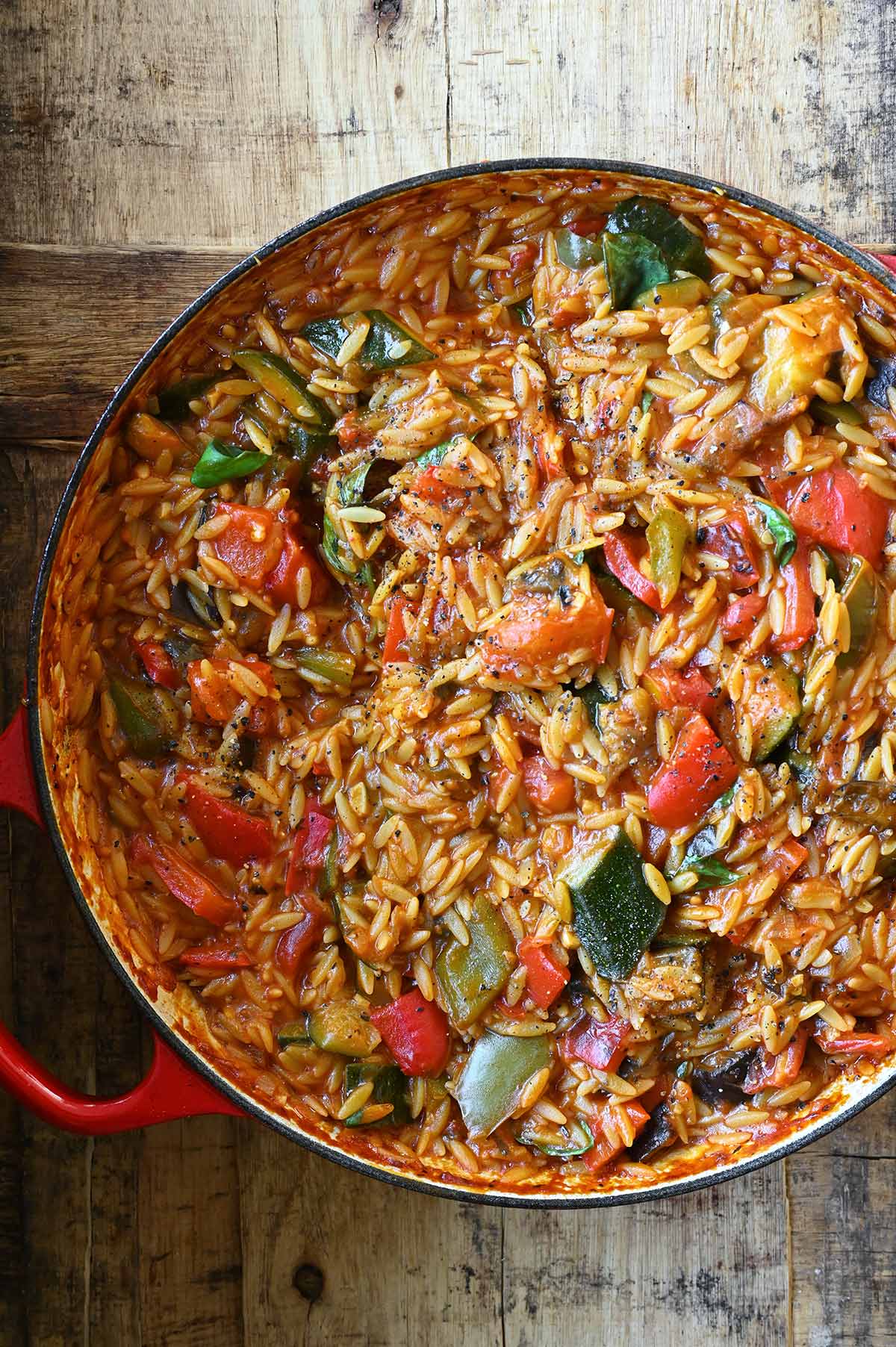 Recipe Notes
Diversify Your Veggie Selection: Feel free to enhance your ratatouille with extra vegetables like yellow squash, mushrooms, spinach, kale, fennel, carrots, broccoli, or corn to create a delightful blend of flavors and textures.
Play with Flavor: If you'd like to experiment with the taste profile, consider adding smoked paprika or a pinch of red pepper flakes for an added kick.
Versatile Serving Options: This ratatouille orzo is fantastic either as a stand-alone dish or as a delicious accompaniment to roasted chicken, pork, or lamb chops.
Stir for Perfection: Prevent any sticking by stirring frequently during the orzo's cooking process. As it cooks, the orzo releases starch, which helps thicken the sauce. Stirring at least 4 or 5 times during cooking should do the trick.
Plan Ahead: You can make this orzo in advance. When reheating, simply add a splash of broth or water to restore its consistency.
Storage: Leftovers are a treat for lunch or dinner and can be safely stored in an airtight container in the fridge for up to 3 days.
Freeze: If you'd like to prepare a larger batch, doubling the recipe is easy. Portion the ratatouille orzo and freeze it in separate airtight containers for a convenient and delicious option for future meals. Your frozen ratatouille orzo remains flavorful for up to 3 months.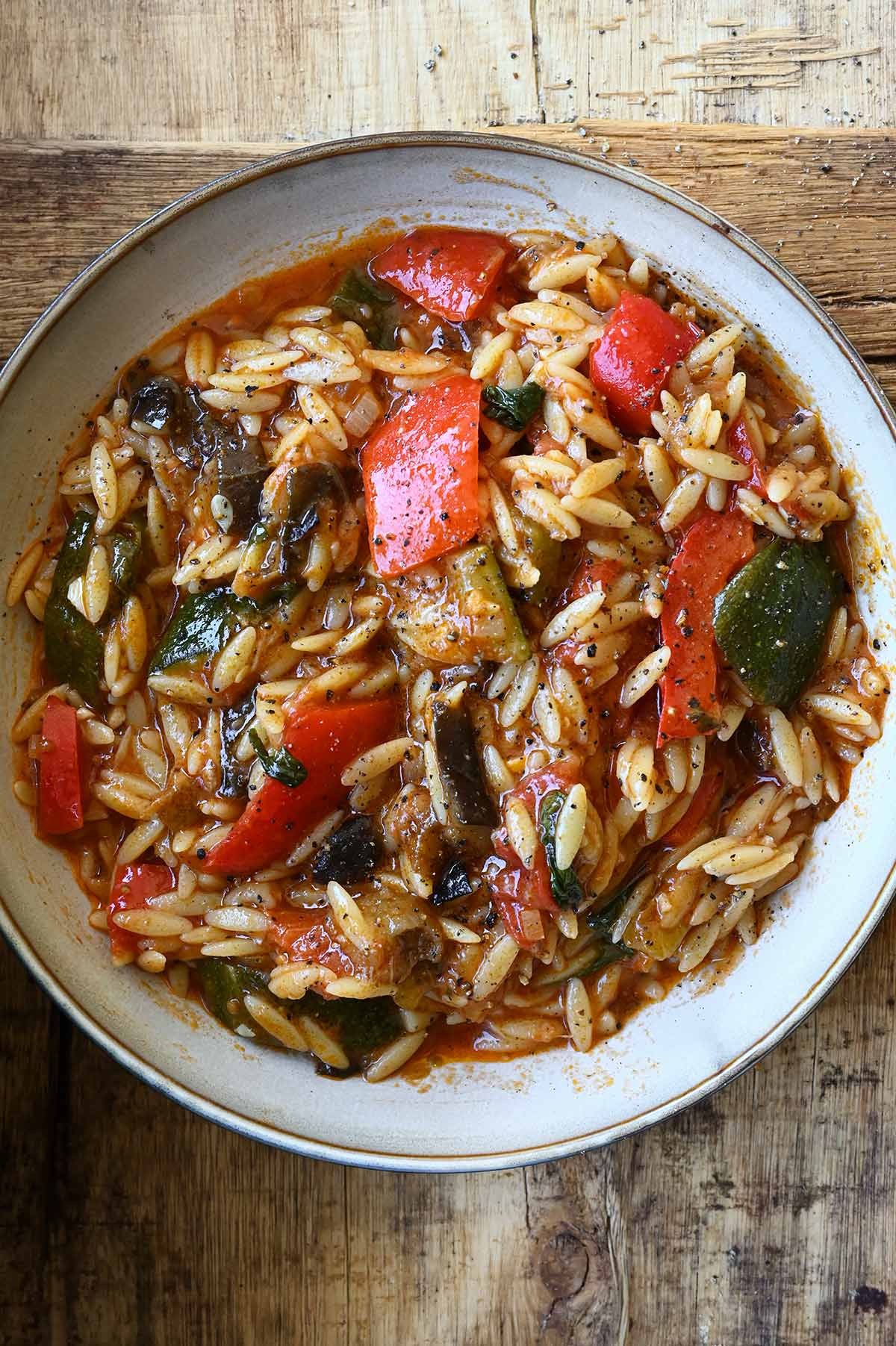 Try These Next
Cooking Video
Yield: serves 4
One Pot Ratatouille Orzo
Ingredients
4 tbsp olive oil, divided
1 eggplant, cut into 1 inch/2,5 cm thick pieces
1 red bell pepper, cored and finely chopped
1 green bell pepper, cored and finely chopped
1 zucchini, cut into 1 inch/2,5 cm thick pieces
5 garlic cloves, minced
1 shallot, finely chopped
1 tsp each: salt, black pepper, herbs de Provence
3 cups/750 ml chicken broth, divided
3 tbsp double concentrated tomato paste
1 bay leaf
1 ¼ cup/250 g dry orzo
1 can (14 oz/400 g) whole peeled tomatoes
20 basil leaves
Instructions
Get your prep done before you start cooking. Cut the zucchini and eggplant. Core and chop the bell peppers. Finely chop the shallot and mince the garlic.
Heat 2 tablespoons oil over medium high in a large heavy bottomed pan or Dutch oven. Add eggplant, and cook for 3 minutes, stirring occasionally until it starts to brown. Add the remaining oil, then trow in bell peppers, and cook for 3 minutes more. Finally, stir in zucchini.
Add garlic and shallot, stir to combine. Add salt, pepper and herbs de Provence. Cook for another 3 minutes until fragrant. Pour in 1 cup chicken broth, simmer over medium for 5 minutes or until the vegetables start to soften.
Stir in tomato paste, then add bay leaf and orzo. Stir to combine. Next pour in whole peeled tomatoes and the remaining chicken broth. Bring everything to a boil, reduce heat to medium low and simmer for 15 minutes or until the orzo is al dente and the vegetables are tender. Stir frequently to prevent orzo from sticking to the bottom of the skillet.
When ready, taste and adjust salt. Stir in basil leaves. Simmer for 1 minute.
Finish off with black pepper. Enjoy!
Notes
Calories Per Serving: 498 kcal
Nutritional information is only an estimate. The accuracy of the nutritional information for any recipe on this site is not guaranteed.

//= __('Print recipe (no photos)', 'servingdumplings' );?> //= __('Print recipe (with photos)', 'servingdumplings' );?>