One pot homemade hamburger helper. This version of cheeseburger macaroni is super cheesy and tastes addictively delicious! Ground beef, a little bit of cream and lots of grated cheddar are the key ingredients to make this incredibly comforting meal. It's so cozy you'd want to cuddle with it.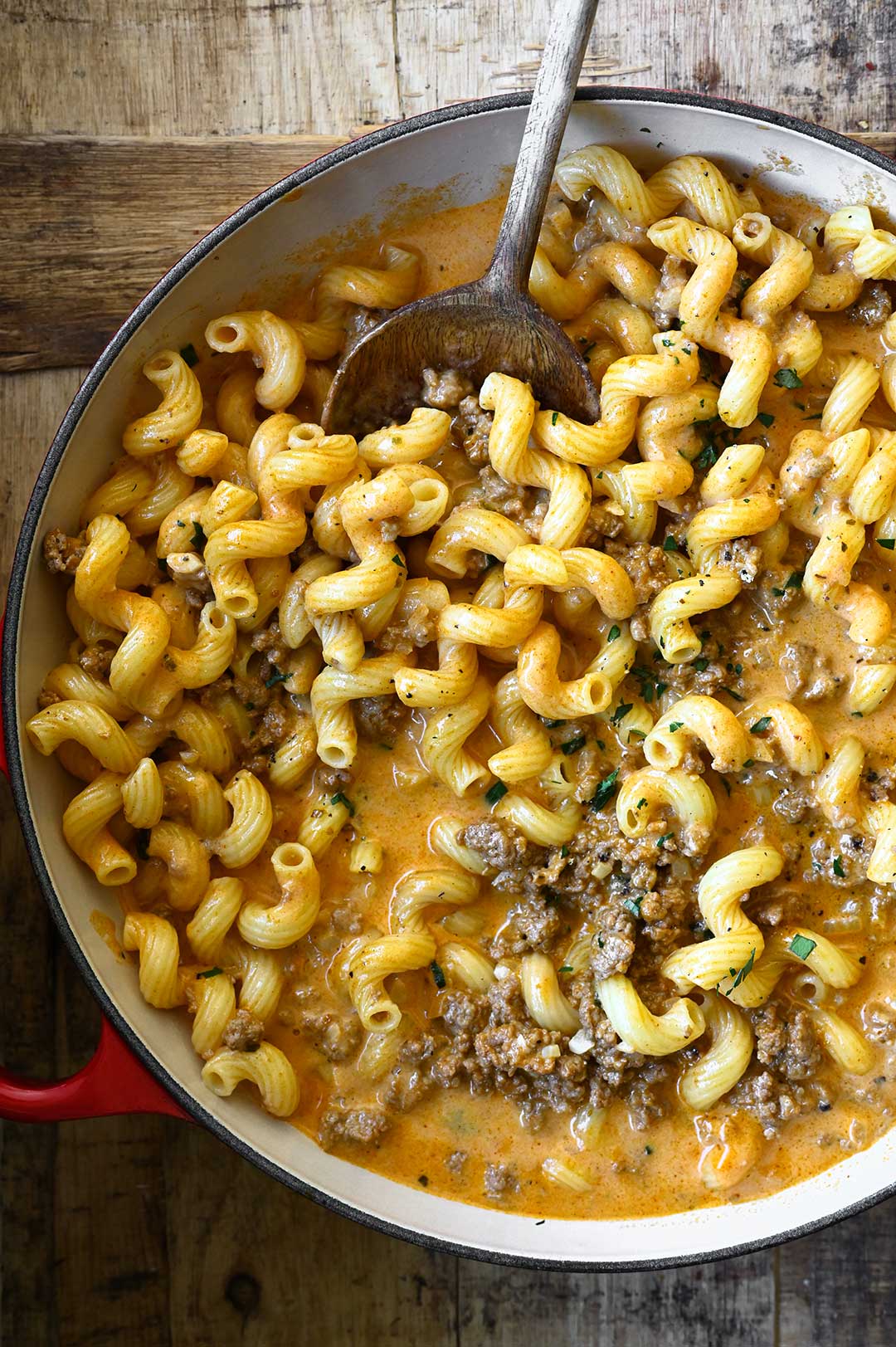 For this pasta recipe, the starchy pasta water and cream provide a perfect base. Ground beef gives this dish a familiar burger flavor, while freshly grated cheddar cheese leaves no doubt that it's a super comforting luscious dish. It's sure to become a family favorite.
The best part? You don't need to dirty other pots and pans to brown the meat or boil the pasta, we toss everything in one pot and besides, an occasional stir, this recipe is super easy to make and it doesn't hurt that it's wallet- friendly.
Let me guide you through the recipe with this step-by-step VIDEO.
I doubt that washing dishes is anyone's most favorite activity, so this delicious pasta recipe solves all of your dish-washing pastime.
The thing about most one-pot recipes is that although everything is technically cooking in a single pot, we still need to use multiple bowls or remove things from the skillet, to add it back in. This recipe isn't that kind of recipe. It's a legit one-pot recipe from start to finish. You'll only need your cutting board for the onion and garlic, and a grater for your cheese.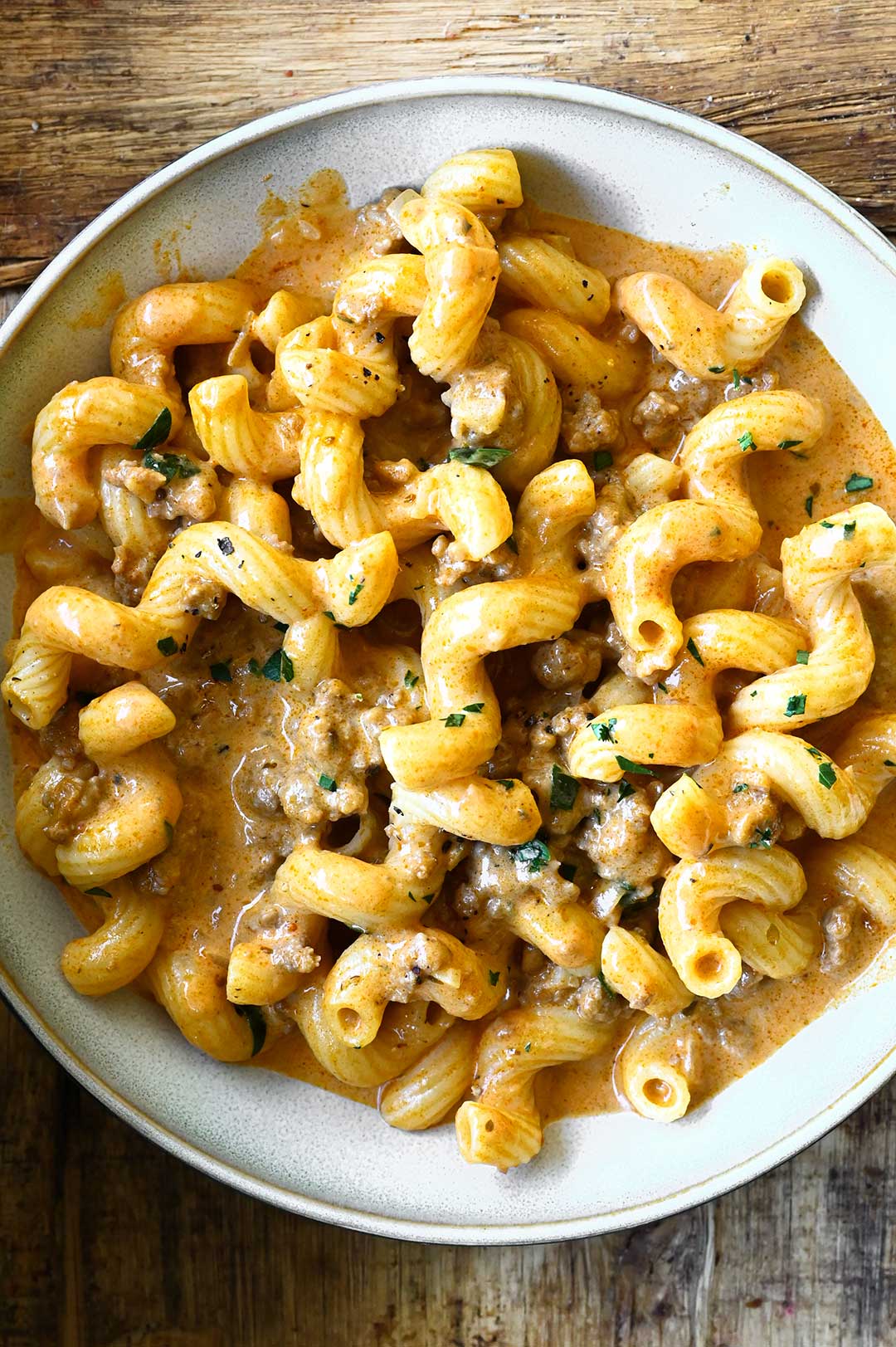 Gather the Ingredients and Let's Start Cooking
Ground beef: We use lean ground beef, which helps to keep the pasta from being greasy. You can also use ground chicken.
Onion and garlic: Almost any dish will taste better when you add these. If you're short on time, use a tablespoon of onion powder and a teaspoon of garlic powder.
Oil and butter: We use both, for more flavor.
Seasonings: Salt, black pepper, cayenne pepper, dried oregano and smoked paprika.
Tomato paste: You can also use ketchup for that familiar burger tang.
Beef broth: Vegetable broth or chicken broth would both work great here.
Half-and-half: You can also use whole milk or heavy cream. Non-dairy milk will also work.
Pasta: I used Cavatappi pasta, but this recipe will works well with any short pasta.
Cheddar: To make this a cheesy, comforting meal, you'll need plenty of shredded cheese. Best when freshly grated.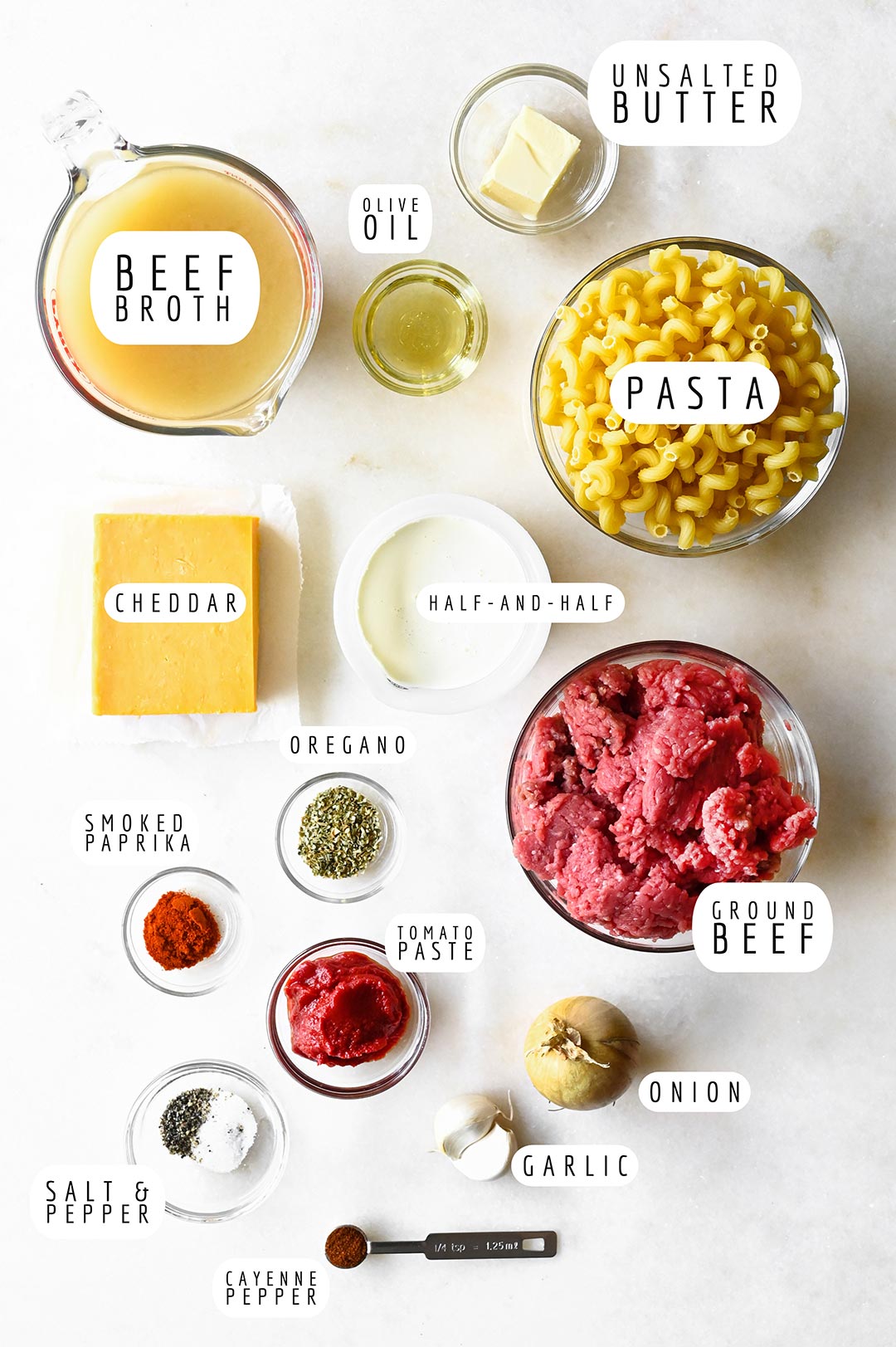 This is How We Make It
The idea is to start with onion and garlic first, then we add in the ground beef, breaking it up as we go and brown it all over. Next we'll add in tomato paste and seasonings. Then add in the pasta and broth, and simmer it for about 6-8 minutes. The addition of broth rounds out the meat flavor and gives the beef something to cook down in without drying out. Aa the pasta cooks, the broth reduces while it becomes starchy and creamy.
We let it simmer, then finish off with a generous splash of half-and-half and plenty of cheddar cheese to elevate the creaminess factor. And there it is, a tasty meal that's sure to appeal to everyone… with just one single pot.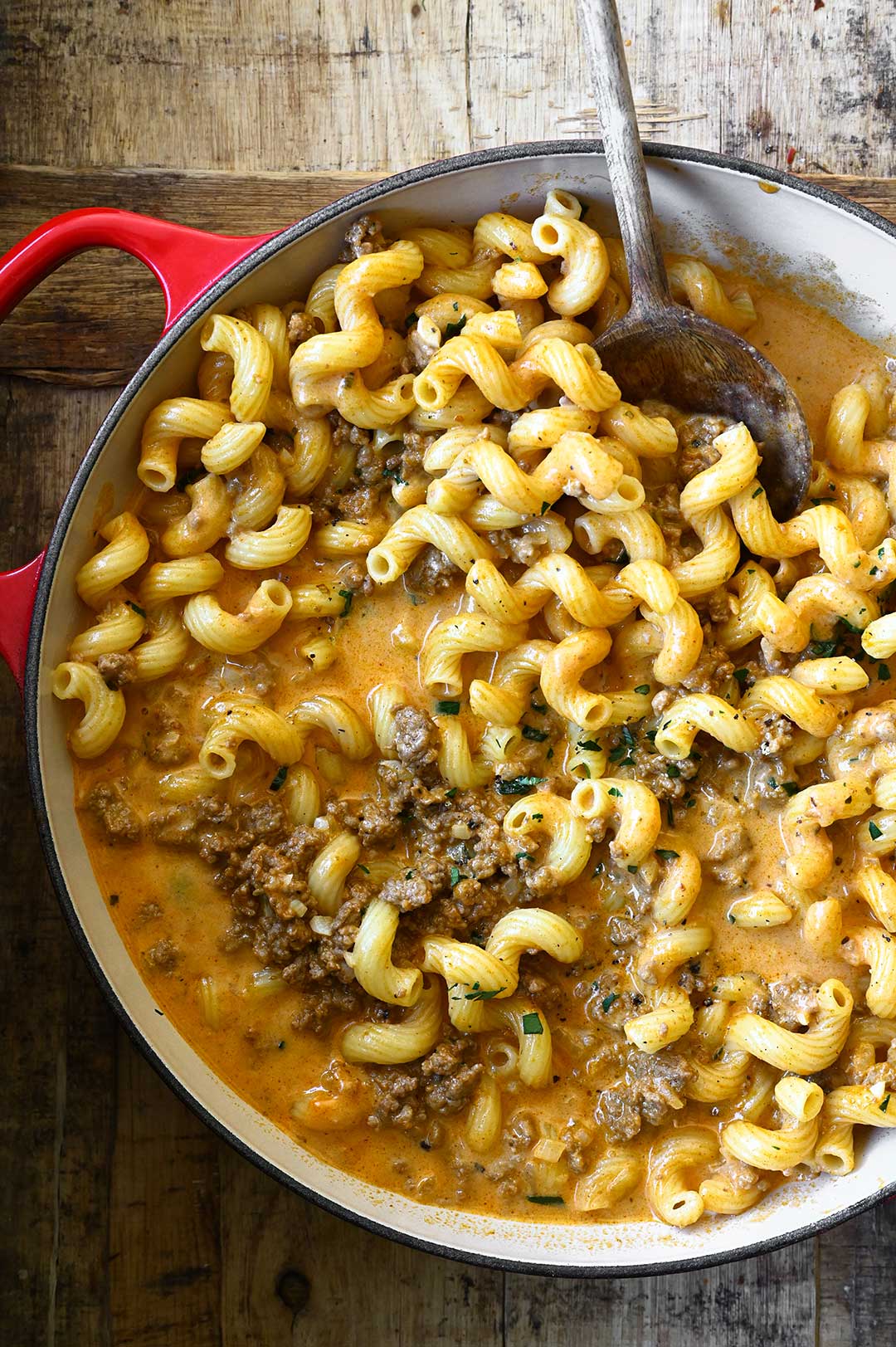 RECIPE NOTES
Use your favorite pasta like elbow pasta, penne, farfalle, cavatappi, shells, pipe rigate and fusilli are all good hamburger helper style shapes.
Want to sneak in some veggies? Why not! Add grated carrots, grated zucchini, spinach, bell pepper or roasted pepper.
Instead of cheddar, try mozzarella or any other melting cheese that you like.
Garnish with fresh parsley or chives if desired.
Serve with a crisp romaine salad or steamed broccoli to complement the richness of the hamburger pasta.
Storage: Cover and refrigerate leftovers for up to three days. Reheat with a splash of milk or water until warmed through.
Freeze for up to three months in airtight containers. Let thaw in the refrigerator overnight before reheating.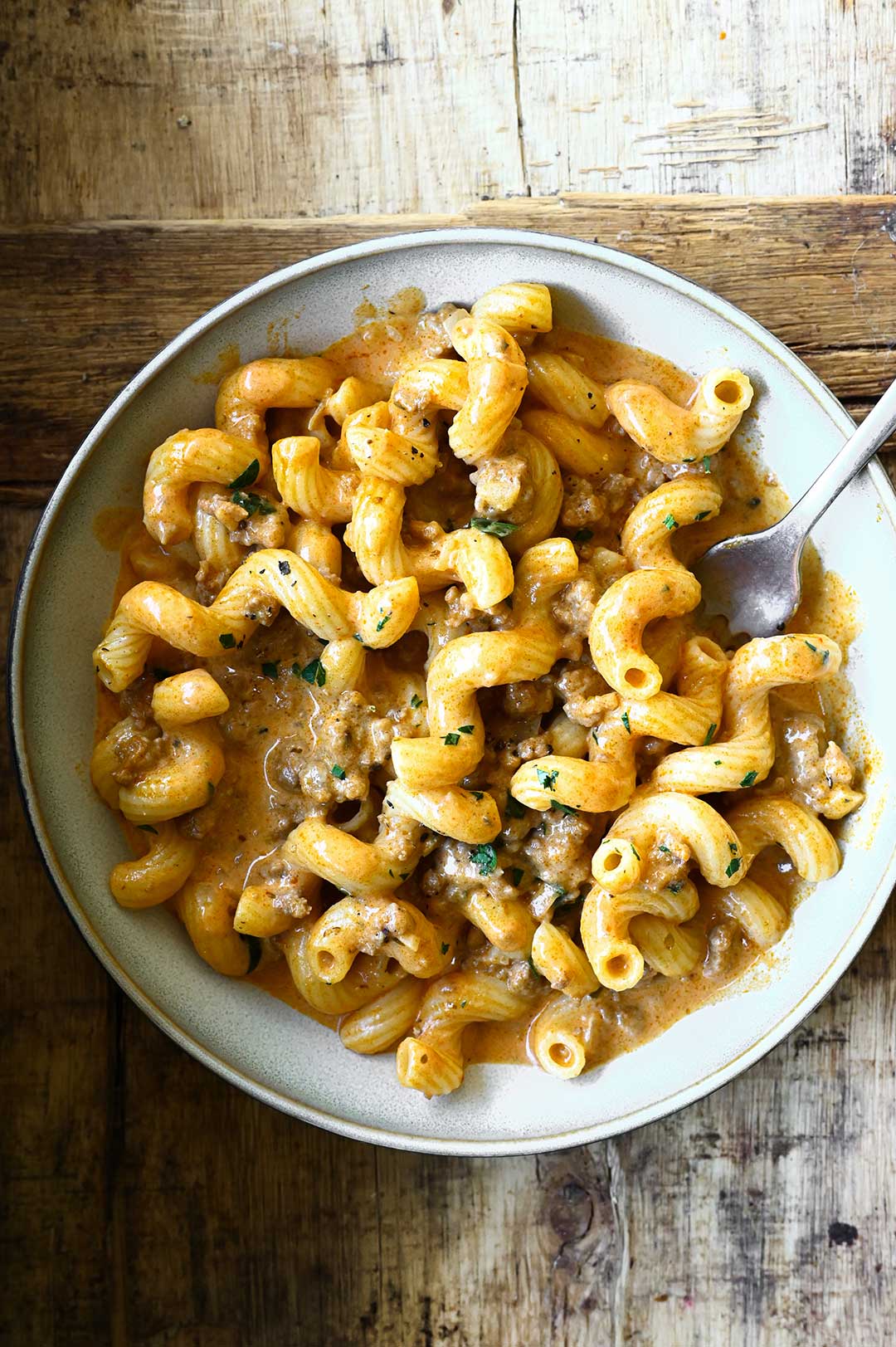 Try These Next
COOKING VIDEO
Yield: serves 4
One Pot Homemade Hamburger Helper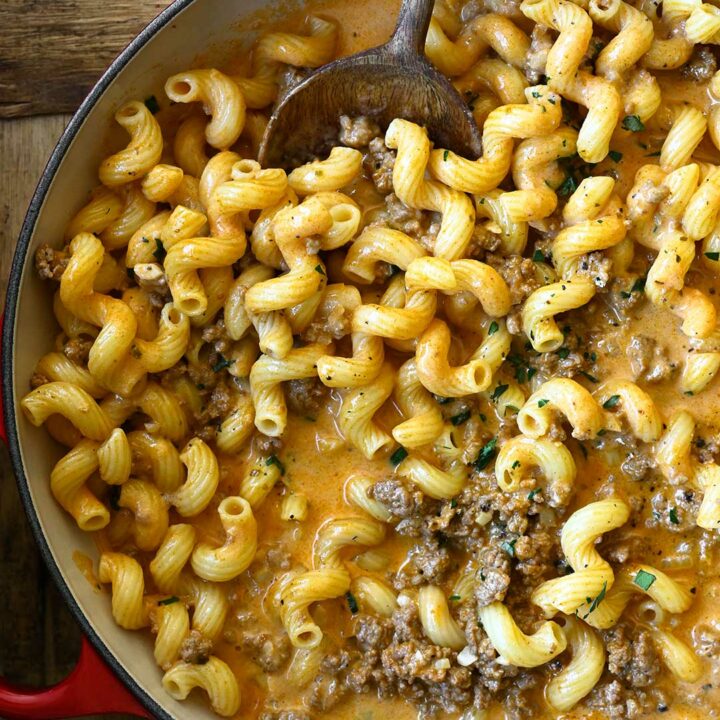 Ingredients
1 tbsp olive oil
1 tbsp unsalted butter
1 pound/450 g lean ground beef
1 onion, finely chopped
2 garlic cloves, minced
¼ tsp cayenne pepper
½ tsp each: salt, black pepper, smoked paprika, dried oregano
2 tbsp tomato paste
9 ounces/250 g dry pasta
3 cups/720 ml beef broth
1 cup/240 ml milk
6 ounces/180 g cheddar cheese
fresh parsley for topping, optional
Instructions
Heat a large pot over medium. Add oil, butter, onion and garlic. Stir for 1 minute until fragrant. Add ground beef, break up into pieces and cook until brown, about 6 minutes.
Add salt, black pepper, smoked paprika, oregano and cayenne pepper. Stir in tomato paste and cook for 1 minute.
Add pasta and pour in broth. Stir to combine, bring to a boil, then reduce heat to medium low and simmer, covered, for about 6-8 minutes, or until pasta is al dente. Stir occasionally.
Meanwhile, grate the cheddar cheese and chop the parsley if using.
Pour in half-and-half and add cheddar. Stir until the cheese is melted and cook for 1-2 minutes until slightly thickened. Taste and adjust salt. Finish off with parsley. Serve!
Notes
Calories Per Serving: 696 kcal
Nutritional information is only an estimate. The accuracy of the nutritional information for any recipe on this site is not guaranteed.

//= __('Print recipe (no photos)', 'servingdumplings' );?> //= __('Print recipe (with photos)', 'servingdumplings' );?>