One pot creamy chicken and rice. A comforting 30-minute crowd-pleaser. Tender chicken fillets served with the most smooth rice imaginable, made super creamy with mascarpone and a handful of Parmesan. It's like a hug in a bowl.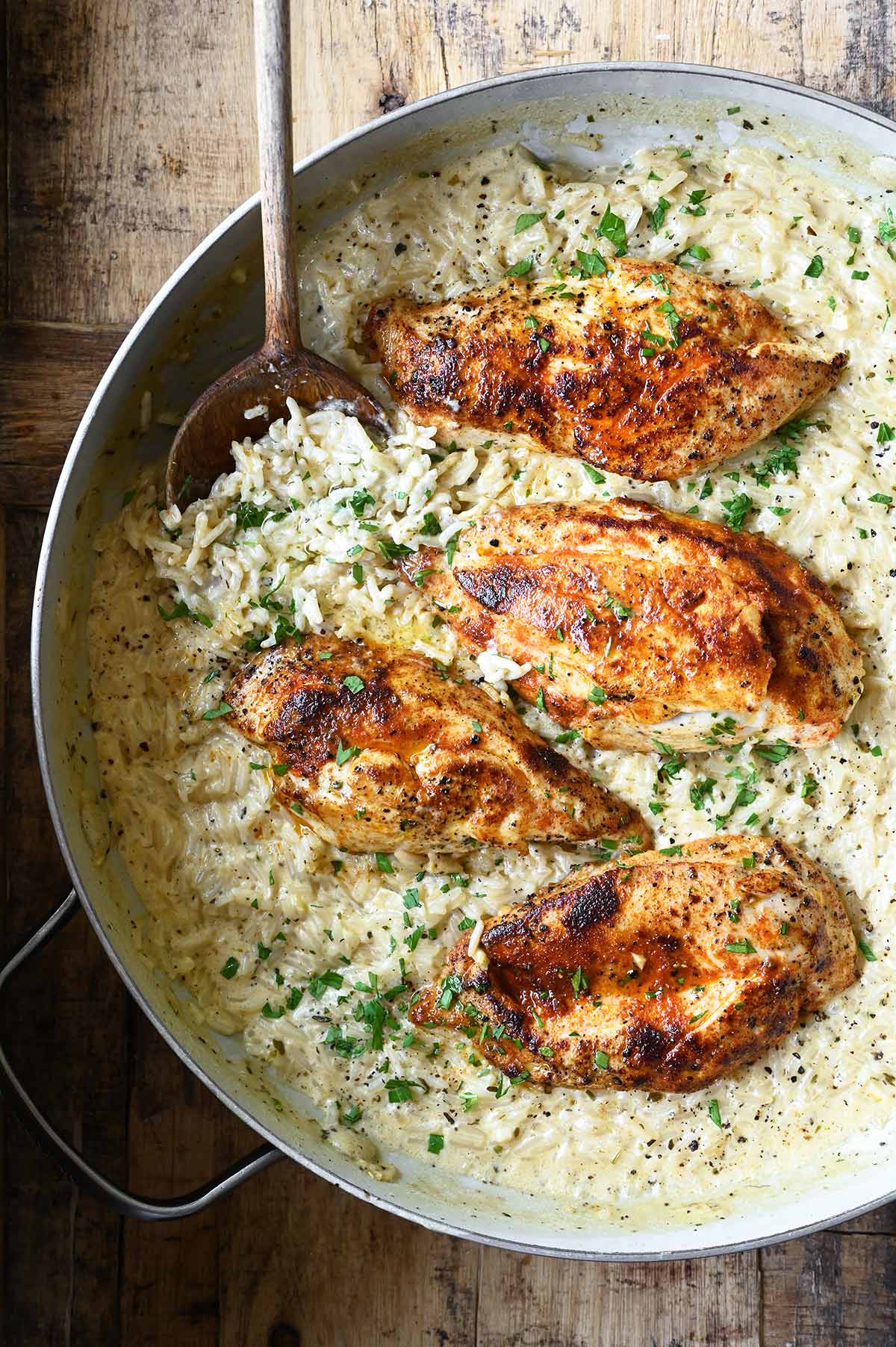 Imagine tender chicken and basmati rice in a creamy garlic-kissed sauce for a fast and hearty weeknight dinner that we all need. The rice cooks in the sauce, in the same skillet where we cooked the chicken for maximum flavor and so that dinner can be on the table in just about 30 minutes… leaving you with an unfussy one-pot meal and delicious leftovers for the next day.
To create this dish's creamy texture we make good use of the starch that's released by the rice, much like it does in risotto. The one thing that's left to do is swirl mascarpone and Parmesan at the end.
Let me guide you through the recipe with this step-by-step VIDEO.
You'll love that this one pot meal uses simple ingredients that you might already have in the pantry or your refrigerator. If you want to swap out Parmesan for Pecorino or cheddar, or use other herbs than Italian seasoning, be my guest! Have leftover rotisserie chicken or turkey? Use that instead, and just stir it in with the Parmesan at the end to heat through.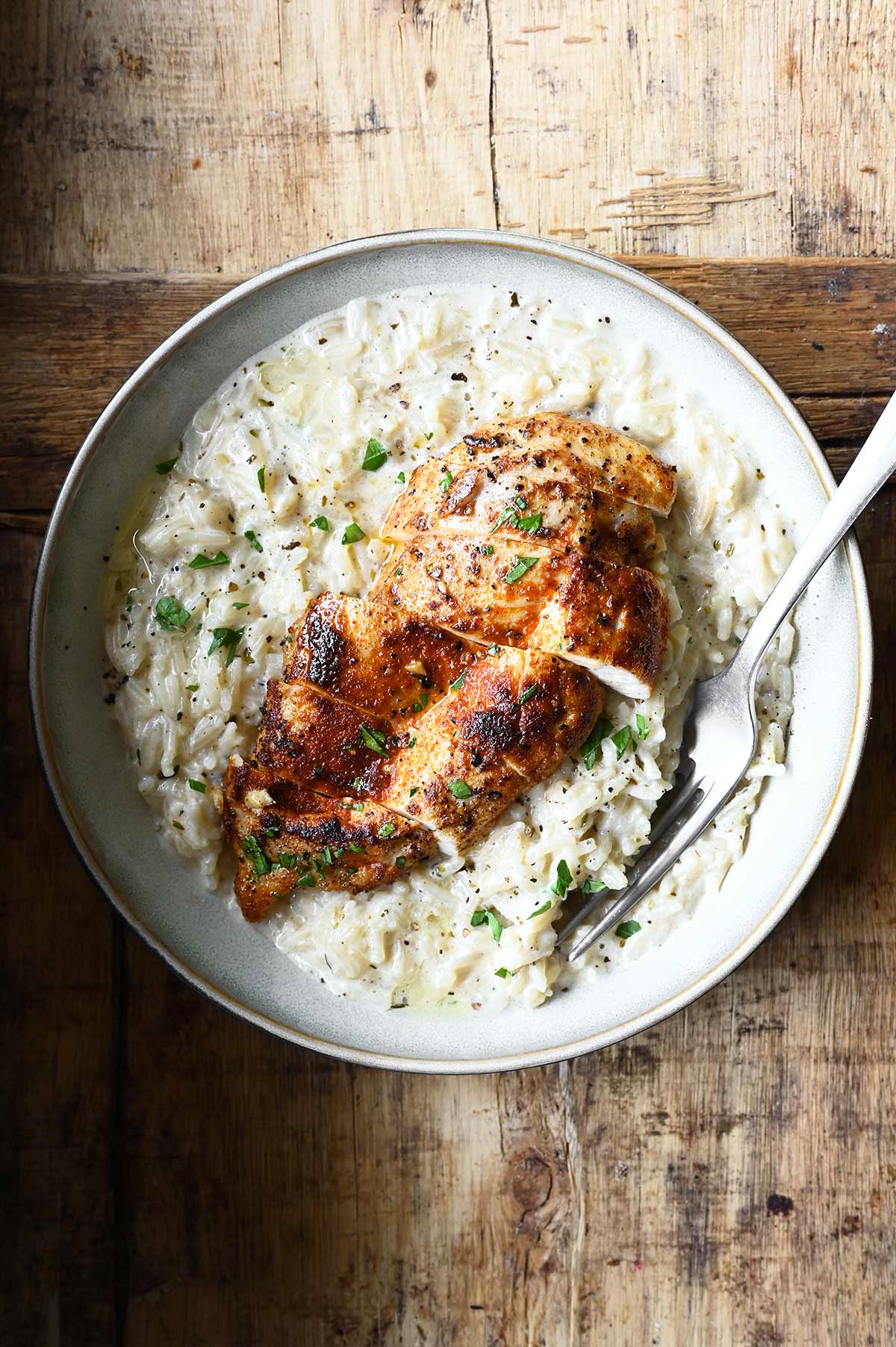 Cooking with Mascarpone
For this recipe's creamy component, we're using mascarpone for its soft, light texture and mild, milky flavor. If you've never cooked with mascarpone before, then this is the recipe to start with! It will turn your dinner into a creamy and luxurious dish. Mascarpone cheese is made from heavy cream and is a bit like cream cheese, except silkier and more creamy in texture.
By adding the mascarpone at the end, the cheese melts and the rice becomes even more silkier. The result is a surprisingly tasty and hearty dish. Simple, but perfect, and really delicious when served with seared chicken fillets.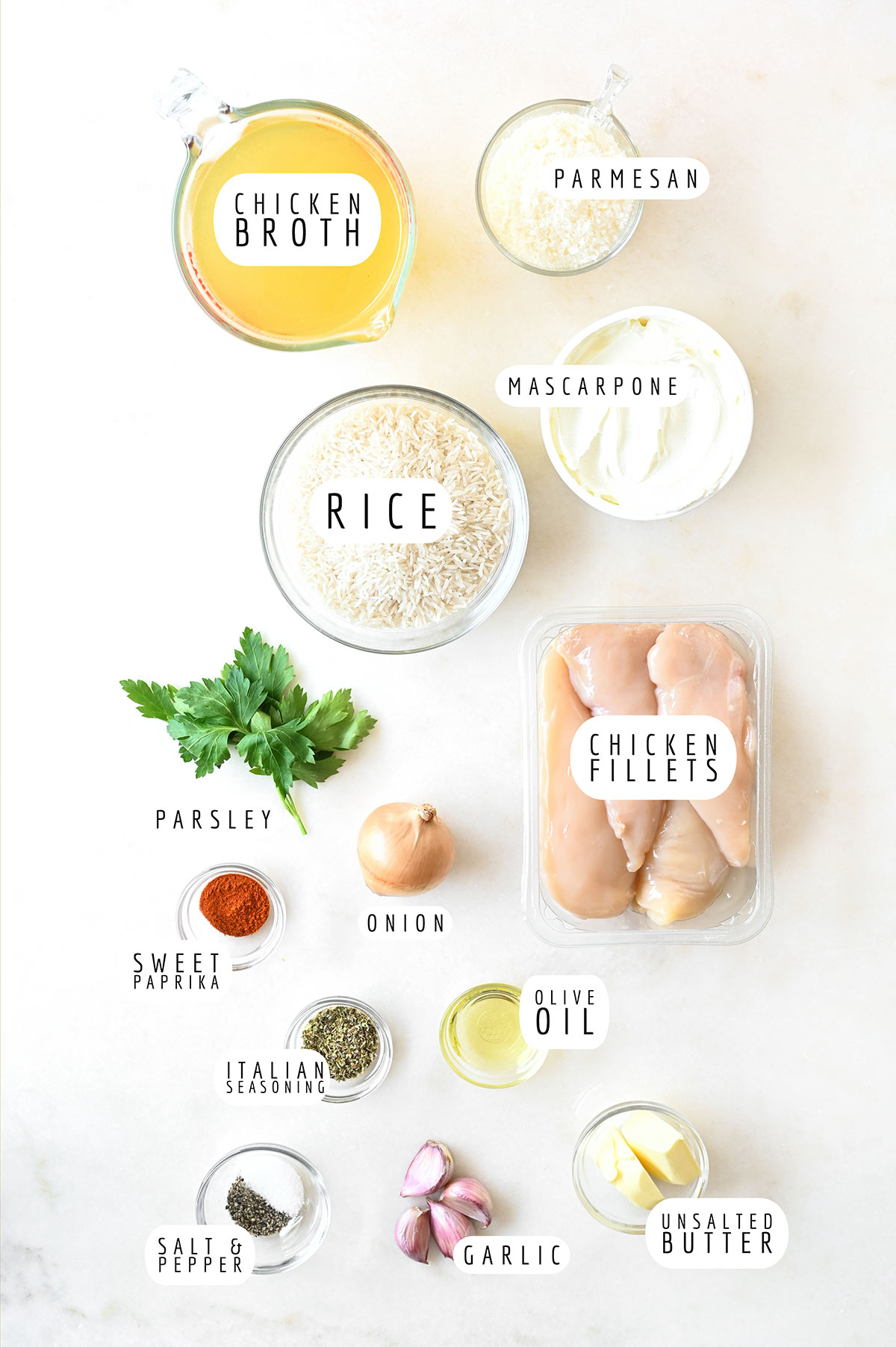 Ingredients, Tips & Substitutions
Chicken: Use chicken fillets of the same size and thickness so they can cook evenly. You can also use rotisserie chicken or turkey fillets.
Rice: I used Basmati rice, which adds a distinctive nutty flavor and a unique, slightly floral aroma. But you can use any type of rice.
Mascarpone: For this recipe's creamy element. We're using mascarpone cheese for its soft, light texture and mild, milky flavor. But this recipe will work just as well with whole-milk ricotta or heavy cream mixed with cream cheese, so use what you've got on hand.
Parmesan: To flavor the sauce. Best to use freshly grated parmesan so your sauce isn't grainy.
Oil and Butter: By mixing those together, you can increase the smoke point and the flavor.
Onion and Garlic: Aromatics to lift up the flavor.
Seasoning: A mix of salt, black pepper, sweet paprika and Italian seasoning. You can also use thyme, oregano or dried basil instead of the Italian seasoning.
Chicken Broth: To elevate this dish, the flavors would never be the same if we'd use water and salt.
Herbs: Parsley. This one is optional, although it adds that fresh touch. You can swap it for basil.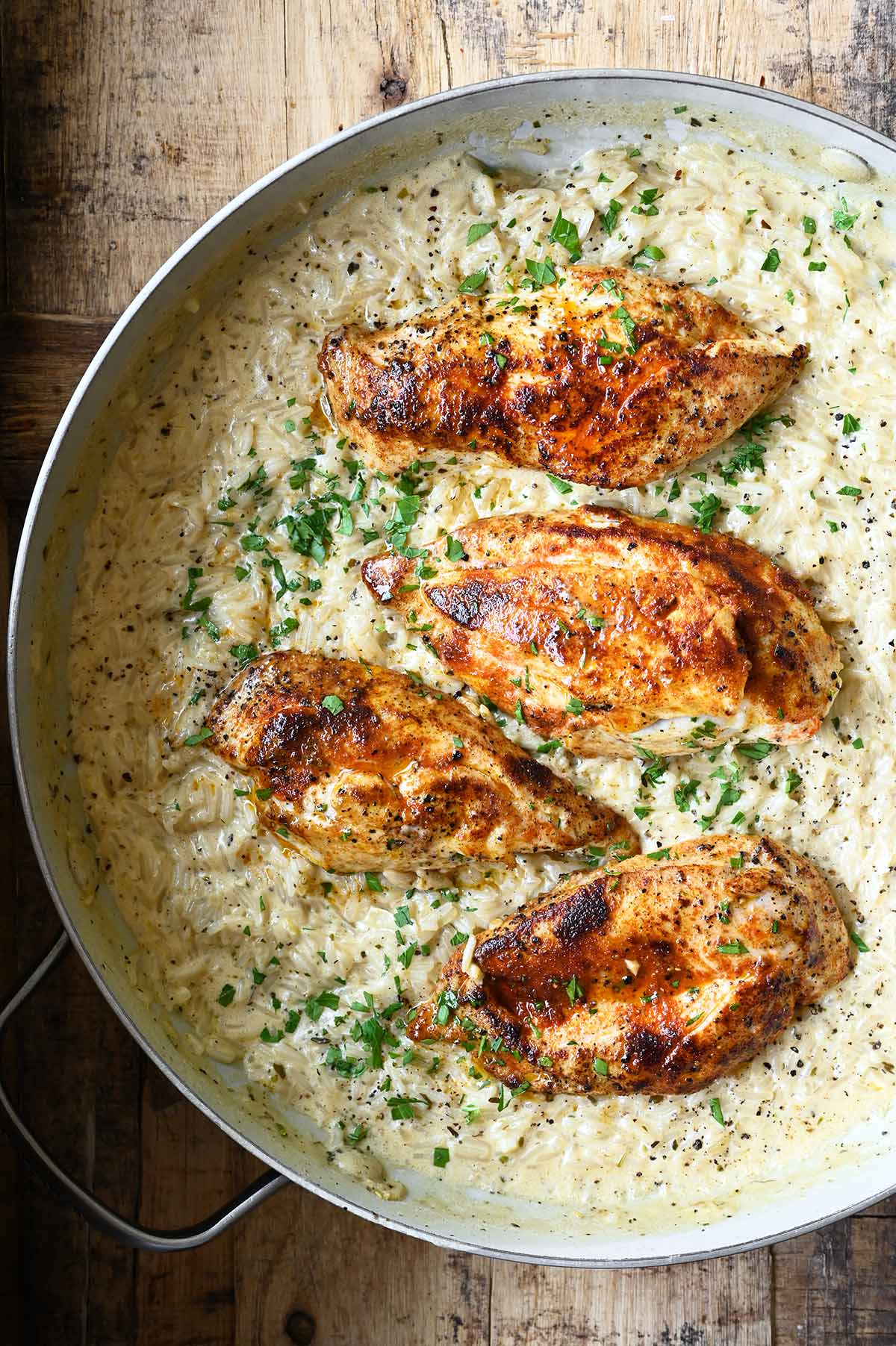 Recipe Notes
Feel free to add whatever veggies you'd like! Spinach, steamed broccoli, green asparagus or peas, they all work great.
Pair with a big leafy side salad or a creamy cucumber salad.
Storage: Store leftovers refrigerated in an airtight container for up to 3 days.
Try These Next
Cooking Video
Yield: serves 4
One Pot Creamy Chicken and Rice
Ingredients
4 small chicken fillets
2 tsp each: salt, black pepper, divided
1 tsp sweet paprika
1 tbsp unsalted butter
1 tbsp olive oil
4 garlic cloves, minced
1 small yellow onion, finely chopped
1 tbsp Italian sesaoning
1 cup/250 g basmati rice
3 cups750 ml chicken broth
1 cup/250 g mascarpone
½ cup/40 g freshly grated Parmesan
1 tbsp freshly chopped Parsley
Instructions
Season the chicken fillets with paprika and 1 teaspoon each, salt and pepper.
Mince the garlic cloves, finely chop the onion and parsley.
Heat oil and butter over medium high in a large heavy bottomed skillet or pan. Add chicken and cook for about 5-8 minutes per side or until the chicken is cooked through and browned on both sides. The cooking time can vary with the size of your chicken. Remove from skillet and place on a clean plate. Cover with aluminum foil.
Add garlic and onion, cook for 2 minutes over medium. Add Italian seasoning and the remaining salt and pepper. Stir in rice and cook for 1 minute. Pour in chicken broth and bring to a boil. Simmer over medium low for 8 minutes, while stirring from time to time to prevent rice from sticking to the bottom of your skillet. Add broth if needed.
Next, add mascarpone and stir until dissolved. Then stir in Parmesan cheese. Finally nestle chicken in rice, simmer for 3 minutes or until the chicken is warmed through. Top with freshly cracked black pepper and parsley. Enjoy!
Notes
Calories Per Serving: 653 kcal
Nutritional information is only an estimate. The accuracy of the nutritional information for any recipe on this site is not guaranteed.