One pot broccoli cheddar salmon orzo. Beyond delicious, super easy to make and ready in 30 minutes. Pan-seared salmon fillets served with smooth orzo, plenty of broccoli and creamy cheddar cheese. A hug in a bowl!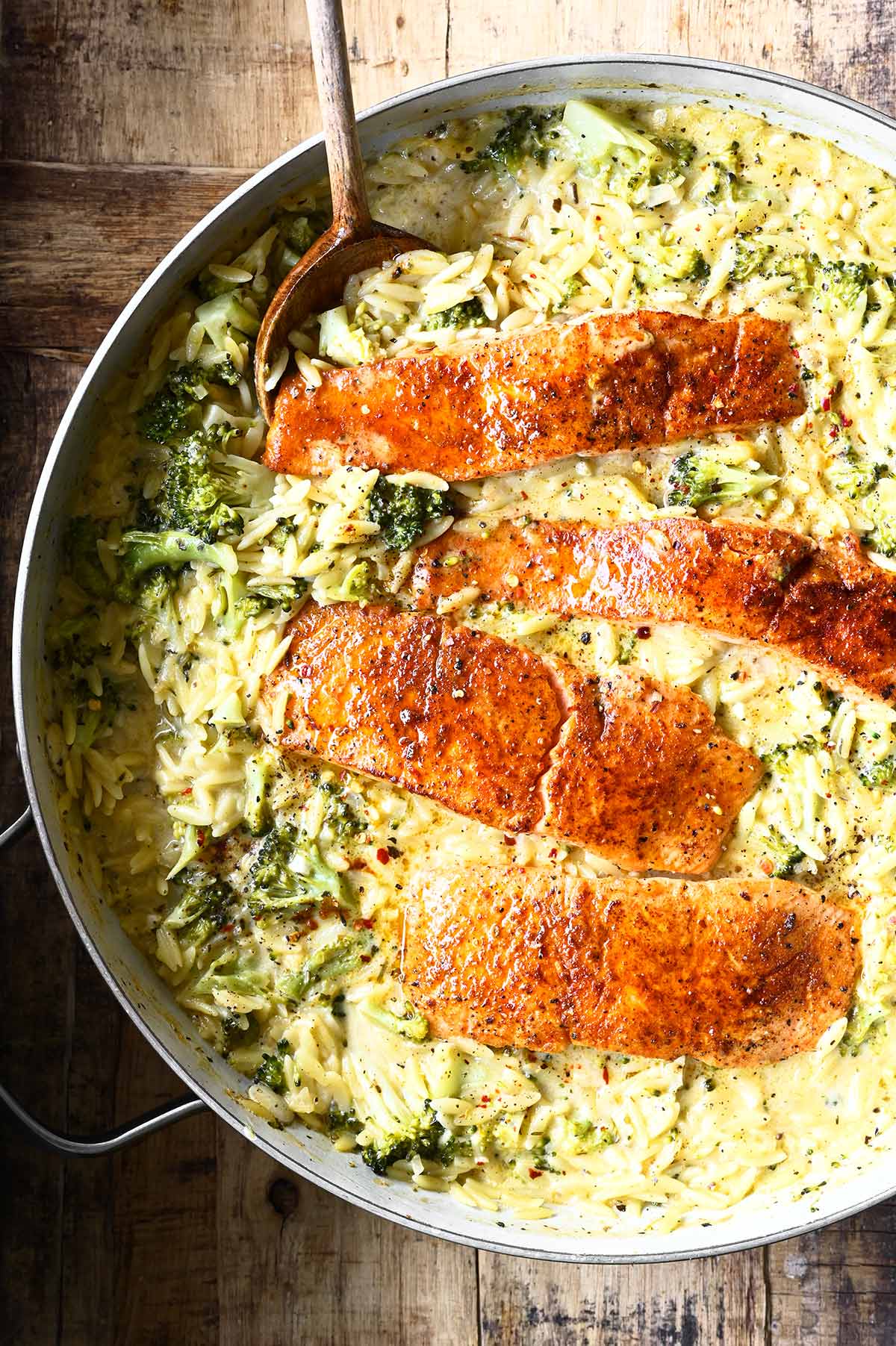 This pasta dish tossed with cheddar, Parmesan and broccoli shows how satisfying something can be with such simple ingredients. It's creamy, hearty and immensely comforting at the same time.
This broccoli cheddar orzo is super easy to make and incredibly delicious. The salmon, orzo and sauce are prepared in the same skillet, leaving you behind with almost no dishes. It's a next-level dinner that will definitely satisfy your pasta cravings, and as an extra bonus it's ready in just 30 minutes.
When tucking into a bowl of this dish, the first thing that will hit you is the texture. It's smooth and full-bodied, but not heavy at all. The flavors are balanced, the earthy broccoli combined with creamy cheddar is just divine. With the salmon on top, the result is rich and decadent, and feels like a special treat.
The magic step for a smooth orzo is cooking the orzo in the sauce. This releases the starch and mingles it with the liquids, so it becomes glossy, luscious and creamy without using lots of cream. The other step is stirring the orzo occasionally. This will not only prevent it from sticking to the bottom of your skillet, but will also help to release more of its starches.
Let me guide you through the recipe with this step-by-step VIDEO.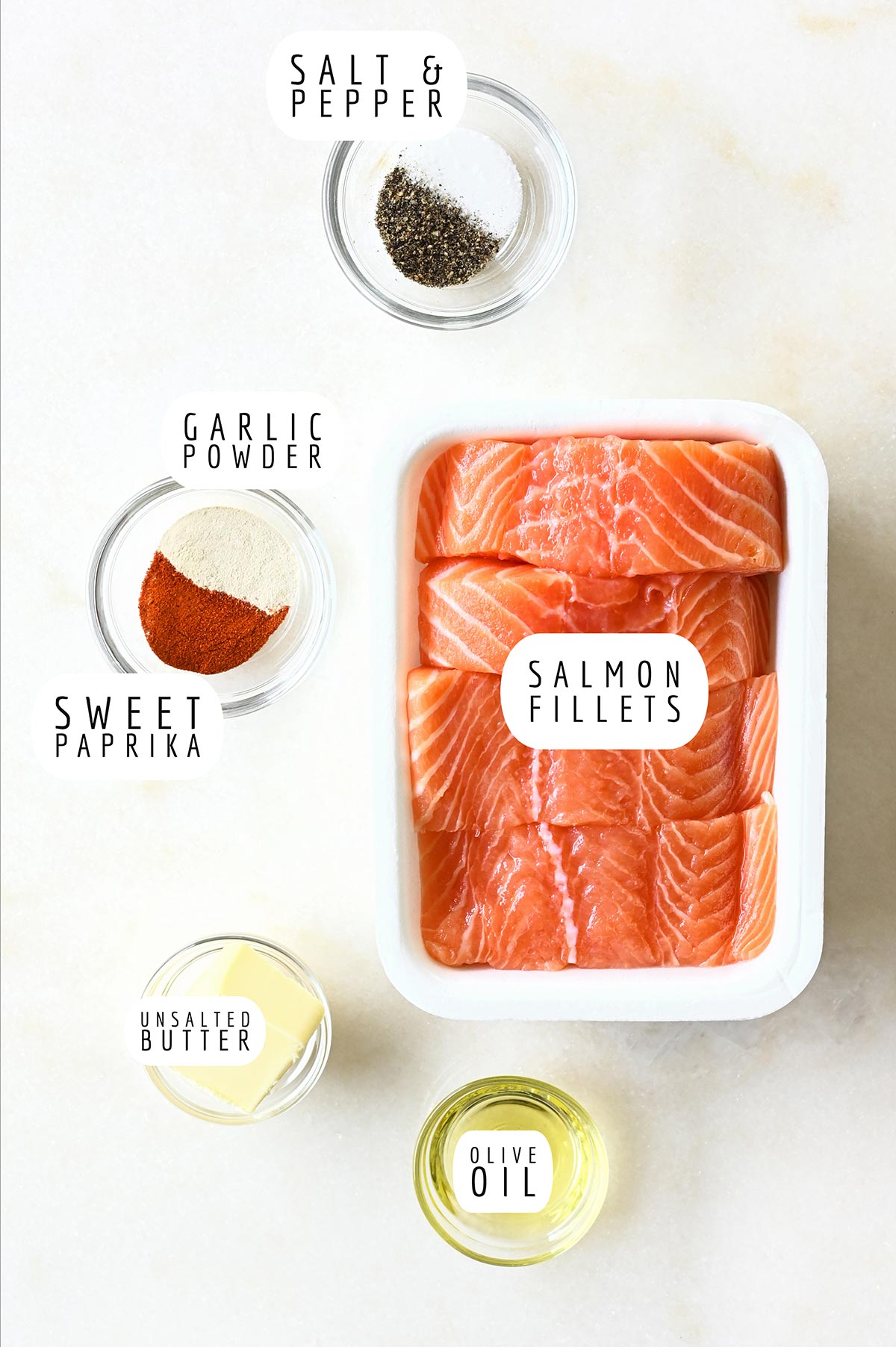 Ingredients, Tips & Substitutions
Salmon
Salmon: Use salmon fillets of the same size and thickness so they can cook evenly. If you want to use skin-on salmon, no problem!
Seasoning: A mix of salt, black pepper, garlic powder and sweet paprika.
Oil and Butter: By mixing those together, you can increase the smoke point and the flavor.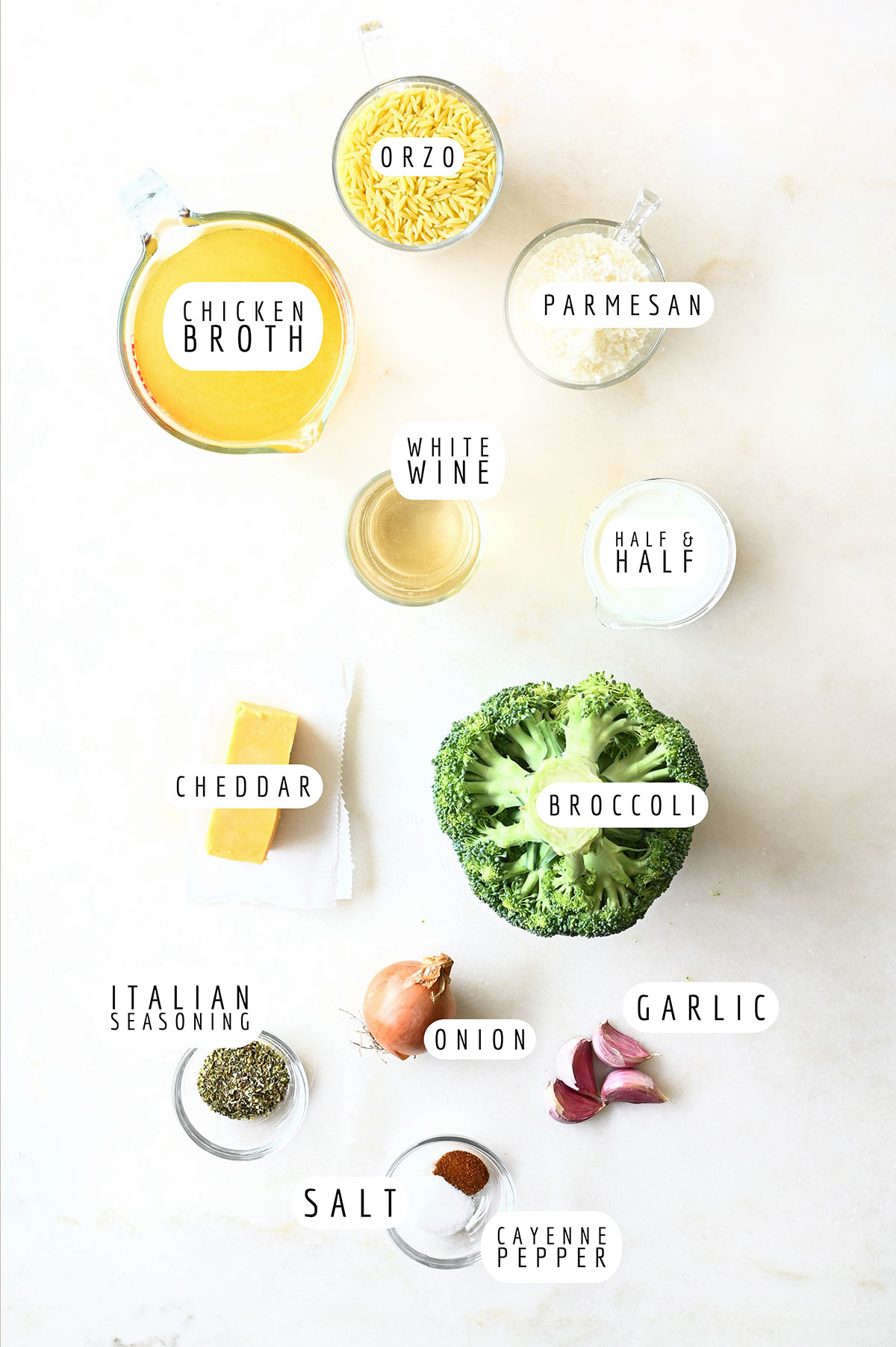 Brocoli Cheddar Orzo
Garlic and Onion: Aromatics to lift up the flavor.
Orzo: It will add a silky texture to this dish, which you'll won't get with any other pasta. But if you can't find it, try to go for a pasta variety that's as small as possible.
Broccoli: Fresh broccoli florets roughly chopped into small bite-sized pieces.
White Wine: Dry white wine to deglaze the skillet. If you want to keep this alcohol-free, use extra chicken broth.
Chicken Broth: You can also use vegetable broth.
Half-and-half: You can substitute with heavy cream or 20% fat cream. But try not to use just milk.
Cheese: Cheddar and Parmesan. Try different kinds of cheese like Swiss cheese, Pecorino or Gruyère. Best when freshly grated right off of the block so your sauce isn't grainy.
Seasoning: Italian seasoning and cayenne pepper.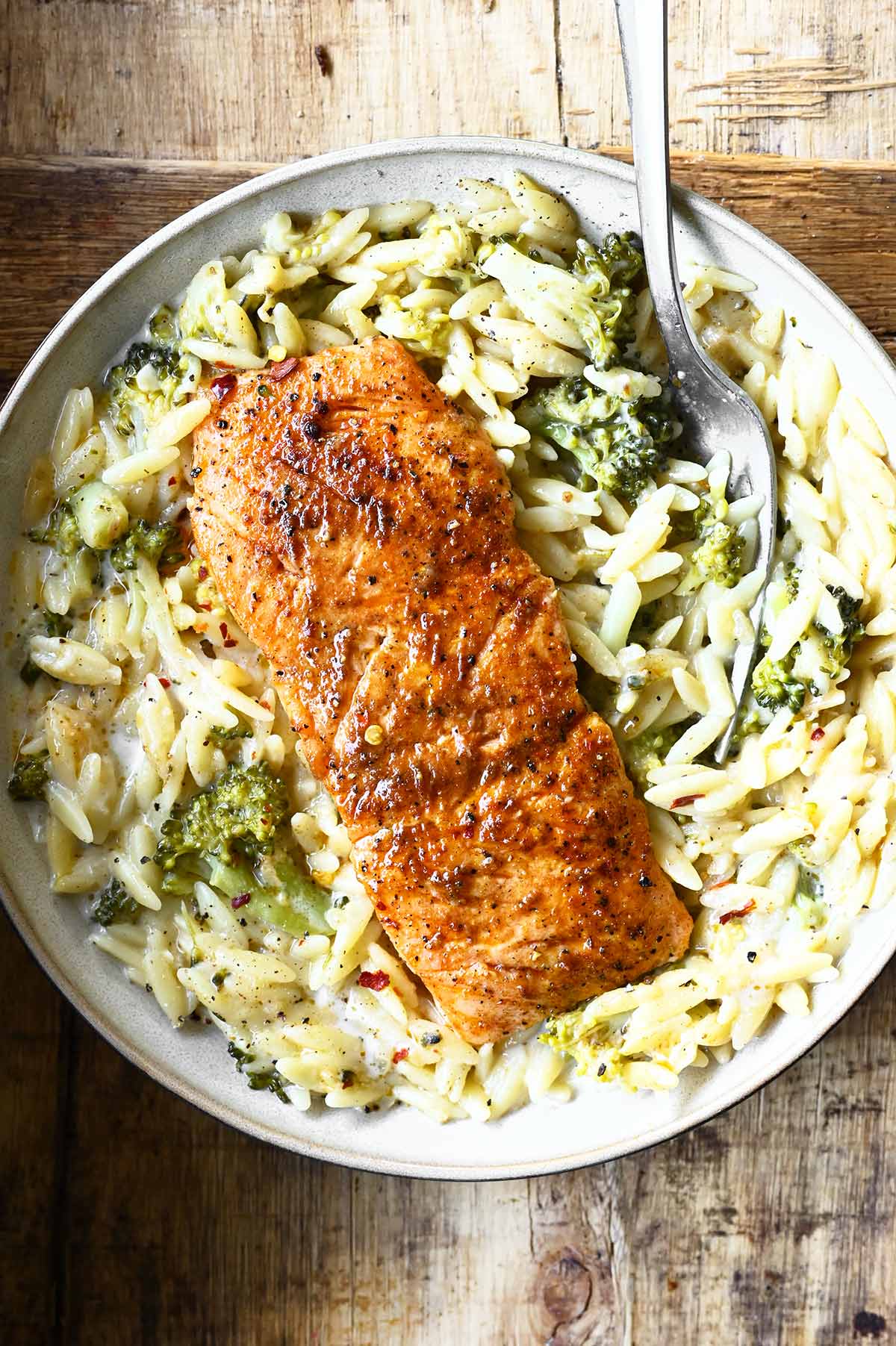 Recipe Notes
It's important to use freshly-grated cheese for the creamiest result. While you can use pre-shredded cheese, it won't melt as seamlessly because it has a "coating" which prevents it from sticking in the package, and this coating prevents the cheese from melting smoothly.
Feel free to add extra veggies! Spinach, green asparagus or peas, they all a great match.
Try it with shrimp instead of salmon.
How to sear salmon? The biggest tip I can give you is to use a nonstick skillet and to make sure your pot or skillet is hot before adding the salmon fillets. Use a combination of butter and oil to get a perfect sear without burning. Then sear the salmon for 3 to 4 minutes per side, until crispy. A perfectly seared salmon should have a crispy outer layer and a super flaky center.
Serve this broccoli cheddar salmon orzo with a leafy salad drizzled with caesar dressing.
Storage: If you have any leftovers, they'll keep in the refrigerator for 1 day.
Try These Next
Cooking Video
Yield: serves 4
One Pot Broccoli Cheddar Salmon Orzo
Ingredients
1 tbsp olive oil
1 tbsp unsalted butter
4 salmon fillets
2 tsp salt, divided
1 tsp each: black pepper, sweet paprika, garlic powder
1 medium onion, finely chopped
4 garlic cloves, minced
1 cup/250 g orzo
1 tbsp Italian seasoning
¼ tsp cayenne pepper
½ cup/120 ml dry white wine
1 small broccoli, cut into florets, then roughly chopped
3 cups/700 ml chicken broth
1 cup/240 ml half-and-half
1 cup/80 g freshly shredded cheddar
½ cup/40 g freshly grated Parmesan
chili flakes, for serving
freshly ground black pepper, for serving
Instructions
Get your prep done before you start cooking. Pat the salmon fillets dry. Season both sides with pepper, paprika, garlic powder and 1 teaspoon salt.
Finely chop the onion and mince the garlic. Cut the broccoli into florets, then roughly chop the florets into small bite-sized pieces.
Heat oil and butter over medium high in a large skillet or pan. Add salmon fillets and cook 3-4 minutes per side. Remove from skillet onto a clean plate.
Add garlic and onion, sauté for 2 minutes until fragrant. Stir in orzo, cayenne pepper, Italian seasoning and the remaining salt. Cook for 1 minute. Deglaze with white wine, simmer for 2 minutes while stirring and scraping up the brown bits on the bottom of the skillet with a wooden spoon.
Add broccoli and chicken broth. Bring to a boil and reduce the heat to medium-low. Cook uncovered while stirring occasionally to keep the orzo from sticking, until almost al dente and most of the liquid is absorbed, about 10 minutes.
In the meantime, shred the cheddar and grate the Parmesan cheese.
Add half-and-half, shredded cheddar and grated Parmesan to the orzo. Stir until completely incorporated. Return salmon to the skillet and simmer over low for 3 more minutes or until the salmon is heated through.
Top with lots of freshly ground black pepper and chili flakes. Serve. Enjoy!
Notes
Calories Per Serving: 618 kcal
Nutritional information is only an estimate. The accuracy of the nutritional information for any recipe on this site is not guaranteed.