In this recipe, the salmon is pan seared for a crispy exterior, then cooked in a delicious creamy tomato sauce and sprinkled with crunchy chorizo. So comforting and super easy to make! This 30-minute dish is the perfect solution for an easy dinner. It's hearty and begs to be served with crusty bread or a side salad. What's even better is that it comes together in one single skillet.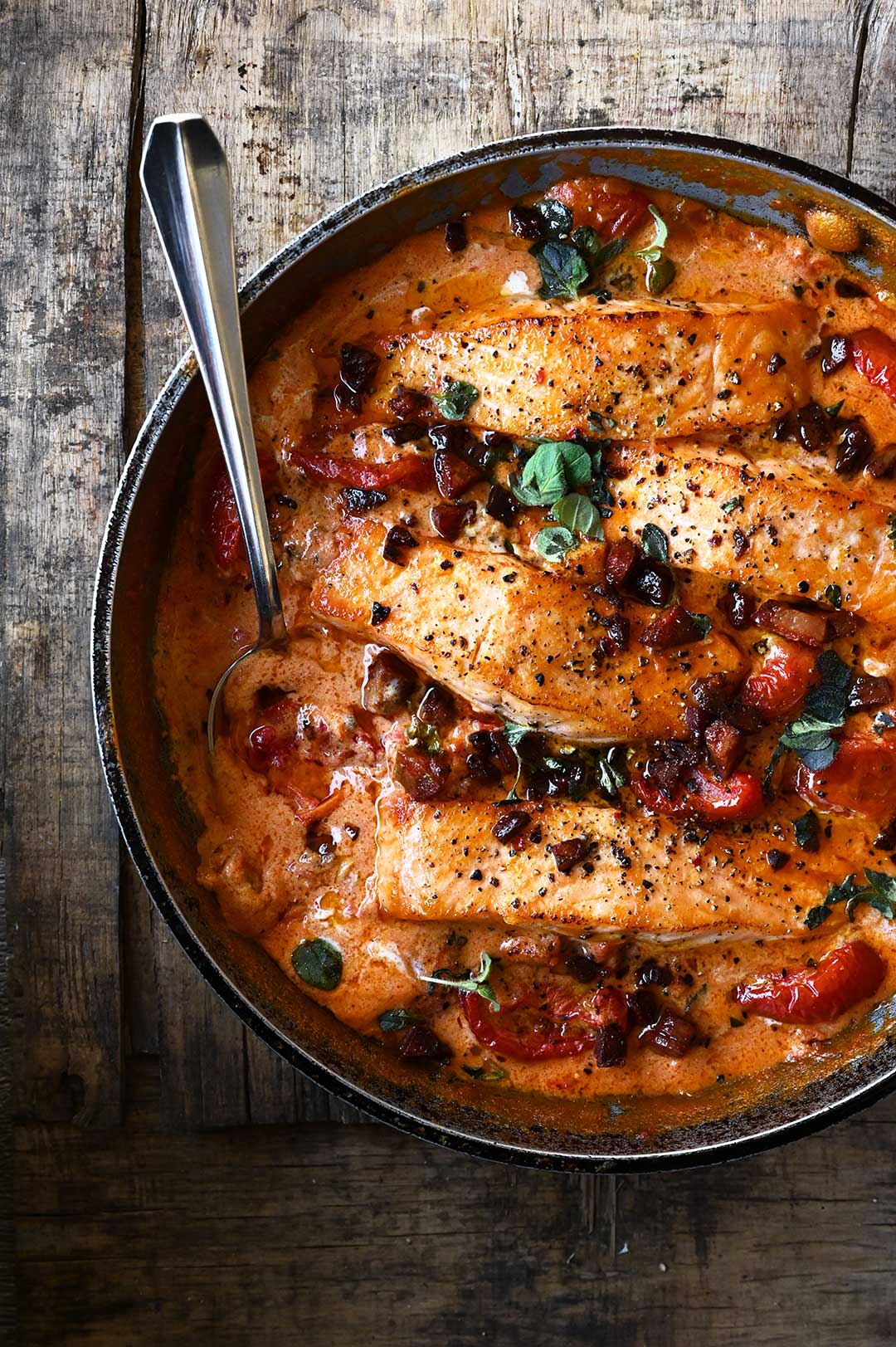 The creamy tomato sauce is a few-ingredient sauce that explodes with flavors. It's the perfect complement to any rich fish like salmon. While many recipes start by cooking the fish first, this version takes a different approach. That's because it's all about the flavors. We'll start by frying the chorizo for a few minutes to kick up the flavor. Then comes the good part. We use the chorizo oil to sear the salmon fillets and prepare the sauce. The whole dish stays interesting thanks to a mix of textures you'll get in every bite. Sun-dried tomatoes and parmesan make up the sauce, with a few dashes of spices and fresh oregano to give it a complex flavor. Happy cooking!
Let me guide you through the recipe with this step-by step-VIDEO
More one-pan dinner recipes:
Baked Meatballs with Orzo in Roasted Pepper Sauce
One skillet salmon with asparagus in lemon garlic sauce
One Skillet Parmesan Chicken and Orzo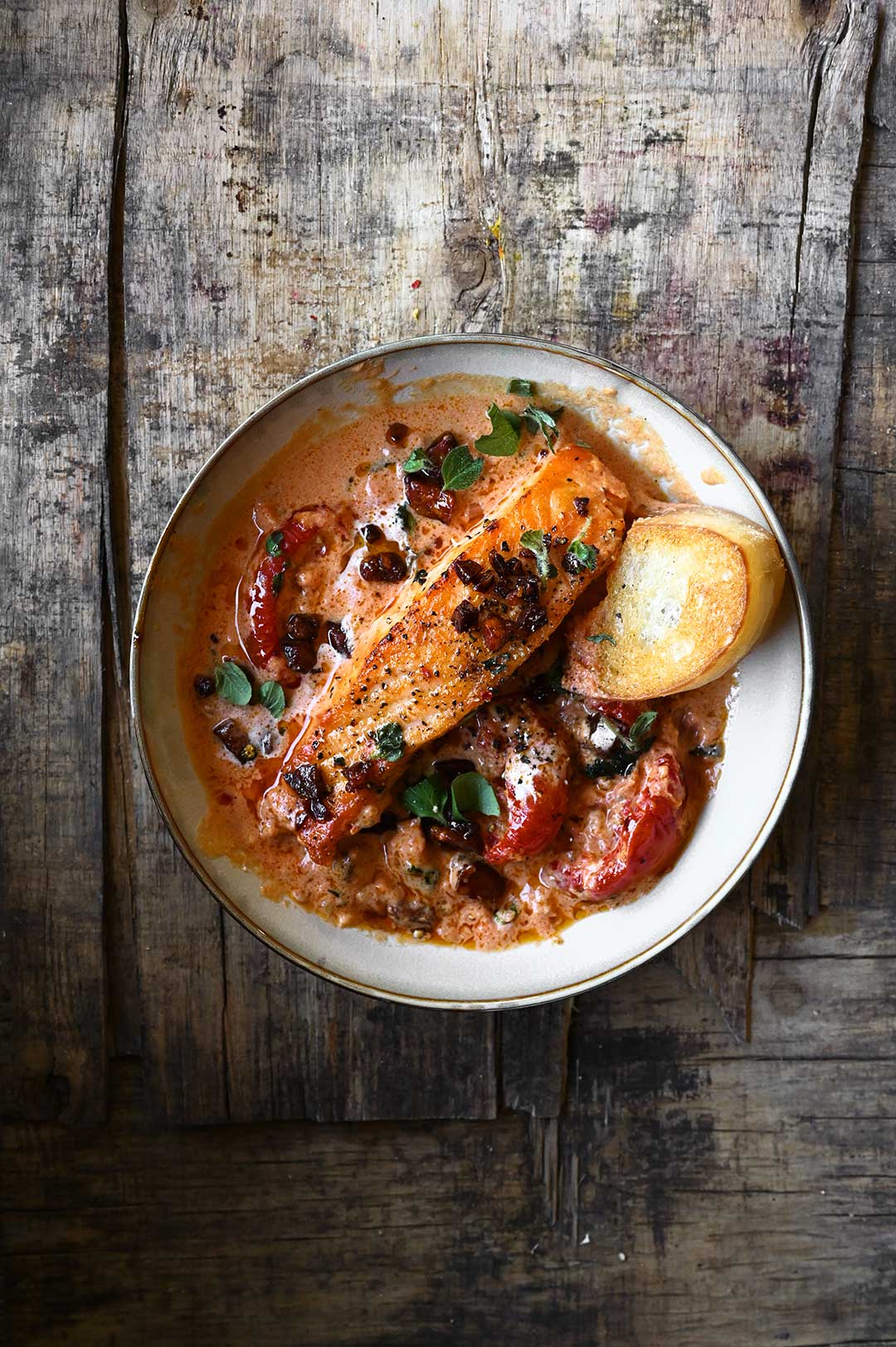 You need
4 salmon fillets, skin removed
100 g (3 1/2 ounce) spicy spanish chorizo sausage, finely chopped
3 tbsp olive oil
4 garlic cloves, minced
1 shallot, finely chopped
250 ml (1 cup) tomato sauce
200 ml (3/4 cup) light cream
40 g (1.3 ounce) grated parmezan
120 g (4.3 ounce) semi sun-dried tomatoes
1 tsp chili flakes
2 tbsp fresh chopped oregano
salt + black pepper
How to
Let me guide you through the recipe with this step-by step-VIDEO
Heat the oil in a large non-stick frying pan over high heat. Add the chorizo and cook, stirring frequently, for 3–4 minutes or until golden and crispy. Remove, leaving the oil in the pan and set aside.
Pat the salmon fillets dry with a paper towel and season all over with salt and pepper. Add to the same pan and sear, about 3-4 minutes on each side. Remove from the pan and set aside.
In the same skillet, add shallot and garlic, cook until softened, about 2 minutes. Add tomato sauce and bring to a simmer, allow to cook for 5 minutes.
Stir in light cream, parmesan, oregano and sun-dried tomatoes, simmer for about 3 minutes. Season with salt, pepper and chili flakes. Add salmon back into the skillet. Allow to cook for 3 more minutes or until the salmon is just cooked through and the sauce is slightly thickened.
Serve topped with fresh oregano and crispy chorizo. Enjoy!