It's that time of year, when all you want is a fresh dessert loaded with fruit. So let us make a no-bake cheesecake.
This creamy (completely) no-bake blueberry swirl cheesecake recipe is so easy to make. It's a smooth dessert with a fluffy, creamy filling and a crunchy oatmeal crust. Perfect to enjoy on a warm summer day and definitely one of my favorite desserts. 
This is how you make this delicious treat. Mix the oatmeal with sugar and coconut oil, then beat the Philadelphia cheese with Greek yogurt and cream. To create those gorgeous purple swirls, you just have to make a blueberry sauce by cooking the berries with sugar and lemon juice. Blend everything together, then swirl the sauce into the cheesecake filling to create curls of intense and fresh flavor.  As finishing touch top the cheesecake with fresh blueberries to add that juicy snap. And that's all, blueberries are one of those fruits that need nothing more than themselves to be special.
Hop on over to my IGTV channel to see me make this no-bake blueberry cheesecake!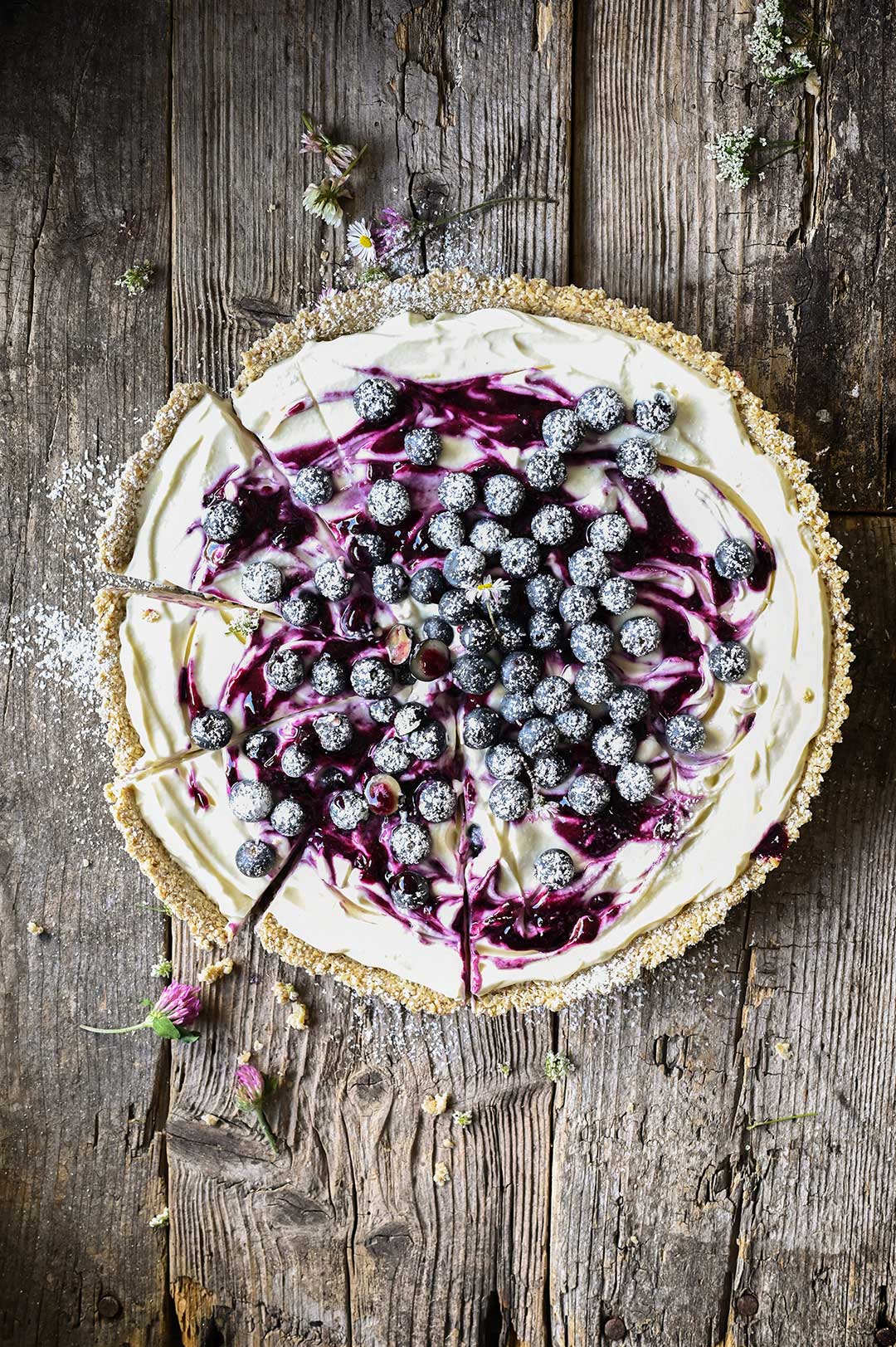 You need
blueberry sauce
100 g blueberries
1 tbsp lemon juice
20 g sugar
oatmeal crust
220 g instant oats
110 g coconut oil, melted
30 g sugar
cheesecake filling
the dairy ingredients should be cold, straight from the fridge
250 g cream cheese
200 g heavy cream
100 g Greek yogurt
50 g powdered sugar
1 tsp lemon zest
1 tsp lemon juice
1 tsp vanilla extract
+
fresh blueberries for topping
How to
Grease a 24 cm tart pan with a removable bottom or use a springform cake pan.
Start with the sauce. Cook the blueberries, sugar and lemon juice in a small saucepan over medium-low heat until tender and the sugar dissolves, about 5 minutes. Blend with an immersion blender. Set aside.
To make the crust. Add oats, sugar and coconut oil to a food processor. Mix together. Press the mixture firmly into the bottom and up the sides of the prepared pan. Place in the fridge while you prepare the filling.
In a large bowl, beat the heavy cream, powdered sugar and yogurt for about 1 minute. Add lemon zest, juice and vanilla extract and 1/3 of cream cheese. Beat for about 1 minute. Now add 1/2  of the remaining cream cheese and beat for about 1 minute. Beat in the rest of the cream cheese until stiff peaks form.
Spread the cheesecake filling into the chilled crust and smooth with a spatula. Drizzle the blueberry sauce over the filling. Use a skewer to gently swirl the sauce into the filling. Chill for 1 hour. Top with blueberries. Serve cold. Enjoy!