These nacho crusted chicken fingers are oven fried and crunchy. Slightly healthier and much easier then deep fried ones. Breaded in corn chips, oven baked, and served with a beyond delicious spicy and creamy garlic sauce, this chicken snack will be perfect for your movie night. Or you can serve them with tacos and veggies for an easy dinner that's different, delicious, spicy and full of flavor.
I love any kind of breaded chicken. Whenever I make crusted chicken, I flavor them in stages. The spices are blended into Greek yogurt to create a savory marinade. Then I add more seasoning to the dredging mixture, and finally, the little chicken fingers are topped with oil and baked in the oven. Served with a seriously tasty addictive garlic sauce and spicy jalapeños. Try to resist this!
You need
chicken fingers
800 g boneless skinless chicken breasts, cut into strips
150 g corn chips, natural flavor
50 g breadcrumbs
1 tbsp flour
100 g Greek yogurt, buttermilk or sour cream
1 tsp mustard
1 tsp baking soda
black pepper + salt + smoked paprika + cayenne pepper + garlic powder
1/2 tsp finely chopped jalapeños
vegetable oil for brushing
jalapeño aïoli
4 tbsp mayo
2 cloves garlic, finely minced
1 tbsp finely chopped jalapeños
1 tsp mustard
1/2 tsp smoked paprika
1 tsp lemon juice
sea salt + freshly grated black pepper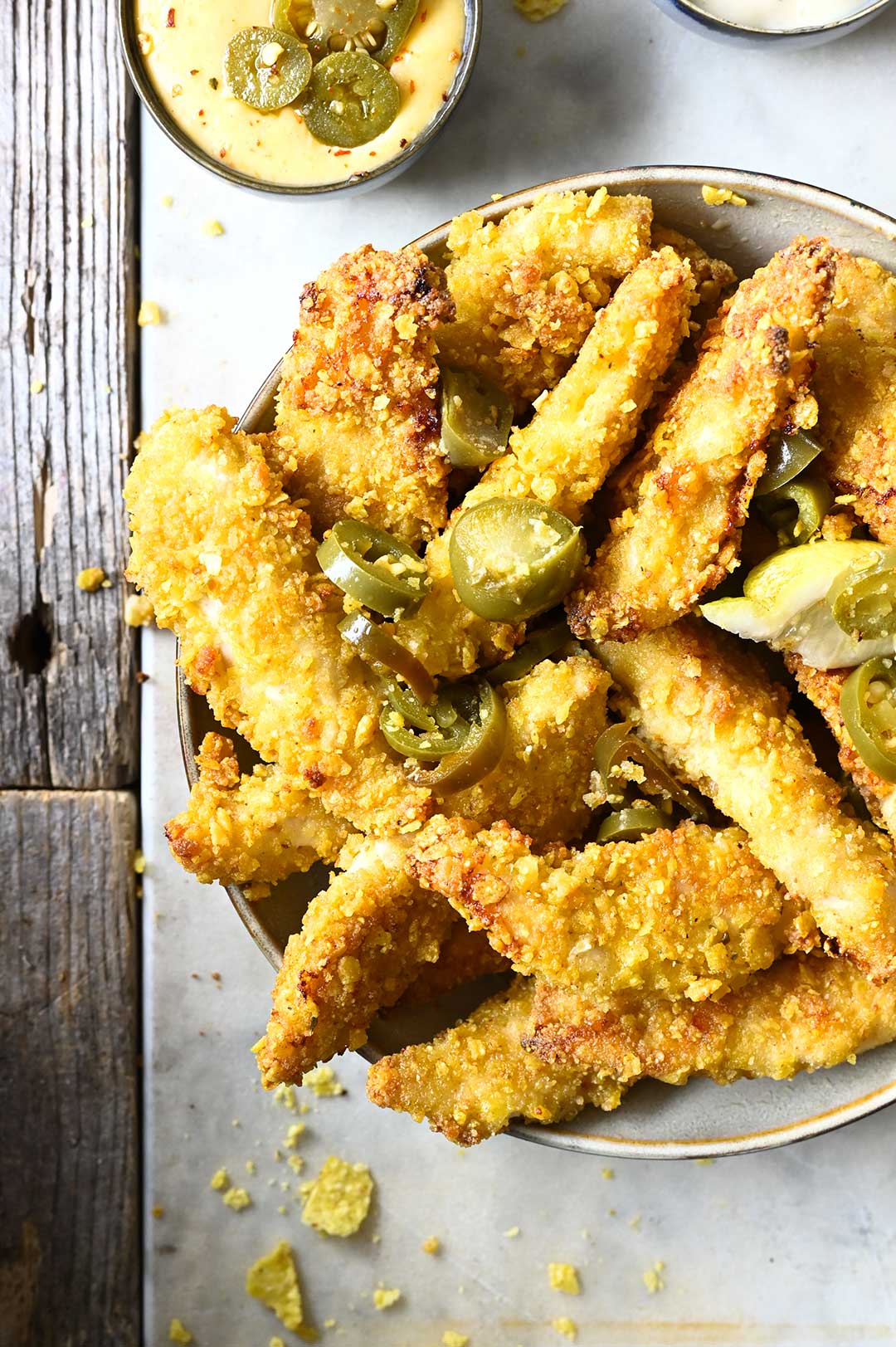 How to
Preheat the oven to 220°C and line a baking sheet with parchment paper.
In a large bowl, combine the Greek yogurt, mustard, jalapeños, baking soda, and 1/2 tsp each of salt, pepper, paprika, garlic powder and cayenne pepper. Add chicken strips and toss well until coated.
Using a food processor, crush the corn chips until a texture similar to coarse bread crumbs. Set aside in a large bowl. Add the breadcrumbs, flour, and 1/2 tsp each of salt, paprika, garlic powder and cayenne pepper. Stir to combine.
Remove each piece of chicken from the yogurt mixture and dredge through the nacho crumbs. Place on the prepared baking sheet and brush generously the chicken with oil. Transfer to the oven and bake for 15 minutes, flip and bake 5 minutes more or until the chicken is cooked through and nicely browned.
In the meantime, make the jalapeño aïoli. Combine all ingredients in a small bowl. Enjoy!