Mussels in garlic miso broth. This mussel recipe is a quick, easy, light and healthy take on a French bar-food classic. The mussels steam in the same pan as the miso broth in this effortless one-pan supper.
Mussels are easy to make compared to most fresh seafood options, and ready in basically no time at all, they're a weeknight dinner dream.
Steaming mussels in white wine and serving with a creamy garlic sauce is one of my favorite classic dishes to eat. I used to live on these, eating them almost for 10 days in a row when the season started. But sorry white wine, now you have some serious competition.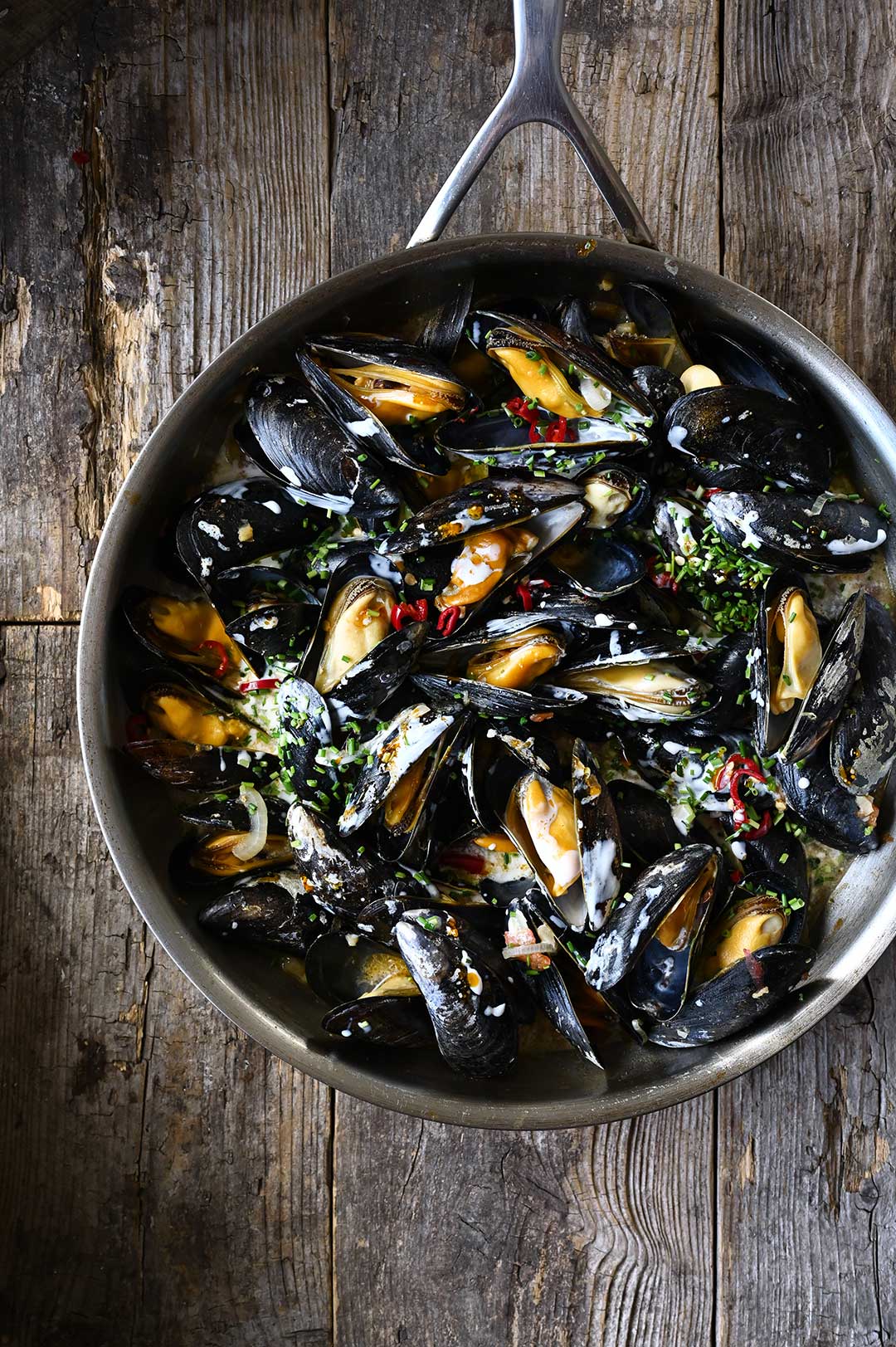 So, we're making the mussels with an East Asian influence and adding miso for some funky complexity. I hear you thinking, does this work? Yup. It really is very good.
I've added some fresh chilies and finished the dish off with some chilli oil. You may worry this could be very spicy, but it's not a spicy dish at all. The chilli adds that extra punch, no more. You can make this dish as spicy as you like. And, don't forget to toast up some crusty bread to soak up the delicious creamy sauce, that's the very best part!
Note: The majority of mussels you'll find available are farm-raised, which is good news when it comes to cleaning them, that requires less cleaning and they're virtually free of grit. Always check them individual to make sure they're closed tightly before cooking, it's a little tedious, but one bad mussel can ruin the whole dish.
Let me guide you through the recipe with this step-by-step VIDEO.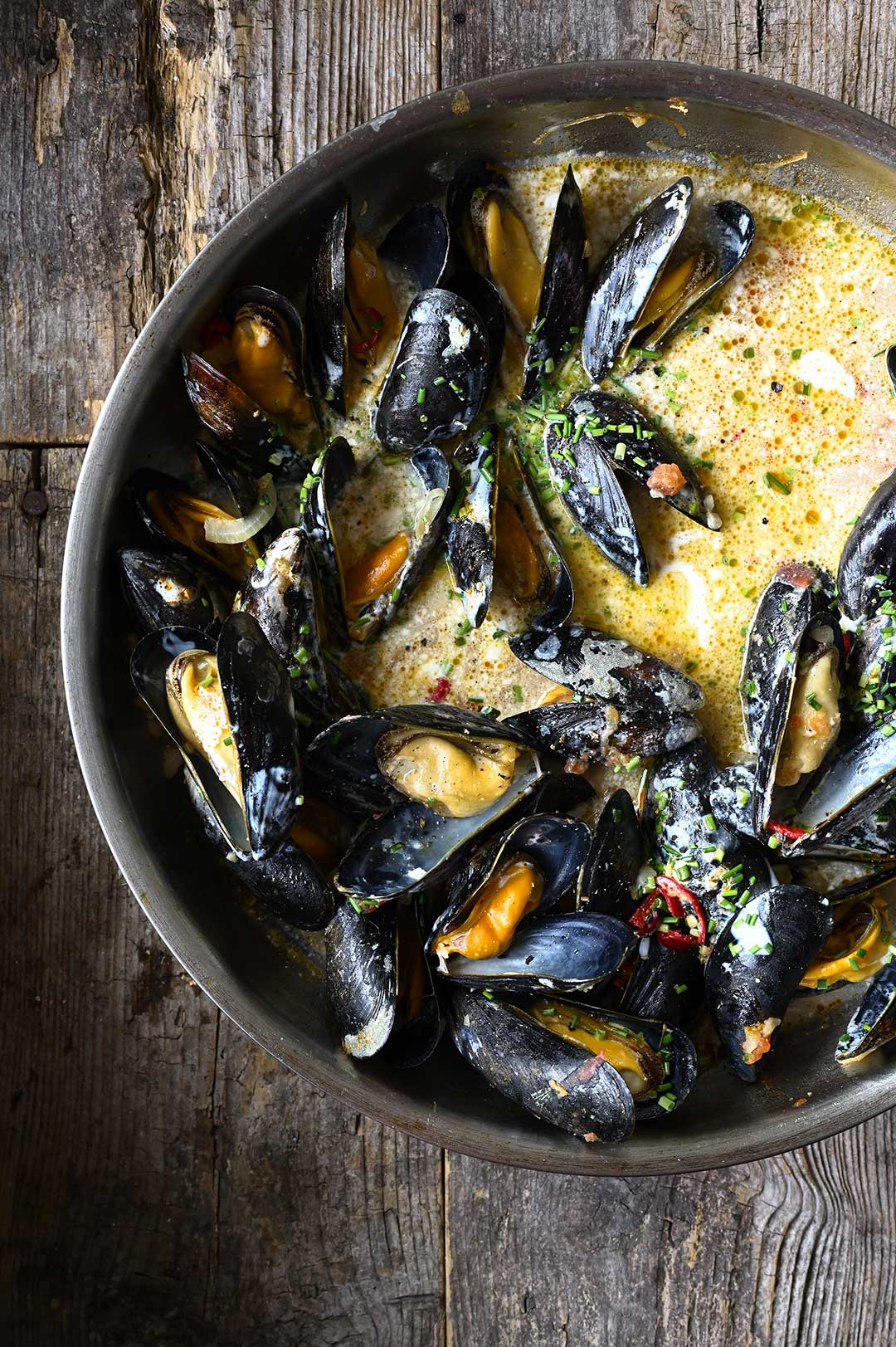 3 more delicious recipes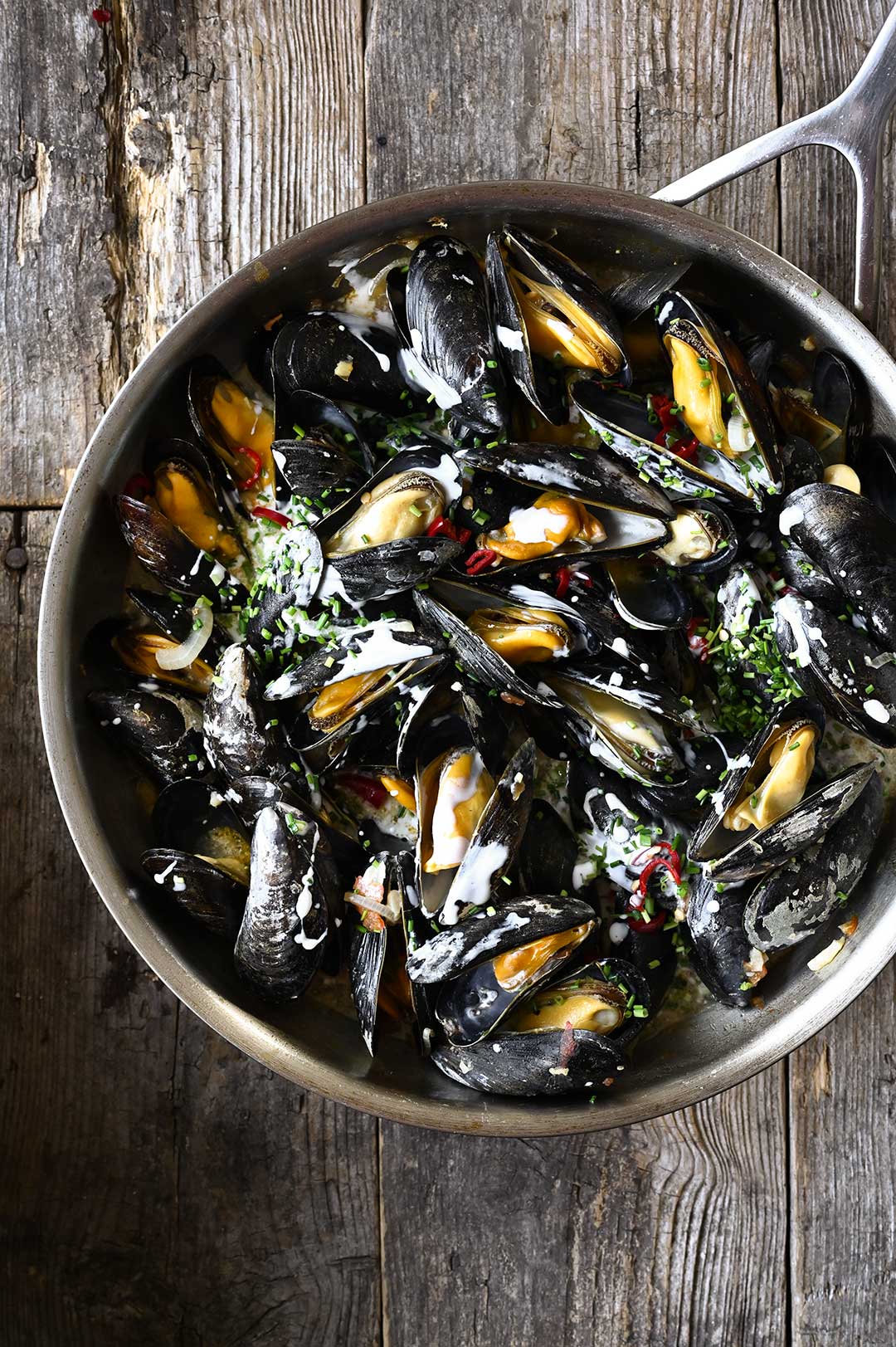 Cooking Video
Yield: serves 2-4
Mussels in Garlic Miso Broth
Cook Time 30 minutes

Total Time 30 minutes
Ingredients
2 kg/4.4 pounds mussels
3 tbsp vegetable oil
2 tbsp sesame oil
1 onion, finely chopped
4 garlic cloves, finely chopped or minced
1 tomato, cored, seeded, coarsely chopped
1 tbsp white miso
¾ cup/ 120ml vegetable or chicken broth
¼ cup/50 ml cooking cream or soy cream
1 tsp grated ginger
1 tbsp fish sauce
1 tbsp mirin
1 tbsp unsalted butter
For Serving
2 tbsp finely chopped chives
chili oil
chili pepper
crusty bread
Instructions
Prepare 2 large bowls with cold water. Add the mussels to one bowl, remove the beards attached to the side of the shells by tugging firmly toward the hinge of the mussel shell. You can also use a knife. Throw the cleaned mussels in the other bowl to remove remaining grit. Also, check and discard each mussel that is open and won't close when pinched between your fingers. Rub off any leftovers of seaweed, sand or barnacles spots that could be on the shell. Drain and transfer to a clean bowl. Transfer to the fridge.
In the meantime, chop the garlic, onion and tomato.
Heat the sesame and vegetable oil in a large pan over medium heat. Add garlic, onion and ginger. Cook for 3 minutes until soft and fragrant. Add the miso and tomato, cook for 2 minutes more. Pour in the broth, add fish sauce and mirin. Bring to a boil and add the mussels. Simmer for 8 minutes, covered, over medium heat. Stir, cover and simmer for 2 minutes more.
Turn off the heat, add the cream and unsalted butter, cover and let sit for 1 minute until butter is melted. Stir, taste and season with salt and pepper, if needed. Top with chives and fresh chili, drizzle with some chili oil. Serve immediately with toasted bread. Eat!
Notes
Calories Per Serving: 365 kcal
Nutritional information is only an estimate. The accuracy of the nutritional information for any recipe on this site is not guaranteed.

PRINT RECIPE

//= __('Print recipe (no photos)', 'servingdumplings' );?> //= __('Print recipe (with photos)', 'servingdumplings' );?>