Mussels and shrimp in a garlic tomato sauce. Delicious, saucy and a true flavor bomb. Seared shrimp combined with steamed mussels in a delicious slightly spicy tomatoey broth, jazzed up with fresh thyme and garlic. An easy yet elegant meal that's perfect for a dinner party. Plus, it's made in one skillet! Serve with some crusty bread to soak up every last bit of that sauce.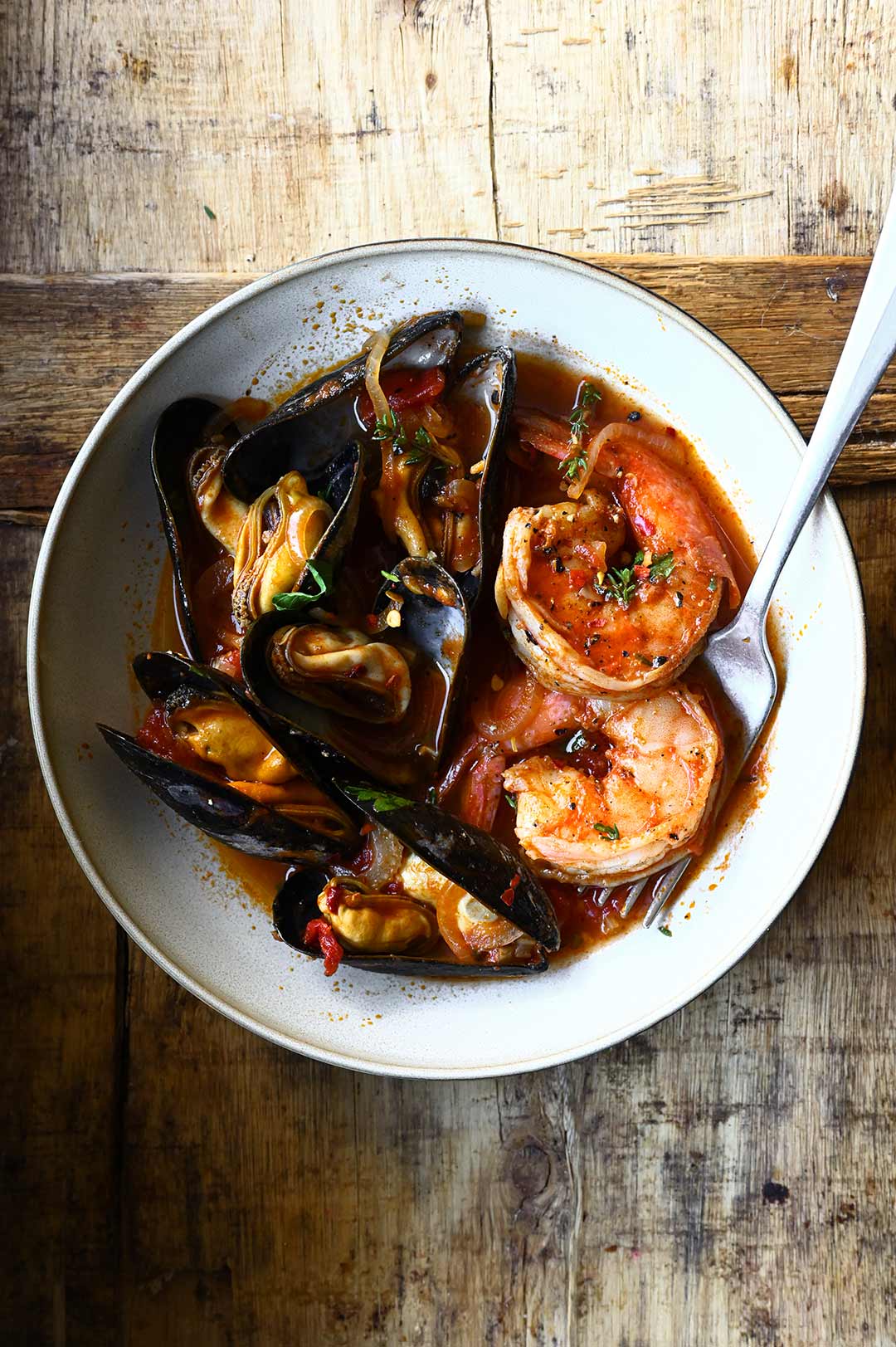 This dish is incredibly simple to prepare, but will make you feel like you're enjoying a meal at a fancy restaurant. Imagine seared shrimp and plump mussels covered in a light tomato sauce that's made extra delicious with garlic and a spicy kick from red pepper flakes. Super tasty and very easy to make. The secret is to cook the mussels in a simple brothy sauce, but one that's deeply flavored for a meal you'll crave for over and over again.
Serve with bread or your favorite pasta. And don't forget a simple side salad with a drizzle of olive oil and a generous squeeze of lime juice for a delightful dinner.
Let me guide you through the recipe with this step-by-step VIDEO.
Sharing a big pot of mussels is one of my favorite things to do. This recipe is so easy, it doesn't take a long time to make, yet it looks impressive and tastes incredible. It's perfect for any night of the week, but also ideal if you want to impress guests at your next dinner party.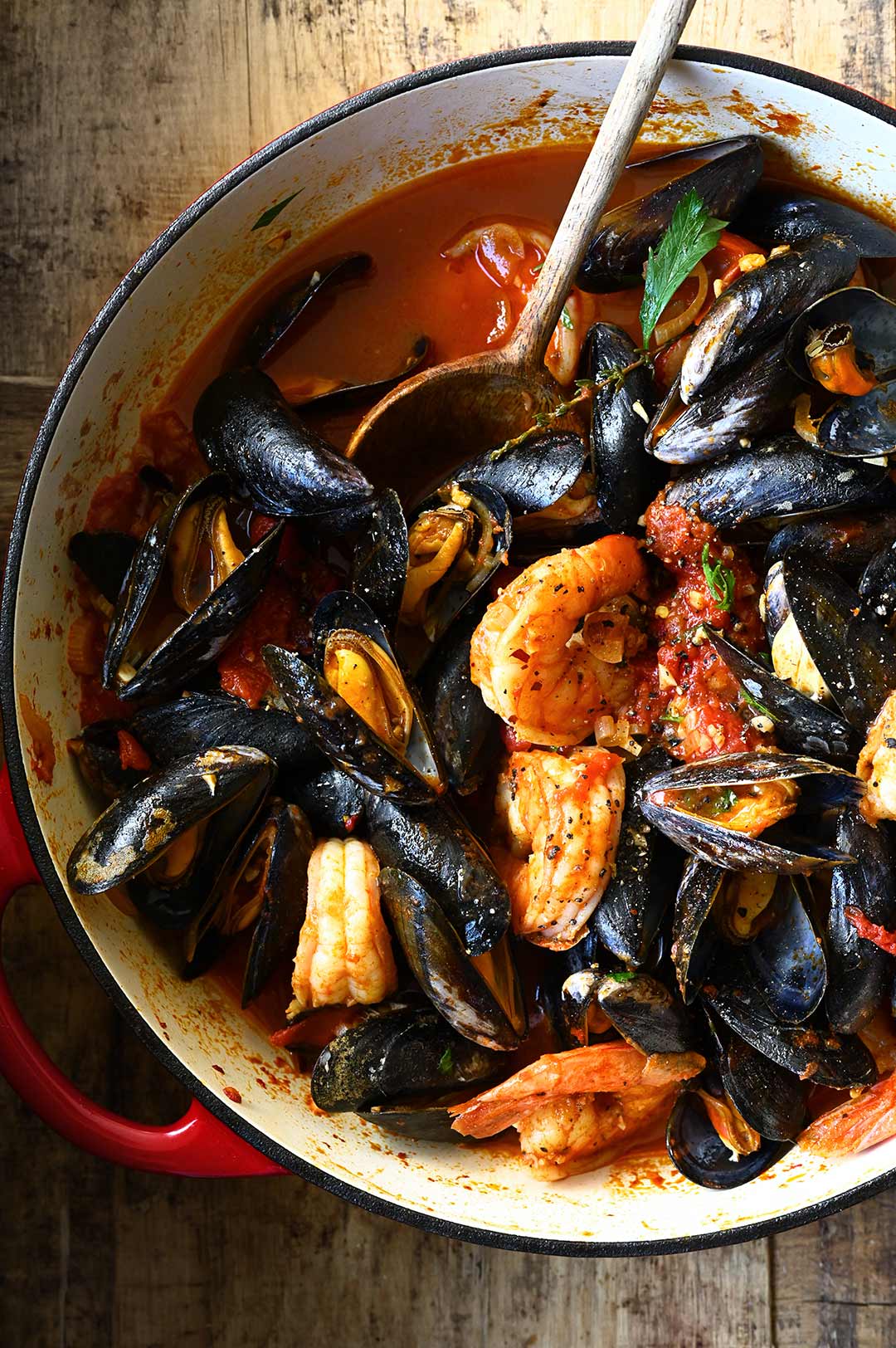 BUYING AND CLEANING TIPS
Mussels are one of the most affordable seafoods out there. You can find mussels at almost any seafood counter these days. Try to buy mussels as fresh as possible, this means the same day that you want to prepare them.
Before cooking, be sure the mussels are tightly closed. Discard any with cracked shells. If you see a mussel that's open, pinch the shell between your fingers, this will trigger a reaction to close its shell. If the mussel doesn't close, it's not alive and should be discarded. Also discard any mussels that don't open after cooking!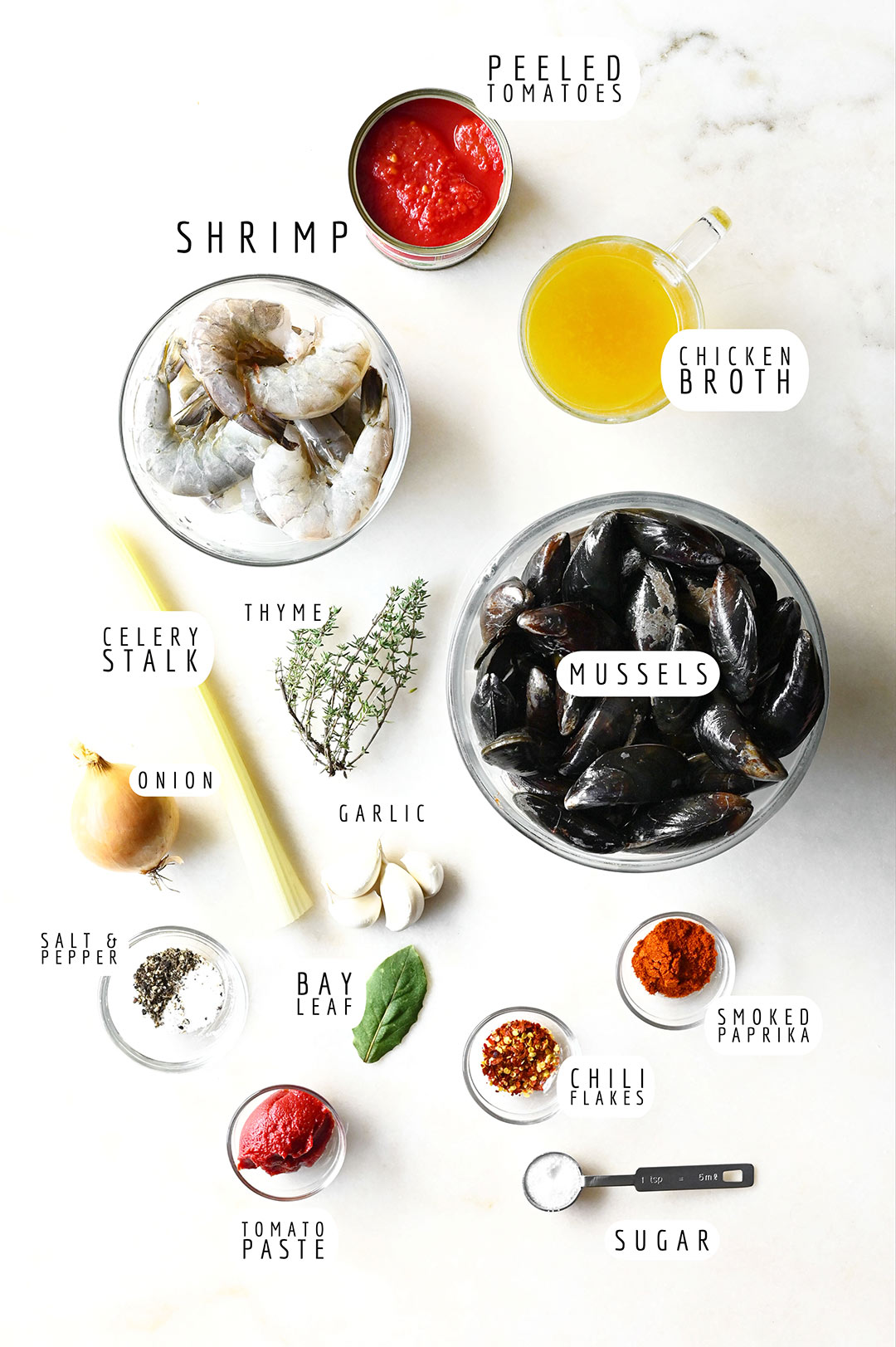 Here's What You Need
Shrimp: I typically use frozen (just be sure to thaw first) and prefer the larger size (16-20 per pound).
Mussels: They have the luxury factor of seafood but at a fraction of the price of clams or scallops. They belong to the bivalve family of shellfish, which means they have a hinged shell that opens like oysters or clams.
Tomatoes: We use tomato paste and whole peeled tomatoes. You can use fire roasted tomatoes or crushed tomatoes.
Onion, garlic and celery stalk: To add flavor and texture.
Chicken broth: For flavor and to create a brothy sauce. You can also use fish stock or vegetable broth.
Seasoning: Salt, black pepper, smoked paprika, thyme sprigs and chili flakes.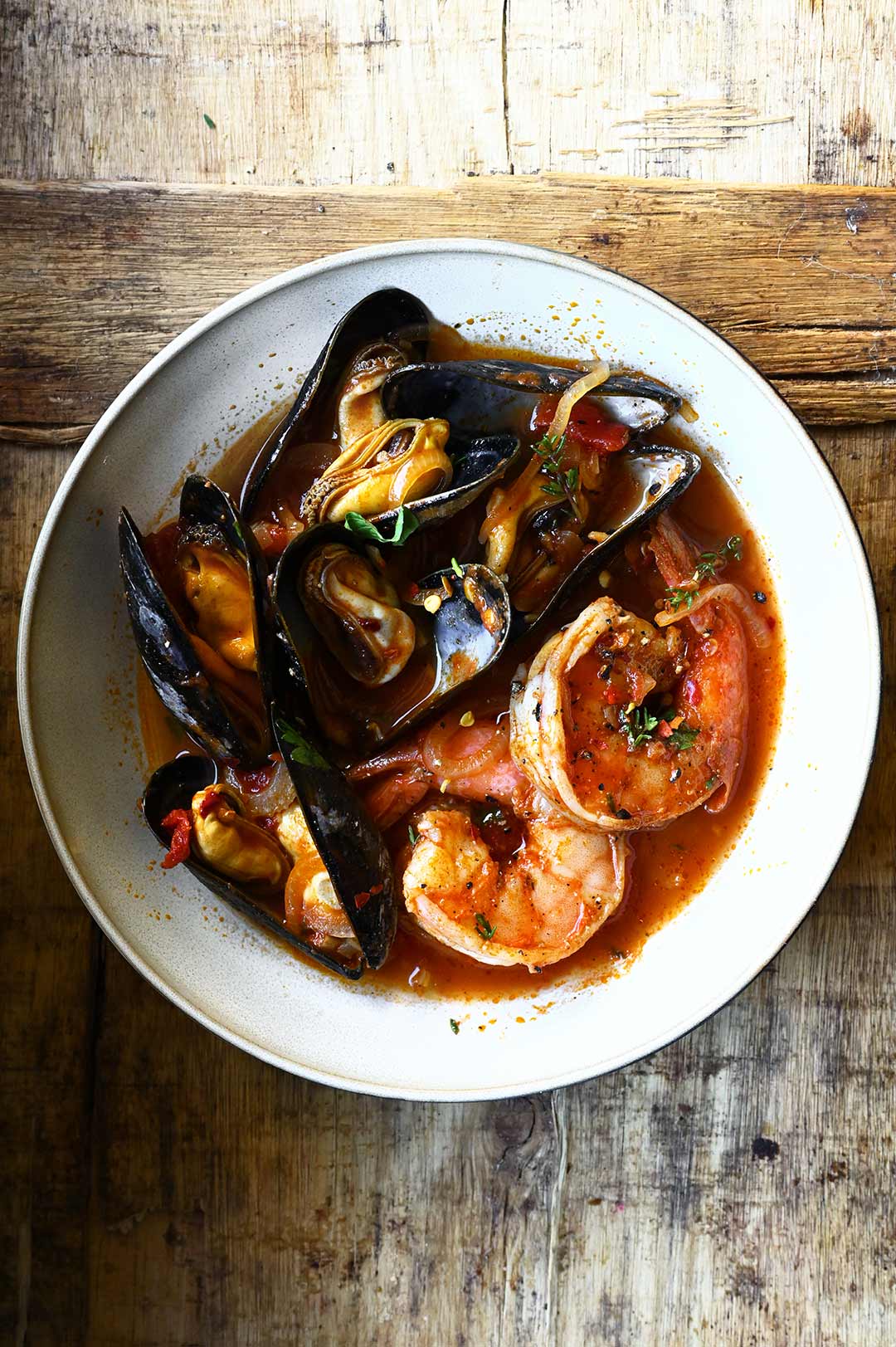 THIS IS HOW WE MAKE IT
This recipe comes together shockingly fast. And it makes this a perfect fancy dinner party recipe. It is not complicated but it has a mega wow factor.
First, we sear the shrimp very briefly, like 1 minute per side. In the same skillet, we sweat the onion with garlic and celery. Stir in spices and tomato paste, then add a can of peeled tomatoes. Throw in the mussels and steam for a few of minutes.
We add the shrimp back to the skillet, steam until heated through… and done! Definitely serve with some grilled bread, it's so delicious with saucy shrimp and mussels.
RECIPE NOTES
Any mix of seafood will work here, other great options include chunks of fish, clams or lobster.
Serve as main course or as a starter or tapas.
Delicious with some French baguette, pasta or even rice. You can also add a big leafy salad on the side, simply sprinkled with some olive oil and lemon juice.
Leftovers keep up to 1 day in the fridge and make a great combo with pasta.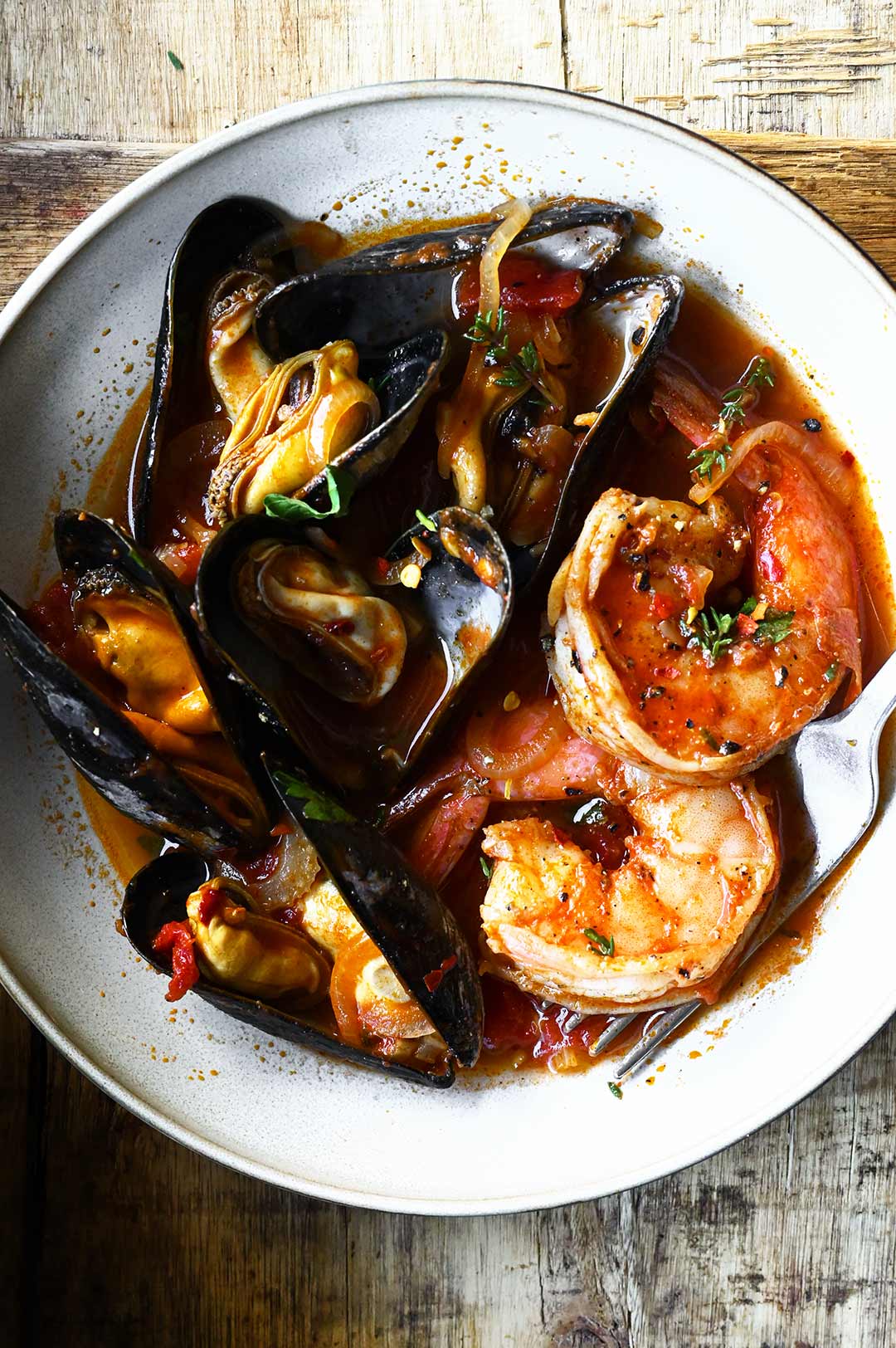 LOVE SEAFOOD? TRY THESE NEXT!
COOKING VIDEO
Yield: serves 4
Mussels and Shrimp in Garlic Tomato Sauce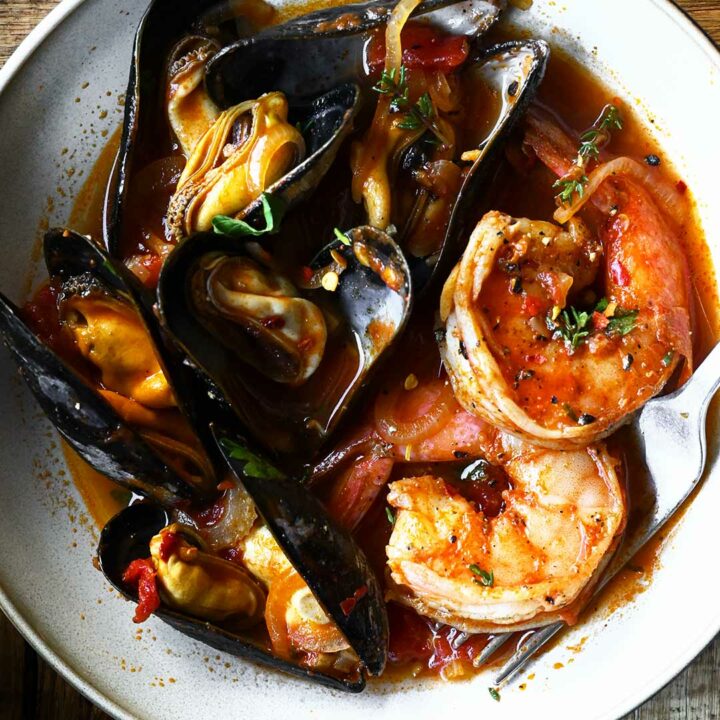 Ingredients
1 tbsp olive oil
1 tbsp unsalted butter
14 ounces shrimp, peeled and deveined
1 yellow onion
4 garlic cloves
1 celery stalk
1 tbsp tomato paste
1 tsp each: salt, black pepper, smoked paprika, sugar (divided)
½ tsp chili flakes
1 bay leaf
1 can (14.5 oz) whole peeled tomatoes
2.2 pounds mussels
4 thyme sprigs
½ cup chicken broth
parsley, for serving
Instructions
Before you start cooking. Peel and deveine the shrimp, combine with ½ teaspoon each: salt, pepper and smoked paprika. Thinly slice the onion, mince the garlic and chop the celery stalk.
Prepare 2 large bowls with cold water. Add the mussels to one bowl, remove the beards attached to the side of the shells by tugging firmly toward the hinge of the mussel shell. You can also use a knife. Throw the cleaned mussels in the other bowl to remove remaining grit. Also, check and discard each mussel that's open and won't close when pinched between your fingers. Rub off any leftovers of seaweed, sand or barnacle spots that could be on the shell. Drain and transfer to a clean bowl. Transfer to the fridge.
Heat butter and oil in a large skillet or pot over medium. Place shrimp in a single layer and sear, 1 minute per side. Remove from skillet.
Add onion, garlic and celery, cook for 2 minutes. Stir in tomato paste. Then add chili flakes, sugar, bay leaf and the remaining salt, pepper and paprika. Add peeled tomatoes and break up into pieces.
Add thyme sprigs and mussels. Pour in chicken broth, stir to combine and cover the skillet. Steam over medium low for 6 minutes.
Finally, add shrimp back to the skillet, put the lid back on and steam for 2 minutes more, until the shrimp are heated through.
Serve with some crusty bread. Enjoy!
Notes
Calories Per Serving: 439 kcal
Nutritional information is only an estimate. The accuracy of the nutritional information for any recipe on this site is not guaranteed.